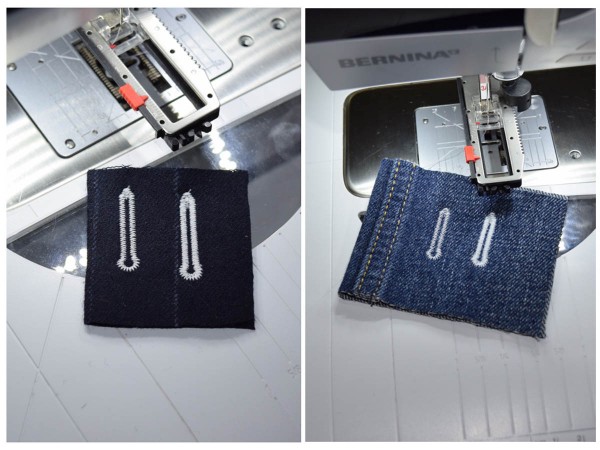 Imagine, you have put so much effort in a project and almost done of your way. Now it's time for fixing small parts, for example, sewing the buttonhole. Well, you should be happy, but many of us get upset. Yeah! We can understand.
Sew the buttonhole is one of the daunting tasks of any sewing project. It requires a whole lot of patient and skill to sew a buttonhole. While thinking about sewing buttonhole with hand then we are sure, many of us have lost interest in sewing.
Don't worry. We have a solution for you. However, you will find a lot of models of sewing machine that comes with a built-in buttonhole feature. These features are pretty easy to do.
They include one-step or four-step buttonhole system along with precise foot. The foot measures the actual button size each time. Both the methods are quite similar and comfortable, yet one-step buttonhole foot requires slightly less effort.
Whereas, four-step buttonhole has the option for switching between vertical and horizontal stitches. Because it includes a stitch selector dial, whatever the system you use for your sewing project; it entirely depends on the nature of the button.
At the end of the project, it assures the consistent and professional result. Since every sewing machine is different so here we present a complete guide about how to sew buttonhole using a sewing machine.
Before we start, let us make you familiar with different types of buttonhole design that we often use. Also, in which fabrics you should apply them. 
Buttonhole designs
Rounded buttonhole: Both ends have the most exceptional and rounded edge. These types are best for soft fabrics like silk.
Square buttonhole: Square-shaped buttonhole is a widely used design. You can use this standard design in any heavy-weight fabric. This style can be made with any sewing machine.
Mixed-shaped: It has a rounded edge in one side and a square edge on the other side. This design is compatible with fine to medium weighted fabric, for example, blouses and children clothes.
Keyhole buttonhole: This buttonhole design is similar to a keyhole. It is widely used in medium to heavy weight fabrics. It is appropriate for a more substantial and thicker button.
Open-effect buttonhole: This design is stitched in a way that allows stretching. It can be used in stretch fabrics.
Knit buttonhole: This type is used for decorative purpose in any fabric. Similar to open-effect buttonhole.
Corded buttonhole: This design is done by cording embedded in the sides to make the buttonhole sturdier. Also, it can be used for decorative touch.
Now, you know all the types. You are ready to learn how to sew a buttonhole using a sewing machine. Before that, you need some necessary thing to sew a buttonhole.
Things you'll need
Let's make a list.
Definitely! A sewing machine.

Button

Buttonhole foot

Project fabrics

Marking Pen

Thread matched with fabrics

Small scissors

Straight pin

Stabilizer

Hand sewing needle
How to Sew a Buttonhole
Sewing buttonhole is not that scary as you think. You only need a bit of patience and careful marking. We are going to make a square-shaped buttonhole. Let's get started.
Prepare the fabric: Use a stabilizer behind your fabric to make a sturdy buttonhole. You can use a medium-weight stabilizer.
Draw the button line: Use a fabric pen and ruler to draw a line for the button. The line length and width depends on the button size. Draw a "T" shaped line, where the open side indicates the ending side.
Prepare the machine: Now it's time for changing the settings to get a consistency performance. Like, set the stitch length nearly zero in length.
Put the buttonhole foot: Regular pressure foot in a sewing machine is used for better attachment of fabrics. Whereas, the buttonhole foot will help you to measure and make buttonhole equally. Attach the buttonhole foot to the machine.
Place the fabric: Place your stabilize fabrics under the foot. Then, set the position in the starting buttonhole line where the "T" line is closed. After then drop the needle in the edge of the "T" line and align the fabric as needed.
Start sewing: Now, set the stitch width to half the width and then start stitching down on one side to another end. You can either use the foot controller or the start/stop button.
Make zigzag stitching with equal width and once you are dining with one side then reset the stitch-width and repeat the same for the other side. 
You are done with sewing so remove the fabric from the machine. Hopefully, you've noticed that there is no hole in between the stitches. So you need to make a hole. Well, you can cut the hole in two ways.
First way: This process requires pins and a good seam ripper. Set the pin in each end of the buttonhole, where pin act as a stopping point. Then, stab the fabric from one end to another.
Make sure you only cut the center of buttonhole. Then turn the fabric and repeat the same. This processprevents the chances of cutting through the stitching.
Second way: You will find a buttonhole cutter set in the market. This two piece set includes a small wooden block and a chisel. It assures the cleanest possible cut in any fabric.
Set the block under the buttonhole design. Right after, start piercing near one end by pushing the chisel down. Mildly rock the chisel cut through the fabric. Repeat the same in down part until buttonhole slot is entirely open. Try the button in the slot and make sure the button fits nicely.
Final words
See! The overall process is not creepy at all. You just need to repeat the process a few times. Also, we suggest you take a spare fabric and follow the instruction manual if there is any. One more thing, all you need is to focus and sew carefully.