Are you looking for a Juki Sewing Machine that will fit your budget? Check out this expertly-reviewed guide on the best Juki Sewing Machine to buy.
Juki is one of the top sewing machine brands globally. The brand boasts of every type of sewing machine. From industrial, household sewing machines to quilting machines and sergers, Juki has a wide range of sewing machines. Let's say it makes one for every sewist. All the Juki sewing machine models are full of features depending on the radix of the model.
When we are talking about models, we mean plenty. Name a type, say, a single sewing machine, and Juki might have ten different varieties. The same applies to the industrial, quilting, and all the other sewing machines by the brand.
And that is why we had to initiate a compilation of the best Juki sewing machines of every kind, for you to fathom which one will suit your craft the best in a better way. You can expect a very detailed discussion from us here.
So, as we will present you with many things, including the thoroughly detailed top 12 best Juki sewing machines reviews, a useful buying guide, answering your queries, so on and so forth, without any further ado, let's get started. 
Our Top Picks:
(See our quick top 5 picks and below you can read our detailed reviews about these products.)
Top 12 Juki Sewing Machines of 2022 (Editors' Top Picks)
Juki HZL-DX Series Sewing Machine HZL-DX5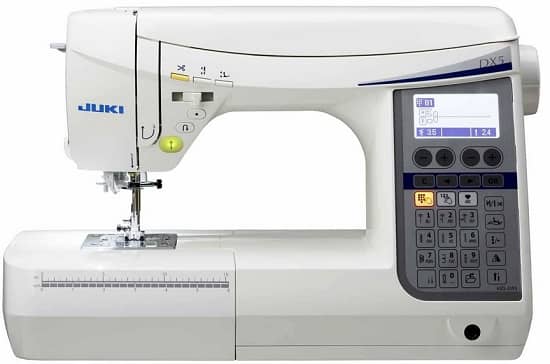 The first one to start with will be from Juki's HZL-DX Series. It is HZL-DX5 and could sew three layers of denim, the high pile towel fabrics, and a fine, thin, lightweight cotton with equal ease.
Its box feed system allows it to make high-quality stitches in any and every fabric. You can also expect consistent and reliable seams, as the feed system stays in contact with the material longer.
This computerized sewing machine offers you 185 stitch patterns, 3 fonts, 40 needle positions, 16 types of buttonholes, three different widths of those buttonholes, and a float function.
The float function prevents uneven seams during the stitching of the most intricate of patterns or designs. You can have a minute adjustment of the height of the presser foot. The minuscule 0.1 mm increments are precise and very delicate but extremely crucial.
Features At A Glance
Sews at a speed of 1050 SPM

Box feed mechanism

Bobbin winder with independent motor

185 stitch patterns and 16 buttonhole styles

Auto needle threader and thread trimmer

Allows a slight rise of the presser foot
Juki HZL-70HW Computerized Sewing Machine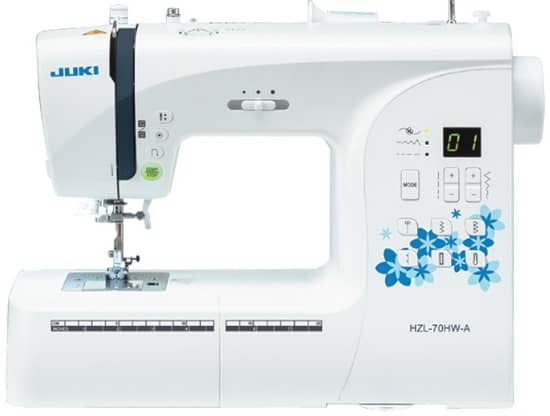 This lightweight sewing machine could be the best Juki sewing machine for home use. It is fully featured and easy to carry and move. Thus perfect for taking to sewing classes as well.
A beginner-friendly machine that works with a moderate 800 SPM speed, it's basically for anyone who is just starting. You get six stitch patterns and seven presser feet with the machine. You choose each stitch pattern directly by pressing a button.
Comfortably stitch thick or thin fabrics; the feed system is excellent and smooth. The buttonholes are auto-stitched, depending on the size of the buttons.
The auto needle threader, the free arm with the embossed ruler, two lock stitches, the reverse and reinforcement stitch, the three speeds, top drop-in bobbin, stitch length, and width adjustment all make stitching comfortable, especially for the novices.
Features At A Glance
Apt for the beginners

Very lightweight and compact

800 SPM

Simple, direct selection of six stitch patterns

Auto stitch buttonholes

Smooth feed for both thin and thick fabrics
Juki LU-1508NS Single Needle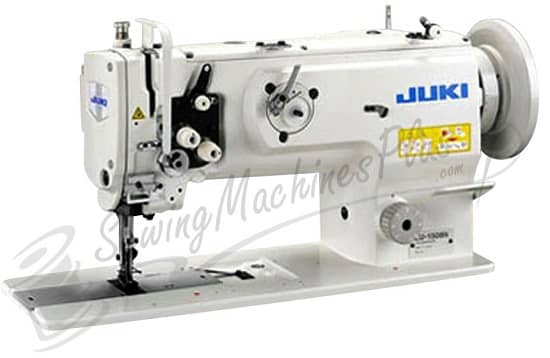 After a lightweight, affordable, simple sewing machine, let's get into one that does all the challenging tasks. Juki LU-1508NS is the perfect sewing machine for industrial use because it stitches an extended range of heavy materials.
It is such a heavy-duty machine that it sews at a very high speed of 2500 SPM. LU-1508NS is designed to sew heavy materials, and the dual tension mechanism says it all. It's a one-needle type machine that can smoothly stitch even seams on heavy materials in high tension.
Not just heavy, it sews delicate, expensive materials with equal ease, seamless, and perfect. So when you have it, you know your projects will be done fast and without any error.
It's not just a sewing machine. It's a package that includes a fully assembled table and a powerful servo motor along with the sewing machine. If you are into stitching cam buckles straps, car seats, sofas, and bags, you need it.
Features At A Glance
Made to stitch heavy, thick materials

Sews at a high speed of 2500 SPM

Comes with a table and servo motor

Dual-tension mechanism

Perfect stitching in less time, soaring productivity

Speed adjustable servo motor
Juki DX-2000QVP Sewing Machine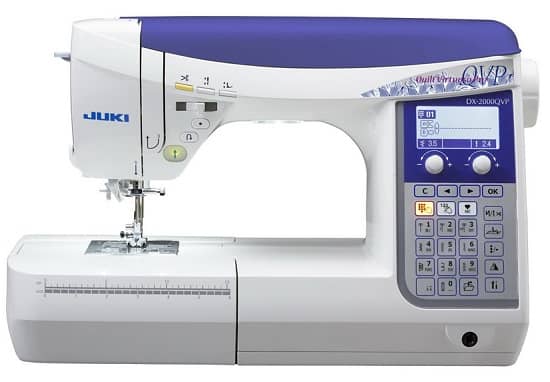 Searching for the best Juki sewing machine, this has to be one of the top contenders. No other machine has got the balance of both industrial and home sewing machine technology right in one sewing machine, as DX-2000QVP did. Its features and innovative functions have created the perfect fusion, indeed.
It is a computerized sewing machine with a box feed system. And box feed in itself means you can sew both heavy and thin fabrics seamlessly. The material will be under the needle consistently for the longest duration possible.
Plus, it stitches at 1050 SPM, not too high nor too low, the perfect speed that an industrial-home sewing machine should have. Basically, the fabric you are sewing is under safe support.
You get to use 287 stitch patterns, four fonts, 14 presser feet, a free arm, and a wide table for free motion quilting. Some of the presser feet you get with it are not very common to get with a sewing machine.
Features At A Glance
1050 SPM stitching speed

287 stitch patterns and easy stitch selection panel

A perfect fusion of home and industrial use

Multiple speeds, two LED lights, and an auto needle threader

Box feed system

High stitch quality, even seam on any fabric
Juki DNU-1541-7 Single Needle Lockstitch Machine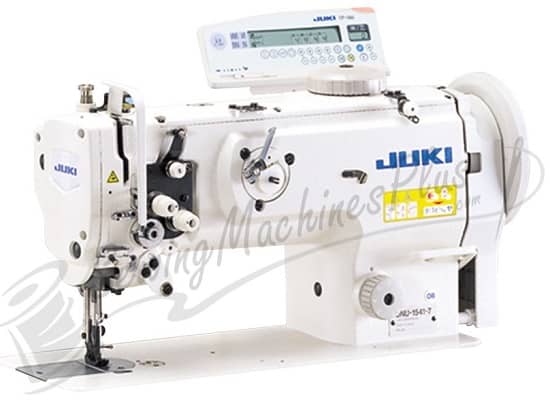 Assumed 2500 SPM was the perfect one for you? You were wrong as DNU-1541-7 stitches at a speed of 3000 SPM. Very high-speed stitching but assures perfect and consistent stitching with even seam.
Like the previous one, this one also includes the servo motor and sewing table. So, even though you will stitch the heavy materials at high speed, high tension, and deliver projects sooner, yet you can expect consistent seam, quality stitches, and no error, thus perfect productivity. You can rely entirely on this machine.
Stitch multiple layers, stitch a dress that is made of thin, delicate fabrics but has thicker borders or designs, at one go. The machine has managed to keep the ratio of walking and presser foot's vertical movements unchanged. So, when the material's thickness suddenly changes, the machine auto adjusts with it.
The rectangular feed also works for the consistent stitches and even seams by not letting the needle fray.
Juki HZL-F400 Computerized Sewing Quilting Machine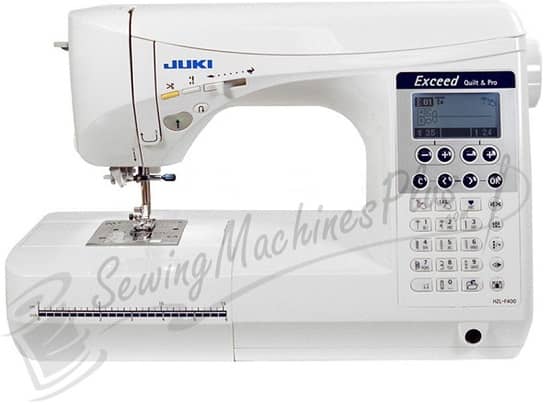 Juki HZL-F400 is a machine that can sew light material, not just light, extra light, to be precise. You can stitch thick materials, multiple layers, and, last but not least, try free-motion sewing with it.
You can consider it a versatile machine, but all the versatility comes at the cost of easy use. The variety of functions doesn't make it a complicated sewing machine. It remains simple.
Sew different fabrics with different speeds, the highest being 900 SPM, and the lowest only 80 SPM. You get to work on your projects with 157 sewing patterns, three fonts, and 16 buttonhole styles with three different cutting widths.
The machine allows auto threading and thread trimming. It flaunts a powerful feeding due to a special steel feed dog. Expect nothing less than even seam, consistent stitch, and high-quality stitching from this sewing and quilting machine.
Features At A Glance
Free-motion sewing

900 SPM

157 sewing patterns, three fonts

16 different buttonhole styles

Powerful feeding and consistent stitches on any fabric extra thin or thick

Auto needle threader and thread trimmer
Juki DDL8700-7-WB AK CP18 Auto Backtack Thread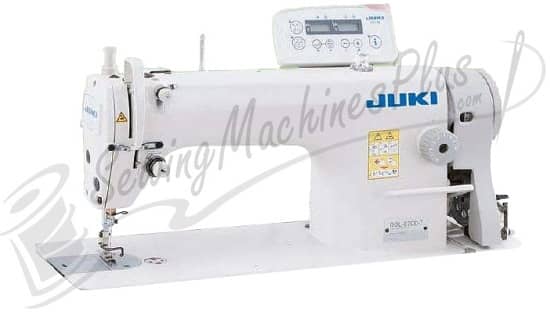 We must admit that it's getting bigger and better, with the industrial machines. This one is a package of a fully-assembled table, a high-quality, fully-featured, robust sewing machine, and a high-speed, high-potential servo motor. What more can one expect?
This high-speed industrial machine sews at 5500 SPM. That high in a minute will take no time for you to finish your projects. Without a doubt, the best Juki industrial sewing machine.
No matter what the fabric is, the sewing machine responds to it and executes changes according to the fabric, ensuring consistency, even seams every time. Your projects will be full of perfect seams and consistent quality. As if the sewing machine is a shapeshifter, the moment the fabric changes, it changes its sewing style.
Though it is a heavy-duty, industrial sewing machine, maintaining it is as easy as the machine you have for home use.
Juki HZL-DX Series Sewing Machine HZL-DX7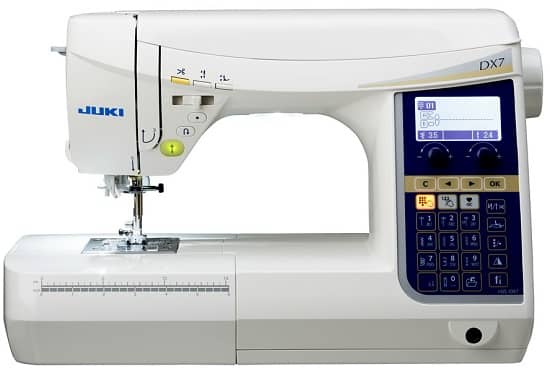 We have already kicked off our discussion with one from this series. That was DX5, and this one is DX7. Those who have thought 185 built-in stitches are not enough can look at this one with 277 built-in stitches and four fonts.
The buttonhole styles are 16 in this one too, and you get the same feature of three different cutting widths. Like the previous one, it works at a 1050 SPM speed and offers different speed selections with the easy slider.
This one flaunts the same box feed mechanism, which sews a high pile towel, multiple layers of thick fabrics, and thin materials with equal perfection. The box feed system ensures the fabrics stay connected to the feed longer for better consistency in seams and even stitches.
Another reason for uneven seams and wrinkled stitches is that the presser foot holds the fabric tightly. 
But this machine allows sewing a fabric keeping the presser foot slightly raised. You can change the position of the feet with the help of the 0.1mm increments the sewing machine offers.
Features At A Glance
1050 SPM

277 built-in stitches

16 buttonhole styles

Box feed system

Float function

Effortless sewing of high pile towels to thin fabrics
Juki DNU-1541S (w/ Safety Mechanism) Lockstitch Machine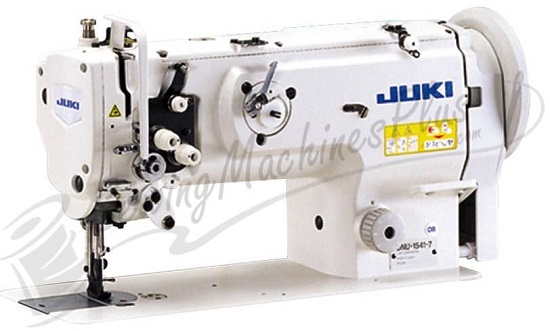 This one is the milder and more affordable version of the Juki DNU-1541-7. It has all the basic functions, features, and tools that the previous one had but skips the more advanced functions and adds a safety mechanism to compensate.
It sews projects with 3000 SPM speed. You can sew thick fabrics as well as thin with this one, no doubt. And when you work with high speed, both you and your projects are safe during intense, intricate sewing.
This includes the table and the servo motor, boasts of the rectangular feed that keeps the needle safe from fraying, and maintains the perfect ratio of alternating vertical movements of walking and presser foot.
The feed doesn't let the fabric gather without you struggling to control the fabric. Moreover, the unchanged ratio doesn't affect the stitch quality when the needle goes through the thicker portion of the project from the thinner section and vice versa.
Juki DDL-5550N High-speed Single Needle Straight Lockstitch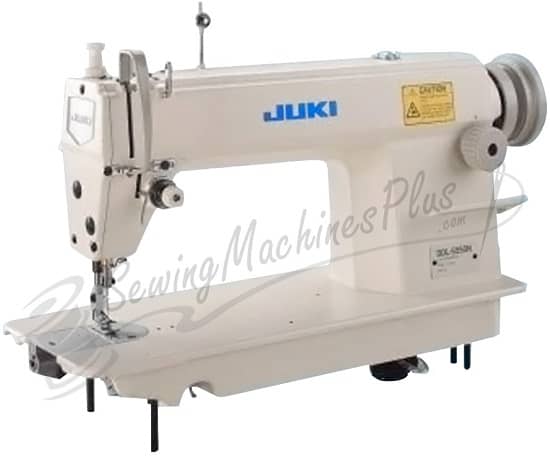 Juki DDL-5550N is a high-speed sewing machine that stitches 5500 stitches per minute. It wouldn't be wrong to say it is the best juki heavy-duty leather sewing machine. Leather is a thick material but, at the same time, needs delicate handling, which this machine can do with absolute perfection.
The receptive quality of this machine towards the fabric is more than impressive. It changes its stitching style according to the material, so you do not have to worry during a material change.
Like any other robust, high-quality industrial sewing machine, this includes a table and servo motor too. You have a larger sewing space with arm configuration and a presser feet mechanism that allows higher lift for easy setting, smooth overlapping, and quick removal of the fabric.
It has highly improved the thread take-up mechanism, feed mechanism, thread path, and hook. So, you can be well-assured about consistent stitching quality and even seams.
Features At A Glance
Effortless sewing of leather

Consistent seam and quality stitches

5500 SPM

Includes a table and servo motor

Highly responsive to the material change

Higher-lift presser feet
Juki Kirei HZL-NX7 Computerized Long Arm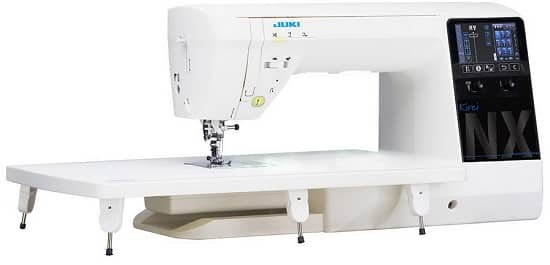 We have a quilting machine for you with a long arm and full of functions. It works at a 1050 SPM, 351 stitch patterns, four fonts, and the highest 20 buttonhole styles with three different cutting widths.
Its box feed system ensures even seams and quality stitches on every type of fabric, from multiple layers of denim, high pile towel fabrics to light, fine cotton fabric.
The float function enhances the efficiency of the presser feet. With this function, your presser feet float and don't have a tight hold on the fabric; thus, the material doesn't gather. Neither the fabric turns wrinkly after completing the stitching.
It is the quintessential quilting machine that has a wide table for proper space for quilting. Also, the dual feed function moves both the top and bottom layers of the quilt simultaneously.
That's a crucial part of sewing a quilt. Every layer needs to be together, at the same point. Thus the Smart feed with perfect precision makes it the best sewing machine, actually the best juki for quilting.
Features At A Glance
Fully featured quilting machine

1050 SPM

351 stitch patterns

20 styles of buttonholes

Electronic feed dog control mechanism for free motion quilting

Float function
Juki Garnet Line MO-623 1-Needle, 2/3 Thread Serger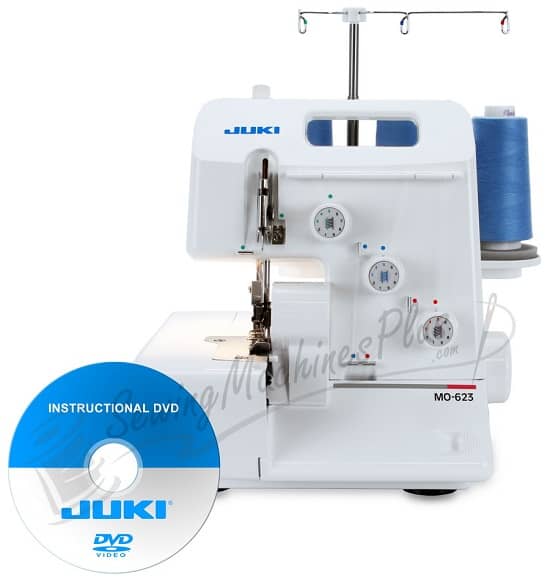 After covering every type of sewing machine, let's talk about a serger as well. Sergers are also sewing machines but used for a whole different purpose. Sportswear, evening wears, designer wears, crafts, home decorating stuff, all are made and proffered the perfect finishing with Juki Garnet Line MO-623. You can make quilts with it too.
It sews at a high speed of 1500 SPM. Pretty high speed, but very easy to operate and work with, compared to other sergers. You can work on heavy materials, making intricate designs while using unique techniques, even if you are a beginner.
From amateurs to experts, Juki Garnet Line MO-623 makes everyone's imagination come alive in the shape of designer clothes, fashionable apparel, and crafts. Its heavy-duty knife system precisely cuts both the delicate and heavy fabrics without a gaffe.
Color-coded threading guides all over the machine make threading easy. Enjoy simple tension adjustment with its 1-rotation easy dial.
Features At A Glance
Durable and reliable

Perfect for making fashionable apparels

Easy to use and operate

Works at a speed of 1500 SPM

Adjustable stitch length from 1-4mm

Universal, multi-purpose presser foot
Frequently Asked Questions About Juki Sewing Machine
What do We Need to Consider When Buying Juki Sewing Machines?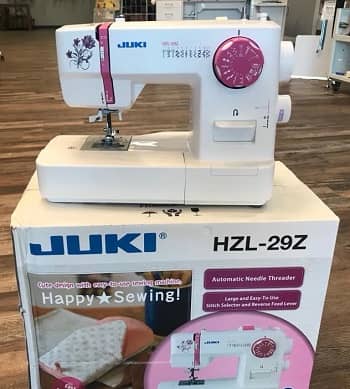 When we talk about a buying guide for a product, we compare products from multiple brands and then decide what should be considered. So, most of the time, the buying guide depends on the features of the said products.
Also, the brands that provide the best features among the lot. But when you are willing to buy a Juki sewing machine from all the multiple varieties of the machines from the same brand, you need to have a different type of buying guide. So we are going to get into those nitty-gritty details in this section.
Decide Why You Need A Sewing Machine
We have discussed 12 Juki sewing machines, explaining why they are the best, which was our opinion. However, there are plenty of other sewing machines from the same brand. And they are no less, and we had specific slots, thus had to finish with just 12.
Please understand that sometimes it's not about the quality. Sometimes, it's about the purpose. A home sewing machine user will have zero use of an industrial sewing machine. It will be like a machine you do not even need most of the time.
Most of the patterns and features will remain unused. First, you need to clearly understand whether you are buying a machine for industrial use or domestic use. If you take the machine to your sewing classes, you need a lightweight and compact machine. The purpose must be clear before buying a Juki sewing machine because they make every type that a consumer could expect.
High-Speed
Only if you are an occasional sewist, who tends to sew once in a blue moon, they can make do with a low-speed sewing machine. The one we talked about, among them, the lowest is 800 SPM. Otherwise, the rest of them are equal/over 1050 SPM.
A high-speed sewing machine ensures consistent and even stitching and perfect outcomes in less time. You can not make a dress for hours, even if you are a domestic user. You only have a couple of hours to work on a dress you are making.
So, a high-speed machine is essential for completing a project quickly. And if you need low speed, you can use the speed slider and decrease and increase the speed according to your sewing needs.
Table And Motor
This portion is about the industrial sewing machine. If you didn't know, Juki sewing machines are also available without a table and servo motor. You can buy just the sewing machine. But we do not prefer that.
If you are ready to buy an industrial sewing machine, make sure you buy the package. A package, having the sewing machine along with the table and servo motor. Save yourself from sundered buying. Moreover, purchasing a package always costs you less.
Box Feed System
Most of the Juki sewing machines flaunt the box feed mechanism. Rightly so, because it is the box feed system that keeps the fabric consistently closer to the presser feet. That feature ensures your material doesn't move haphazardly.
It doesn't gather all of a sudden, doesn't get uneven stitches and messy seam. Also, the box feed system allows you to sew both thick and thin fabric with equal use. It's the feed system that will handle the fabric type and nature according to its safety measure. The feed mechanism understands the material better than you and tackles it better.
Stitch, Buttonholes, Presser Foot
As many built-in stitches, buttonhole styles, and presser feet as possible is always what one expects from a sewing machine to offer. We do, too, especially for all the skillful or the beginners who are willing to take sewing as a profession.
Also, make sure to buy the Juki sewing machine of your choice that has a float function if possible. Not all will have that function. But the sewing machines with float function must be well-preferred. It assures a gentle hold on the fabric through the presser foot, thus ensuring an even seam and crisp stitch without any gathering or wrinkles.
How to Thread a Juki Sewing Machine?
As we have talked about 12 different Juki sewing machines, you might have already noticed two types. The regular sewing machines for domestic use and then the industrial ones. Whereas threading the home use sewing machine is easy, due to all the threading guides and arrow signs, the industrial one could be a tad bit complex.
Step By Step Threading Guide
The core process is pretty much the same, though. So, here we are going to talk about how to thread the Juki industrial sewing machines.
Spool Holder
You have a Juki sewing machine with a fully assembled table. There will be two thread spool holders, one for the bobbin winding and the other for threading the needle. First, start with the needle threading holder, which will be the left one.
First Eyelet
Put the thread spool you want to use on the left holder. Hold the thread end; you will need a neat edge for better threading. Take the thread end through the first eyelet that will be right over the thread spool holder. You need to insert the thread from behind.
Single Needle Tensioner
After inserting it from behind, bring the thread to the front. Bring it towards the single needle tensioner. Depending on which machine you are using, either there will be tension discs or holes.
Tension Discs
If you have discs, first take the thread through the hole from back to front and then insert it between two discs up and over. Don't take it underneath the discs. Make sure the thread is rightly inserted, and double-check. Perhaps it couldn't reach the center due to the squeezed discs.
Holes
If there are no discs, there will be two holes instead of one, and you will have to insert the thread through those two holes from the back to the front.
Stationary Post
Now the easy part. There will be a stationary post with two holes, and you will have to insert the thread directly through the top hole right to the left. Then bring it again to the right and insert it through the second hole also right to the left. It will be a swirl, basically.
Thread Tension Discs
Right underneath will be the thread tension discs. Ignore the hook above the discs; that is not where the thread would go as of now. Directly bring the thread towards the tension discs. Again properly insert the thread between the discs by loosening up the squeezed discs.
Do not thread it haphazardly. Make sure the thread is in the center, rightly clicked. This time the thread will go underneath and then reach the top.
Spring
Time to get the thread through the little spring-like thingy. When you pull the thread, it moves up and down.
L-shaped Hook
Now take the thread beneath the L-shaped stationary hook. We ignored the hook above the tension discs earlier; this is when you take the thread through that specific hook.
Take Up Lever
Bring the thread up towards the lever and insert it left to right. Now latch it to the other stationary hook that is right beside the hook above the tension discs.
S-shaped Hook
Now you have reached the needle section. There you will see another hook, an s-shaped one. Make sure to insert the thread through it in a way that the thread stays straight when you are inserting it through the needle eye. It moves and adjusts, so set it accordingly.
Needle Eye
There is another hole right on the section above the needle. Take the thread through that hole from front to back, yes, this time front to back. Bring it to the front and insert it in the needle eye left to right. Now take the thread underneath the presser foot to the back and make sure you leave about 4 inches there. It's your top thread.
Bobbin Winding
Time to set up the bobbin. For that, place the same thread now on the second spool holder. Take the thread through the eyelet over it. Bring it down and insert it between the hole on the tension discs from left to right and then through the discs.
Take the thread from the bottom of the discs and then wind it up from the bottom ten times on the installed bobbin on the bobbin holder. Push the lever to engage the bobbin winder.
Top And Bottom Threads
After you are done with bobbin winding, insert the bobbin inside the bobbin case. It is time to slide open the needle plate and slide it in the slot. Now start the machine and try one stitch. And the needle will pull the thread up, and you will see a loop. That loop is your bottom thread. Bring it to the top thread.
You have your top and bottom thread together, and you are done threading your sewing machine. Now start sewing.
How to Oil a Juki Industrial Sewing Machine?
Sewing machines need proper oiling for optimum performance. It is very important to lubricate your sewing machines regularly. Oiling it with quality oil is what ensures the proper maintenance of the sewing machine.
How frequently You Must Lubricate The Sewing Machine
If you are using a sewing machine every day for a couple of hours, you will need frequent oiling. Keep a close eye on the oil level. Do not let it go down the low line. Heavy use of the sewing machine will require oiling a couple of times a month. It all depends on how much you use the machine, what you are sewing with it, and so forth.
The Oiling Section
You will get a bottle of oil with the Juki sewing machine you bought. In a Juki industrial sewing machine, you will get the table fully assembled. And oiling is done right beneath the machine. There is a whole section with the oil pump, high and low marking, and all right on the top of the table.
Tilt The Machine
First, tilt the machine back gently, and the section is exposed. You will see the oil is still dripping from the pump and the oil plug section still has oil left in it. Make sure you wait till all the oil is dripped from the pump. It might need an hour, so keep it that way.
Clean The Pump
If you are using the machine for long, the oil pump will be dirty. There will be oil left, which basically will be beneath the low marking, closer to the surface level. Now clean the pump with a little blast of air and a gentle rubbing here and there, only if needed.
Drain the Oil
Drain the leftover oil by unscrewing the oil plug. Before you unscrew it fully, hold an empty bottle beneath the machine. The oil plug hole will be right there, and the leftover oil will drain into that bottle. Be patient; it will be a slow process. Ensure you have led the oil from all the corners towards the drain hole so that you can fully drain all of it.
Clean The Oiling Section
When the oil is fully drained, take a paper towel, and start cleaning the screw and the oil section. It will be messy so do it slowly and correctly. Now put the screw back again. Make sure to clean the hole beneath the table as well.
Pour The Oil
Take the oil bottle and pour the oil on the oil plug section. Continue pouring until the oil level reaches the high mark. Make sure you do not go over the marking. Don't be below the low mark, and don't go over the high line. That's the thumb rule.
Changing the oil and lubricating the machine all are pretty much the same. If the oil is not too yellowish and just went right beneath the low line, then you can skip the hole draining and cleaning part and just pour more oil to reach the high line to continue sewing.
Conclusion
When you are known as the top-ranked sewing machine manufacturer, the expectations from the sewing machine made by you will very naturally be high. But the thing is Juki as a brand knows its consumers. Every skill level, every type of sewist.
From a home user to a fashion designer to a beginner, the manufacturer understands all well and makes machines for each category. And on top, those categories have multiple sewing machines to offer for the numerous users of the same sewing machine category.
Only a good brand can make that happen, making the same stuff differently with slight but important changes. Without any hesitation, we will highly recommend each sewing machine by Juki, especially those from our top 12 Juki sewing machine reviews. Trust us when we say Juki makes the best sewing machines.