A sewing machine should last for years. Protect yours using the best sewing machine oil. Read our article to learn more.
Your sewing machine is a valuable asset, and the best sewing machine oil guarantees its smooth operation for years to come. Regular maintenance and lubrication keep the machine running for a long, protecting its internal parts from constant friction.
Sewing machines are made of steel. The inner parts move to allow you to finish various sewing projects. Excessive friction takes its toll on the internal parts of the engine, lowering their efficiency, and eventually destroying them.
Day after day, you can sense a problem with your machine's performance. It doesn't move fast and even ruins expensive fabrics or textiles.
Adding the right oil creates a layer that prevents excessive friction. It protects the metal parts so your machine can last for a lifetime. It increases its efficiency and improves its productivity. However, using the wrong type of oil can ruin everything.
In this article, we review five of the best-selling sewing machine oils on the market and explain how to buy the suitable one. 
Our Recommended Top 5 Picks:
(See our quick top 05 picks, or go further down and read our in-depth reviews.)
Top 5 Sewing Machine Oil of 2022 – (Editors' Top Picks)
If you've never oiled your sewing machine before, then you'd better start now. You must follow the user's manual and lubricate the right parts as advised. We researched the market to test several products. Here is what we found about the best five oils on the market:
1. Zoom-SPOUT Sewing Machine Oil  
The first product on our list is the right choice for people who are on a budget. Nevertheless, it is one of the most useful sewing machine oils that will protect your machine and improve its performance. The oil creates a protective layer that prevents extensive friction that eventually damages internal parts and affects their efficiency.
The bottle features a telescoping spout that measures 2 inches, but it comes with 7 extra inches for an extension. This means that you'll be able to reach those hard-to-reach spots. Don't worry if this is the first time you lubricate your sewing machine because it is easy to apply.
Just make sure that you secure the bottle quickly; otherwise, it will leak. This oil is lightweight, colorless, and stainless. 
It is transparent and highly refined to provide the best protection for your sewing machine. Even if this sewing machine oil 3-in-1 accidentally gets in touch with your fabrics, you can easily wash it off.
This all-purpose oil is practical because it can be used for any machine that needs lubrication. It is an excellent value for money because the amount you receive will last for a long. Moreover, the container is refillable, which is an eco-friendly option.
Features at a Glance:
Budget-friendly oil that lasts for long

Extendable spout for easy application in hard-to-reach spots

Lightweight, colorless, and stainless oil

Increases the efficiency of the sewing machine

All-purpose use.
2. SINGER 2131E All Purpose Machine Oil 
The brand name says it all. This Singer all-purpose machine oil protects the metal parts in your sewing or knitting machine, as well as other household appliances. 
This oil improves the operation of your machine as it protects the internal components and eliminates friction. It also prevents rust, corrosion, and abrasion that affect the way your machine functions.
Other oils might feature better viscosity, but it is good enough to lubricate your bike as well as the sewing machine, which makes it excellent value for money. This oil extends the life span of your machine while providing a smooth operation that lengthens the life of your machine. It is a great choice for people who sew regularly because it lubricates the internal parts to work correctly.
The nozzle is rather short, so it might be difficult to apply to more challenging spots. This could be a problem for people who use the machine every day and need reliable oil to use. Moreover, it might be difficult to get a single drop if you need one. Nevertheless, it is quite affordable and delivers a decent performance.
Features at a Glance:
Suitable for the sewing machine as well as other household appliances.

Eliminates friction and provides smooth operation.

Protects from rust, corrosion, and abrasion

Lengthens the life of your sewing machine
 3. Universal Sewing Supply Sewing Machine Oil 
This is another fantastic product from Zoom. It is affordable and will last for a long if stored in the right conditions. This oil is perfect for all your oiling purposes, especially if you need to reach small holes or challenging places.
It is stainless and colorless, so you shouldn't worry about it getting in touch with various fabrics.
The oil is clear, but it comes with no cap on. You have to make sure that you store it upright, so it doesn't spill. You don't have to be an expert to use this oil. You can easily apply it to extend the life of your sewing machine by lubricating the internal parts of the motor.
Thanks to its potent formula, you can use this lubricating oil for years. There will be no degradation or change in quality, and a little goes a long way. It is suitable for all fast-speed gears and bearings, which usually corrode with extended use.
Features at a Glance:
Clear oil with a long-lasting formula

Perfect for fast-speed gears and bearings.

Protects the internal metal parts from corrosion

A little goes a long way.

It can be used to lubricate several household appliances.
4. Lily White Oil Sewing Machine Oil
This is the right choice for sewing enthusiasts and professionals. For a reasonable price, you will receive one gallon that will last for a very long time. It is formulated to keep the internal parts of your sewing machine working for years without any abrasion or corrosion.
The sewing machine's oil viscosity is low to prevent friction. It is almost water-like, which provides smooth operation with everyday use. This is suitable for industrial sewing machines that run all the time, with no break, especially since it comes in one gallon that will last for years.
This industrial-grade lubricating oil is stainless, so it is suitable for sewing machines and other textile machinery where the oil can get in touch with textiles and fabrics. It can be easily washed off.
However, the bottle's design makes it somewhat difficult to apply. If you need to reach tight areas, you must be extra-careful or use another applicator; otherwise, it might spill.
Features at a Glance:
One gallon of high-quality sewing machine oil

Water-like viscosity.

Industrial-grade lubrication.

Stainless oil that can be washed off fabrics and textiles
5. Liberty Oil, the Best 100% Synthetic Oil 
Synthetic oils like this product outperform all the other petroleum-based machine oils on the market. It eliminates friction between the metal parts of your sewing machine and any other household appliances. The oil is safe on plastic and other surfaces.
Applying this oil is easy. It comes with a 1 ½ inch applicator for precision oiling. The oil comes in a 1 fluid oz bottle but is a little bit more expensive than other sewing machine oils.
The oil protects the metal parts of the machine because it features two modifiers that act as protective ball bearings to prevent corrosion and abrasion. If you tend to use your sewing machine often, then this is a good product to use.
The bottle is made of plastic that is very easy to squeeze. Moreover, you will find the stainless steel tip extremely useful when trying to reach challenging spots. The medical-grade syringe features a secure cap that prevents leaking so you can guarantee that your workspace will stay clean.
Features at a Glance:
Synthetic oil to prevent friction

Designed for everyday use.

High-quality performance.

The bottle is easy to squeeze.

Stainless steel tip to reach the challenging spots.
What do We Need to Consider When Buying Sewing Machine Oil?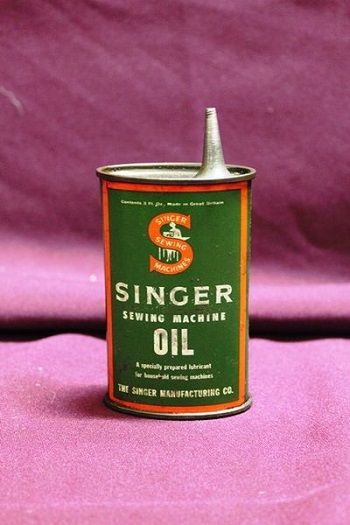 Before you think about buying the best lubricant for your sewing machine, you need to understand what it should do. The right sewing machine oil should be able to keep your machine functioning properly while protecting the internal metal parts.
Compatibility:
There are numerous good oils on the market, but you should check the user's manual before buying one. Your sewing machine guide will probably suggest the perfect oil that you can use to maintain its condition.
Using oil that won't suit your machine will cause irreversible damage. Sewing machines are a significant investment, and the manufacturers provide you with this piece of information to make sure that your money is safe.
Always check the user's guide before attempting to lubricate your machine. The wrong oil might prevent the smooth operation and ruin your sewing project or the machine itself.
Type:
Sewing machines are either petroleum-based or synthetic. Petroleum-based oils are specifically designed to improve the performance of sewing machines. Moreover, they can be used to lubricate and enhance the performance of several household machines and appliances. 
They protect movable parts from corrosion and abrasion. These high-quality oils work with modern and unique sewing machines, guaranteeing that they will last for long. They are affordable and provide good value for money.
Synthetic oils present a hybrid between petroleum-based and mineral oils. Mineral oils are suitable for machines that feature parts that would slide across each other. They provide an airtight seal that protects the internal components of machines.
Synthetic oils provide the best of both worlds. They provide excellent protection to heavily used machines while creating an airtight seal that ensures the smoothest operation. They don't degrade and deliver the same performance for years. These oils are more expensive than petroleum-based versions but are of higher quality.
Stainless:
It is crucial to choose an oil that is stainless. Your sewing machine oil will probably get in touch with various garments and textiles. You should be able to wash it off easily and quickly; otherwise, you might be risking the quality of your sewing project.
Colorless:
If your oil is not colorless, this is a sign not to use it. All high-quality lubrication oils should be clear and colorless. If not, they can damage the internal parts of your machine. Make sure that you pick colorless oil that that comes from a reputable manufacturer.
Odorless:
It will be quite annoying if your finished dress or shirt smells like oil. The smell lingers and can be problematic. Good oils don't smell or stink, and this is why you should make sure that your oil is 100% odorless. Low-quality oils will harm your machine in the long run.
Viscosity:
Always look for low-viscosity oils with a water-like consistency. They prevent the abrasion and corrosion that happens due to excessive friction. Your sewing machine features metal parts that move all the time. Without proper protection, they are likely to corrode and wear off.
Highly viscous oils turn to sludge that becomes difficult to clean with natural friction. They tend to get overly drying with continuous use. These oils will hinder the fast and effortless performance of your machine's internal parts. Regular lubrication guarantees that the machine will work in the same quality after years of purchase.
Application:
Even if you've chosen excellent oil, you should be able to use it properly. Always look for a bottle that features a thin nozzle or reliable applicator. This allows you to reach the most-challenging spots when you are trying to improve the performance of your machine and protect it.
Conclusion
The best sewing machine oil protects your sewing machine, guarantees smooth perfection, and improves its productivity. Good-quality oil should last for long because you will only need a tiny amount to maintain the condition of the internal parts.
Make sure that you buy a decent product that will protect your sewing machine from corrosion and abrasion. Using the wrong oil can cause irreversible damage to an appliance that should, otherwise, last for decades.