(Last Updated On: June 1, 2023)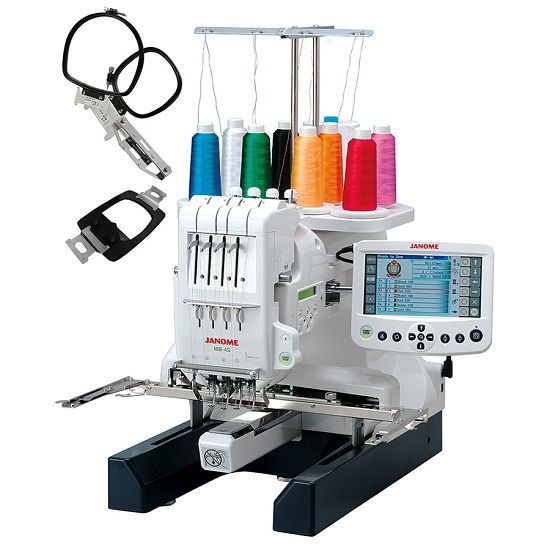 Embroidery speed: 800 SPM

Maximum speed: 800 spm

Machine weight: 20.5 kg

Built-in Designs: 50

Lettering Fonts: 10

Included Hoops: 4

Warranty: 25 Years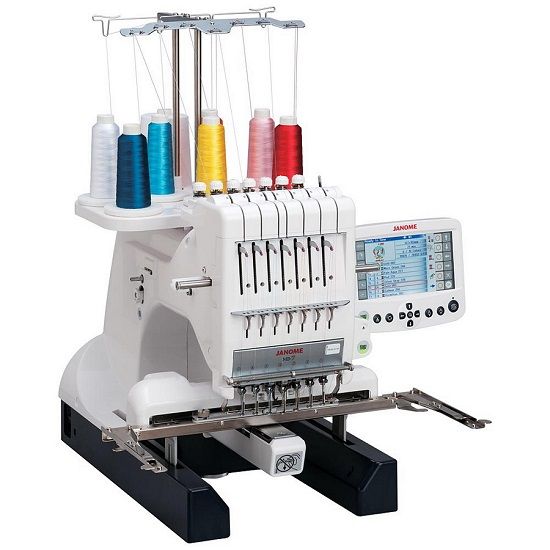 Embroidery Area: 9.4" x 7.9"

Sewing speed: 800 SPM

Monogramming fonts: 10

Warranty: 25 Years

Lettering Fonts: 10

Included Hoops: 4

Built-in Designs: 50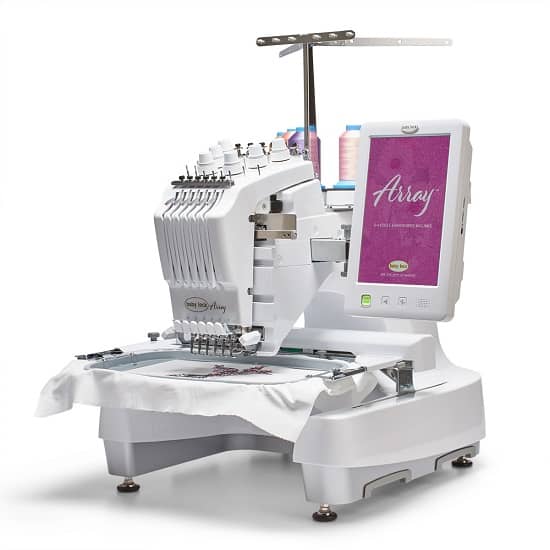 Embroidery speed:1,000 SPM

Machine Weight: 84 lbs

Built-in memory: 10MB

Built-In Designs: 126

Warranty: 25 Years

Included Hoops: 4

Built-in fonts: 50
Our team of experts has selected certain products & assigned a star rating to each product. Read our detailed review below.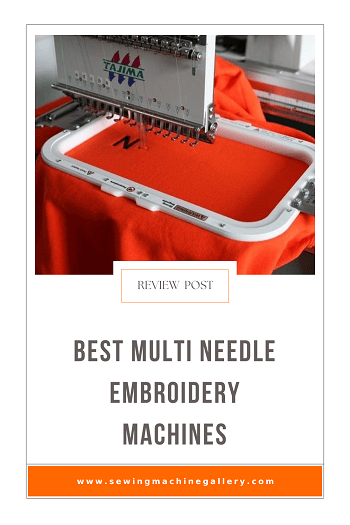 sewingmachinegallery.com listed some excellent multi needle embroidery machines. You can easily choose the top multi needle embroidery machines for your job. Pick the right one without any tension.
Over the years, the productivity of the garments industry has seen massive change due to technological improvements.
Sewing by hand is still around but is usually done for passion or for a hefty price. With the introduction of embroidery machines, the workplace has turned into a profit house.
In this article, we bring to you the 6 best multi needle embroidery machines currently available in the market.
These are the best overall products that you can find for your work at home or for your personal business. If stitching's a hobby, then this guide should help you make an informed decision. 
6 Best Multi Needle Embroidery Machines 2023 – (Editors' Top Picks)
There are so many machines in the market to choose from that you may easily get confused. The following products are our top picks in the market for best-rated multi-needle embroidery machines.
PREMIUM PICK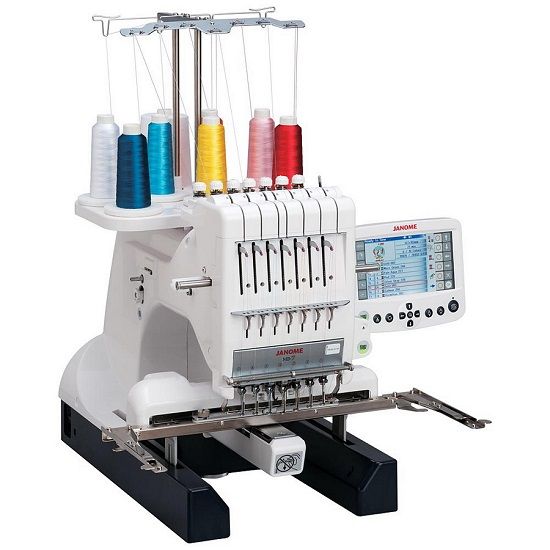 Features at a Glance:
Compact design compared to others
Optional remote computer
Supports most fabrics
7-thread needle setup
Great efficiency
Why We Love It? All embroidery operations are quick and smooth on this multi-needle embroidery machine. You'll be impressed with the professional finished results. 

Product information:
| | |
| --- | --- |
| Brand Name | Janome |
| Embroidery Area | 9.4″ x 7.9″ |
| Built-in Embroidery Designs | 50 |
| Lettering Fonts | 10 |
| Included Hoops | 4 |
| LCD Display | LCD Touchscreen |
| Needle  | (DB x K5Q1-NY, #11) (x 10) |
| Warranty | 25 Years |
Product Description:
The MB-7 is a steal for the price you have to pay for it. Made for industrial use, this product can easily get work done faster than anything in the market if the demand arises. This can be used in a home-based workstation, too, as it is small enough to be placed in a medium-sized room.
Also, the product has a multi-functional remote computer screen through which you get to choose how the machine works. It allows the user to get a visual of the various pattern available for embroidery. Other information like estimated time and thread colors can also be viewed on this screen.
During operation, the product works quite flawlessly. Although, winding and inserting the bobbin will need some extra attention. It can be quite challenging if one does not follow the instructions provided. This product is one of the next-gen machines available, giving you the ability to use up to 7 threads at a time.
It weighs around 50 pounds, which is fairly heavy for a standard machine. You will get the ability to resize, rotate, or even flip your design. I have to mention that the screen is an optional extra.
If you are considering buying this product without the screen, you can always hook it up to your computer with a USB and get along with your work. And thanks to this connectivity feature, you can transfer personalized designs into your machine.
BEST OVERALL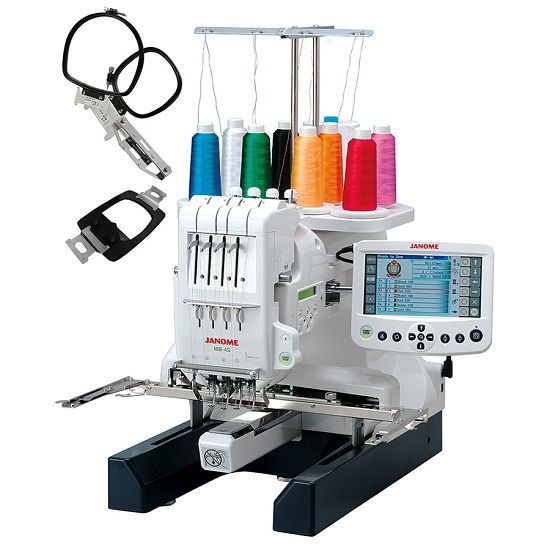 Features at a Glance:
Compact size in comparison to the competition
3-MB memory storage for additional designs
Supports other industry-level Tajima hoops
Has 50 built-in designs
Great speed output
Why We Love It? This multi-needle embroidery machine has an on-board sub-control device. You can use it without the controller.

Product information:
| | |
| --- | --- |
| Brand Name | Janome |
| Embroidery Area | 9.46″ x 7.88″ |
| Built-in Embroidery Designs | 50 |
| Lettering Fonts | 10 |
| Included Hoops | 4 |
| LCD Display | LCD Touchscreen |
| Warranty | 25 Years |
Product Description:
If you are just starting out your journey into the embroidery business, then the MB-4S is just what you need. It is the perfect product when you are looking to work mainly from home. The compact size makes it easy to store in any room, and it is very user-friendly, given you follow the instructions.
It is a single-head 4-needle machine that is capable of reaching a maximum speed of 800 spm. The system uses a metal bobbin pin, which is far superior to the standard long shuttle setup. There is also a dedicated bobbin winder motor to make things easy for you.
The machine comes equipped with 50 pre-made designs for you to use out of the box. Additional designs can be uploaded through USB and selected through the built-in remote controller. It has a 3 MB system memory capacity, which can hold upwards of 90 designs.
Due to the updated bobbin motor, the machine can wind new bobbins even when it is in operation. It is compatible with 6 standard hoops available for purchase. You can also use this product for 2-3 letter monogramming with the 10-font setups that come pre-installed.
A welcome addition is the automatic needle threader, which enables the machine to automatically cut jump threads between letters. Overall, the product is a very capable machine and a great bang for the buck.
TOP RATED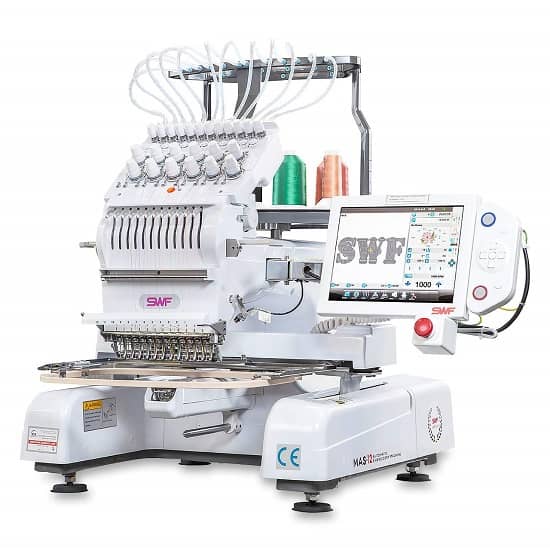 Features at a Glance:
Allows 4 machine network connection
16 needle multi-color functionality
2500 pre-installed designs
Easy to set up initially
Simple operation
Why We Love It? The stitches of this embroidery machine are beautiful and the color change of each needle is wonderful. On the other hand, it is also good quality commercial machine.

Product information:
| | |
| --- | --- |
| Brand Name | SWF MAS |
| Embroidery Field | 13″ x 8″ |
| Stitches Per Minute | 1,000 |
| Touchscreen panel | 10.4 inch |
| Design Slots | 400 |
| Sewing Field | 13×8 inches |
| Warranty | 7 Years |
Product Description:
Coming at a relatively small footprint, this machine has a lot of features that catch the eye. Its 5 feet tall stand does not require much floor space due to its compact design. Furthermore, it has a single-head 12-needle setup – suitable for both personal and professional work.
When quality is the question, this machine ticks all the boxes. It can embroider various products like bags, apparel, and other textiles. The power output is one of the best in terms of industry standards of up to 1000 spm. This machine supports laser alignments of designs, giving you a precise finish.
The machine can hold up to 16 extra-large thread cones and 12 needles in its bobbin chamber. It has 40 million stitch memory and 400 design slots allowing you to keep a lot of designs on your machine for convenience.
You can hook it up to your computer to upload additional designs if the need arises. There is also the capability to program custom sequencing methods.
It includes a keypad through which you can set up your work easily. After connecting to a computer, you can select everything you want from your design and leave the machine to finish your masterpiece in no time.
The machine also has an alerting mechanism that informs the user about any malfunctions in the system like a thread break. One important thing to mention would be to follow the given instructions as this product is not meant for beginners.
EDITOR'S CHOICE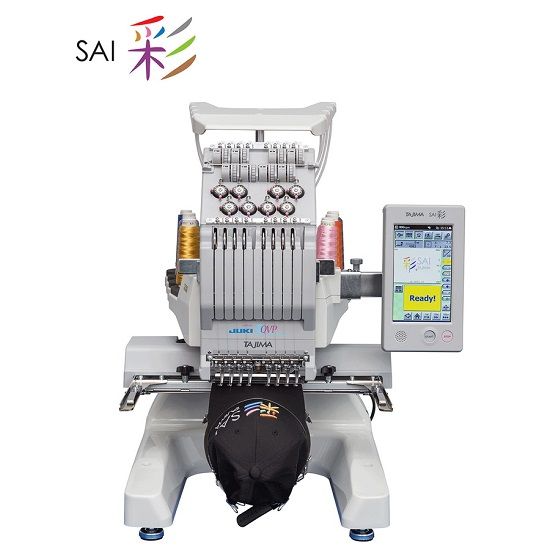 Features at a Glance:
Auto thread trimming feature
Built-in LED-lit sewing field
Touchscreen control panel
800 stitches per minute
Compact design
Why We Love It? Juki Tajima Sai has long excelled in developing techniques and devices that meet professional requirements.

Product information:
| | |
| --- | --- |
| Brand Name | Juki |
| Needles | 8 |
| Max Sewing Speed | Tubular Frame: 800rpm Cap Frame: 800rpm |
| Weight | 82 lbs. |
| Bobbin | "L" style |
| Dimensions | 22" W x 26" H x 23" D |
| Display | 6" Full-Color Touch Screen Display |
| Embroidery Area | 200mm x 300mm (7.8 inch x 11.8 inch) |
| Power Supply | 100120V200240V(50/60Hz)(UL specification: 120V only) |
Product Description:
When looking for a compact machine for home use, this product can be worth considering. It is sleek and portable and is equipped with most of the standard features that bigger industrial-grade machines have. There is an included touch control panel, which is rare to see in a product in this price range.
The machine is capable of operating with great efficiency under heavy loads. It is capable of performing 800 stitches per minute with a big enough sewing area. Also, it has a position marker that allows you to pinpoint the center of your design.
An 8-needle setup means that you will be able to complete your work at the greatest speed and with high efficiency. It also has a nifty auto thread trimming functionality, which reduces the need for someone to be constantly manning the device.
On top of the pre-installed designs, you can upload your own through a LAN connection and or a USB port. This makes for a truly unique embroidery job, unlike any others in the market.
UPGRADE PICK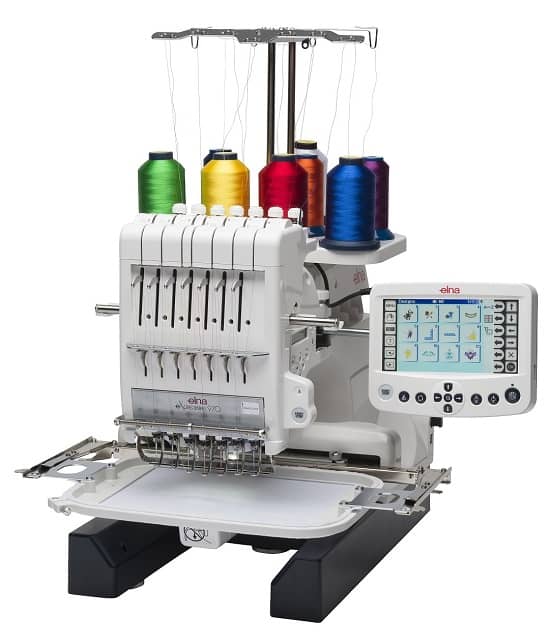 Features at a Glance:
Multi-functional remote for better operation
Improved thread tension system
Needs fewer bobbin changes
1000 pre-installed designs
Great processing power
Why We Love It? This is an excellent multi-needle embroidery machine & its all embroidery operations are noticeably faster and smoother. You'll be impressed with the professionally-finished results of your project.

Product information:
| | |
| --- | --- |
| Brand Name | Elna |
| Embroidery Area | 9.4″ x 7.9″ |
| Built-in Embroidery Designs | 50 |
| Lettering Fonts | 10 |
| Included Hoops | 4 |
| Warranty | 25 Years |
Product Description:
This product is hands down the best in the business. Coming at a hefty price tag, it has a lot to offer in return. If you are looking for a top performer in the market, this should be your go-to machine. Although not meant for beginners, you can still invest in this, given you know a thing or two about embroidery.
It has a 16-cone thread pad that works flawlessly under heavy pressure. The industrial-grade machine has around 1000 pre-loaded designs that you can play around with. These can be selected from a connected computer screen. A USB can also be used if you want to upload your own designs.
The machine has laser technology built in to help pinpoint the center of a design. This ensures you can get a precise job done in no time. It is rated to perform 1600 stitches per minute, making it one of the fastest according to industry standards. Precision and productivity are both an ace up its sleeve.
For home use or professional use, the E16 will serve your purpose greatly as it is a great machine in terms of price and size. It is effortless to use and can be a good purchase for any beginner getting into this business. Just following the guidelines will be enough to get it up and running.
When it comes to additional capabilities, the machine can also do something that others in the market cannot do. It has the ability to produce textured 3D designs, which, by all means, fall in a 'premium feature' category. This solely makes it a bargain for its price.
PREMIUM PICK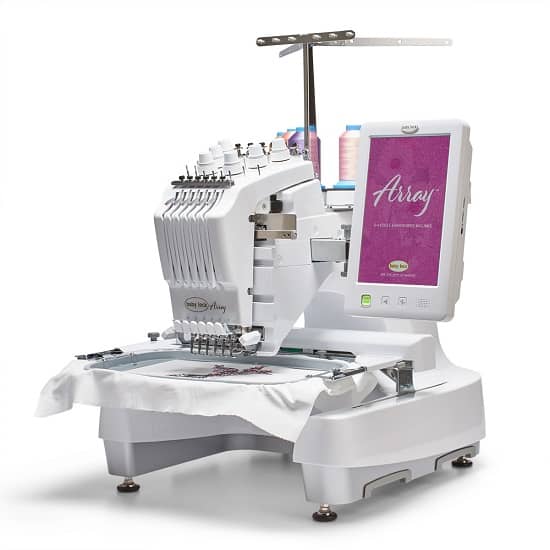 Features at a Glance:
Built-in LED and camera for precision
Auto needle threading technology
Multifunctional touch screen
High speed 6 needle setup
Precise onscreen editing
Why We Love It? This machine is very fast so you can do your job properly. You will be happy to know that, this machine is easy to use for a beginner and advanced enough for an expert.

Product information:
| | |
| --- | --- |
| Brand Name | BABY LOCK |
| Built-in Embroidery Designs | 126 |
| Stitches Per Minute | 1000 |
| Resizable Fonts | 50 |
| Monogram Frame | 15 |
| Warranty | 25 years |
Product Description:
This is another beast of a machine and is easily one of the bests in the embroidery business. The 6-needle robot can breeze through the most complex of designs in the blink of an eye. It has the ability to hammer down 1000 stitches per minute, making it an industry leader.
Although it may look very complex, this machine is straightforward to operate. You can make use of the interactive guide built into the system to help get you started. The high-definition touchscreen can be used here. This is also what you use to operate the machine.
There are 126 designs pre-loaded into the machine to get you started. If that's not your thing, then feel free to upload your own through the USB drive. And if you face any problems, you can always consult the touchscreen controller for assistance. For low-light assistance, the base of each spool has a bright LED fitted to it.
In case you want improved visuals in the work area, the built-in camera can display the work-in-progress on the screen. This can also be used to center the machine if you ever need to sew anything at an angle.
To further enhance your experience with the machine, you can always get the manufacturer's design software. This allows you to create your own design atop the 850 included ones.
Frequently Asked Questions About Multi Needle Embroidery Machine
What do We Need to Consider When Buying Multi Needle Embroidery Machine?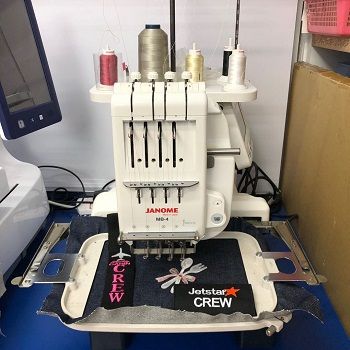 Down below is a list of features that you must be on the lookout for before making your purchase. Without further due let's dive in.
Value of Purchase
When buying your first professional embroidery machine, you must always keep in mind the purpose of your decision. There are many products on the market, but you may need to keep in mind the cost of the products. The products in question can be very expensive and have different purposes.
If you are a small-business owner, buying a top-of-the-line unit may not really give you your value for money. This is because you may not be able to get the output required to actually make a profit. Thus, look for something that will best serve the needs of your business. Going big is great, but you also want to make a profit on the way.
Working Field and Hoops
Most budget-friendly machines will not give you a big enough embroidery area to work on. They usually range from 3-4 inches. For professional work, this may not be ideal as it will reduce your productivity. If you want to be creative, you would like to invest more in getting a mid to high-range product.
Always look for machines that support multiple hoop sizes as they help out in the long run. With different hoop sizes, you are not restricted to accessories from a single brand only.
Connectivity
Almost all machines nowadays support USB connection capabilities to hook your device to a computer. This allows you to upload personalized designs on top of the pre-installed ones to give you a competitive edge. Refrain from considering any product that does not have this feature.
If you own a moderately large business, you can also invest in products that can be connected to each other as a network. This allows you to control all the machines in tandem, which in turn increases your business's efficiency.
Display
Try to buy a product that has a built-in display to operate the machine itself. When you have a display where you can view your designs and operate the machine, it reduces the need for manual labor, which keeps the costs down. Having a clear view of the work you're doing, you don't need additional accessories like a laptop.
Single Thread vs. Multi thread
This debate is pretty simple. A single-needle machine will do the same thing as a multi-needle one but will take more time. Beginners can make do with a single-needle machine since they do not have to worry about mass production.
Buying a multi-needle machine will definitely help in the long run as they are proven to be the most productive. They can work on multiple tasks at once. However, you do need some skills to learn how to operate them.
Final Words
These were our top 6 picks in the market for the best multi needle embroidery machines. Although there are a lot of things to talk about the products, we have tried to keep it as concise and detailed as possible. Picking anyone will kick-start your business in no time. 
Related Posts: