(Last Updated On: September 2, 2023)
Lightweight & breathable
Excellent color retention
High-quality material
Ideal for swimwear
Quick-drying
Durable and long-lasting
Great for activewear
Soft and breathable
Wrinkle-resistant
Versatile fabric
Soft and comfortable
Stretch and recovery
Chlorine-resistant
Easy to work with
Versatile use
Our team of experts has selected certain products & assigned a star rating to each product. Read our detailed review below.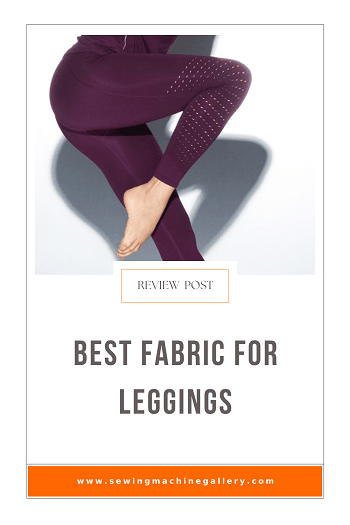 Leggings are regular fashion wear mostly for women and kids.
As it's a regular wear, it's necessary to get the fabric with the highest comfort. Otherwise, it can be difficult to wear it every day.
While choosing the fabric, you must check its type and material first. If you have a color preference for your leggings, then look into the color choices as well.
There are thousands of fabric brands including high-quality ones with long-lasting features.
We know it's not easy for you to choose suitable fabrics. For this reason, we've researched the best fabric for leggings.
And after a full-proof research and talking to the textile experts, we've listed these 5 excellent fabrics for leggings. So let's get started.
Quick Answer: Best Fabric For Leggings of 2023
Last Amazon price update was: September 26, 2023 10:27 am
TOP PICK
Pros:
Compatible for different costumes
Bright and attractive color choices
Easy to sew
Durable
Stretchy
Cons:
Thinner than regular fabrics
Not matte
Why Do We Like It? This lightweight fabric is comfortable and soft so that you can make leggings for yourself and your kids effortlessly. It comes up with an antifade, and high abrasion resistance. And it also offers amazing elasticity.
Product information:
| | |
| --- | --- |
| Brand | FabricLA |
| Fabric Content |  80% Nylon 20% Spandex |
| Material | Nylon |
| Color | Multiple |
| Item Form | Pre-cuts |
| Weight | 11.3 ounces |
Product Description:
FabricLA is one of the renowned and best brands that includes some extraordinary fabrics for different upholstery clothing. This pre-cut 300GSM fabric comes with a 4-way stretch solid matte tricot that lets you stretch in all directions lengthwise and crosswise.
You can take any color of this fabric from black, neon green, neon pink, orchid smoke, red, royal blue, scarlet red, silver, and white. Moreover, it has a width of 58/60 inches. The wrinkle and run resistance capacity makes it more comfortable and breathable.
Thus, you can choose this fabric for various purposes such as swimsuits, yoga pants, fashion items, table cloth, sportswear, seat cover, and decor clothing.  Also, it has an anti-fade, anti-pilling, and abrasion-resistant capacity that proves it's longer lasting than regular cotton fabric.
TOP RATED
Pros:
Excellent for leggings and athlete shorts
High-quality knit
Lightweight
Soft
Cons:
Why Do We Like It? If you're looking for easy-going and long-lasting fabric for leggings, then the most desired one is Texco INC because it offers the highest comfort and is breathable. It's smoother and softer like butter.  
Product information:
| | |
| --- | --- |
| Brand | Texco INC |
| Fabric Content | 87% polyester,10% rayon and 3% spandex |
| Material | Jersey Knit |
| Color | Multiple |
| Item Form | Cut By The Yard |
| Weight | 16 ounces |
Product Description:
Texco fabric offers varieties of colors such as black, cargo, coral chic neon, dark olive, eggplant, hot pink neon, lemon neon, lime neon, olive, mocha special, olive, red, royal neon, brown, navy, and royal.
And it has been formulated with 87% polyester, 10% rayon, and 3% spandex. As it's not pre-cut, you can take as much as you want to make perfect-size leggings for you.
With a width of 58/60 inches of fabric, it will cover your legs better and keep them flexible.
Yet, it's a 155 GSM high-quality fabric that you can easily sew sportswear, gym wear, t-shirts, tops, pants, curtains, and other DIY clothing.  It can stretch in two ways.
The impressive part is it's wrinkle-free so you can clean and store it without any hassle. But one problem with this fabric is you've to wash it carefully, otherwise, it won't last longer.
BEST OVERALL
Pros:
You can sew different upholstery
No fading and peeling
Nice strip pattern
Comfortable
Stretchy
Cons:
Why Do We Like It? We are recommending this one for its beautiful strips, flawless quality, and excellent pattern. When you need to change your leggings from solid color to printed strips, there's no other color that would be better than white and blue. Taking this can be a great choice for t-shirts and leggings.   
Product information:
| | |
| --- | --- |
| Brand | Josdiox |
| Fabric Content | 94% cotton and 6% spandex |
| Material | Spandex |
| Color | White and blue |
| Item Form | Cut By The Yard |
| Weight | 16 ounces |
Product Description:
First of all, we loved its eye-catching strips with a 5mm wide blue color and a 15mm wide white color. The blue horizontal pattern makes it more attractive. Additionally, this fabric can stretch in 4 directions and that means it's highly comfortable for everyone. 
It has a cotton blend jersey knit so you can sew T-shirts, leggings, sports skirts, pet dresses, home decor, face masks, appliance covers, bedsheets, and many more things like cardigans, and yoga pants.
You must be worried that the fabric fades or peels over time, right? But no worries mate! It won't fade or peel no matter how many times you wash it with a hand or machine. We suggest using non-chlorine bleach to wash it properly.
As it's a cotton blend fabric, it can curl up. So it's better to iron after washing this fabric.
PREMIUM PICK
Pros:
Good for leggings, shirts, and DIY projects
4-ways stretchy capacity
Color varieties
Cons:
Why Do We Like It? When it comes to fuzzy textured fabric, the first brand we found is ROBB double-brushed fabric. Also, it has the perfect width, good quality, and great elasticity.
Product information:
| | |
| --- | --- |
| Brand | Robb |
| Fabric Content | 90% polyester and 10% spandex |
| Material | Knit |
| Color | Blue Jewel |
| Item Form | Precuts |
| Weight | 22.88 ounces |
Product Description:
Making leggings with Robb solid color fabric can be an excellent idea because it comes up in a pre-cut 2 yards format. However, this fabric can stretch in 4 ways and you can use it comfortably.
This 59 inches soft poly spandex fabric makes it compatible with sewing sportswear, t-shirt, head scarf, home decor, gym wear, and other DIY projects.
The buttery and soft feel of the fabric helps to sew better clothing. It keeps you warm and makes the fabric breathable. Even if you wear it all day, it will make you feel comfortable.
Robb fabric offers unique color choices like a blue jewel, apricot, black, dusty blue, olive, orange, purple gumdrop, and white. Yet, it's better to wash it on a machine with a cold water cycle.
EDITOR'S CHOICE
Pros:
Different color choices
Versatile uses
Easy to wash
Long-lasting
Comfortable
Cons:
Why Do We Like It? Are you looking for a unique solid-color fabric for leggings? Then Fabric Merchants stretch jersey products can be an amazing pick for you. Also, it's lightweight and highly suggested for kids for comfortability.  
Product information:
| | |
| --- | --- |
| Brand | Fabric Merchants |
| Fabric Content | 96% cotton and 4% lycra spandex |
| Material | Jersey knit |
| Color | Multiple |
| Item Form | Cut By The Yard |
| Weight | 8 ounces |
Product Description:
These extraordinary fabrics come up in teal, jade, kelly green, lime, mauve, mocha, two-tone charcoal, cobalt, and orange colors. It's affordable and easy to sew.
Moreover, it has been formulated with 96% cotton and 4% lycra spandex. Though you've to iron it whenever you wash it, apart from that, it doesn't have any issues at all.
You don't have to doubt the quality because it's imported from the USA. Machine wash is the best option to keep the solid color of this fabric protected.
Along with leggings and sportswear, you can sew t-shirts with perfect fitting, loungewear, and most importantly baby clothing.
Final Thought
Considering all these, it's easy to pick the one that goes with your budget and requirements. All of them are soft, stretchy, and comfortable. Now it depends on whether you want cotton, nylon, or spandex. Also, you can customize the fabric color.
If you use these fabrics with care, they will last longer than you can even imagine. We picked them after sewing leggings. You can even choose them for your professional textile production. So that's it for today. Grab the fabric you want and sew perfect-fit leggings. Best of luck. 
You May Also Like To Read: