Want to buy the top hand quilting thread? Then you have come to the right place. This article looks at 5 of the best hand quilting thread available in the market.
Hand quilting is an interesting craft that you can practice to create customized art pieces for your home. However, choosing the best hand quilting thread can be a bit tricky. There are several fibers and materials to pick from, and each one gives a different result.
This is why you need to read this article to find everything you'll need to know about choosing the most suitable hand quilting thread. You'll also read about our top five recommendations. 
Our Recommended Top 5 Picks:
(See our quick top 05 picks, or go further down and read our in-depth reviews.)
Top 5 Hand Quilting Thread of 2022 – (Editors' Top Picks)
It's extremely important to choose your thread wisely while you're quilting as it will hold all pieces of fabric together. Here are our top 5 picks.
1. YLI 21104-WHT 3-Ply T-40 Cotton Hand Quilting Thread
Nothing beats the quality of Egyptian cotton, and this thread offers this outstanding quality in various shades. The cotton thread will withstand the heat of ironing when you're pressing pieces of fabric together, and it's so versatile that you can use it with any quilting material. You'll receive 400 yards in the spool.
This is a heavyweight thread with a silk finish that complements the look of your project. It only works for hand quilting, so you can't use it for a machine. It's strong and glides smoothly through various fabrics, giving you the traditional look of hand quilting projects.
What you'll absolutely love about this thread is that it doesn't fray, so you can spend more time on quilting and less time worrying about changing the thread. It doesn't curl and is quite easy to thread, saving your effort and guaranteeing an outstanding result.
However, most artwork lovers agree that they could use more shades of this thread to finish more quilting projects.
Features at a Glance:
Made of Egyptian cotton.

A durable thread that doesn't fray.

Easy to thread and doesn't curl.

Can withstand the heat of ironing.
2. YLI 21100-BLK 3-Ply T-40 Cotton Hand Quilting Thread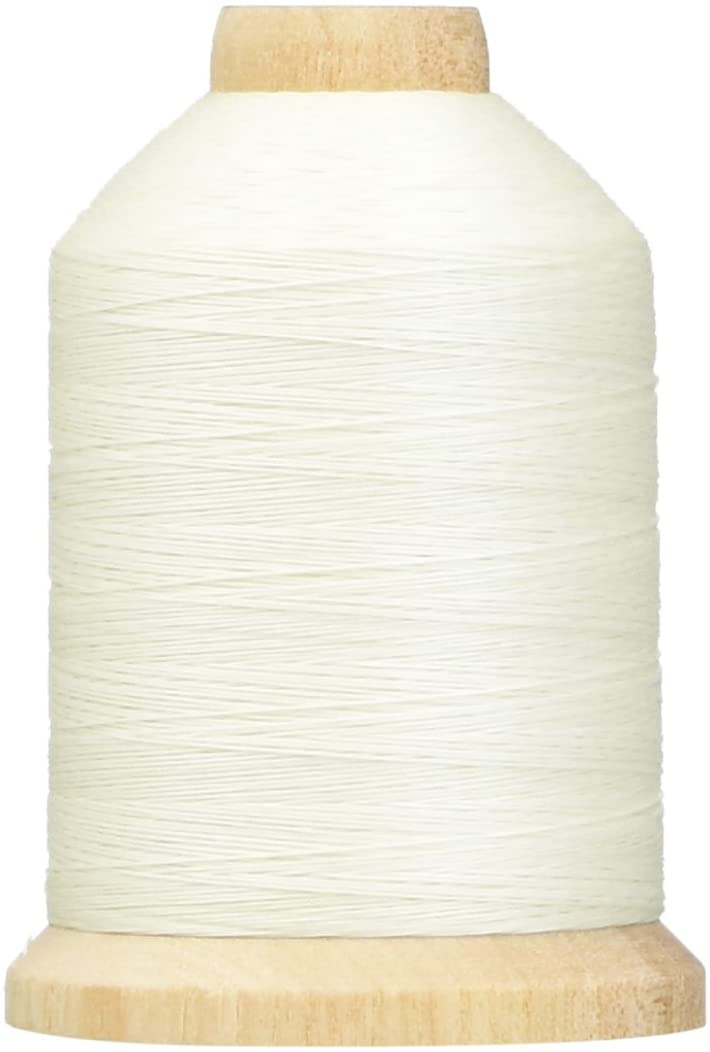 For those who look for the best value, this cotton glazed finish thread comes in a spool that offers 1000 yards of material for a decent price. It's the best choice for hand quilting enthusiasts who are on a tight budget and still want to use high-quality materials.
The thread is made of 100% extra-long staple Egyptian cotton that is processed and dyed in the USA, providing excellent quality for hand and machine quilting. 
It's quite sturdy and gives that traditional finish that you expect to see on high-quality hand quilting projects.
You should expect this thread to last for a very long time. Since it's affordable, you can get two spools for the price of a single spool offered by other brands. However, there's a limit to the shades offered.
This particular one is black, but you can check other colors offered by the company. Most users would do perfectly with the color range, but there are more options offered by other thread manufacturers.
Features at a Glance:
Best value offering 1000 yards for an affordable price

Can be used for hand and machine quilting.

Made of extra-long staple Egyptian cotton.

Durable and sturdy thread.
3. Coats Dual Duty Plus WHITE Hand Quilting Thread
If you're looking for extra soft and fine thread, then you should check this one out. It's made of cotton with a glazed polyester finish that allows for smooth and effortless quilting. This pack is an excellent value for money as you'll receive two spools in a single pack. Each spool contains 325 yards of thread.
Thanks to the smooth silky-like finish, the thread won't fray or tangle. At the same time, it gives you the sturdiness that you expect from cotton threads so you can use it on different materials for all your quilting needs.
There are two color options available that most users use for binding. However, if you're looking for a specific color for decorative stitches, you'll have to check other products offered by the same company.
You'll need a bigger needle as this thread is a bit thick. This actually means that it's durable, so you shouldn't worry about it cutting or fraying while you're working or after you're done with your quilting. If you're looking for universal white or cream quilting thread, then this is the one you should buy.
Features at a Glance:
Cotton thread with a polyester finish

Two spools for the price of one

Thick and durable thread.

Allows for smooth quilting
4. Luxbon 39 Spools Rainbow Polyester Sewing Thread
If you're a beginner and need a complete kit to get started with quilting, then this kit is what you need. It offers 39 colors of high-quality polyester thread that you can use for quilting as well as machine and hand sewing. The thread is so versatile, so it's an excellent choice for beginners and those who are on a tight budget because the collection is quite affordable.
Since this is a polyester thread, it will slip nicely and give your stitches a nice glossy finish. You'll receive about 200 yards of thread on every spool, and this means that this kit will last for a long. 
It's the perfect gift for kids or someone who is experimenting with patchwork, quilting, and embroidery because it's versatile and practical.
Storing your spools won't be a problem because they come in a box that you can easily pack for your sewing class. All the spools are made of Dacron, which feels strong and still has a smooth finish to it. The silver and gold shades are made of 85% Rayon and 15% Dacron and can be used for embroidery and decoration.
If you're into several types of artwork, then this kit is the right one for you. However, you should note that polyester doesn't withstand heat like cotton and might not be the right choice for heavy-duty work.
Features at a Glance:
Affordable kit offering 39 different colors

Made of polyester for smooth quilting.

Good for beginners and kids.
5. Coats & Clark Hand Quilting Thread
This thread is a great bargain as each spool contains 325 yards of thread for an affordable price. You should, however, look for the right shade as the company offers some different colors.
The cotton thread is covered with polyester to combine the resilience of cotton with the glossy and satin-like finish of polyester.
The glace finish prevents knots, abrasions, and frays for the best finish. It works well on delicate and heavier fabrics giving you enough versatility to work on various crafts projects. This quilting thread is a good choice for beginners because it's affordable
It's also suitable if you're not sure about picking cotton or polyester thread for quilting. 
It combines the best of both worlds in a durable thread that is easy to thread and gives a decent finish.
Features at a Glance:
Affordable thread.

Made of cotton with a polyester coating.

Doesn't fray or tangle

Works on heavy and delicate fabrics.
Why is it Hard to Find Hand Quilting Thread?
Most quilters, especially novice ones, can get overwhelmed when they're trying to choose the right thread for their quilting project. You need your hand quilting stitches to look just the way you want, and the right thread will help you improve your skills.
However, choosing the right thread is quite difficult, since there are thousands of colors, types, and manufacturers to choose from. Here are some reasons why most quilting enthusiasts struggle to find the right thread.
Most threads are not specifically labeled for quilting. You can mistakenly buy a good thread that suits sewing or embroidery but won't be a good choice for quilting.

There's a difference between the types of thread used for machine and hand quilting.

Choosing the right thread means that you should have the perfect needle to go with it.
Nevertheless, patchwork and quilting are a matter of trial and error. The more you practice, the better you'll get, and the more you'll know about buying and choosing the right thread for your quilting needs.
How to Choose Hand Quilting Thread Material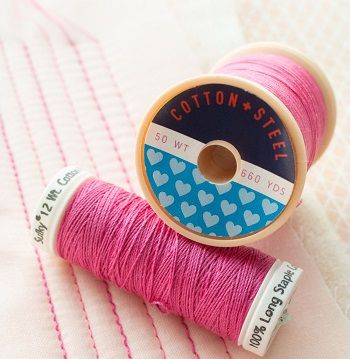 Whether you're a beginner or an experienced quilter, focusing on the right color of the thread should be the least of your worries. As a matter of fact, most companies offer a wide selection that you can browse to find the right shade for your quilting project.
Selecting the right material is the most important thing to consider before buying a thread, even if you've never tried quilting before.
Cotton
Cotton is probably the most common choice for all quilters. It's made by spinning cotton fibers together and pulling a narrow strand away from all the fibers. The narrow yarn is called a ply, and the number of ply on your thread indicates how strong your thread will be. Egyptian cotton is probably one of the best choices because it's soft and durable.
Most experienced as well as beginner quilters prefer cotton because it doesn't show any signs of damage over the years. However, pure cotton is prone to fraying. It's best to avoid overly strong cotton fabric on the seams as it affects the seam's tension.
Polyester
The polyester thread looks a lot like cotton but has more stretch. Unlike cotton, polyester can't withstand high heat while ironing or pressing pieces of fabric. Nevertheless, it has a glossy finish that the cotton lacks.
A polyester thread is an excellent choice for decorative stitches as it's so versatile and flexible to use. It's less durable than cotton and can show signs of wear, but this happens after years of quilting, so it's still an excellent choice.
This type of thread doesn't break easily and is used to hold big pieces of material together. It will stretch and can be used with heavier fabrics without tearing or breaking. Polyester threads come in beautiful colors and shades to complement the look of any quilting project.
There are other types of threads that combine the features of cotton and polyester in a single product. This is called a cotton-poly thread, which is also known as an all-purpose thread. The resulting material will have more stretch and decent durability.
Rayon and Nylon
Rayon threads usually come in a wide range of colors, including metallic shades. These are made of cellulose that goes through lots of chemical processes, so it's considered to be synthetic threads. They're best used for decorative stitching but will not be suitable for sewing patchwork together.
Nylon is another synthetic material that can be used to collect patchwork pieces. Nylon is usually used in machine quilting. It's not durable enough to withstand long-term use. It also melts easily when ironed.
Other Factors to Consider 
The thread material is very important but isn't the only crucial factor to consider. Other factors include:
Weight: A heavyweight thread like cotton or cotton-polyester blend can significantly increase the weight of your quilt. You should think about the weight of all the fabric pieces, as well as the thread used to finish your quilting project.
Color: Cotton and cotton-polyester threads come in several shades. However, a wider range of colors is available if you're using polyester or nylon threads.
Durability: Cotton threads can withstand heavy-duty use. They won't change color or quality with regular washing or cleaning. Nylon threads are less durable and should be handled with care while washing and ironing. 
Conclusion
Choosing the best hand quilting thread will affect the overall quality of your quilting project. Whether you're a beginner or a professional, there are several options to choose from. Using the right thread will help you improve your quilting skills and finish several projects of outstanding quality.