(Last Updated On: November 2, 2023)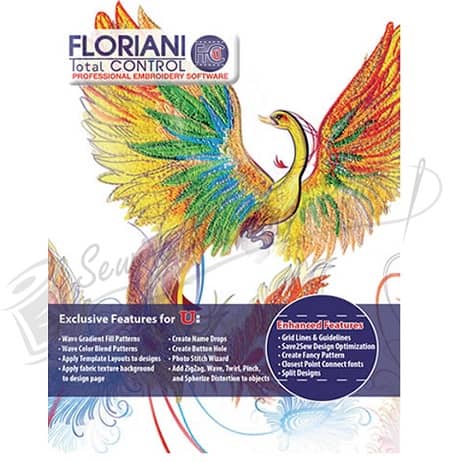 Wave Gradient Fill Patterns

Wave Color Blend Patterns

Create Name Drops

Create Button Hole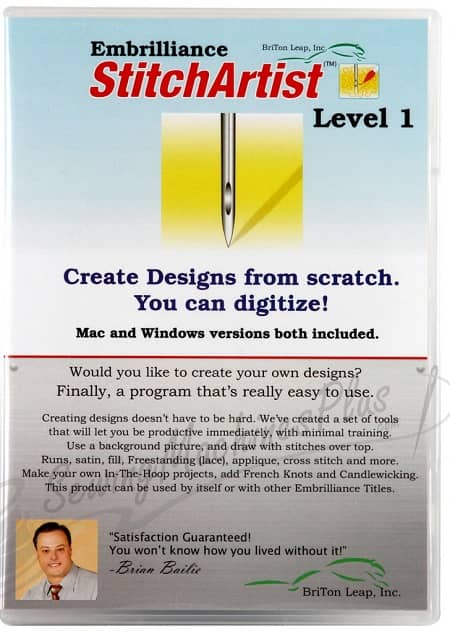 Easy-to-follow tutorials

Professional results

Design overlap: Yes

Resizing option: Yes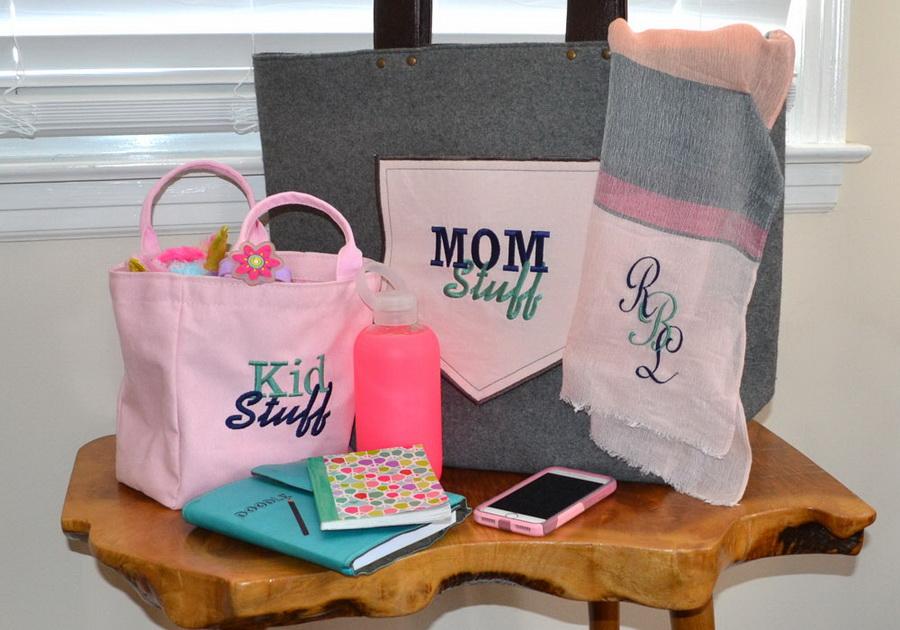 Embroidery lettering editing

Create monogram designs

Eleven built-in fonts.

Satin and weave fill.
Our team of experts has selected certain products and assigned a star rating to each product. Read our detailed review below.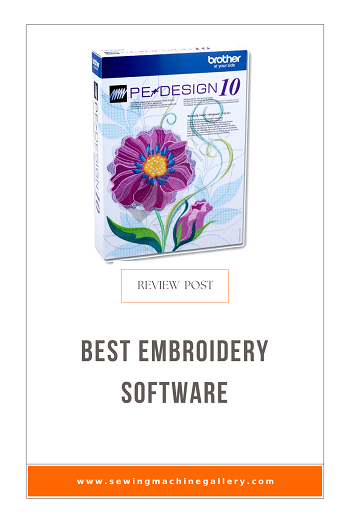 We have listed the Top Embroidery Software. Check our article for buying tips and pick the right one.
Embroidery is the process of decorating materials with thread, beads, pearls, etc. People used to do it manually using their sewing machines.
Nowadays, a large group of sewists depends on machine embroidery. It involves the use of digital technology.
At the same time, it boosts speed and accuracy. Users have to install design software on their devices. They can then customize designs by rescaling, erasing parts, editing, rotating, and so on.
Although some free applications are available, one can't achieve the same performance they get from paid applications.
Again, not all paid services are efficient; they fail to meet the customer's expectations. Luckily, we found the seven Best Embroidery Software after long-term research. Let's take a look at their primary and extra features: 
(See our quick top 5 picks and below you can read our detailed reviews about these products.)
Top 7 Embroidery Software of 2023 – (Editors' Top Picks)
1. Embrilliance StitchArtist Level 1 Embroidery Design Software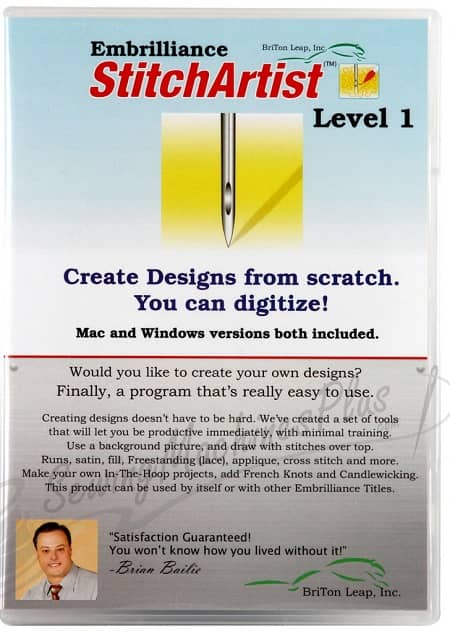 Why We Love It? It is one of the best embroidery software for Mac and PC. If you are using Mac, make sure the version is at least Mac OS X 10.5 or up. Your device must have 20Mb disk space and 512Mb RAM. Follow the instructional manual properly as it makes everything easy to apply.

Product Description
An embroidery machine is incomplete without the designs. And Brother models have been on many customers' priority lists. This Embrilliance service is the best embroidery software for brother pe770. Developers designed it perfectly for making stitches within less time. So, you don't have to spend much time in front of the computer.
It is a beginner-friendly system. You will find a limited set of stitches and many related properties there. Although you won't get a long list of options, the positive side is its simplicity.
There is no need to go through many phases to build a design. People usually use the program for implementing applique designs, filling patterns, backgrounds, etc. We love these compact functions.
The StitchArtist assists us in making artwork from scratch. Begin your task using the existing designs or by building your preferred stitches. The control over shapes, stitches, and other settings will be in your hand. Select what you like, and StitchArtist will generate the embroidered version for you.
Features At A Glance
Conversion of existing artwork into embroidery

Customizable shapes, stitches, and other properties

Easy-to-use digitizing process

Several designing operations

Informative user guide

Suitable for beginners
2. Floriani Total Control U Embroidery Software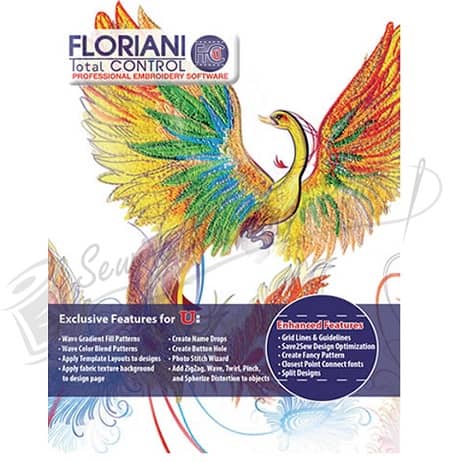 Why We Love It? Its automatic digitizing wizard helps to complete projects with vector or image files. Besides, manual and other stitch types are enough to satisfy the customer's needs. 

Product Description
It is an excellent choice for both home and commercial embroiderers. Various digitizing tools take care of certain aspects. You can apply template layouts, color blend patterns, fill patterns, text fonts, and many more to your creations. Feel free to create name drops and buttonhole designs as well.
It also offers stitch conversion, undoing, redoing, resizing, and design transformation scopes. Edit the art elements, density, and stitches where you want.
You can optimize the sequences, exit, and entry points. If users want to split a single pattern into multiple segments, a slice tool handles this task for them. Another impressive part is the color sorting tool. It can rearrange any design by color combinations.
A few notable additions can make your project more attractive. It is the reason why the program provides color blending, outline making, object fading, image fading, and design adjustment facilities. Users can also make some changes, like hiding objects and rearranging yarn colors. They can view the stitch ends and sequence anytime.
3. Janome Artistic Digitizer Junior Software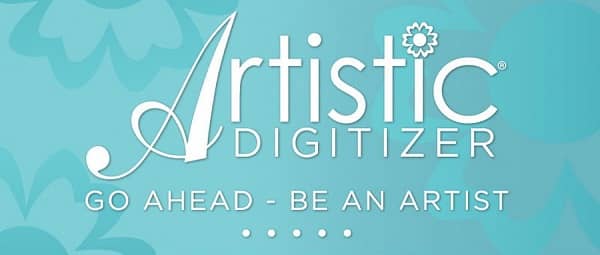 Why We Love It? It includes more than 60 video tutorials. Every video directs you to create unique embroidered art. Even the newbies can complete these projects by following the instructions.

Product Description
It is actually a short version of the Janome Artistic Software. If we make a list of the best embroidery digitizing software, this one will be one of them.
Buyers find 21 preset fonts to work with. Then, they add personalized touches to the design from many digitizing options, modifying modes, quilting motifs, etc. In this way, the application gives them the freedom to explore creativity.
With all the innovative technologies, one can quickly get professional quality results; no need to be an expert. It can transform a png file into a Jeff file. You can build a connection from the device to the Janome MB-4 machine. Thus, the designs will be transferred directly.
Operating systems except Windows 7, 8, and 10 (along with the recent Service Packs) do not support it. In the case of macOS, only Sierra Version 10.12.2 or up will be a suitable one. The device must have 4 GB of RAM and 1.5 GB of free hard disk space.
Features At A Glance
21 pre-digitized fonts

More than 60 tutorials

Many operating system compatibilities

Extensive range of design tools

A plentiful selection of modern editing features

Simple yet effective
4. Singer Editing Embroidery Software for Futura CE-150 & CE-250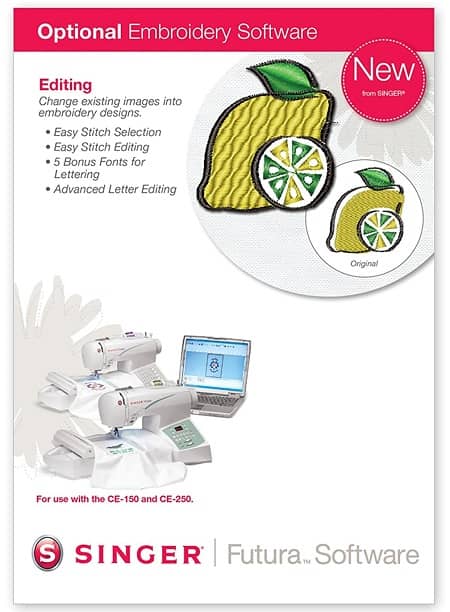 Why We Love It? It works well with Pentium III and has a faster processor. But the slower ones aren't appropriate for the software. Your device should contain at least 128 MB of RAM and 500 MB of a hard disk to set it up and smooth operation.

Product Description
This software is a gem in terms of user control. You can develop new designs by combining existing ones in a minute. The same goes for adding letters to the artwork. The five built-in fonts make it easier than you can expect.
Pick the right stitch type based on the fabric you will be using. Since the column dimension, as well as stitch density, vary from material to material, you have to control them too.
Don't forget to adjust the width, and length before starting work. Plus, it offers direction choices. You can change stitch lines, and color segments' order at any moment.
If you are interested in inserting patterns and motif fills in particular areas, go for it. Sometimes, you may need to resize the whole decorative artwork or a few parts.
No issue will occur during the rescaling of any stitches or format. The copying, pasting, rotating, and mirror-image-creating processes will also be flawless.
5.DIME Word Art in Stitches 87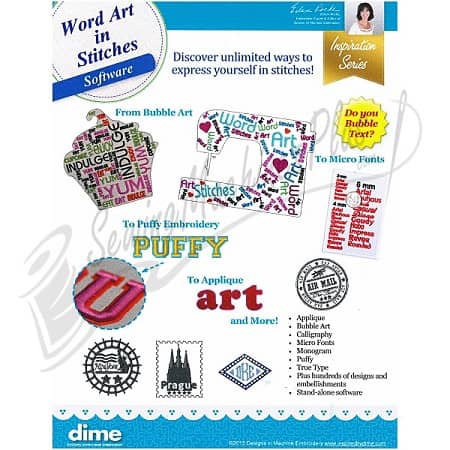 Why We Love It? This software has special features such as adjusting line spacing, importing artwork, envelope shapes, and customized thread charts. You will be able to access many editing features like reshaping, drawing objects, and combining designs.

Product Description
It is a modern lettering software that creates wonderful monograms, and applique. We are quite happy with tons of fonts. The 13 puffy fonts bring depth and textures to the embroidery. Meanwhile, styling t-shirts, sweatpants, handbags, and other clothes are dependent on ten applique fonts.
Among plenty of scopes, the first one is above 550 bubble shapes. As a shape filling, you can write any desired words and arrange them as you like.
Choose a single color or multiple colors and the proper fonts that complement your project the best. As soon as you press the "apply" option, the bubble will be covered with selected words. For further editing, you can separate or categorize the components.
We need micro fonts while creating dresses for babies, dolls, shirt cuffs, and other little jobs. Therefore, it features some micro fonts from 3 to 6 mm tall. The rest available fonts are keyboard fonts, monogram fonts, true type fonts, and so on.
6. Floriani Quilters Select Craft N Cut Software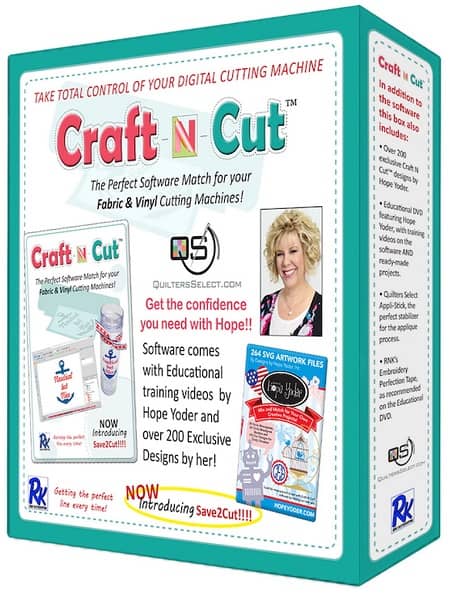 Why We Love It? This program comes with Save 2 Cut attachment. It is for estimating the adjustments a machine needs to support a specific pattern and fabric.

Product Description
You can't imagine how significantly it will cut out your guesswork. Its full-featured artwork kit helps to make all types of designs where the vector editing kit improves them.
The included Appli-Stick sheet carries a sticky and a fusible side. It permits us to place pieces repeatedly until we reach the goal. Next, all you have to do is press these pieces with an iron. It will result in a permanent hold.
Let's see what else is part of the deal except for the software. You will receive training videos to learn methods and sharpen your skills. 
There are also at least 200 stylish patterns by Hope Yoder and perfection tape. All of them will lead your work to ultimate perfection.
We love how nicely the software supports both appliqué and running stitches. And why not? It has an exclusive appliqué and a run stitch kit to create them. Additionally, you can use shapes and fill them with words. The result will be nice, clean, and eye-catching. Save the artwork to import when needed.
Features At A Glance
Above 200 exclusive patterns

Included training Videos

Appli-Stick sheet for the perfect appliqué

Full-features artwork items

Artwork modifying tools

Artwork saving system
7. PE Design Plus 2 Personal Embroidery Design Software System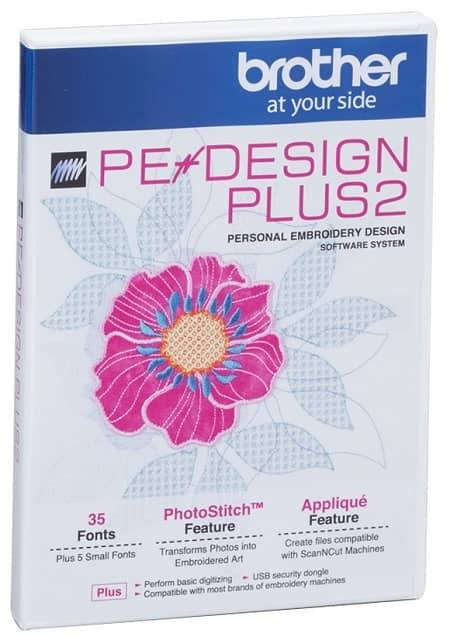 Why We Love It? This software includes 35 big and 5 small fonts. Such diversity enables us to personalize projects as per our demands.

Product Description
We choose this Brother embroidery software as the winner for various reasons. It delivers basic digitizing capabilities. One of them is finishing the projects by using different kinds of region-filling stitches. Even if someone is working on imported designs, he/she can add these stitches.
We found 287 existing designs in the software. Whether anybody wants to use only one or a combination of designs is up to them. They can reserve colors to use as thread colors. After the selections, they are allowed to preview the features to get better-quality results.
We can apply one or more editing techniques by numerical settings such as rotating or resizing when we need. A great way of making unique styles is by merging designs. And this app allows us to do so.
We can transform any photos into embroidered decorations quickly. It wouldn't be possible without the PhotoStitch feature. It is also compatible with ScanNCut. Forming all embroidered work into an applique has been super effortless with the appliqué wizard. The precision cutting system scores 10 out of 10.
Features At A Glance
Merging, editing, and resizing capabilities

Variety of fonts

ScanNCut tool

Over 280 designs

USB security dongle

Photo transformation into decorative styles
Things to Consider While Buying an Embroidery Software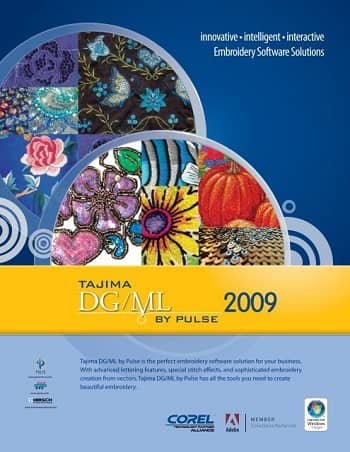 Getting the right product is a hard task for new buyers. They often get confused about what to search for.
We are adding a guide for them. It includes all factors buyers should consider in their software:
Operating System
What we install in a device must be supported by its operating system. Purchasing fantastic but inappropriate apps is nothing but a waste of money because you can't use them.
Most software includes the system requirements in their specifications list. Mac OS users typically get a few choices. Even with the Windows operating system, every application works only in particular versions.
Skip all options having unmatched system requirements. We have seen that maximum software supports the latest versions. Hence, people using the updated operating systems are on the safe side.
Our preferences
We can divide the users into three main categories- beginners, intermediate, and experts. As you assume, new and lazy people usually lack skills. They don't want to go through a hard or time-consuming process. Even after having high-end software, they only use basic functions.
So, a model having limited properties can be okay for them. The scenario is completely the opposite for the professionals. They like to challenge themselves and bring more creativity to their work. Their selected software should include many modern characteristics, fonts, editing opportunities, etc. Therefore, choose accordingly.
Type of Software
Determine what you want to do and what you need. Editing Software is sufficient for modifying, adding, and deleting some segments. They allow us to resize patterns, reset stitches, change the thread color, change thread sequences, and merge.
Rotation, color removal, object removal, object addition, and color addition facilities will be there as well. The digitizing applications convert digital images into embroidered forms. They can produce designs with vector drawings and other image types.
When you want letter embroidery, it converts the laptop fonts quickly. Finally, you will find cataloging software. Every kind of software uses algorithms to do its work. So, you may not get all advantages of a single one.
Licensed or unlicensed
Buying licensed software is a wise decision indeed. They are packed with improved features and have updated versions. On the other hand, installing unlicensed programs is easy but can be harmful. You may not realize it immediately but will suffer later.
They are mostly not refundable and lack important features. Do not take such a risk. A person can easily find out whether the chosen application is licensed or not. Go to the software's website. Then, check under its listing section. If you find the approved term, it is undoubtedly good software.
Free or paid
The design software is expensive. So, the majority of clients opt for free ones to save money. They include only basic functions such as color selection, shade selection, stitch selection, etc. Of course, we can't expect advanced facilities from them.
As a result, our project gets an ordinary finish. There is no alternative to paid software for complex and unique projects. Aside from the basic features, they have a library of built-in patterns, fonts, bubbles, and shapes. They cover everything for successful monogramming, image conversion, and more. Many of them offer a free trial before the first purchase. Clients who are buying software for the first time should try them out.
Additional features
All software contains the basic functions, but their pricing varies depending on the extra benefits. The higher, the better. In general, we all want the software that has the most functionalities. They let us do more experiments.
For example, different fonts and text patterns are inevitable for monogramming. The customized designs cant be completed without modifying, resizing, and editing kits. If you are a beginner but want to develop your skills gradually, make sure to have as many features as you want in the software. However, many only love simple and easy patterns. They don't have to worry about the additional features.
Frequently Asked Questions (FAQ) 
Conclusion
All embroidery lovers want to make unique designs on their garments. Nothing can help them better than Best Embroidery Software. They will be able to access the advanced features of the app. And the results will appear based on the wide range of selections.
Constructing any kind of decorative pattern is a matter of some moment for these programs. Such operation is way more convenient, reliable, and faster than traditional methods.
It also saves a large amount of cash because the owners don't have to spend on the store's embroidered clothes. We added a buying guide for you too. Hopefully, it will lead you to the desired one. 
Related Posts: