(Last Updated On: September 2, 2023)
Stitches per minute: 1, 300

Stitch Configuration: 4-3-2

Weight:13.5 Pounds

Built-In Stitches: 4

Material: Metal

Stitch Count:17

Color: White
Stitches Per Minute: 1,500

Warranty: Limited 5 years

Max. Stitch Length: 4mm

Weight: 6.9 Kilograms

Material: Aluminum

Stitch Count: 9

Color: White
Stitches Per Minute:1300

Thread Capability: 2/3/4

Weight:15.92 pounds

Material: Metal

Stitch Count: 8

LED Lights: 2

Color: Grey
Our team of experts has selected certain products & assigned a star rating to each product. Read our detailed review below.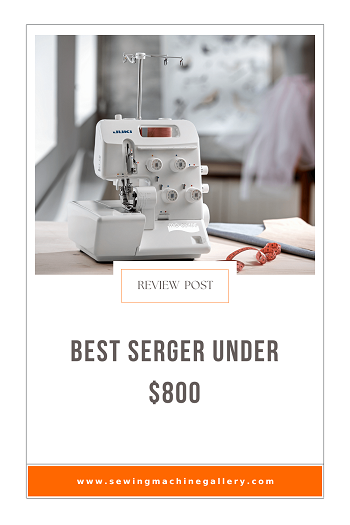 Are you looking for a serger machine within $800?
Well, you are at the right place, mate!
It's a challenging task to find the best quality serger under this budget.
While buying sergers, you must look into features like thread capacity, sewing speed, performance, and built quality. 
We have researched good quality serger machines to help you practice your sewing capability.
Keep reading to find out the best serger under $800.
Let's get started.
Top 5 Serger Under $800
Last Amazon price update was: September 26, 2023 12:27 pm
PREMIUM PICK
Features at a Glance:
Excellent customer service
Easy overlocking stitches
Fastest sewing speed
High built quality
Easy to install
Why We Love It? This serger machine is unique because it comes up with excellent thread capacity and outstanding performance. Also, all features make the overlocking projects easier.
Product Description
If you are looking for a heavy-duty serger machine, then Singer ProFinish 14CG754 can be the best pick. It comes up with a 2-3-4 thread capacity, four built-in rolled hems, three thread mock stretch safety stitches to sew detailing work, four thread mock stretch stitches, flatlock stitches, and two overlocking thread stitches.
Moreover, the serger machine offers a removable free arm that helps to sew hard-to-reach places. You will get a built-in carry handle to move anywhere you want. Along with that, it provides an extra-high presser foot that helps to work on versatile overlocking projects and LED Lights for long-hour work.
Singer ProFinish serger machine includes differential feed, adjustable stitch length and width, personalized tension, color-coded lay-in threading system, and movable upper knife.
Thus, it features a sewing speed of 1300 stitches per minute. The impressive part is the free arm accessory tray that contains an all-purpose foot, spreader, needle set, tweezers, and dust cover. 
BEST OVERALL
Features at a Glance:
High power thread capability
Adjustable tension
Large cutting knife
Easy to clean
Why We Love It? We recommend this serger machine with a robust metal frame and jaw-dropping features. Along with that, it is easy to clean and portable.
Product Description
Singer X5004HD serger machine comes up with a heavy-duty motor and metal frame. Likewise, the ProFinish serger has 2-3-4-5 thread capability for the best overlocking service. This serger machine offers a quick and easy color-coded threading system and adjustable tension to apply different sewing methods.
Luckily, you don't have to change the stitch plate to sew rolled hems easily. It includes two modern LED lighting capacities to get a bright working space. The grey-colored overlocking machine offers a 60 percent larger cutting knife to cut heavy-duty fabrics without hassle.
It provides excellent finishing and marvelous performance. Also, you can carry it to your training classes. You will get eight versatile built-in stitches, including rolled hems, blind hems, finishing raw edges, flat locking, and sewing seams. Yet, the serger machine includes a sewing speed of 1,300 stitches per minute.
AMAZON'S CHOICE
Features at a Glance:
Long-lasting performance
Premium sewing capacity
Sturdy materials
Budget-friendly
Comfortable

Why We Love It? The Juki portable serger machine includes a sturdy knife system and quick sewing speed. Moreover, it can sew thick fabrics even with multiple layers.
Product Description
This Juki serger was launched in 2008. Regarding industrial-level serger machines, Juki offers 2-3-4 thread sergers, including auto-rolled hemstitches. The serger machine provides color-coded threading and adjustable stitch length and width that enhance your sewing capability.
It includes a 0.7: 2.0 ratio differential feed and can sew fabrics from silk to denim. However, the white-colored serger machine provides a heavy-duty knife system that increases sewing drive capacity and a maximum stitch length of 4mm.
With 1,500 stitches per minute sewing speed, you can complete your overlocking projects faster. Its portability makes it unique and easy to carry. Besides, it is a treadle-powered serger machine that helps you to work on versatile overlocking patterns.
EDITOR'S CHOICE
Features at a Glance:
Color-coded threading guides
Removable extended table
High-quality serger thread
Metal construction
Specialized foot
Easy to use
Why We Love It? On our fourth recommendation, we keep Brother ST4031HD for the ¾ serger thread capabilities and extended table. It has some beautiful features for beginners to professionals.
Product Description
For durability, Brother ST4031HD comes up with a sturdy metal frame to sew thick fabric projects. It is one of the heavy-duty serger machines. As it comes up with a 3-4 thread serger and long-lasting extra hard carbon steel blade, it ensures the best quality cut edge. The color-coded thread guide includes upper numbered and lower thread looper for easy threading.
At the same time, this serger machine includes three accessory feet like standard, gathering, and blind hem stitch feet. You can work on the thick fabric projects with the large extended table. Nevertheless, it offers a metal thread stand and convenient stitch width control. The serger machine includes 0.7 to 2.0 differential feed control.
Thus, the serger machine's removable trip trap helps to trim fabrics easily. It includes a 4-piece needle set, four mini thread spools, a foot controller, four mini thread spools, a dust cover, four spool caps, and four thread nets. Also, it features a sewing speed of 1,300 stitches per minute.
ALSO CONSIDER
Features at a Glance:
Smooth edges sewing patterns
Heavy-duty built quality
Good thread capability
Six unique stitches
Why We Love It? For basic overlocking projects, we suggest choosing the Singer S0100 serger machine because it has fast sewing speed and easy-to-use features. Its workability is enough to handle long projects with thick fabrics.
Product Description
Singer is one of the best brands for serger machines. This model provides a 2-3-4 stitch thread mechanism to sew light to heavy fabrics. Therefore, these features help you with the six built-in versatile stitches.
The intriguing part is the easy free arm for cuffs, collars, and all the smallest corners. With this beautiful serger machine, you can choose it for your tailoring outlets.
This serger machine includes a lower looper LED light for enhancing brightness and a quick threading mechanism. Choosing the serger machine model will increase your workability. Additionally, it provides differential feed and excellent built quality.
You will get a professional sewing speed of 1,300 stitches per minute. Nonetheless, the one-step stitches ensure premium finishing. The singer S0100 serger machine comes up with a free needle pack of two different-sized needles, an Allen key, foot control, a 2-thread overlock converter, a screwdriver, and tweezers.f
Related Post: How to Use a Serger Sewing Machine
Final thought
We hope the best serger under $800 will help you to find a suitable serger machine. However, getting a professional serger machine on this budget is challenging. Luckily, we have listed the top 5 sergers within $800.
If you are a beginner,
And for professionals and experts, you can easily choose
That's it. Best of luck.