We have reviewed the top Sewing Machine For Hemming in the market from the top brands. You can use these to figure out which one to purchase for hemming.
Stitching a raw edge of a fabric has to be the most common technique for sewists. Folding a raw edge under and stitching it down is what is known as hemming. If hemming is not done on the fabric or the hemming stitches somehow unwind, then the material takes no time to unravel bit by bit.
It's a finishing method to make the raw edge disappear, giving the fabric a neat look. Also, if the fabric length needs to be cut down or shortened, the sewists prefer hemming. You can do it through hand stitching as well as the sewing machine.
When it comes to sewing machines, there are some really good ones available with which you can hem like no other. To unveil those machines, we are compiling a complete list of the best sewing machine for hemming. We will talk about the features in detail. 
Our Top Picks:
(See our quick top 3 picks and below you can read our detailed reviews about these products.)
Top 5 Best Sewing Machine For Hemming – (Editors' Top Picks)
Singer 4411 Heavy Duty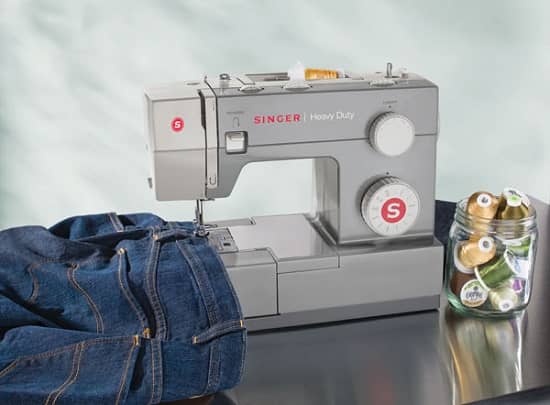 Product information:
| | |
| --- | --- |
| Brand Name | Singer |
| Stitch Count | 11 |
| Stitches Per Minute | 1,100 |
| Max Stitch Width | 5mm |
| Included Presser Feet | 4 |
| Built-in Stitches | 11 |
| Warranty | 25 Years |
Product Description:
Singer 4411 claims to sew just about anything. True that, as it is a true workhorse. It is a heavy-duty sewing machine that stitches at a high speed of 1100 SPM, thanks to its 60% stronger high-speed motor. The motor is more robust than most standard sewing machines so it is a metal interior frame and stainless steel bedplate.
For hemming, this one comes with 11 stitch patterns, including a blind hem stitch, and four presser feet, including an all-purpose foot. You can do hemming with the pattern and the presser foot quickly and perfectly. Your outfit will not even show the stitches, and it will look seamless.
It has different dials for adjusting thread tension, stitch pattern, and stitch length and width, which, by the way, is crucial in hemming. With this machine, you can make buttonholes in 4 easy steps, that too auto.
Combine the stitches and embellish your outfit with your creativity. To make the use of the machine way easier, it has the top drop-in bobbin, and it also lets you control the presser foot pressure so that you can work on both delicate and rough fabrics with equal ease.
Brother ST531HD Sewing Machine (Refurbished)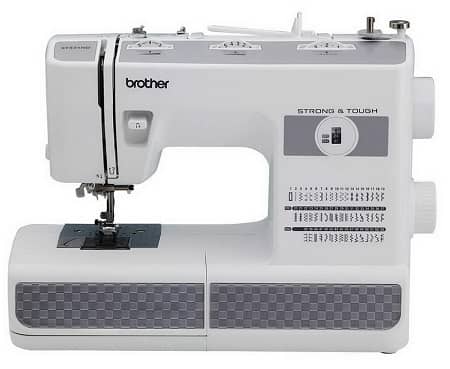 Product information:
| | |
| --- | --- |
| Brand Name | Brother |
| Stitch Count | 53 |
| Stitches Per Minute | 800 |
| Max Stitch Width | 7mm |
| Max Stitch Length | 5mm |
| Needle Threader | 6 |
| Warranty | 25 Years |
Product Description:
Brother ST531HD is the best sewing machine for hemming jeans. The reason? The machine is a sturdy beast that handles lightweight, easily damaged silks and six-layered denim with adroitness.
It flaunts 53 built-in stitches, a wide variety to show your creativity through the outfits, and those 53 include a blind hem. Also, it includes blind stitch presser feet in its six presser foot set. If not the blind stitch presser foot, you can also use the zigzag foot for hemming.
Enjoy smooth fabric feeding with its sturdy metal needle plate and relish years of perfection in your sewing techniques with this long-lasting, robust metal frame sewing machine.
It stitches at a speed of 800 SPM, has an auto needle threader for quick, easy-on-the-eyes threading, a top drop-in bobbin, a free arm, and last but not least, stitches buttonholes just the size of the buttons every time through its one-step auto-sized buttonhole.
Features At A Glance
Durable sewing machine with a metal frame and needle plate

Perfectly sews lightweight silk to multiple layers of denim

53 built-in stitches include a blind hem

6 presser feet, including a blind hem presser foot

5mm stitch length and 7mm stitch width

Auto needle threader and a one-step buttonhole
Juki HZL-G120 Sewing Machine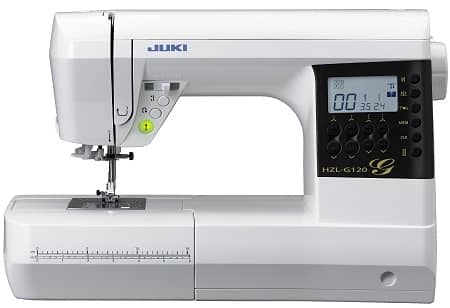 Product information:
| | |
| --- | --- |
| Brand Name | JUKI |
| Stitch Count | 180 |
| Stitches Per Minute | 900 |
| Max Stitch Width | 7mm |
| Max Stitch Length | 7mm |
| Thread Cutter | Automatic |
| Needle Threader | Automatic |
| Included Presser Feet | 4 |
| Warranty | 5 Years |
Product Description:
This machine is made for completing bigger projects. Why not when it is a computerized machine with a wide underarm space brightly lit with LED lights, a total of 180 stitch patterns, and sews at an excellent speed of 900 SPM through the box feed system? Instead of feeding the fabric in oval motion, the system feeds the material in a box motion, hence no shrinking or shifting of fabrics.
The powerful feeding due to its improved presser feet control sews blind hem stitches on thick materials like denim with no error and effort. When hemming is easy on thick fabrics, it automatically implies that it will be easier on every other material.
The 22 practical, 10 decorative quilts, and 40 decorative patterns, and an alphabet including upper & lower case, numbers, punctuation, and European characters make it not just the best sewing machine for hemming pants and dresses but a sewing machine that sews any project from quilts to mere pillow covers.
The stitch patterns also include eight buttonhole styles for making different buttonholes on different projects but in one step. It also includes four presser feet and has an auto needle threader and thread cutter.
Features At A Glance
Box feed system

Improved presser feet construction

180 stitch pattern including 8 styles of buttonholes

Easy stitch selection buttons with a bright LCD screen

4 presser feet with a wide workspace

Auto needle threader and thread cutter
Janome Sewist 780DC Sewing Machine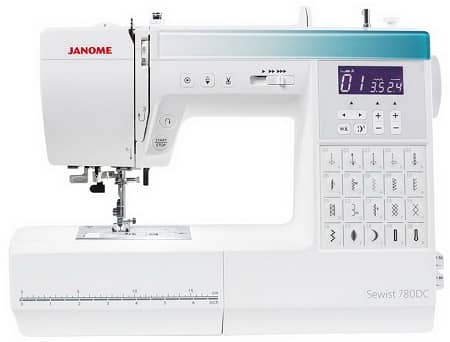 Product information:
| | |
| --- | --- |
| Brand Name | Janome |
| Stitch Count | 80 |
| Thread Tension | Manual |
| Stitches Per Minute | 820 |
| Max Stitch Width | 7mm |
| Max Stitch Length | 5mm |
| Thread Cutter | Automatic |
| Needle Threader | Automatic |
| Included Presser Feet | 7 |
| Warranty | 25 Years |
Product Description:
Sew your projects at a moderate speed of 820 SPM, selecting stitches from up to 80 built-in stitches with Janome 780DC. The 80 stitches, of course, include the blind hem stitch and the seven different feed dogs include a blind hemming foot for easy hemming.
Not just that, you also have three one-step buttonholes for making different styles of buttonholes in one easy step.
The machine makes your work quick and easy with its top drop-in bobbin, auto needle threader, and auto thread cutter and ensures a superior feeding of the fabric.
The superior plus feed system is basically the box feed system that provides an even, stable feeding of any and every fabric, from light cotton to thick tweed or denim.
Be more precise with your stitches with the help of its patented needle plate markings. Have proper control over the stitch width and length adjustment, as the former goes up to 7mm and the latter 5mm. Change and adjust the width and length of the stitches according to your requirements.
Baby Lock Altair Sewing and Embroidery Machine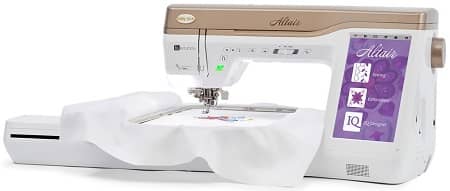 Product information:
| | |
| --- | --- |
| Brand Name | Baby Lock |
| Embroidery Area | 9.5″ x 14″ |
| Built-in Embroidery Designs | 494 |
| Lettering Fonts | 30 |
| Built-in Sewing Stitches | 771 |
| Included Hoops | 4 |
| Included Presser Feet | 14 |
| LCD Display | Touchscreen |
| Warranty | 25 Years |
Product Description:
Worrying about working on larger projects, not anymore when you have  Baby Lock Altair Sewing and Embroidery Machine. It boasts of a broad workspace, about 11.25" generous wide table to the right of the needle. And that wide table makes it the best sewing machine for hemming banners and other larger projects. Controlling the large fabric and working and embellishing them becomes easier on the wide table.
It is an advanced sewing and embroidery machine flaunting the patented IQ technology. What you see on the web on your smart device or your favorite software, transfer it to your machine wirelessly and create it on any fabric.
However, with its 771 built-in stitches and 494 embroidery designs, it is highly unlikely that you will search for designs outside any time soon. Have efficient control over the fabric during embroidery designing with its 9.5"x14" hoop and embroidery field.
Unlike any other sewing machine, this one has a large 10.1" LCD touch screen. The absolute control of the machine is right on that touchscreen. Selecting the stitches and making the precise adjustments were never this easy.
How To Hem Jeans With A Sewing Machine?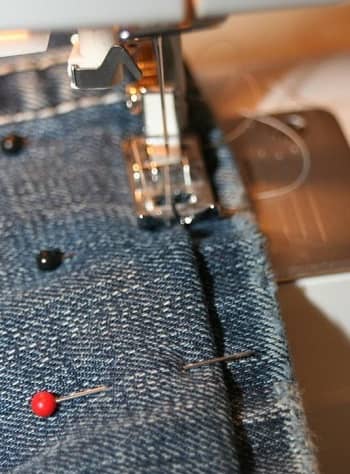 Hemming jeans are super convenient with a sturdy sewing machine. You will have to choose the stitch pattern accordingly and need the blind hem feed dog to hem the jeans. The blind hem presser foot has a guide on it integrated for you to make even stitches.
If you can sew straight stitches with a regular foot, any presser feet will work like all-purpose or zigzag presser feet.
It depends on your skill. Also, make sure that your sewing machine goes through the thick denim effortlessly and seamlessly to make your work easier.
We have selected five sewing machines for you, and if you have any one of them, you know you are at ease in hemming the jeans. So, let us start hemming jeans with the sewing machine.
Measure And Mark
Your jeans legs have raw edges, and you will first have to chalk out the measurement before folding it.

Get your chalk and ruler and mark the seam allowance. One inch of seam allowance should be perfect for hemming the jeans.
Fold And Press
Now fold the seam following the fold line, and press it with an iron. Fold one side at a time and press the folded seams.

Then press both the side seams as well.

Now the jeans pant is well-folded and needs a hard press to remain puckered.

Hold your iron for a little longer on the folded seams.

Now unfold the folded seam, and you will notice the harsh line. Fold the seam ones on that harsh line and one more time from that harsh line.

To keep the double-folded portion intact, pin it well from all sides.
Prepare The Sewing Machine
Stitching jeans or hemming require thicker threads, both in the bobbin and in the needle.

Wind your bobbin, put it in the bobbin case, then in the bobbin slot, and needle your thread depending on how your sewing machine works.

Keep your presser feet at the right height and pressure as well.
Start Hemming The Jeans
Start sewing from your inner leg seam following the half-inch mark through the measurement embedded in the needle plate, close to where the pins are. Sharply avoid the pins.

Make sure not to stitch closer to the edge. The purpose is always to keep the distressed look at the bottom while hemming to give the jeans a professional touch.
Tips To Remember
Remember that you have started hemming the jeans setting your presser foot, and keeping one of the side seams under it. As the side seams are generally thicker than the front and back portion, be careful, slow, and very precise while running your machine over it.

If you want to shorten jeans, the process will be the same. First, you will have to mark and cut the stitched portion of the jeans with sharp scissors and create a raw edge to hem the jeans from scratch.
Frequently Asked Question About Hemming
Conclusion
Knowing what hemming is, you pretty much got the idea that no outfit is complete unless you hem it. Moreover, neat hemming is essential to give the outfit a professional look.
However, when you have the best sewing machine for hemming with the right stitch pattern and presser foot, you are bound to thrive and take your sewing skill to the next level.
Such sewing machines let you make no mistakes, and also finish your projects even the bigger ones like hemming banners or quilts quicker. We talked about sewing machines for hemming from all the popular brands, so choose your pick promptly and finish hemming your projects.