Looking for a sewing machine for monogramming? Read to learn how to customize hundreds of designs and patterns.
Monogramming allows you to personalize household linens, clothing items, in addition to decorative ornaments. Buying the Best Sewing Machine for Monogramming will let you add your signature design to any piece.
These machines come with built-in designs or give you the option to add yours to create a unique piece. Sewing enthusiasts want a reliable monogramming machine that can allow them to stitch various designs without harming the fabric.
Monogramming and embroidery are two terms that are used interchangeably to describe the process of adding patterns, shapes, and initials to various sewing projects. Here, we will review 5 of the top-selling models on the market and help you choose one for your upcoming sewing project.
Our Recommended Top 5 Picks:
(See our quick top 05 picks, or go further down and read our in-depth reviews.)
Top 5 Sewing Machine for Monogramming 2022 – (Editors' Top Picks)
If you're in the market for a new monogramming machine, then you've probably seen that there are tens of models available for purchase. Take a look at the specifications of each one and choose the one that caters to your needs.
1. Brother PE800 Embroidery Machine
If you're looking for the best embroidery machine for custom designs, then this might be the right choice for you. It comes with 138 built-in embroidery designs and 11 fonts for monogramming, but that's not all. Using the USB port, you can download, customize, and store an endless number of designs.
This monogramming machine from Brother has a color touch LCD display. It allows you to see all the details of your design as you switch and change thread colors for a unique customized design.
You can edit your designs, increase or decrease the size, use mirror images or rotate every design for a unique look.  It has a big workspace for larger designs and sewing projects. Create beautiful designs using beautiful scrollwork, floral shapes, and special quilt patterns in addition to 14 border styles.
It comes with a cleaning brush and seam ripper. It has an automatic needle threader to save your time and effort, in addition to a well-lit work area. It features a 5-inch X 7-inch hoop for medium-sized patterns.
This machine is suitable for experienced monogramming enthusiasts. It comes with a manual, but beginners might find it intimidating.
It's also more expensive than other models on the market, so if you're a beginner, you'll find more suitable models.
Users also reported facing problems while using it with lighter fabrics and while adding monograms to cotton t-shirts.
Features at a Glance:
Well-built machine with numerous built-in functions.

Color-touch LCD display to see your design before executing it.

Comes with various built-in font styles, patterns, shapes, and borders with the ability to add more using the USB port.

Edit and customize your design by changing size or direction.

Automatic threader and a well-lit work area to help you finish multiple projects.
2. Brother XR9500PRW Sewing Machine
This medium-priced computerized embroidery machine is an excellent addition to any tailor's arsenal. It comes with a threading sensor for improving your monogramming and embroidering experience.
This Brother model has more than 100 built-in stitches and 140 stitch functions with lots of embroidery and monogramming options which can be adjusted to help you create your custom design.
It's a suitable choice for beginners who don't want to break the bank to start experimenting with monogramming. It comes with a hardcover and has an exceptionally wide table for quilts and larger projects. It's easy to use and provides great flexibility to sewing enthusiasts.
Moreover, it features 8 styles of one-step buttonhole styles. It also comes with a special arm to sew sleeves and cuffs. This is a comprehensive machine for various sewing and monogramming purposes.
This is the best embroidery machine for beginners because users will be able to see their stitches on the LCD display and choose their desired design.
It has 8 different feet for various sewing and monogramming purposes including buttonholes, zippers, button stitching, hidden stitches, zigzag, and quilting, so it's excellent value for money.
This machine is not designed for industrial use because it's not very sturdy. Moreover, it doesn't handle lightweight fabrics well and usually leaves gaps in the stitches.
Features at a Glance:
Medium-range computerized monogramming machines for beginners.

Easy to use with lots of automated functions to handle various sewing and monogramming projects.

8 sewing feet for various sewing options.

Wide work area for bigger projects.
3. Brother Computerized Sewing Machine, XR9550PRW
This is an affordable machine that offers various valuable options. It comes with 110 built-in utility, decorative, and heirloom stitches. It allows you to choose your favorite among 8 styles of one-step buttonhole styles, so your next sewing project is ready.
The sewing machine comes with an automatic threading system and can be used for decorations and designs. Moreover, you can control the stitching speed and use the automatic needle feature to save time and effort.
This machine is lightweight, so it's the best embroidery machine for monogramming classes. It's ready to use out of the box and doesn't require any additional setup.
It has a backlit LCD display that you can use to see the design before you start working on it. It even comes with DVDs to help you make the best of your machine.
Having all the settings displayed on the screen will improve the quality of your finished projects. This is a new version of the previous product on our list, but it has 110 stitches instead of 100. It also contains more plastic parts than metal which makes it more portable but affects durability.
Again, these models are suitable for beginners and amateurs who don't plan on using the machine every single day. It might be a good choice for upholstery fabrics but won't work that well on very light and sheer materials.
Features at a Glance:
Affordable and portable sewing machine.

LCD display to see all your designs before execution.

110 built-in stitches and 8 styles of one-step buttonholes.

Speed controller and automatic threader.
4. Singer Futura XL-550 Embroidery and Sewing Machine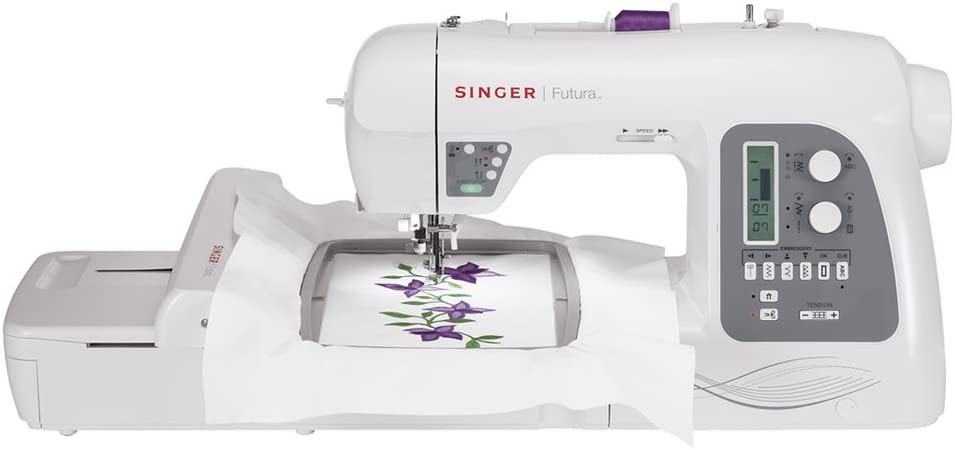 If you're looking for a heavy-duty embroidery sewing machine, then you should consider this one. It's more expensive than most of the other machines on the market, but it offers beginners and experienced users unique embroidery and monogramming experience.
This is an excellent choice for sewing enthusiasts who want to sew and create custom designs using the same machine. It comes with 215 built-in stitches, 125 embroidery designs, five fonts, and outline lettering, in addition to 2 fully automated one-step buttonhole functions.
This is a unique machine from Singer that can be used for various low-profile and complicated projects. 
It has an LED-lit work area so you can see darker fabrics easily. It also has an automatic needle threader to save time and effort.
The best thing about this machine is its computer compatibility feature. You can customize and edit your design or combine several ones in one unique pattern that you can add to your various sewing projects.
You can also download any design from the internet to finish your customized and personalized project. It has everything you'd ever need in a monogramming and embroidery machine and more.
This machine from Singer has multi-hoop capability so it can make smaller and bigger designs. It also has a big workspace so you can make quilts and household linens. You will be able to transform TrueType fonts into embroidery fonts.
You can type any text and use the built-in fonts to create a customized design. However, beginners might not find this machine suitable because it costs more than most of the other products on our list. Moreover, several users report that they suffer from threading or needle-breaking problems.
Features at a Glance:
High-quality machine with 215 built-in stitches and 125 embroidery designs.

Wide work area for larger projects and 2 automated one-step buttonhole functions.

Automatic needle threader and an LED-lit work area.

Computer compatibility to download and edit various designs.

Multi-hoop computability to create smaller and bigger designs.
5. Brother PE535 Embroidery Machine
Brother PE535 is an excellent embroidery machine for medium-level monogramming enthusiasts who want to buy a decent product. It features 80 built-in designs including fonts and borders for perfect monogramming. Moreover, the machine has built-in memory so you can use the USB port to store various designs and patterns.
You can easily watch the design to make any adjustments to the color LCD screen. It features an appropriate embroidery field of 4-inch X 4-inch with built-in alignment tools to keep the fabric in place. Users love how this machine features 9 fonts for amazing monogramming on any fabric.
Moreover, you can align the text in curves, angles, or write it on multiple lines. Using this machine, you'll have access to iBroidery.com where you can access thousands of Disney, Marvel, and Pixar-inspired designs.
This monogramming machine from Brother is suitable for creating embellish tops, ornaments, party favors, as well as adding monograms to denim and other heavier fabrics."
This machine doesn't offer any sewing options, so it's suitable for people who are interested in nothing but monogramming and embroidery. Other machines provide several sewing options at the same price range. Moreover, it doesn't have lots of built-in features, although users overcome this problem thanks to the computer compatibility feature.
Features at a Glance:
80 built-in designs for various embroidery and monogramming projects.

9 built-in fonts that can be aligned in multiple ways to create a suitable design.

USB port to import thousands of custom designs for various monogramming and embroidery projects.

Compatibility with iBroidery.com for thousands of patterns and shapes.
What do We Need to Consider When Buying Sewing Machine for Monogramming?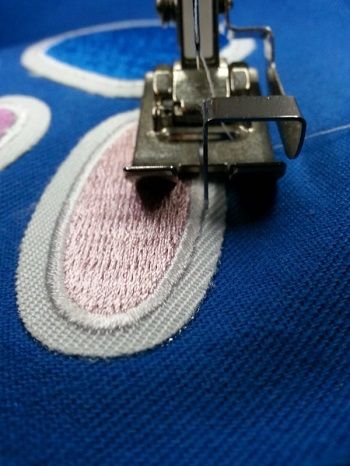 Whether you're a monogramming and embroidery hobbyist or wish to start your home-based monogramming business, you need to pick a reliable machine that offers various options.
Every sewing enthusiast wants to avoid a frustrating machine; this is why we will highlight the most important features to consider when you're shopping for the best machine for monogramming, creating patterns, and embroidery.
Built-In Stitches:
Most high-quality machines come with built-in stitches, designs, and fonts that you can use for various monogramming and embroidery purposes. The bigger the number, the more versatility the machine will offer. Some machines have more than 200 built-in stitches.
Although some machines give you the option to add more shapes and designs, it is a good idea to have some of them already on your machine, especially if you're a beginner.
Computer-Compatibility:
You want a creative machine that puts no limits to your creativity. This is what you get with a high-quality machine that you can connect to the computer. This means that you can download, edit, and customize any pattern, design, or text before executing it.
Moreover, you'll have access to millions of online designs. You can create and customize your unique design or pattern on the screen of the computer and see it stitched to your sewing project.
Ability to Edit:
Good machines will allow you to edit built-in designs and patterns quickly. You can change the size of the patterns, fonts, designs or use a mirror version of any built-in design to customize any project.
Some built-in designs or patterns might be too small or too big for your project. This is an important feature that will let you make use of all the built-in features.
Design Size:
Some machines have larger hoops that will allow you to make bigger designs but won't stabilize smaller pieces of fabric. Other machines are suitable for smaller designs, and a big one won't fit. You should pay attention to the machine's specifications and see which designs you are interested in.
Some high-quality machines have a multi-hoop comparability feature so you can finish small and big designs in the same excellent quality. This feature allows you to go from smaller to bigger designs without wasting time or postponing projects.
Other Sewing Features:
Are you interested in sewing and monogramming? Or are you buying a separate machine for each function? Machines that can do both will cost more money but provide excellent value.
If you already have a good sewing machine and need to start experimenting with monogramming and embroidery, then you don't need to spend that extra cash.
Conclusion
Monogramming and embroidery machines can produce amazing results if you pick a good machine that caters to your needs.
There are several models on the market but only one that can be the Best Sewing Machine for Monogramming for you. The right choice will help you customize hundreds of amazing projects.