After 70 hours of research, we've created reviews & buying guide to help you find the top brother embroidery machine. Read on to learn more.
Are you fond of embroidery? Chances are you are looking to upgrade and enhance your embroidery skills. On the other hand, you might be looking for a quick way to produce identical designs and outputs for your upcoming business.
While hand embroidery is a great way to bring out the artist in you, it may be too time-consuming and tiring to do. Whatever your reason may be, an embroidery machine will get the job done for you in minutes.
Embroidery machines allow you to embellish and personalize any type of fabric you want. And when it comes to choosing a brand, Brother is the way to go. In this review, we will list down the 8 best Brother embroidery machines you can get your hands on.  
Our Recommended Top 5 Picks:
(See our quick top 05 picks, or go further down and read our in-depth reviews.)
Top 8 Brother Embroidery Machine of 2022 – (Editors' Top Picks)
With all the different models in the market, it might be overwhelming to decide.Don't worry, because we listed down the 8 best models from the brand and their reviews.
1. Brother PE800, 5×7 Embroidery Machine
If you are looking for an embroidery machine that is easy to set up and operate, the Brother PE800 is a great choice. Kindly note that this is a dedicated embroidery machine, and you cannot use it for regular sewing.
That being said, you can rest assured that its features and specifications are specifically designed to deliver what you want in an embroidery machine.
This model is best used by beginners who are in search of a fast and flexible embroidery machine, which can help improve their skills. What's more, the price is really affordable.
Some say that this is virtually unlimited in terms of design options. It has complete access to the best Brother's software features, which includes a ton of downloadable designs.
You will love the fact that this is equipped with 11 fonts and 138 built-in designs and patterns. Not only that, but it also comes with 14 styles for the borders and 10 frame shapes.
The product comes with a large LCD touchscreen display, a feature you should always look for. It also has a nicely lit working area so you can see your work in progress easily.
Adjusting the product's setting is elementary. Another highlight of the PE800 is that you can either increase or decrease the size of your design, and you can even combine monogramming with it.
Like most Brother embroidery machines, this one features an automatic needle threader. This will allow you to get finished with the designs fast and with less effort. It also has a programmed thread trimmer. The stitching speed in this product is superb, being 650 stitches per minute.
Pros:
A lot of design options

The price will not break the bank

Easy to use machine

Fast working speed; 650 revolutions per minute
Cons:
You cannot use it for sewing
2. Brother SE600 Computerized Sewing and Embroidery Machine
The second product on our list might be the best brother embroidery sewing machine. It is specifically designed for heavy-duty tasks. This 4″ x 4″ embroidery field allows you to do your embroidery work with ease. It is very compact and lightweight, which makes it portable.
This model comes with a very powerful motor that allows you to stitch at a speed of 400 stitches per minute. Just like the first model in our list, it has a large LCD touchscreen display.
This 3.2″ display allows you to view the designs you can pick a full color. It is very easy to change your thread colors as well.
As mentioned, you can create designs of up to 4 by 4 inches. This is the standard design size. It comes with a built-in alignment feature that is very useful when re-hooping or when positioning various designs in your project.
Furthermore, it features an automatic needle threader. In just a few seconds, this machine will do the threading for you. This is very helpful when you need to do multiple thread changes.
As mentioned, this machine is not only capable of embroidery, you can use this for sewing as well. It features a lot of decorative stitching patterns you will enjoy, such as stars, feathers, and waves.
Even if you are working with dark fabrics, you will not have a hard time with this product. It features super bright LED lighting to help you clearly see what you're working on.
This product comes with 6 fonts you can play around with. You can choose from lower case to numeric and even symbol characters. Of course, you can easily input more designs with its USB port.
Pros:
Both an embroidery and sewing machine

Has a USB port for more designs

Portable

Large LCD touchscreen display
Cons:
Might be expensive for some people
3. Brother SE625 Combination Computerized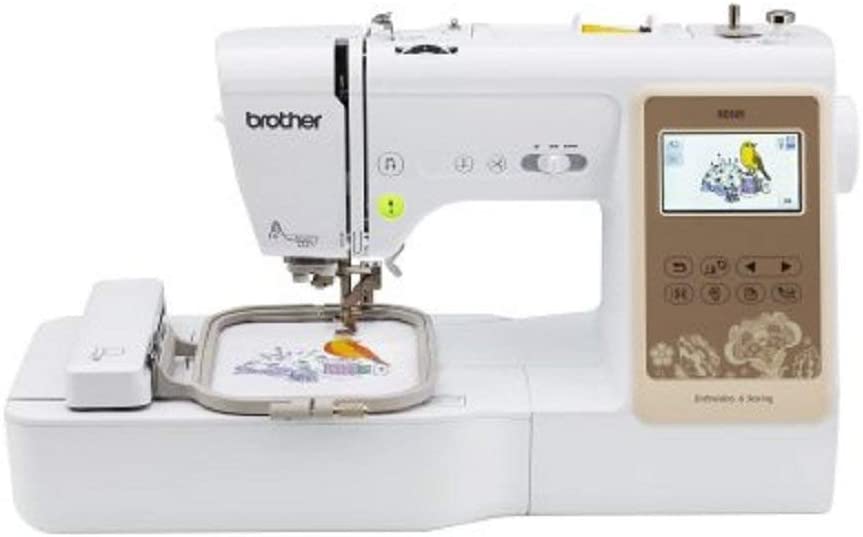 The Brother SE625 is a multifunctional machine that is reliable and can be a modern addition to our craft area. This model is both a computerized sewing machine and an embroidery machine at the same time. The simple design can be enjoyed by both men and women.
Let's talk about its embroidery functions. It has a standard field size of 4 by 4 inches. This model will not let you down with the number of designs it comes with. It features 80 built-in designs and 200 more on a CD. You can definitely play around using these 280 designs.
But it does not end there. You can import all the designs you like through its USB port. Moreover, you can hook it up directly from your computer, but using a flash drive works better since it's more compact. For the sewing function, it's equipped with 103 decorative stitching patterns.
This model also features great automatic functions. It stops when you're low on the bobbin thread, and it indicates how much time you have left before you use it all up. Furthermore, it keeps the settings you set on memory so you can go back to it whenever you like.
You will be impressed that this model comes with seven presser fit, it's the best brother sewing and embroidery machine considering it comes with all of these options.
The model also features a 3.2-inch LCD screen, which allows you to see the design in full, rich colors. It has a drag and drops feature, and it's so easy to adjust even the smallest details of your chosen design.
Pros:
Both an embroidery and sewing machine

Has a USB port for more designs

Portable

Large LCD touchscreen display
Cons:
Might be expensive for some people
4. Brother LB5000M Marvel Computerized  
Take your superhero inspiration to the next level with the Brother LB5000M sewing and embroidery machine.
There are two main features that will make this embroidery machine appeal to Marvel fans out there. The first one is that you can customize the front part of this machine with different plates.
You can switch up the look depending on who your favorite Avenger is. The next feature that every Marvel fan will love is that it comes with 10 built-in Marvel designs in its program.
Of course, the machine is not just about the Marvel design. This product's specifications will definitely impress you as well. The first thing you should know about this product is that it's capable of both sewing and embroidery. So, if you want a versatile model, this one is a great choice.
It comes with a total of 100 built-in designs for the embroidery part. For the sewing, it comes with 103 stitching patterns. It also is equipped with 9 built-in fonts for monogramming. If this is not enough, you can always import more designs through a flash drive since this model has a USB port.
The 3.2-inch LCD screen allows you to pick your desired designs easily. You can easily change individual colors and adjust the design in one click. This gives you more space to do bulkier projects with ease.
The package includes seven useful and easy-to-change sewing feet. Lastly, this model features an automatic needle threader. You just need to press the lever, and you're good to go.
Pros:
Fun Marvel designs to choose from

Has a USB port for more designs

Automatic needle threader

Comes with 7 sewing feet
Cons:
The cheap plastic is very apparent

Costly
5. Brother PE535 Embroidery Machine
The Brother PE535 is a compact embroidery machine that is very easy to use. If you're a beginner and you want to enhance your embroidering skills, this is perfect for you. The minimalist appearance of this machine is very pleasing to the eyes.
Firstly, the dimensions of this model are 16.5 x 7.8 x 12 inches, and it weighs 23.1 pounds. It is very portable that you can carry it around the house. Although, you have to keep in mind that this is an embroidery machine only. You cannot use this for sewing.
As mentioned, this product is great for newbies. It has a decent number of built-in designs. But if you want more, you can always import any designs you want from the internet. This model is equipped with a USB port wherein you can import designs from your flash drive. You also get 9 lettering fonts with this product.
It is equipped with an impressive LCD touchscreen display. With it, you can pick the design you like before embroidering it. You can also quickly change individual embroidery thread colors using the built-in color palette.
The 4" by 4" sized embroidery field is enough for beginners. You also get a grid sheet and some built-in alignment tools to help you do your project better and faster. The automatic needle thread is very helpful and saves time.
If you want to work with denim materials, there's no problem with this model. You can also experiment with creating ornaments and other beautiful 3D projects.
Pros:
Reasonable price considering its specifications

Portable and easy to use

Comes with an LCD touchscreen display

You can play with unlimited designs by importing through the USB port
Cons:
6. Brother Simplicity SB7900E Embroidery Machine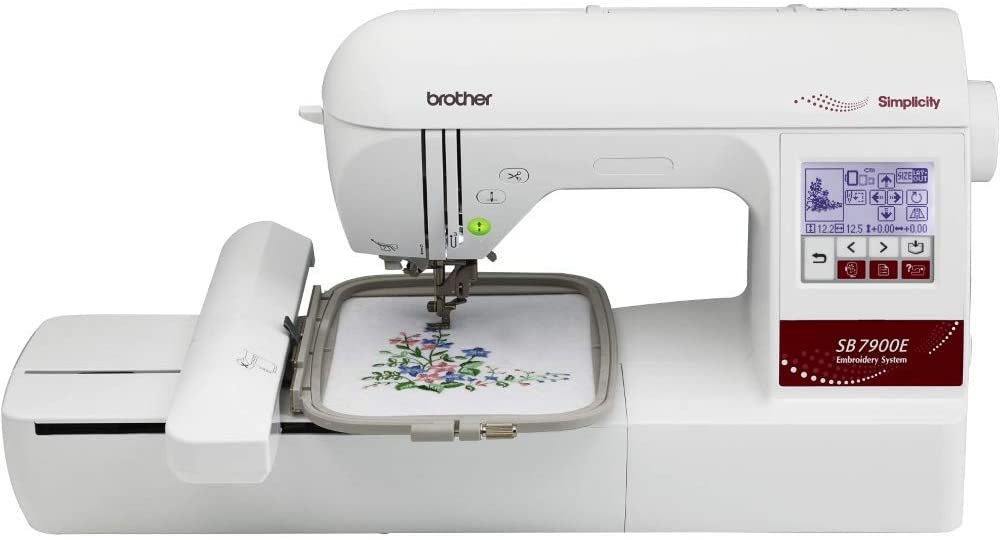 This particular product is a great machine for embroidery enthusiasts. For starters, it has a larger-sized field compared to the usual size most model offers. You will surely enjoy the wide 5″ x 7″ field area since you can create bigger and more detailed designs.
It is good to know that this machine is a dual purpose. The product is a good performing embroidery machine and a sewing machine as well. You really get a good return from the money you will invest in this.
You will also love how easy it is to use this product. The back-lit LCD touchscreen display allows you to play around and customize the design to your preference. You can rotate, increase or decrease the size, and mirror the image.
In terms of built-in designs, you get a lot from this product. It comes with 136 embroidery designs. On top of that, you get 6 lettering fonts. It also comes with 120 frame pattern combinations.
If you still wish to embellish more designs, you can always import more. This product has a USB port for that very purpose. Just save the design on a flash drive and plug it in.
Furthermore, if you have trembling hands and poor eyesight, needle threading could be a laborious and annoying task. Well, this product will do the job for you. It features an automatic needle threading and trimming system.
Another thing you will love about this product is that it has automatic thread sensors. Also, it's jam-resistant! The bright LED makes it easy to see what you're working on.
Pros:
Offers both embroidery and sewing function

Wide working area

Easy to use machine

Fast sewing speed
Cons:
7. Brother PE550D Embroidery Machine
A lot of people, young and old, love Disney. If you are one of them, you will also love this embroidery machine! It comes with 125 embroidery designs and 45 of which are Disney patterns. Like any other high-tech Brother embroidery machine, you can always add more designs in your collection through its USB port.
On top of that, you also get 9 built-in fonts (6 English), which you can play around. Another highlight of this product is its excellent editing function.
It is equipped with a large 3.2" Sew Smart LCD touch screen. This allows you to easily pick which design you want from your collection. You also have the option to increase or decrease the size of your design, rotate it, and combine it with another.
What you will like most is the price. Even if you have a limited budget, you can still purchase this model. In terms of size, it is 16.5 x 7.8 x 12 inches, truly a compact machine. You do not need to sacrifice a large space in your room in order to use this. Plus, it is easy to bring from one place to another.
Another advantage of this product is the automatic needle threader. It does the threading job for you. This is really helpful, especially for those who have poor eyesight and shaky hands.
Also, this is a good choice for people who already have a separate sewing machine, as this does not have that function. All in all, this model is a great buy considering it comes with nice features and a very reasonable price.
Pros:
The model is great for beginners

Comes with Disney designs, and the machine itself looks cute

Price is reasonable considering its specifications

Portable
Cons:
You cannot sew with this model
8. Brother SE1900 Sewing Embroidery Machine
The SE1900 is one of the most high-tech embroidery machines you can get your hands on. It is a versatile and multi-functional machine that performs well both in sewing and embroidering. Also, it has features which you usually find in more expensive machines – making this one stand out considering its price.
However, the main feature of this machine is it's 5 by 7-inch field. This is larger than the average size, which is 4 by 4 inches. And this work area is properly lit with LED lights, so it's easy to work with light and dark fabrics.
It is equipped with a large LCD touchscreen. With this, you can play around and edit your desired design before you start working. You can rotate, enlarge, and combine one design with another. The possibilities are endless with this machine.
This machine comes with 240 built-in stitching patterns. You can play around with the 10 frames and 11 fonts. For embroidery, it comes with 138 built-in designs. And this is more than what you usually get from other models.
If you have seen a design on the internet which wasn't included in the built-in collection, you can always import it in the machine through its USB port. And if you like, you can save the design for future use.
You have the freedom to adjust the screen brightness and even the sewing speed. Plus, it comes with 8 handy sewing feet, which is more than what you usually get.
Of course, it features an automatic threader, so you don't need to painfully stare at the needle. This is really an advantage for those who work with different thread colors.
Pros:
Offers both embroidery and sewing function

Comes with a lot of sewing and embroidery designs

Includes 8 sewing feet
Cons:
Non-computer savvy people might take time in learning how to use it
Frequently Asked Questions About Embroidery Machine
What do We Need to Consider When Buying Brother Embroidery Machine?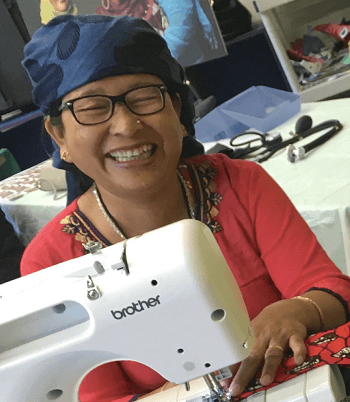 If you still need a little help in choosing the Brother embroidery machine for the money, here is our buying guide. These are the important points you should keep in mind before deciding on which model to get.
Accessories
To make it more convenient and versatile, your embroidery machine should come with a few accessories. Try to look for foot pedals and an automatic needle threader.
Cost and Value
Embroidery machines generally are more expensive than sewing machines. Hence, you want to get the most value for what you will pay for. You also need to make sure that the model you will purchase should serve its purpose for a long time. It's important to consider durability because you don't want to keep repurchasing.
If you are very dedicated to embroidery and determined to do it in the long run, try to buy one that has better features and specifications instead of a beginner-friendly machine, which only has a few.
Field and Hoop Sizes
Like mentioned, if you are very dedicated to doing embroidery, and have many projects in mind, look for something with great specifications. This includes field and hoop sizes. Try and look for a machine that can offer you multiple options for hooping, plus a bigger field.
Design Options and Connectivity
Different machines offer a number of embroidery designs. Some machines offer more designs than others. A tip is to purchase one which has the designs you like, don't just look at how many you can get. Ending up with an embroidery machine with a lot of patterns that you don't really like is of no use.
Furthermore, if you don't want to be limited by the designs your embroidery machine comes with, you have the option to import additional designs from the internet. Hence, choose an embroidery machine that is able to do so.
There are embroidery machines that need actual computer connections to import designs. On the other hand, there are models that have a USB port.
Display
You want a clear view of what you are embroidering. Especially if you are making designs that require multiple colors. Don't choose a model that has a tiny window and can't give you a clear picture because this may cause errors.
Multiple Functions
It is better to pick a machine that can double as a sewing machine. This allows you to get more bang for your bucks.
Final Words
Have you decided on which of the best Brother embroidery machines you should get? Well, I am pretty sure you already have. So, get those imaginations going and embellish those garments! Good luck!