Although sewing pins are considered among the tiniest of tools used in the craft of sewing, get a quick review of five of the excellent sewing pins right here.
Sewing pins maybe the tiniest sewing tools, but they take on big, important tasks in the sewing process. For instance, they hold pattern pieces in place, anchor seam allowances as you sew, fit fabrics on the body, and secure all sorts of squirmy trims, delicate sequins, and tiny beads.

With this in mind, there are many types of pins in the market, and although most of them have a lot of similarities, their small differences make them preferable for different uses.

Below is an in-depth review of 5 of the best sewing pins that will help you pick the best one to suit the specific task(s) that you want to carry out. 
Our Recommended Top 5 Picks:
(See our quick top 05 picks, or go further down and read our in-depth reviews.)
Top 5 Sewing Pins of 2022 – (Editors' Top Picks)
1. Color Scissor Glass Head Pins
Color Scissor's glass head pins stand out due to their glass heads, which come in 7 vivid colors that include White, Green, Light Blue, Purple, Orange, Red, and Royal Blue. These are good for making your work more fun.
Apart from adding color, these glass heads are resistant to heat, which ensures that they will not melt in contact with a hot iron while also making it easier to hold as you pierce through different fabrics.
Below the head, each pin has a 38mm stainless steel shaft that is just the right length for making or decorating several sewing or crafting objects such as in quilting for jewelry decorations in dressmaking.
Stainless steel construction makes the pins strong enough to keep their shape when piercing into fabrics, and durable enough to avoid any form of rust.
In terms of quantities, the pins come in a pack of 250 and are very affordable. They are also available in a pack of 800 with the option of a pumpkin pin cushion, but these are definitely more expensive than the 250 pack.
Regardless of the quantity, each set comes neatly packed in a plastic box that makes it easy to carry and also easy and safe to store.
Features at a glance
Heat-resistant glass head.

Stainless steel construction.

38mm stainless steel pin is suitable for a wide variety of sewing projects.

Comes in 7 glass head colors

Fitted in a plastic box for easy carrying and storage.
2. SINGER 00349 Dressmaker Pins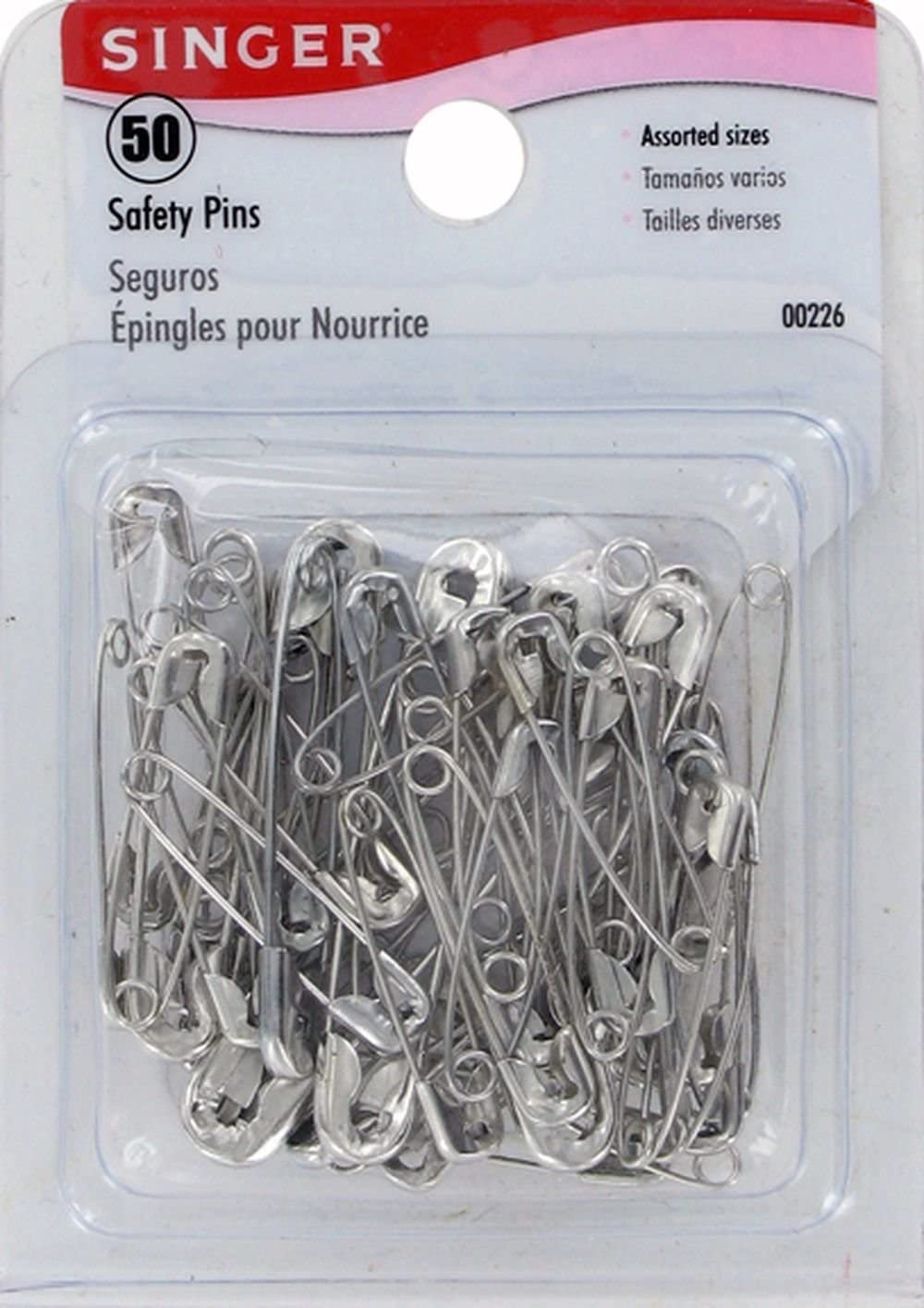 Singer's dressmaker pins are more like nails regarding design because they have a flat head with no fancy colors. This makes them ideal for the person who likes plain or dull colors.
Structurally, the pins are made using nickel-plated steel, which combines the strength of steel at the core of the pin and a rustproof nickel coating on the outer layer for resisting rust. This makes them very durable.
Apart from durability, this kind of construction makes them very light, and the nickel coating gives each pin a silver finish. The lightweights make them easier to handle while the silver finish improves on their visibility as you use them on differently-colored fabrics.
When it comes to quantities, the pins come in a pack of 500 and are relatively affordable if considered as the price per pin. However, they are not packaged in a plastic pack, which means that you have to look for a container to store or carry them with you.
Features at a glance
Flathead design.

1-1/16 inches in length.

Durable nickel-plated steel construction.

Lightweight.

Silver finish.

Comes in a pack of 500 pins
3. EuTengHao Sewing Pins
EuTengHao's sewing pins are top-rated products because the pack of 1000 is neatly distributed as 250 pins in 4 plastic boxes, making them easy to carry and store. The pins are also available in a pack of 500, which is split into two 250 pin plastic boxes and is cheaper than the 1000 pack.
Colors are also a big contributor to their high rating. These pins feature glass ball heads that are differently colored in black, white, yellow, light blue, orange, green, red, and blue.
The colors make it fun to work with the pins while the glass heads make it easier to handle when pushing or pulling the pins out of fabrics because their 3mm diameter fits perfectly between the fingers.
On the metallic part, each pin in this set has a 38mm long straight shaft that is suitable for use in school, home, or office-based sewing projects as well as for making or decorating crafting objects
Construction-wise, this metallic part is made of nickel-plated steel, which is very strong and durable and has a very sharp point for easy piercing through soft or tough fabrics.
Features at a glance
Comes as a pack of either 500 or 1000 sewing pins

Neatly packaged in sets of 250 pins per box. 

Heat-resistant glass ball head.

Available in 8 differently colored glass ball heads (black, white, yellow, light blue, orange, green, red, and blue).

38mm in length with a 3mm glass ball head.
4. Zealor Sewing Pins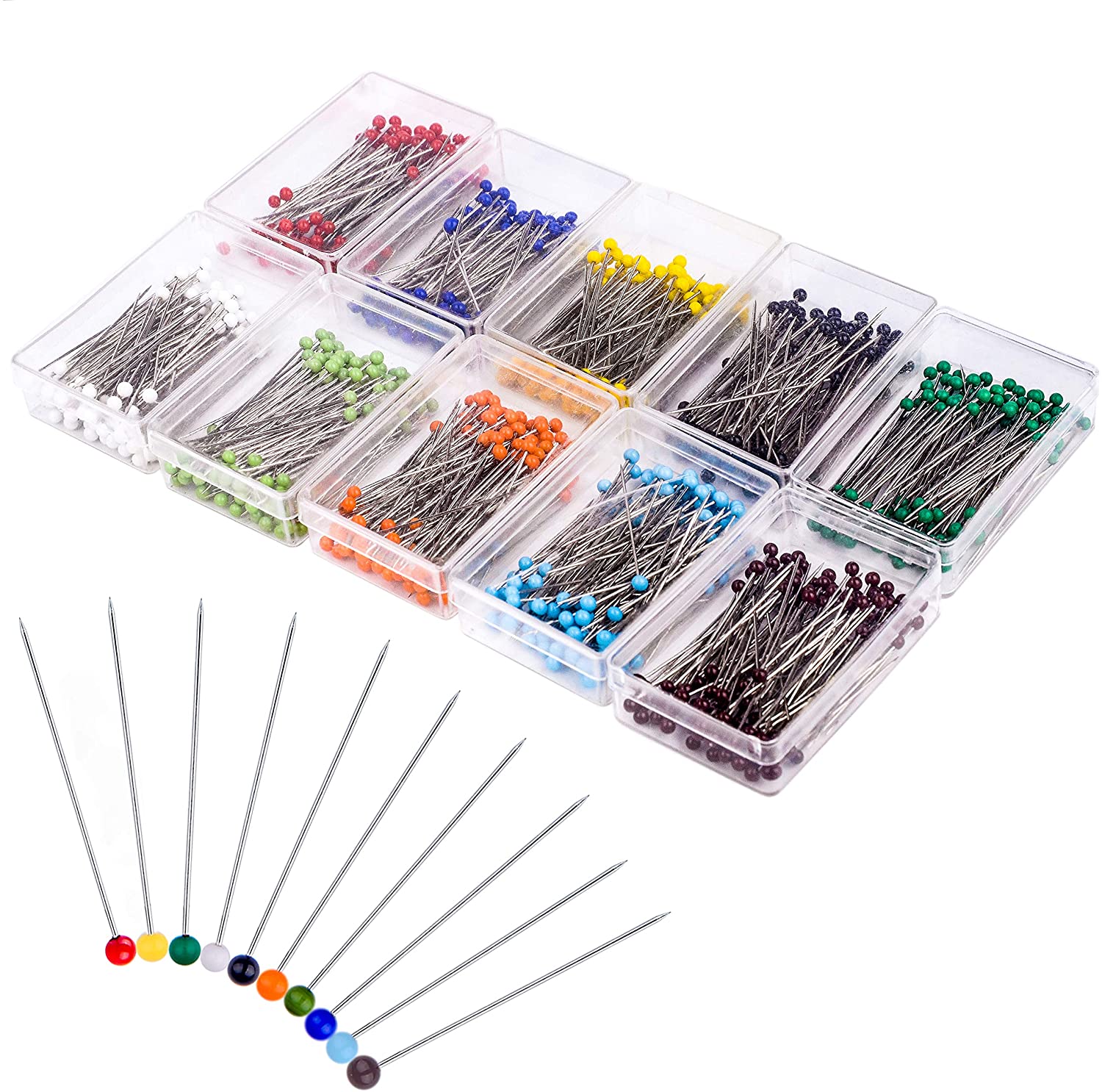 If color is your thing, Zealor sewing pins are worth considering. They come as a set of 1000 pins that are neatly packaged in groups of 100 pieces, all separated by color. This means that there are 10 assorted colors in this set.
These colors are included on the pin's glass head and include red, blue, yellow, dark green, light green, and white, among many others.
By being separated by color, it becomes very easy to use the pins as they are easily manageable, while the plastic packaging that separates them makes it easy to carry and store them.
Construction-wise, the needle shafts are made of steel, which is strong enough to resist bending on encountering thick or tough fabrics. Additionally, each pin has a sharp pointed tip that makes it easier to pierce through these fabrics.
Regarding size, the shaft is 38mm long, which is the standard size that is used for almost all quilting and decoration projects. The round glass bead has a diameter of 3mm, which fits perfectly between the fingers to make pulling and pushing much easier.
Features at a glance
Durable steel construction.

Pointed tip for easier piercing through thick or tough fabrics.

38mm in length.

3mm glass bead diameter for a comfortable hold when pulling or pushing the pin.

Comes as a set of 1000 pins

Neatly packaged in 10 plastic boxes separated by color.

Comes in 10 different colors
5. Subang Sewing Pins
Subang's sewing pin set is like a big brother to the Zealor unit above because it has 1200 pieces, which gives you 200 more, and 12 colors, which gives you two more. This makes the set ideal for decorations, embroidery, creating ornaments, and dressmaking, among many other crafts.
The pins are packaged in 12 groups, each having 100 pieces of one particular color. Each group is packed in a separate, clear plastic box, which means you get 12 boxes. These are very useful because they can be used to transport or store pins when not being used safely.
Structurally, each piece has a circular plastic head that has a diameter of 4mm, and this makes it easy to hold. Below the head, a 38mm straight steel shaft extends outwards, and it has a pointed tip for easy penetration through thick or tough fabrics.
Although steel rusts when exposed to water, its use gives the pins the strength required to penetrate through these fabrics without bending.
Features at a glance
Comes as a set of 1200 pieces

Packaged in groups of 12, each having 100 pins of a different color.

Circular plastic head construction with a diameter of 4mm

Strong steel shaft construction.

It comes with the reusable clear plastic packaging that is good for carrying and storing pins.
What do We Need to Consider When Buying Sewing Pins?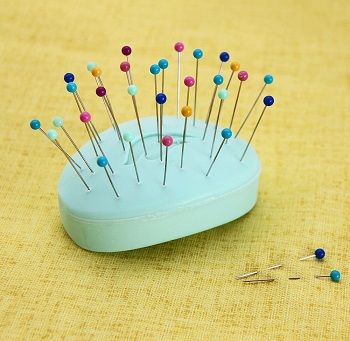 The importance of sewing cannot be overlooked. As such, it is vital that you buy the pins that suit your requirements. Below are some of the things that you need to consider before buying any sewing pin.
Pin Head
The head is the most distinctive part of the pin, and it can be made from various materials, such as glass, metal, or plastic.
Glass Head Pins
These are the most commonly used pins and are the best ones to buy. The glass ball head is easy to grip and won't melt if touched by a hot iron. This makes them ideal for holding parts such as folded hems as you press with your iron before feeding them into the sewing machine. 
Apart from this, they can also be colored, and most of the time, pins having glass heads are multicolored to make them more exciting to use.
Silk Pins
Silk pins usually have very little heads that can be very challenging to hold firmly. However, their all-metallic construction with slim and smooth shafts make them ideal for use when working with silk fabric. 
This is because, unlike other materials, silk does not contract once it expands. If you use a thick needle, the fabric around the hole might not bounce back and close it to its original look.
Plastic Head Pins
Plastic head pins are very much like glass headpins, but not all of them are circular. Plastic can be easily molded to acquire different shapes that are possibly easier to hold. However, regarding use, they are multipurpose pins and can be in any color. 
The only downside with them is that they are not heat resistant, which means that they cannot be used to hold parts that require ironing. 
Construction
Apart from the head construction, the rest of the pin body, which is the shaft, is also important to consider regarding the material used to build it. Even though all are constructed using metal, not all metals are of the same quality. 
Some such as steel are quite strong but can rust when exposed to water. 
However, shafts made using nickel-coated steel combines the durability of nickel, which does not rust, and the strength of steel in the core to provide the strength required to pierce through thick or tough fabrics. 
Stainless steel is also a good option to consider because it is also strong and does not rust.
Quantity
Some sewing pins come in sets of 250 units, while others have as many as over 1000 units. Most of the time, the more the pins, the cheaper they are if you consider the price per unit. 
Even if you need a few pins to work on your project, it would be wise to buy the bigger pack and save the rest for future use because they are usually very durable.
Colors
If you like working colorfully, you need to buy a sewing pin set that has the widest variety of colors. This also means that you should consider glass ball or plastic-headed pins because these are the types that are usually colorful. 
However, if you prefer dull or no colors at all, some pins are purely metallic, such as silk pins, that you can use. The only important thing to note is that their small heads are difficult to hold, and thus, you must be very careful when handling them.
Packaging
Packaging is important to consider because of storage and transportation purposes. Some pin sets come in plastic boxes, eliminating the need for buying an additional box for keeping them.
Others are shipped in packages that cannot be reused once they are unpacked. 
Of course, the ones with reusable plastic boxes are better because they save you the cost of buying additional storage boxes.
Conclusion
There is more to sewing pins than what meets the eye. They may look like very simple products, but if you want the right pin for a specific type of sewing task, you need to do some research to select the most suitable one.
I hope now you will be able to pick the best sewing pin from the five products listed above, then proceed to produce a high-quality sewn or decorated product.