(Last Updated On: November 1, 2023)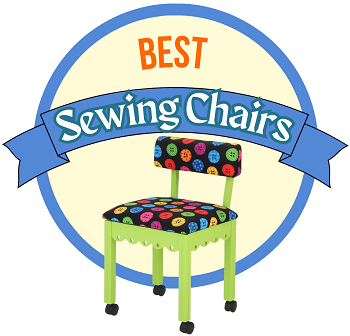 It's easy for sewists to overlook the importance of sitting on the best sewing chair during long hours of sewing and quilting.
As the experts agree, your sewing chair is one of the critical factors of a healthy working environment.
If you sit on just any chair for long sewing hours, you'll be risking back pains, or something worse if you have an existing neck or back issue.
And in my view, you can't sew when you're feeling tired, or you've got back pains.
So, why sit on the wrong chair that will directly affect your health and sewing productivity?
That doesn't make sense.
In this post, I'll share with you a list of 10 ergonomic, comfortable sewing chairs that massively increase your sewing productivity while minding your overall health.
Let's get into the details…
Our team of experts has selected certain products and assigned a star rating to each product. Read our detailed review below.
Why a Special Chair For Sewing?
All sewers who want to improve their sewing productivity should get a special sewing chair.
Picture what your normal sewing day looks like… it involves sitting down for prolonged periods of time as you draw your patterns, cut, and bast on your craft table.
Clearly, if you don't have a genuinely comfortable and ergonomic sewing chair to take you through such a day, you'll get tired along the way.
As far as the science of ergonomics is concerned, your muscles and joints react to wrong sitting postures in a way that seriously comprises your overall comfort feeling. And such prolonged reactions develop into serious health issues.
Based on this fact, manufacturers have been able to come up with unique sewing chairs that offer your body the right support and comfort all day long.
It ensures that you can spend long hours in a sited position without experiencing any back pains. Sewists with existing neck or back problems will love this chair as it prevents their conditions from getting worse
The right sewing chair also dramatically reduces stress in your back, shoulders, neck, arms, and legs. This helps reduce the pressure piled on your spinal discs and back muscles.
Overall, the best chair for sewing is all about giving you the right amount of comfort and body support, thus improving your sewing productivity and keeping you healthy in the long run.
10 Best Sewing Chair Reviews:
1. AmazonBasics Low-Back Computer Chair:
AmazonBasics Low-Back Computer Chair lets you sew in comfort all day long. It features a smooth, back-contoured mesh back. This gives you the best back support and comfort you need to sew for long hours. Other than sewing, this chair can double as a home or office, or for any other task that requires upright posture. It is available in a variety of colors so that you can pick the one that matches your sewing room environment.
The chair comes with a single pneumatic control that lets you easily raise or lower the seat to your preferred height. This promotes an even more comfortable sitting position which will help you work for long stretches of time. Add to the fact that it comes with a 2-inch thick seat padding and you'll feel like you're sewing in paradise!
If you look at this chair carefully, you'll spot the nicely curved back with a mesh-only design. This enhances the chair's breathability by getting rid of stale air produced by your body when working and replacing it with fresh air. The seat also presents with a 360-degree swivel for multi-tasking convenience as well as smooth rolling casters for increased mobility around your working room.
Highlighted features:
Comfortable sewing chair with contoured mesh back

Pneumatic seat height

Padded seat improved comfort

250lbs weight capacity

Size: 17.72″W×18.70″D×33.46″H–37.99″H

Amazon Basics 1-year limited warranty
(click here to see current availability and up-to-date pricing on Amazon).
2. Boss Office Products B315-BE Perfect Posture Delux Fabric Task Chair:
Another highly ergonomic sewing chair you can get on the market today is the B315-BE Perfect Posture Delux Fabric Task Chair. Despite its affordable price tag, this chair comes with quality construction that involves an easy-to-maintain, durable fabric that guarantees you long-lasting comfort. Like our first model above, it also comes in a variety of colors to let you choose the one that blends with your sewing room.
The set of remarkable features that accompany this chair will make you doubt its low cost. Take for instance the built-in lumbar support that keeps back pains at bay while taking your sewing comfort to a whole new level.
Even better, it comes with a waterfall-contoured seat design that significantly reduces stress to your legs by facilitating circulation. Like any other comfortable chair, it comes with a thickly padded seat that grants you the maximum comfort you need to work for hours and hours.
Manipulating this chair to achieve your ergonomic fit is exceptionally easy. It comes with the one-lever seat height adjustment plus the seat back that you can easily customize for both depth and height.
The durable 5-star nylon base with a diameter of up to 25 inches enhances the stability of the chair. With the hooded double-wheel casters and the full swivel, this chair will offer you smooth movement around your sewing room.
Highlighted features:
Thick padded seat

Built-in lumbar support

Waterfall seat design minimizes stress to legs

Pneumatic height adjustment

5-star nylon base facilitates smooth movement and stability

Durable tweeted fabric

250-pound weight capacity

Limited 6-year warranty
3. Brenton Studio Jancy Mesh Low-Back Task Chair:
Another sewing chair from Brenton Studio takes up the third place on our list. Also available at a rock-bottom price, this chair boasts a durable, long-lasting design. That is, it features a rugged mesh fabric upholstery that covers both the back and seat.
Its black color introduces a stylish appearance in your sewing room. And the fact that the material is meshed in nature ensures breathability and all-day comfort- especially when sewing in a warmer environment.
Other than quality, and long-lasting design, this chair is also fully adjustable. Raising or lowering the chair to your preferred height is quite easy, thanks to the integrated pneumatic control handle. Besides lifting/lowering the chair, you can also use this handle to tilt the chair back and forth for a more ergonomic fit.
The chair comes with an arched nylon base which promotes its overall stability. The chair is also like all the others we've discussed above in that it comes with a 360-degree swivel plus durable nylon casters.
Needless to mention, these allow smooth movement of the chair from one point to another or around your sewing room- granting you the ultimate convenience you need in your work area.
Highlighted features:
Comfortable sewing chair

Rugged black fabric upholstering

Padded back and seat

Pneumatic seat height adjustment

Assembly instructions included
(click here to see current availability and up-to-date pricing on Amazon).
4. Flash Furniture Mid-Back Pink Quilted Vinyl Swivel Task Chair:
If you're looking for a comfortable sewing chair with back support, consider investing in this Flash Furniture Mid-Back Pink Quilted Vinyl Swivel Task Chair. Boasting of contemporary design, this sewing chair will truly highlight your attractive or dull workspace with its quilted, tufted upholstery.
The versatility that comes with this chair is beyond explanation. In addition to using it in your sewing room, you can also use it as an office or reception desk. Regarding support, the chair comes designed to offer support to your lumbar (mid-to-upper back) region. This makes it the perfect chair for your sewing as it grants you the much-needed back support that keeps back pains at bay.
Since the seat features a waterfall front seat edge, it removes the pressure from your lower legs and improves overall circulation. The pneumatic adjustment lever lets your raise/lower the seat to your preferred height. And the 360-degree swivel base and dual casters enable you to maximally use your workspace without strain.
Highlighted features:
Contemporary sewing chair w/mid-back design

Pink vinyl upholstery

Quilted design covering

Contoured back and seat

Pneumatic seat height adjustment

Heavy-duty nylon base with dual wheel casters

CA117 fire retardant foam
(click here to see current availability and up-to-date pricing on Amazon).
5. Arrow Sewing H6880 Adjustable Sewing and Craft Chair:
Arrow Sewing H6880 has decided to come up with a sewing chair fully customized for your sewing room. The model features a simple, classic design that will instantly add a sense of style to your room. It features a sewing motif that will perfectly match your sewing room décor, no doubt!
It is designed using the heavy-duty, bright Printed fabric for Lon's lasting comfort. Besides, it features a hardwood frame construction which takes its durability even higher. Though it comes with a non-adjustable height, you can count on its set height to provide you with the ultimate lumbar support that will keep backaches away for the rest of your sewing life.
The chair's soft cushion on both the seat and back areas gives you the comfort you need to work for extended periods of time without feeling worn out and tired. Since this chair has four caster wheels, it'll provide you with greater movement around your sewing cabinet or craft surface.
Highlighted features:
Bright, durable Printed fabric

Soft cushion seat and back

4 casters for improved movement
(click here to see current availability and up-to-date pricing on Amazon).
6. Giantex Kids Desk Chair, Low-Back Mesh Children Task Chair:
If you're looking for the perfect sewing chair for your kid, try this Giantex Task Desk Chair. It is a 100% ergonomic sewing chair designed to offer your young sewists the comfort and support they need to work on their sewing projects for lengthy periods. It is ideal for both boys and girls aged 3 years and above.
This chair comes with a breathable mesh design to ensure a comfortable working environment for your kid. The back section is gently curved to blend with your lumbar for the ultimate back support and comfort.
Thanks to the pneumatic height adjustment feature, you can conveniently adjust the height of this chair to a suitable height that makes you comfortable working with your sewing machine.
The bright color sewing chair features a medium size- ideal for your kid's sewing room. Your kid can also use it in the living or as a study desk chair. The white painted metal base makes the chair highly stable.
The 5-castor wheelbase teams up with the 360-degree wheelbase to make the seat highly mobile so that your kid doesn't have to strain to reach for different items around the working area.
Highlighted features:
Bright color sewing chair

Comfortable and breathable sewing mesh

5 castor-wheel base

360-degree Swivel base

One-touch pneumatic height adjustment
(click here to see current availability and up-to-date pricing on Amazon).
7. Boss Office Products B245-BK Be Well Medical Spa Stool with Back:
All the previous users of the B245-BK Be Well Medical Spa Stool model from Boss Office Products love this chair for its exceptional ergonomics. It features a unique design that perfectly emulates your natural spine shape for increased sewing comfort and productivity.
Like all the other chairs we've featured in this list, this model comes with a durable upholstery made from the Caressoft vinyl. As you already know, this material ensures easy maintenance and cleaning, and will serve comfort needs for years and years. The chair also features an adjustable seat- with 6" vertical height range- so that you can raise or lower it to the perfect sewing height for you.
The dual wheel casters that come with this chair facilitate easy movement around your sewing space. The chrome finish makes the chair look appealing to the eye. Like all the other models we've discussed in this list, this chair comes with a maximum weight capacity of 250 lbs. and is extremely easy to assemble and use.
Highlighted features:
Ergonomic sewing chair

Durable Caressoft vinyl upholstery

Adjustable seat height

Dual wheel casters

Attractive chrome finish

Maximum weight capacity: 250lbs

Comes ready to assemble
(click here to see current availability and up-to-date pricing on Amazon).
8. BestOffice Office Chair Cheap Desk Chair Ergonomic Computer Chair:
The BestOffice PU Leather Mid-Back Mesh Task Chair will walk you through many years of sewing. Its upholstery comprises a durable construction of polyurethane leather material with ample padding for added comfort. Besides, the material is resistant to water and oil.
The nice-looking sewing chair comes with an adjustable height set, with a height range of 16 to 19 inches. This allows you to raise or lower the seat using the integrated lever to a height you're comfortable with. The sturdy chair can hold a maximum weight of 250 lbs. without feeling wobbly or compromising your comfort.
Thanks to the thick padded back support, you won't have to deal with back pain problems anymore when sewing for long periods of time. As is the case with all the other seats in this seat, this model features a 360 swivel base to let you easily reach for different items around your work area. It also comes with durable caster wheels for increased mobility around your sewing cabinet.
Highlighted features:
Mid-back polyurethane leather sewing chair

Pneumatic gas lift for instant height adjustment

Seat Size: 18″(W) x 16″(D)

Soft PU leather upholstery for added comfort

360-degree swivel

2.5-inch thick padding mesh seat
(click here to see current availability and up-to-date pricing on Amazon).
9. HON ValuTask Low Back Task Chair:
HON ValuTask Low Back Task Chair is another ergonomic sewing chair that will increase your sewing productivity without breaking the bank. It boasts a contoured sandwich mesh back cushion with double padding that keeps your body fully supported, happy, and cool so that you can throw all your focus on work.
The HON sewing chair presents you with a whole list of ergonomic adjustments to further promote your sewing comfort. These include the adjustable recline that lets you tilt your chair back and forth and the pneumatic height adjustment for setting a comfortable seat height to work with. You'll also appreciate the waterfall seat edge as it helps minimize leg stress and promotes smooth circulation.
Similar to the other top-rated sewing chairs that made it to this list, this HON model comes with a 360-degree swivel base. This grants you the freedom of movement in your preferred direction. In addition to this, it features 5 durable casters that allow for easy replication of the seat around your sewing/crafting room.
(click here to see current availability and up-to-date pricing on Amazon).
10. OFM Posture Series Armless Mid Back Task Chair: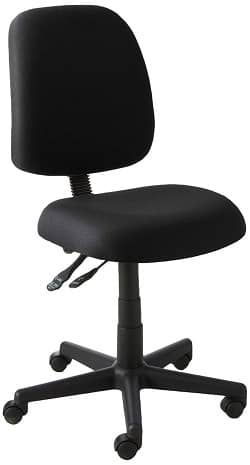 I preserved the last spot for the OFM Posture Series Armless Mid Back Task Chair. Also an excellent option for those looking for sewing chairs with back support, this chair comes with all the features and benefits you'll find in a high-end model at a pocket-friendly cost. It is one of the few chairs that transform your sewing area into a relaxing and tranquil environment.
One of the top-end features you'll find in this model involves the built-in lumbar support. This goes a long way in enhancing your posture and relaxation while keeping back pains at bay. The fully adjustable chair allows you to manipulate its back depth seat height and height pitch to comfortable settings that will translate to optimal body support.
With no arms included in this chair, the chair becomes compact for easy relocation. Furthermore, the armless design gives you freedom to move around when sitting on the chair.
To make sure the chair lasts for longer than any other model, OFM designed it using a heavy-duty fabric that's resistant to stain, withstands heavy use, and is extremely easy to clean. Besides, it features a 5-star base that boosts the chair's stability. The full swivel base and included caster wheels promote easy movement around your sewing room, without necessarily getting off the chair.
Highlighted features:
Mid back task chair

Ergonomic posture support

Armless chair design

Durable chair with 5-star base and 250lbs weight capacity

Backed by OFM limited warranty
(click here to see current availability and up-to-date pricing on Amazon).
Sewing Chair Buying Guide: What To Look For?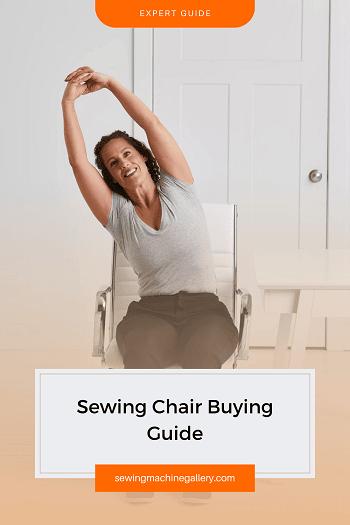 If you don't know how to select the best sewing chair, I've compiled a quick buying guide that will take you through the top factors that will lead you to a comfortable sewing chair without struggling.
These factors include:
Construction Material
Different sewing chairs are designed using different materials. The most common materials include leather, meh, and fabric.
Ensure the material used to construct your chair is durable enough to stand the test of time. Also, ensure it's breathable to prevent the chair from getting too hot and uncomfortable and sitting on it for longer periods of time.
It should also offer sufficient padding to facilitate your overall body comfort.
Above all, ensure it isn't too stiff or tightly wound such that it might end up compromising your comfort.
Lumbar Support
As we've said earlier, sitting on the wrong chair while swinging can give you nightmares in terms of back pains.
Luckily, sewing chairs with back support are available all over the market. These will help keep off this nightmare by offering you sufficient support for your lower back.
Some models even come with adjustable lumbar support to let you set the chair to fit your specific lower back contours.
As the lumbar support feature stops back strain, it keeps your body healthy and productive all day long.
Adjustability
Nearly all the sewing chairs you'll come across have an adjustable design to let you manipulate it to a setting that feels the most comfortable for you.
Ensure the chair your pick has sufficient adjustable height range. It should also allow you to manipulate its lumbar support easily.
Overall, a great sewing chair should let you fully manipulate it to suit your specific body shape and height.
Swivel Base
A swivel base is also an essential factor when it comes to getting the right sewing chair for your sewing needs.
Make sure your new chair swivels at its base at 360 degrees. This makes it easier for you to access various parts of your sewing cabinet.
If you get a chair that doesn't swivel freely, you might end up with arm fatigue due to overextending as you reach for various items.
Wheeled Base
As you've seen from the top 10 chairs we've discussed above, most sewing chairs feature a wheeled base.
This makes it easy and convenient to move your chair around your sewing cabinet or crafting table.
If your sewing room is carpeted, however, ensure you check for a chair that comes with casters specially made for use on the carpet.
Cost
You should also check the price of the sewing chair you plan to buy. The market has both low-cost as well as high-end models.
The best way to go about the pricing factor involves coming up with a budget. This helps you narrow down your choices to only the chairs that you can afford.
For those working on a tight budget, our sewing chair reviews above present you with up to 10 choices of budget-friendly models that you can buy today.
Warranty
Lastly, getting a sewing chair that comes with a manufacturer's warranty is also an important consideration.
Along the way, your chair might develop some issues- like failing to adjust, breaking down, etc. A warranty will give you peace of mind in such cases, knowing that you can contact the manufacturer to fix the issue or give you a new chair.
The average warranty period for a sewing chair should be around 1-2 years. The longer the duration, the better.
How To Make Sure Your Sewing Chair Lasts Longer?
A sewing chair is one of the most critical investments you can make for your sewing career.
That said, it requires the ultimate care and maintenance to keep it in good shape for an extended period of time.
Find some crucial tips for taking care of your sewing chair below:
If you have a leather seat, use a quality leather conditioner to keep the material looking young and healthy.
For the mesh fabric, use a vacuum for the best cleaning results. Avoid using soapy water to clean its moving parts or attachments. And in case of any stains, simply remove them using a spot cleaner.
Vinyl chairs are the easiest to clean. You just need to grab a brush and soapy water to clean even the toughest stains available.
Regularly clean your chair castors to give your chair easy movements

Keep the gas cylinders lubricated at regular intervals

Clean your chair frame using a damp cloth; using diluted vinegar will provide you with even better results

Be sure to operate all your seat controls after every 2-3 weeks to ensure they're in good working condition

Check all the chair screws and tighten them every three months

Don't forget to spray your chair with a fabric freshener to keep it smelling fresh
Final Verdict
If you're serious about your sewing career, I strongly recommend you invest in the best sewing chair. A great chair specially made for sewing offers your body the right comfort and support when sewing for long hours- increasing your sewing productivity.
In the long haul, this chair will prevent backaches from catching up with you, and later developing into worse conditions.
Grab your ideal chair today from 10 affordable sewing chairs I've reviewed for you above and say goodbye to back pains, leg stress, and other related issues.
Also, follow our buying guide to help easily get the most suitable chair for your work area from the many options available on the market today.
You May Also Like To Read: