Looking for the top Sewing Machine For Patches. We have prepared this detailed list (with our Reviews & Guide) of the top 5 sewing machines for patches.
Patches are great to embellish your sewing projects. Making patches is great fun, both in the case of making some patches separately to sew or glue later on or create patchwork designs on larger projects. In both cases, a sewer will require an embroidery machine.
The better the sewing machine proves to be, the more creative and intricate a sewist can be while creating their patches. Sewing is that art that has no limitation when it comes to showing creativity. And with the best sewing machine for patches, making patches with top-notch intricacies and artistry becomes convenient and far more delightful.
Even if you are just sewing a patch on a project, even that requires precise sewing ability and smooth operation of a machine. It is not a task that you can do accurately with bare hands or a simple sewing machine.
So, when you need a good embroidery machine and such machines are pretty expensive, here we have searched for the best ones with the best features and accessories for you to keep you on the safe side.
Our Top Picks:
(See our quick top 3 picks and below you can read our detailed reviews about these products.)
Top 5 Sewing Machine For Patches 2022 – (Editors' Top Picks)
Brother LB5000M Marvel Sewing and Embroidery Machine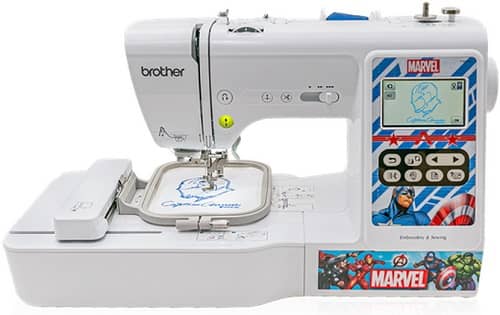 As the name suggests, this Brother sewing and embroidery machine is a treat to the Marvel zealots. Both the sewists and their clients are in for a treat with this incredibly smooth and powerful sewing machine. Along with a Marvel logo faceplate, this machine has three interchangeable Avenger character faceplates- Hulk, Ironman, and Captain America.
If you are searching for Marvel embroidery designs, this machine offers you ten downloadable designs as well as 10 bonus designs as well. You can easily create some uniques patches through this machine, and for making the embroidery designs on your apparel or sewing the patches on them, you have the 4"x4" embroidery field with the same sized hoop.
Create beautiful designs with the decorative alphabet, borders, holidays, florals, and kid's designs with this sewing machine; there are 80 integrated designs in it. You have 103 built-in sewing stitches too. Add different buttonholes as well, as it offers ten different styles. And most importantly, they are auto-sized.
Other than that, you get an embroidery foot and seven versatile sewing feet, including a zigzag foot which proves to be the best to sew the additional separate patches on different sewing projects. These are quick-changing sewing feet that provide a smooth fabric feed no matter how delicate or coarse the material is.
It's a sturdy machine which you can rely on and will last you for decades. Your embroidery designs are on display in bright colors on its big 3.2" Sew Smart color LCD touch screen. The thread color will show on the screen, basically giving you a detailed view of what you are creating with the machine.
Brother LB5000S Star Wars Sewing and Embroidery Machine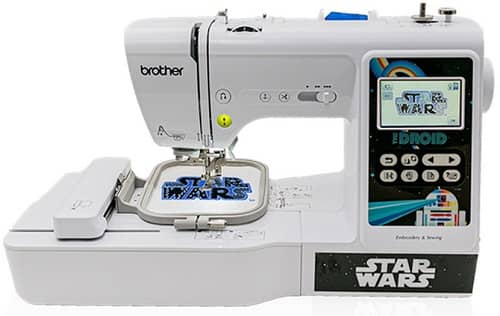 If the Star Wars admirers feel left out, then do not feel that way because Brother has a similar sewing and embroidery machine to offer to you as well. It's the same sewing and embroidery machine as the previous one, equally good and sturdy with similar incredible features. However, instead of the Marvel logo and character faceplates, this one offers the 3 interchangeable Classic character faceplates and a Star Wars logo faceplate.
Even this one has 80 built-in embroidery designs to choose from and makes some unique, fresh designs on your projects, making them unlike any other. It gives you the option to import your own designs through the USB port too. You can download 10 Star Wars embroidery designs. Those are super cool and can have 10 additional galactic-inspired designs too.
The built-in stitches, 1-step auto-sized buttonhole styles, sewing feet, even the embroidery field, hoop size, and the LCD touchscreen are the same, which is 103, 10, 7, 4 by 4 inches, and 3.2" Sew Smart color one, respectively.
This machine stitches 710 stitches in a minute, making it a decent speed sewing and embroidery machine. Thanks to its expanded 6.4" w x 4.1" h needle-to-arm workspace, you can work on bigger and bulkier projects like quilts, bags, and denim jackets.
Husqvarna Viking Designer Epic Sewing and Embroidery Machine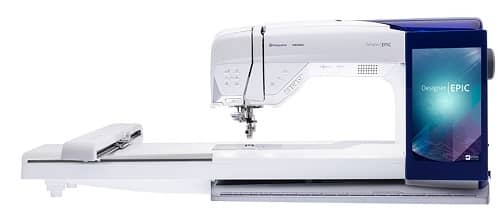 This one is a sewing and embroidery machine unlike any other, staying true to its name, Epic, and you can expect Husqvarna to create such a unique piece.
The moment you look at this sewing machine, the first thing you notice is its astonishingly massive tablet-like screen. It's a treat to the eyes and equally smooth to work with. The machine has the market's largest display, a whopping 10.1" screen for you to choose and set what you want to do with the machine.
If the giant screen was not enough, the large working area it has could make your work on large projects easier, quicker, and completely hassle-free. It's the largest working space offered by a sewing machine ever, about 310x140mm, which is vast and perfect for working on quilts and other big projects. It allows you to embroider on a 360x260mm/14.17"x10.23" space without even turning the project.
It is made for more extensive works, and why not when you notice it has to offer 807 built-in stitches, 651 built-in embroidery designs, 8 multi-size embroidery fonts, 12 presser feet, 29 needle positions, 5-speed settings, and 16 perfectly balanced buttonholes with sensor 1-step buttonhole foot. If you include the letter, characters, and all to the existing stitches, you will get 1294 options to work with.
Even the bobbin in it is larger, about 30%, so compared to other machines, you need to change the bobbin way less, and you complete more projects with minimal bobbin changing. The vast workspace has a proper light system to keep it bright and illuminated even if you are working in the dark, thanks to its most even LED lights.
Features At A Glance
807 built-in stitches, 12 presser feet, and 16 PBB

651 built-in embroidery designs

Easy access to embroideries from other devices

30% larger bobbin

Largest touchscreen, 10.1 inches

Largest and brightest embroidery space, 14.17×10.23 inches
Baby Lock Verve Sewing and Embroidery Machine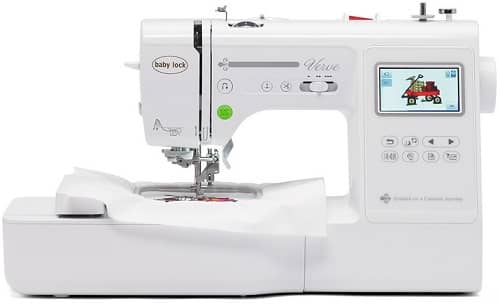 Enjoy a sewing and embroidery machine which sews 850 stitches per minute and embroiders up to 400 stitches per minute. Show your embroidery skills and unique patchwork with all the 95 embroidery designs, 11 font styles, and 140 frame patterns it offers.
Coming to the built-in stitches, it offers 72 utility stitches,  41 decorative stitches, 17 satin stitches, 11 cross stitches, 10 decorative satin stitches, 40 combinable utility decorative stitches, and 10 one-step buttonhole styles, basically a total of 191 stitches.
It is a lightweight and compact size machine for easy travel, but you can turn it into a massive one using the extension table. It is spacious and offers 18-1/4×11 inches of additional space. The table is included with the machine, so use it accordingly. For comfortable, precise, and perfecting the embroidery designs, you also get a 4"x4" hoop. It also allows 1°, 10°, and 90° pattern rotation.
Set up your machine way quicker, including the fastest threading of your machine possible, thanks to its easy-to-read, large 3.2"x1.8" LCD touchscreen and numbered thread guides. Even the top-loading bobbin makes your sewing action faster, and why not when it's quick-set.
If you have liked some designs on the web, just transfer those to it to create your projects by the USB port using a flash drive.
Bernette B79 Sewing and Embroidery Machine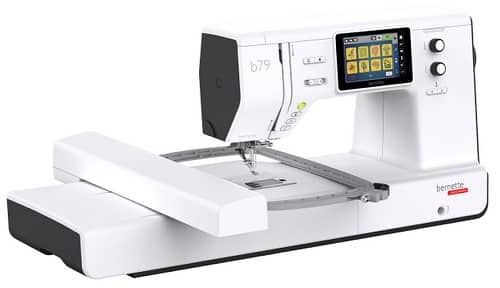 We have another great sewing and embroidery machine to share with you to sew on patches on your projects, and this one is by Bernette. B79 offers you a 260x160mm embroidery area. It has a working space that is not only spacious but bright too.
For your embroidery and patchwork, you get three hoops, all different sizes. You can open and close the hoops in no time with the quick release system of the embroidery hoops. When you are working using the embroidery hoop, it all shows on the 5-inch color touchscreen. It's right in the center, in front of your eyes, thus convenient to work with. Set the machine the way you want through mere touches and all its multi-function knobs.
When it is about speed, the machine is a beast, no joke. It sews 1000 stitches per minute, and you can embroider at an equally great speed of 850 SPM. The soaring pace completes your projects with extraordinary, precise patchwork, faster, like no other.
You have 500 stitch patterns and 208 embroidery designs to be original with your projects. And the seven buttonholes and eight presser feet only make your work easy with the quick creation of buttonholes and smooth fabric feed irrespective of the material you are sewing the patch on.
It makes your seam stitching experience further easier and quicker with the automatic tie-off function. No backward stitching; just press the auto tie-off button and the auto thread cutter button, one after the other, and your seam work is done.
Features At A Glance
260x160mm embroidery area with three hoops

500 stitch patterns and 208 embroidery designs

850 SPM embroidery speed

1000 SPM sewing speed

5-inch color touchscreen

7 one-step buttonholes and 8 presser feet
Frequently Asked Question (FAQ) 
Conclusion
You can shed off the apprehension while emptying your wallet while buying the best sewing machine for patches, each one of the five, to be fair, as each one of these is worth every penny, not just in features but appearance too.
These are heavy-duty, durable sewing and embroidery machines packed with features and enriched with additional accessories. So, when you are buying one, not only will your projects get completed sooner, but you can ensure more precise work no matter how complex your patch designs are.
Brace yourself and relax, as your day-to-day struggle of sewing on patches or making patches is coming to an end. And, you didn't even need to search the tool on your own. Hopefully, our picks will prove to be innovative and high-yielding for you