Take your sewing game up a notch using the excellent sewing machine for buttonholes. Click here to learn how to pick the right one.
Sewing a button on any sewing project can be daunting, especially if your machine doesn't help you to finish the job well. Whether you're an amateur or a professional, you want a high-quality and fast machine that makes functioning buttonholes.
Buttons are the most important accessories on clothing apparel. Moreover, they're not that easy to do. This is why we did our research to find the Best Sewing Machine for Buttonholes on your behalf.
Read our post to learn how to pick the right one for your upcoming project and take a look at our top 5 choices. 
Our Recommended Top 5 Picks:
(See our quick top 05 picks, or go further down and read our in-depth reviews.)
Top 5 Sewing Machine for Buttonholes 2022 – (Editors' Top Picks)
Adding a buttonhole is usually the final step of your sewing project. You don't want your machine to fail you or to ruin all the hard work you've done. Here is our selection of the top 5 sewing machines for buttonholes.
1. SINGER Quantum Stylist 9960 Computerized  
Are you looking for the best one-step buttonhole sewing machine? This model from Singer provides limitless options to amateur and professional sewing enthusiasts. It has numerous easy-to-use built-in features that allow you to experiment and create different sewing projects.
The Quantum Stylist has several stitches including basic, stretch, and decorative stitches for all quilting and fashion projects. Moreover, you can add fonts and shapes to personalize and customize your creation.
The machine is fully computerized so you can edit your favorite stitches by adjusting the length and width. The stitches appear on an LCD for easy access. This high-speed machine has 13 built-in one-step buttonhole features that save time and effort.
Adding various buttonholes to your sewing projects is a piece of cake, even if you're a beginner. Just place the button in the foot, and the machine will create the perfect buttonhole.
This Singer machine features an automatic needle threader, so the entire machine can be threaded in seconds without straining your eyes. The bobbin is easy to load from the top and has a transparent cover.
Choose between 5 different fonts to personalize any sewing or craft project using a machine that can stitch 850 stitches per minute.
It comes with an extension table that provides enough area for quilting in addition to an LED light to work with dark fabrics efficiently. You can also set the autopilot and fast speed for longer seams, or opt for the slow-motion that provides more control.
It is more expensive than other models on the market, so it is more suitable for professional sewers. Moreover, changing the needle is slightly tricky because the area is too small.
Features at a Glance:
Computerized machine, so you can edit your favorite stitches.

600 stitches and 5 different fonts for customization

13 built-in one-step buttonholes sewing.

Automatic needle threader and autopilot mode to eliminate errors

An extension table for a bigger work area
2. Brother Sewing and Quilting Machine, CS6000i
Wondering how to sew a buttonhole on a Brother sewing machine? It's easy with this average-priced sewing and quilting machine. It is suitable for beginners and less experienced users thanks to its user-friendly design.
It comes with a practical, smart dial to pick your favorite from 60 built-in stitches that appear on an LCD. It comes with an automatic needle threader that saves time and effort.
Sewing your buttonholes is never an issue when you're using this reliable machine. It comes with 7 built-in one-step buttonhole styles to guarantee a flawless finish. It comes with 9 presser feet for all your sewing and quilting needs.
It also has an on-machine bobbin and threading guide that helps beginners and less experienced users to work on any project.
The machine allows you to adjust your favorite stitch to suit your needs. It has an arm that helps you make sleeves, pants, cuffs, and other cylindrical items, in addition to an extended workspace for bigger sewing projects.
Moreover, you can easily create an invisible seam thanks to the blind stitch foot. The sewing area is lit so you can see all the details while working with dark fabrics. The adjustable sewing speed is an excellent option allowing you to go up to 850 stitches per minute.
It comes with a hardcover to protect your machine when you're not using it. This machine is suitable for first-timers as it doesn't offer much versatility. It can't sew multiple layers, and extremely thin fabric usually gets stuck.
Features at a Glance:
Medium-priced machine with lots of interesting features

7 built-in one-step buttonhole sewing options

60 Built-in stitches that can be edited to suit various projects.

An arm to sew cylindrical items.

Extended workspace for bigger projects.
3. Singer Heavy Duty 4452 Sewing Machine
Finding a sewing machine with an automatic buttonhole helps you customize and finish any sewing project in the best quality. This machine has a one-step buttonhole feature, so you don't have to worry about the quality of your finished clothing item.
It also comes with 32 built-in stitches for various fashion, quilting, and crafting purposes. You can effortlessly put the thread in the needle using the automatic threader feature.
This sewing machine from Singer has a strong motor that allows you to finish projects 60% faster than other models on the market, going up to 1100 stitches per minute. Working with heavy and challenging fabrics gets comfortable, and good quality is always guaranteed.
It comes with exclusive accessories to work on leather or vinyl in addition to a special clearance plate for thick seams. It also has a special foot for layers and another for zippers so you can add all the necessary accessories to your clothing apparel.
The machine has special storage space so you can keep all the necessary accessories within reach, in addition to an easy drop-in bobbin so you can watch the thread supply. The machine is compatible with the Singer smart app that offers various instructions to beginners and avid sewers.
This is not a heavy-duty machine, so you've got to take it easy. It's suitable for beginners and amateurs, but if you're a professional sewer, then you should think about something sturdier and more flexible.
Features at a Glance:
A strong motor that goes up to 1100 stitches per minute.

One-step built-in buttonhole feature.

32 built-in stitches that you can easily adjust.

Compatible with the Singer smart App.
4. Brother Computerized Sewing and Quilting Machine, HC1850
This is another medium-priced multipurpose machine that can be used for several sewing and quilting projects. It has 130 built-in stitches and 170 functions to customize any design or project.
This is a modern and portable sewing machine that comes with a helpful manual and an instructional DVD for beginners and first-timers. All the stitches are displayed on the flip chart so you can choose your favorite one.
This model from Brother features 8 styles of one-step buttonholes to create the perfect buttonhole for your project. It has a wide table for quilting and allows you to do free-motion quilting. It comes with 8 specialty feet for a zigzag pattern, overcasting, monogramming, zippers, and blind stitches. The work area is lit so you can work on darker fabrics. 
The computerized Brother machine features an automated threader and a straightforward bobbin winding system. It comes with practical push buttons so you can pick the right option for your fashion or quilting project.
You can adjust the sewing speed and sew various types of fabrics successfully. The backlit LCD allows you to see and choose the right stitch for your clothing project.
The machine is lightweight compared to other models on the market. Most of the internal parts are made of plastic, so they're not that strong. The machine is not sturdy enough to go through heavier or thicker fabrics.
Features at a Glance:
Modern plastic sewing machine with 130 built-in stitches

8 styles of one-step buttonhole sewing

Wide table for quilting.

An automated threader and easy bobbin winding system
5. Brother RLX3817 Full Size Sewing Machine
The last sewing machine on our list is designed for budget sewers and beginners. It costs less than half the price of other machines on the market but offers 17 built-in stitches that allow you to take your sewing game up a notch. It comes with extra features for zigzags and zippers and has an LED-lit area so you can work on small details.
This Brother sewing machine has 4 built-in auto-sized buttonholes. This feature allows you to create the perfect buttonhole for any button you want to add to your sewing project.
Picking your favorite feature is as easy as turning a dial, but if you're struggling, you can always use the instructional CD that teaches you how to make the best of your machine. It also comes with an arm for making sleeves and cuffs.
This Brother model is easy to use and is specially designed for amateurs who want a good sewing machine that won't break the bank. It features a control dial to adjust the thread tension to prevent jams, too loose, or puckered stitches.
It comes with a soft cover that will keep it clean and dust-free when not in use. Thanks to its portable and compact design, you can easily take it to your sewing class.
Although it is perfect for people who want to spend less than $100 on a sewing machine, it doesn't have an automated threader. It also doesn't offer speed control which you typically find in high-end models. However, if you're looking for a basic option, then it's the right choice for you.
Features at a Glance:
Affordable and basic sewing machine.

17 built-in stitches.

4 one-step built-in buttonhole options.

Compact and portable design.
What do We Need to Consider When Buying Sewing Machine for Buttonholes?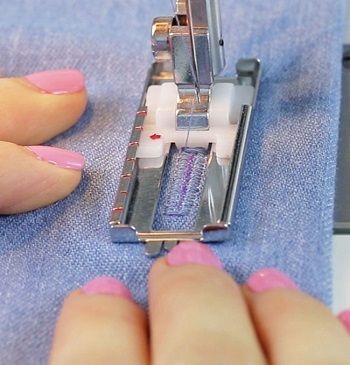 There are various technical features to take into consideration while shopping for a reliable sewing machine that makes excellent buttonholes. Here is a list of the most important ones:
A number of Buttonhole Styles Offered:
The one-step buttonhole feature allows you to create a perfect buttonhole without stopping or turning your fabric. Whether you're an amateur or a professional, you're probably interested in the versatility to create your unique design. Some sewing machines can offer more styles, so they're excellent value for money because you can customize hundreds of projects.
Automated machines are more expensive than manual ones, but they eliminate the chance of errors, especially when you're working on a challenging task like making a buttonhole. All you have to do is pick the suitable design and let the machine do the work on your behalf.
Number of Stitches:
Different styles suit various fashion, crafting, and quilting projects. Some high-end models allow you to edit the pattern of your stitches by making them narrower or wider and seeing the chosen stitch on the LCD. The higher the number of stitches, the more expensive the machine will be.
However, if you're an amateur, you don't really need hundreds of stitches to choose from. It's always a matter of personal preference. Nevertheless, adjusting your stitches lengths make them suitable for different fabrics and materials.
Automated Threader:
This is an excellent feature that will help you save time and effort. No one wants to waste time threading a needle while working on a sewing project. This feature does the work on your behalf so you can focus on being creative.
Multiple Speeds:
Using multiple speeds, you'll be able to work on several fabrics successfully. You can choose the fast speed while working on seams when you don't want to stop. A slow speed will allow you to work on delicate fabrics.
Extra Feet:
These accessories can come in handy when you're executing a complicated fashion project. For example, you can do zippers and blind hems successfully by attaching the right foot. This way you can use your machine for more than one project.
Additional Features:
More features are available and can help improve the quality of your finished project. These include an option to adjust the thread tension, a bobbin winding feature, clear bobbin covers, in addition to the lit work area.
Some models also come with helpful CDs and DVDs that explain how to execute various fashion and quilting projects. A wide table is a must-have if you're into quilting.
Conclusion
If you're taking sewing seriously, then you need to invest in the Best Sewing Machine for Buttonholes. These machines are designed to take the load off your shoulder by doing a difficult job effortlessly.
They allow you to create the perfect buttonhole for any button you have on your project while improving your sewing skills. Make sure that your machine offers stitch options that can provide flexibility and versatility while finishing various projects. A good machine will last for decades.