(Last Updated On: November 2, 2023)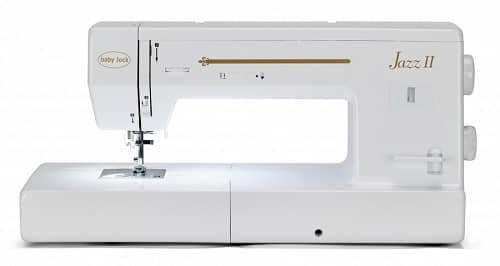 Stitches Per Minute:1000

Needle Threader: Built-in

Included Presser Feet: 9

Max Stitch Width: 7 mm

Stitch Count: 28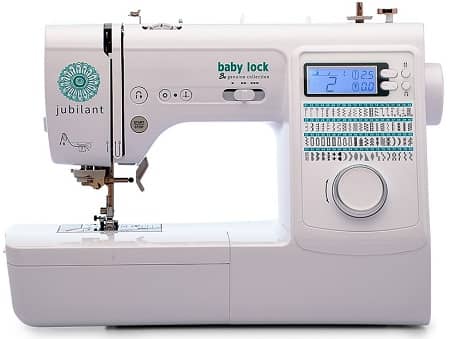 Stitches Per Minute: 850

Included Presser Feet: 7

Max Stitch Length: 5mm

Max Stitch Width: 7mm

Stitch Count: 80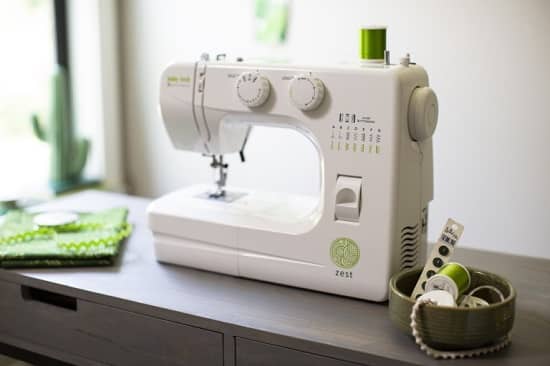 Thread Tension: Manual

Max Stitch Length: 4mm

Thread Cutter: Built-in

Stitch Count: 15

Weight: 13.0 lbs
Our team of experts has selected certain products & assigned a star rating to each product. Read our detailed review below.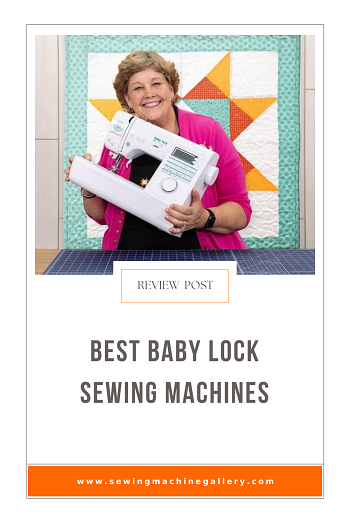 If you're looking for the top Baby Lock Sewing Machine, you will find it here. We've searched for almost 20 hours & picked the top Baby Lock sewing machines.
People value the brand a lot when buying a sewing machine. Singer, Bernina, Brother, and other famous brands rule most of the sewing industry.
Some are not as prominent as the popular ones but maintain their quality and performance.
Today, we are going to talk about one of those less-known brands named Baby Lock.
So, what makes it so special?
It always launches excellent and highly reliable serger and embroidery models. Their uncompromised service makes sewing tasks easier than our expectations.
Most importantly, they stay durable for a long time without any degradation in operation. The only downside we find is the high price. Perhaps, it is the only reason why customers avoid machines.
However, try the Best baby lock sewing machine according to your preferences if you can pay for it. We are adding our top seven suggestions to help you out: 
(See our quick top 5 picks and below you can read our detailed reviews about these products.)
Top 7 Baby Lock Sewing Machines of 2023 – (Editors' Top Picks)
TOP PICK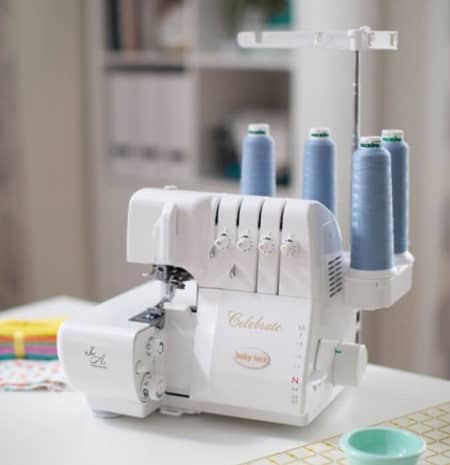 Features At A Glance:
Less risk of thread tangles and unbalanced tension
Single-unit feed dog techniques
Innovative looper drive system
Adjustable presser foot
Jet-air threading
Two bright LEDs
Product information:
| | |
| --- | --- |
| Brand  | Baby Lock |
| Stitches Per Minute | 1500 |
| Number of Threads  | 4 |
| Number of Needles | 2 |
| Adjustable Stitch Length | 0.75-4mm |
| Thread Tension | Micromatic Twin Cam |
| Warranty | 25 Years |
Product Description:
Our winning serger implements jet-air threading mechanisms. Sending the thread through the loopers is a matter of some seconds. All you have to do is touch the lever. It does not have any thread guides. That's why nobody struggles for a long time to prepare the machine.
Its needle threading system is an impressive addition to the frame. Users must hold the threader in the right place to enjoy the advantage. They don't have to worry about thread tangles at all. A specialized tension system ensures tangle-free proper tension. Feel free to thread in your preferred order.
It is important to keep our eyes on the stitches while working. Nothing can help us better than some bright lights. Guess what? Manufacturers already thought about it and provided two LEDs for our convenience.
They are bright enough to see the fabric, stitches, etc. If you are handling a thick material, increase the height of the presser foot. You can lift it to 6mm.
We like the single-unit feed dog arrangement very much. It develops a strong feeding system and a balanced fabric gathering. Whenever you have to cut thick clothes, the knife system will do this job for you.
TOP RATED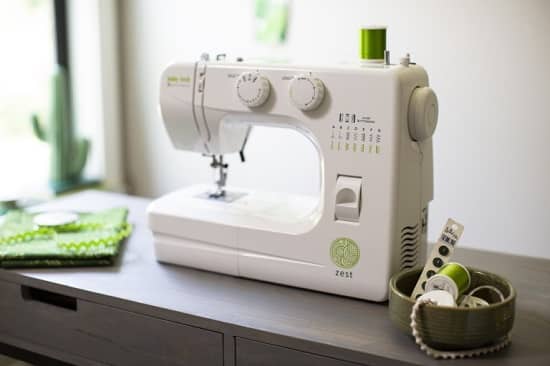 Features At A Glance:
Customizable stitch length from 0 to 4mm
High-capacity front-loading bobbin
Exclusive accessory storage
Free-arm sewing method
15 preset stitches
Portable design
Product information:
| | |
| --- | --- |
| Brand Name | Baby Lock |
| Stitch Count | 15 |
| Thread Tension | Manual |
| Max Stitch Length | 4mm |
| Thread Cutter | Built-in |
| Included Presser Feet | 4 |
| Warranty | 25 Years |
Product Description:
We all want to build various decorative patterns on the fabric. The Baby Lock Zest device allows us to use any of its 15 built-in stitches. Whether we complete a project with a solo stitch or multiple stitches is totally up to us. It also gives us choices to adjust the length from 0mm to 4mm.
Just like most professional machines, it has a free arm. Take the flatbed aside, and you are all set to use the free arm. Say goodbye to all troubles you face during sewing pants, sleeves, and other hard-to-reach lengths.
Another item that caught our attention is the front-loading bobbin. It is capable of holding a lot of thread for big projects. So, there is less chance of running out of yarn in the middle of your work. Plus, we will get four snap-on feet, such as a sliding buttonhole, zigzag, blind hem, and zipper. A draining plate, needles, and some tools will also be in the deal.
We can't thank the designers enough for the portable design. It is a lightweight tool. We can travel with it, and take it to sewing classes or clubs by grabbing the handle.
EDITOR'S CHOICE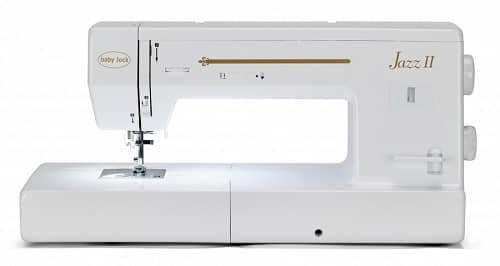 Features At A Glance:
A broad window for pattern selection
1,000 SPM sewing speed
Automatic bobbin winder
Built-in needle threader
Wide range of stitches
Several LED lights
Product information:
| | |
| --- | --- |
| Brand Name | Baby Lock |
| Stitch Count | 28 |
| Thread Tension | Manual |
| Stitches Per Minute | 1000 |
| Max Stitch Width | 7 mm |
| Max Stitch Length | 0 – 4mm |
| Thread Cutter | Built-in |
| Needle Threader | Built-in |
| Included Presser Feet | 9 |
| Warranty | 25 Years |
Product Description:
This one is the best baby lock sewing machine for quilting. It enables us to finish a bulky quilting project well. Most credits go to the 12-inch creative space. Due to the expanded throat space, we get sufficient room to sew layers comfortably.
In order to complete a project faster, you must eliminate interruptions. A programmable button sets the needle in either up or down directions. Consequently, it does not take a long time to perform chain piecing and any other tasks. One more part, which saves time is the built-in threader. It always threads the needles perfectly.
The machine contains 28 stitches in total. One of them is a one-step buttonhole. Such variety is enough for developing decorative styles on fabrics.
It allows increasing the stitch width up to 7 mm. Since the highest sewing speed is 1,000 stitches per minute, you can cover the projects within a limited period.
It carries several strategies to remove our struggle with bobbins. We no longer have to face problems while changing bobbins midway through a project. After adding a new bobbin and leading the thread through a guide, the machine will handle the rest itself. It features an automatic bobbin winder too.
BEST OVERALL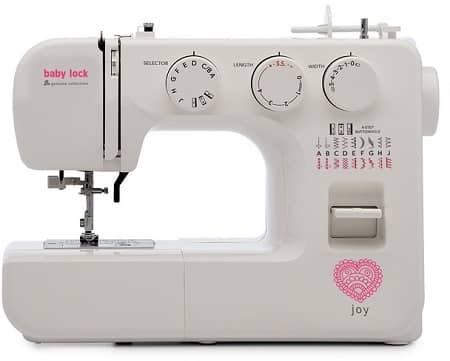 Features At A Glance:
Drop feed supports free-motion techniques
Lots of stitches, four-step buttonhole
Adjustable stitch length and width
Convenient foot control
Drop-in bobbin system
Included accessories
Product information:
| | |
| --- | --- |
| Brand Name | Baby Lock |
| Stitch Count | 19 |
| Max Stitch Width | 5mm |
| Max Stitch Length | 4mm |
| Thread Cutter | Built-in |
| Needle Threader | Built-in |
| Included Presser Feet | 4 |
| Warranty | 25 Years |
Product Description:
The first benefit we want to highlight is the stitch range. 19 different stitches maintain the diversity of our projects. The user can also change the stitch length from 0mm to 4mm. For stitch width, the range extends up to 5mm. Such adjustments make basting and gathering easy.
It gives free-arm sewing opportunities for sewing pants, sleeves, and curved segments. You can apply them after removing the flatbed from the machine. You can also place buttons in the sleeves or anywhere you want. The combination of its buttonhole foot and four-step buttonhole ensures quick button attachment.
Modern sewing machines are incomplete with a needle threader. With some quick motions, it set the thread through the eye of the needle. You don't even have to wait for a long time. Do not worry if you forget to get your scissor in the workspace. Its convenient cutter will do the thread-cutting jobs well.
Every buyer will get accessories as a part of the package. For maximum amenities, sellers put three bobbins there. Drop one in the device, guide the threads through its guide, and that's all. Your machine will complete the next steps.
BUDGET PICK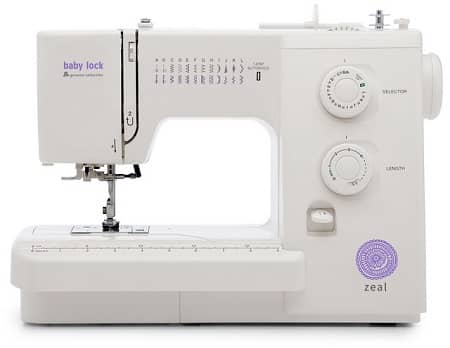 Features At A Glance:
Customizable stitch width and stitch length
Accessories and accessory storage
Free-arm sewing opportunities
Pre-installed needle threader
Different stitch options
Special thread cutter
Product information:
| | |
| --- | --- |
| Brand Name | Baby Lock |
| Stitch Count | 25 |
| Thread Tension | Manual |
| Max Stitch Width | 5mm |
| Max Stitch Length | 4mm |
| Thread Cutter | Built-in |
| Needle Threader | Built-in |
| Included Presser Feet | 6 |
| Warranty | 25 Years |
Product Description:
Sewers need a stitch library covering different styles. Therefore, the authorities provided 25 stitch settings in this machine. Use single or many stitches to make the garment attractive. At the same time, customize the stitch width and length where you need. It is quite useful for particular techniques like gathering and basting.
We usually face difficulties in making turns and long clothes. A free arm will help to make these activities more comfortable. Hence, the machine provides an efficient free-arm sewing service. We can access it after detaching the flatbed.
Sometimes, we fail to attach buttons to clothes properly. Overcome such pain with the machine's buttonhole foot and one-step buttonhole. They will instantly create the right hole for any-size of buttons you are using. Cut the extra threads using the thread cutter of your sewing machine.
It includes a drop-in bobbin system. You literally have to do nothing after dropping the bobbin and pulling the threads through the right holes. As you can assume, you will save more time compared to regular models. 
An advanced needle threader also has an impact on your time consumption. Manual threading is not necessary at all because the threader will do it for you.
PREMIUM PICK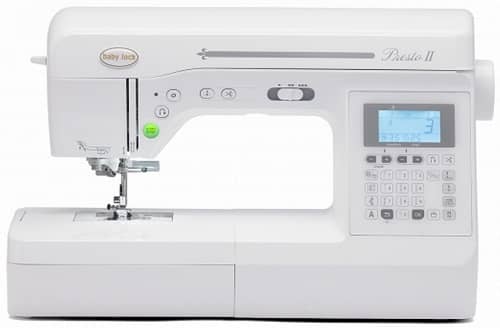 Features At A Glance:
Top loading bobbin and bobbin winder
Unique push-button features
Many included Accessories
Four built-in alphabets
100 stitch styles
Quilting table
Product information:
| | |
| --- | --- |
| Brand Name | Baby Lock |
| Stitch Count | 100 |
| Thread Tension | Manual |
| Stitches Per Minute | 850 |
| Max Stitch Width | 7mm |
| Max Stitch Length | 5mm |
| Thread Cutter | Automatic |
| Needle Threader | Advanced |
| Included Presser Feet | 7 |
| Warranty | 25 Years |
Product Description:
It is a quilting and sewing machine covering the highest stitch numbers so far. Its 100 stitch modes combine 69 utility patterns and 31 decorative patterns.
It offers variable stitch length (maximum 5mm) and width (maximum 7mm) as well. These facilities usually lead to fascinating quilting, crafting, and home decoration programs.
All adjustment options will appear on the 2.4 by 1.3-inch LCD monitor. Changing and choosing the desired one is simple and straightforward. Let's talk about its speed. 850 stitches take place in a minute to finish quilting and sewing fast.
Producers deliver an exclusive extension table for the quilters. It acts as additional support while extending the workspace. Then, we can generate perfect stitch patterns, even on the biggest quilts. You will find threading effortlessly because of the innovative needle threader. It does not even require both hands.
We are 100 percent satisfied with the top-loading bobbin and bobbin winder. Both have quick-set properties. The former reduces your work when you finish pulling threads through the guide.
Bobbin winders keep holding threads in place and halt instantly once the bobbin becomes full. Other mention-worthy features are 4 alphabets, a programmable needle, drop feed, and a side thread cutter.
UPGRADE PICK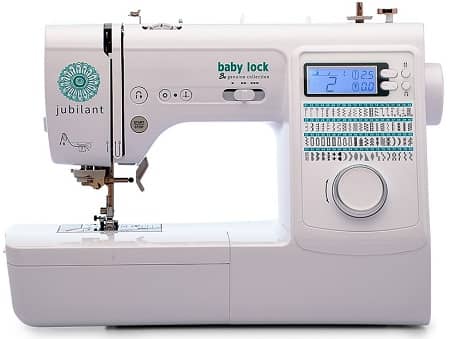 Features At A Glance:
Free-arm sewing for hard-to-reach places
Eighty stitches including eight buttonholes
Wide range of stitch width and length
Clear and vivid LCD screen
Built-in needle threader
Drop-in bobbin
Product information:
| | |
| --- | --- |
| Brand Name | Baby Lock |
| Stitch Count | 80 |
| Thread Tension | Manual |
| Stitches Per Minute | 850 |
| Max Stitch Width | 7mm |
| Max Stitch Length | 5mm |
| Thread Cutter | Built-in |
| Needle Threader | Built-in |
| Included Presser Feet | 7 |
| Warranty | 25 Years |
Product Description:
You will be surprised to know that this model features a total of 80 stitches. Among them, 30 are decorative, and 50 are utility types, along with eight one-step buttonholes. Such a stitch library brings a new glam to different projects. When you are about to hem pants or long sleeves, use the free arm. It assists in reaching every length and corner effortlessly.
Also, it enables sewers to change the stitch width and length up to 7mm and 5mm, respectively. A 61mm by 23mm LCD screen will display these measurements. Every detail will be precise on the vivid surface.
Threading needles can be troublesome for some customers. For them, the machine has a built-in needle threader. A few motions will guide the thread into the needle's eye without guesswork or frustration. Bobbins are easy to set too. Simply drop one and pull the line through the slot. The machine will do the rest.
It utilizes a drop feed system so that we can enjoy free-motion techniques. The complete control of feed dogs adjustments will be in our hands. Besides, there are many one-touch switches for activation, termination, reverse stitching, reinforcement sewing, and moving the needle up or down.
Consider Before Buying the Baby Lock Sewing Machine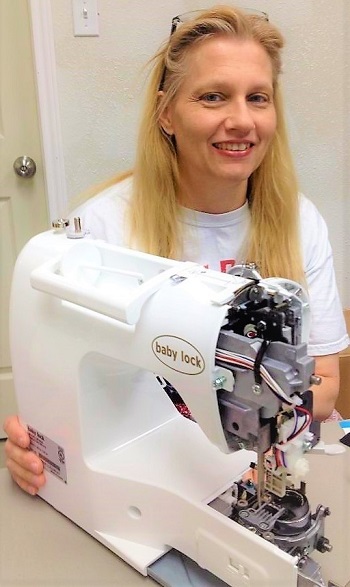 Baby Lock items are highly durable, reliable, and stable. Therefore, nobody has to worry about them. Here are the most important factors one should consider before making a purchase:
Number of stitches
Most sewers feel comfortable using only basic styles. Some of them (including the professionals) barely try the options given in their machines. The high number of stitch modes is for exploring creativity levels.
The more stitch your device allows, the better you can decorate your cloth. Note that machines with tons of patterns typically charge more from customers.
They contain alphabets and buttonholes varieties too. If you are okay with the basic stitches, don't waste money on them. Check the sewing carefully. The stitch length and gap should be even and continuous. 
Adjustability
We often change the device parameters for different fabrics. Running it at the maximum speed does not cause harm to the strong garments. We can't do the same for delicate clothes.
We have to slow down the speed and pay more attention to avoid fabric damage. Nothing can be better than being capable of adjusting the statistics as per our needs. Pro-grade models carry a screen to display the options.
We can activate any pattern, width, length, and speed from it. These user-friendly alternatives allow us to create more designs on the same project. A few units support feed-dog adjustment. They let us perform freestyle embroidery and darning.
Presser Feet
Stores are full of many kinds of presser feet. One foot may work great for a specific fabric but not for all. We need to change it for different working materials, patterns, seams, and jobs. The all-purpose foot is widely-known for all sewing types. Another common one is the zipper foot.
It assists in closing the stitches around a zipper. The satin presser foot is a must for forming decorative and sense stitch-works. Nowadays, sew-easy, blind hem, overedge, and button stitch feet are getting more and more trendy.
Read the specifications to know how many feet the machine is offering. The multi-purpose foot is enough for basic straight and zigzag stitching. A beginner needs a zipper foot and a buttonhole foot as well. If your favorite machine excludes required feet, you have to buy them separately.
Good ergonomics
A sewing tool's every part should function well. They should be responsive to each other just the way they are supposed to be. For example, varying pressure levels should affect the foot pedal. The machine has to work smoothly while handling thick clothes and a couple of layers.
In many cases, the user can not manipulate the settings, access all parts, or understand the controlling techniques. Do not buy such a sewing machine regardless of all its impressive qualities. Examine the LCD display.
It should present clear, well-written, easy-to-read symbols, and values. Prioritize units with bright lights. Their luminance brightens a wide area so that we can see the stitches clearly. Quilting lovers should seek a model having high throat space and an extension table.
Size and weight
Every buyer reserves space in his/ her home for a new sewing machine. The majority keeps ample room around it to work comfortably, especially when they are bringing a quilting device. Sewing in a spacious room makes big projects easier for us.
It prevents fabric scratches, tearing, shrinking, and other damage. Take a tape and measure the available space. Look for machines, which will fit the location correctly. Now, come to the weight. It determines whether the appliance is portable or not.
If you want to take it to sewing classes or other places, buy a lightweight machine with a handle. Otherwise, you don't have to bother with the weight.
Bobbin type and capacity
Bobbin's capacity plays a significant role in maintaining the stitch quality. Big-sized bobbins hold a large small spool of thread. The sewer will not run out of thread within a short interval. Manufacturers of top brands always add large bobbins for the customer.
But it may vary from brand to brand and model to model. Never buy a poorly designed bobbin system; it will ruin your progress. Instead, find machines with top-loading drop-in bobbins. They not only enhance your speed but also boost your sewing efficiency.
Frequently Asked Questions About Baby Lock Sewing Machine 
Conclusion
Here conclude the reviews of our favorite Baby Lock sewing devices. The detailed information about each unit is based on our experiences and research. We know that choosing the right one out of several suggestions can be slightly confusing.
Nobody wants to pay a massive amount for a product that can't satisfy him completely. That's why we presented the complete beginner's buying guide. It will help readers to pick the Best baby lock sewing machine for them.
They will also find some common question's answers related to these machines. Lastly, we strongly forbid going beyond your budget. But if you can afford them, they will be worth every dollar.