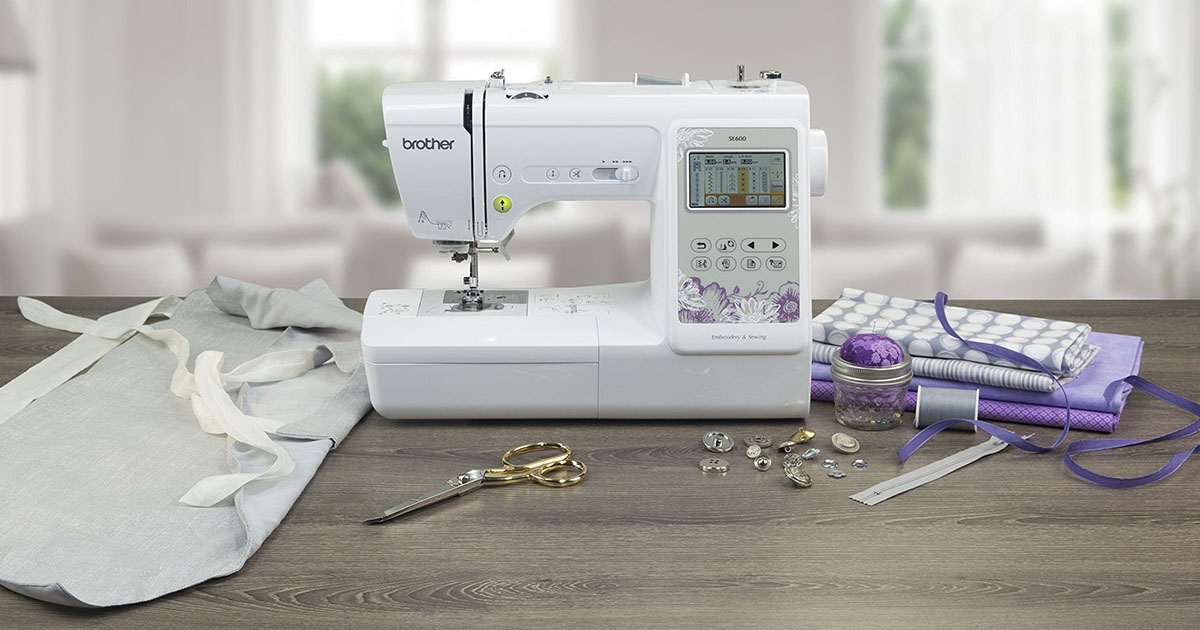 Looking for a sewing machine on a budget? To help you with that- here, I have gathered the 5 best sewing machines under $500 in Australia.
You see, in the market, there are countless options. And, you might not understand which one you would like to buy.
I have seen a lot of people struggling with finding and selecting their desired sewing machine. Moreover, it won't be wrong if I say, some of us end up with an inefficient one.
Well, it's pretty normal not to know which one would be the right choice. In most cases, we can't find quality advice!
Considering that, you will need help to decide which one you should go for. Also, it would be best to have some assistance to shortlist some sewing machines.
From here, you will get a sorted list. Not only that, I will provide you with suggestions for choosing a sewing machine under $500.
Let's have a look at the first sewing machine now.
Our Top Picks:
(See our quick top 5 picks and below you can read our detailed reviews about these products.)
Top 5 Sewing Machine Under $500 Australia – (Editors' Top Picks)
1. Brother FS40 Electronic Sewing Machine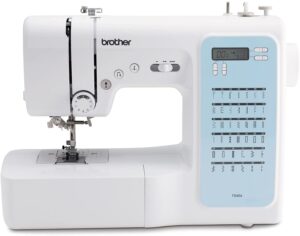 Brother is always on the top of the market. In case you didn't know- they have one of the oldest companies making sewing machines.
So, it can never be wrong if you choose something from them. However, since you have a budget, all the machines from Brother are not your options, right?
What Brother FS40 have to offer you?
Before any other details, this is a budget-friendly electronic sewing machine. Check the information below to know about its features.
40 stitches
You will get a total of 40 different stitching styles in this machine. Amazingly, that a broad range of collections for built-in stitches.
As you will have a variety of stitching designs, you can utilize the machine for several sewing needs.
For instance, you can work on various kinds of clothing styles- making dresses, altering dresses, stitching pants, shirts, and tops.
Moreover, it can be used to accomplish stitching for home uses- sewing covers for sofas, armchairs, making cushions, and so on!
Start and stop button
Gladly, this machine contains a start and stop button. As a result, you will have complete control of the machine literally in your hands! I will make it clearer to you.
Many electronic sewing machines have a foot paddle instead of a power button. That's a little inconvenient. Because controlling the machine with a leg while stitching can be challenging.
And, it can hinder the stitching process. When your sewing machine comes with a power button, the overall work process becomes smooth.
Automatic bobbin winder
This is another feature that makes the use of the machine extra easy. When you load a bobbin manually, it takes extra time.
Also, you might not be able to identify when the bobbin is appropriately loaded. Keeping these in mind, the automatic bobbin winder can detect when the bobbin is loaded.
Also, with an automatic bobbin winder, you get the perfectly loaded bobbin. On the other hand, for a loosely winded bobbin, threads will be tangled.
Pros
Suitable for advanced and new learners

Top drop-in bobbin

Comes with 5 one-step buttonholers

Automatic stitch control and adjustment

LED light for the needle

7 stitching feet

Reverse sewing button

DVD for instruction
Cons
Thumps during heavy stitching
2. Janome 2222 Sewing Machine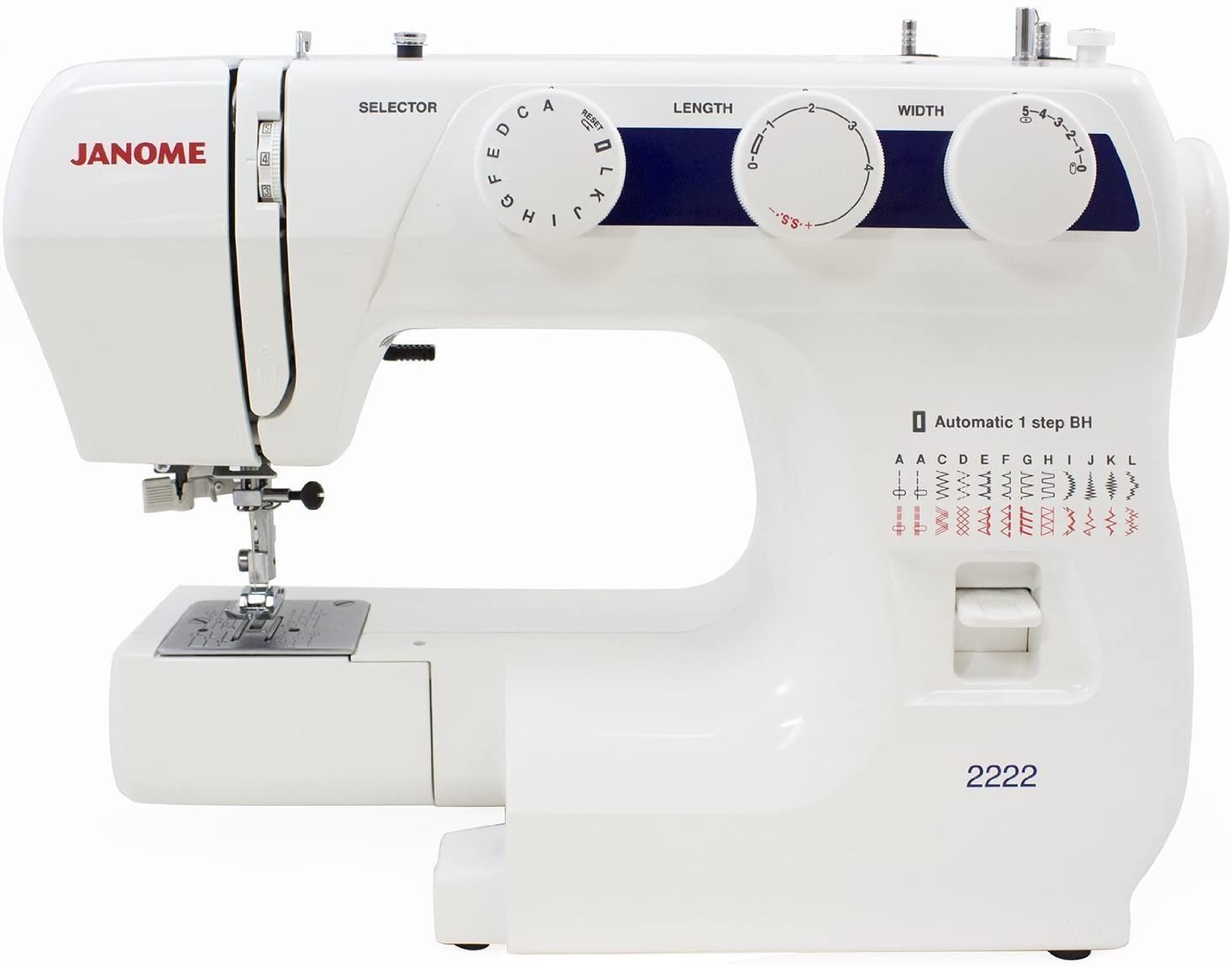 Janome is also a reliable brand. They have steady satisfactory customer reviews. Thus, you should check out this sewing machine and see if you like to buy it.
What Janome 2222 has to offer you?
This machine is basically for new learners. Yet, it can be a good addition as a backup machine for advanced-level learners. You can know about its features in detail below.
22 built-in stitches
Looks like this machine has a lesser number of built-in stitches in comparison with the previous machine.
That's because it has been made indicating the beginners. But, that doesn't mean isn't a good option.
If you're a beginner, do consider buying this machine. Because, as a beginning, with 22 stitches, you can still explore as much as you want.
Free-arm
You can detach the sewing bed. Then you get a free arm in this machine. A free-arm will help you a great deal to sew sleeves, pant legs, and anything that's ring-shaped.
Automatic thread tension
Setting the correct thread tension requires a serious calculation. And, beginners are likely to face difficulty processing the right thread tension.
If you have the incorrect thread tension, the machine either makes loose stitches, or the needles break for being excessively tight.
Considering that, you won't want to go through those nightmares if you choose this machine.
Pros
4-step automatic buttonholer

Built-in needle threader

Snap-on presser foot

Extra high presser foot

2 retractable spool pins

Comes with a dust cover
Cons
Push & pull bobbin winder
3. Singer M3505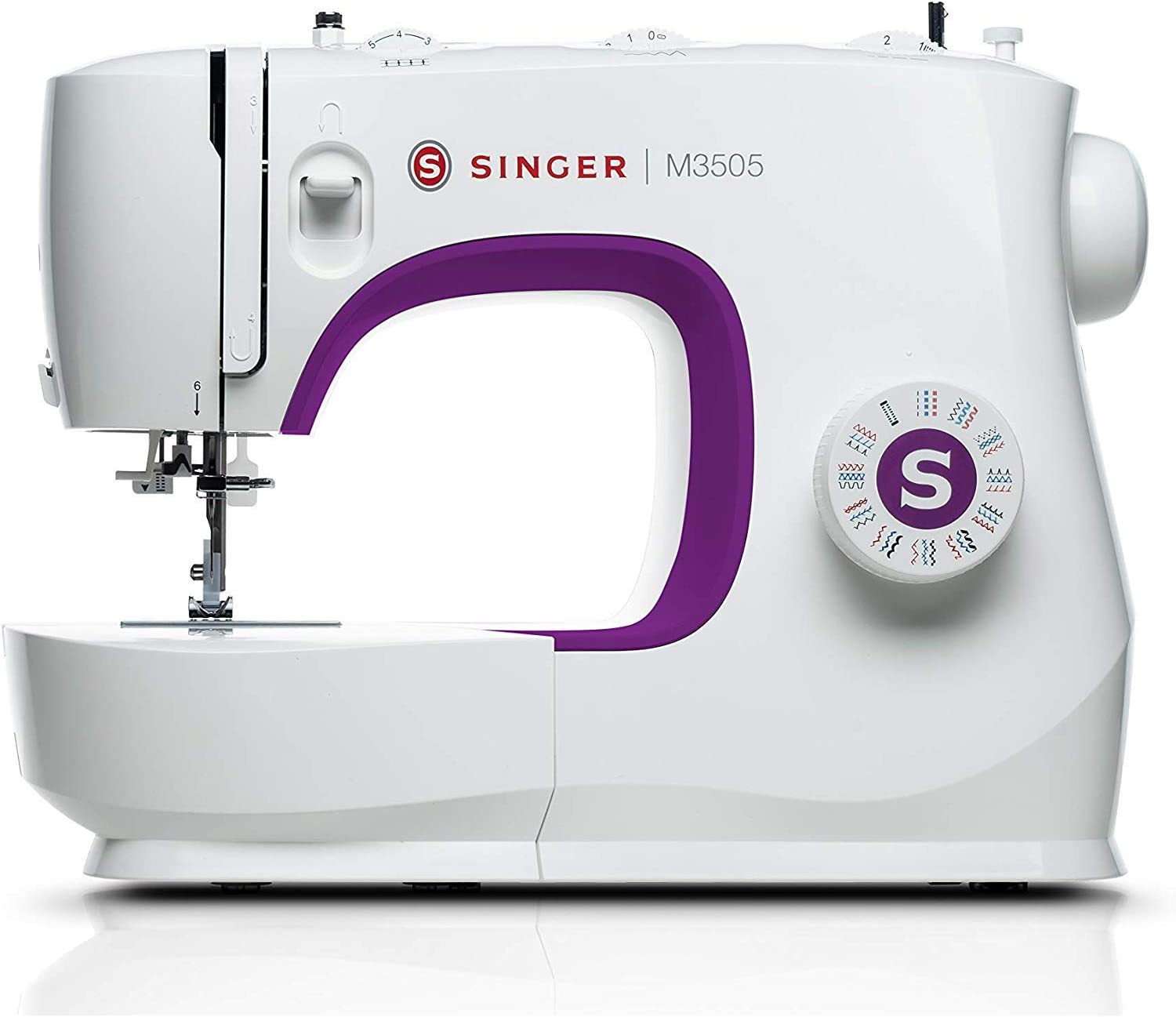 The singer is another well-known brand in the market. Since it's a popular brand, you can undoubtedly rely on them
What Singer M3505 have to offer you?
This sewing machine can be used for versatile purposes. Also, people from different learner stages can utilize this sewing machine.
Also, if someone wants a sewing machine just to cater to their hobby, this sewing machine will be the perfect choice. Let's learn more about it!
Extra high presser foot
Most beginner-level sewing machines don't have the presser foot that you can set high. With the extra high presser foot, you can sew the thickest fabric layers.
Many manufacturers think this feature is not essential for new learners or hobbyists. That's not actually true. In terms of exploring, there should be no restrictions.
6 Feed dog set
Feed dogs are the corrugated and moving portion under the needle. Once you place a piece of fabric on the stitching panel and you start stitching, the fabric moves forward.
Basically, this happens for the feed dogs. In other words, they pull the fabric both backward and forward.
Know that many machines don't have 6 sets of feed dogs. Since this machine has that, the fabric will move ultra-straight! The point is there is no way stitch lines will be malformed.
Metal bobbins
Stainless metal bobbins are more durable than plastic bobbins. Many sewing machines come with plastic bobbins. But they don't have as much as longevity metal bobbins have.
Pros
Built-in thread trimmer

Automatic needle threader

Automatic stitch adjustment

High speed: 750 stitches per minute

Reverse sewing

33 built-in stitch styles
Cons
Only 1 stitching category for buttonholes
4. Brother CS10s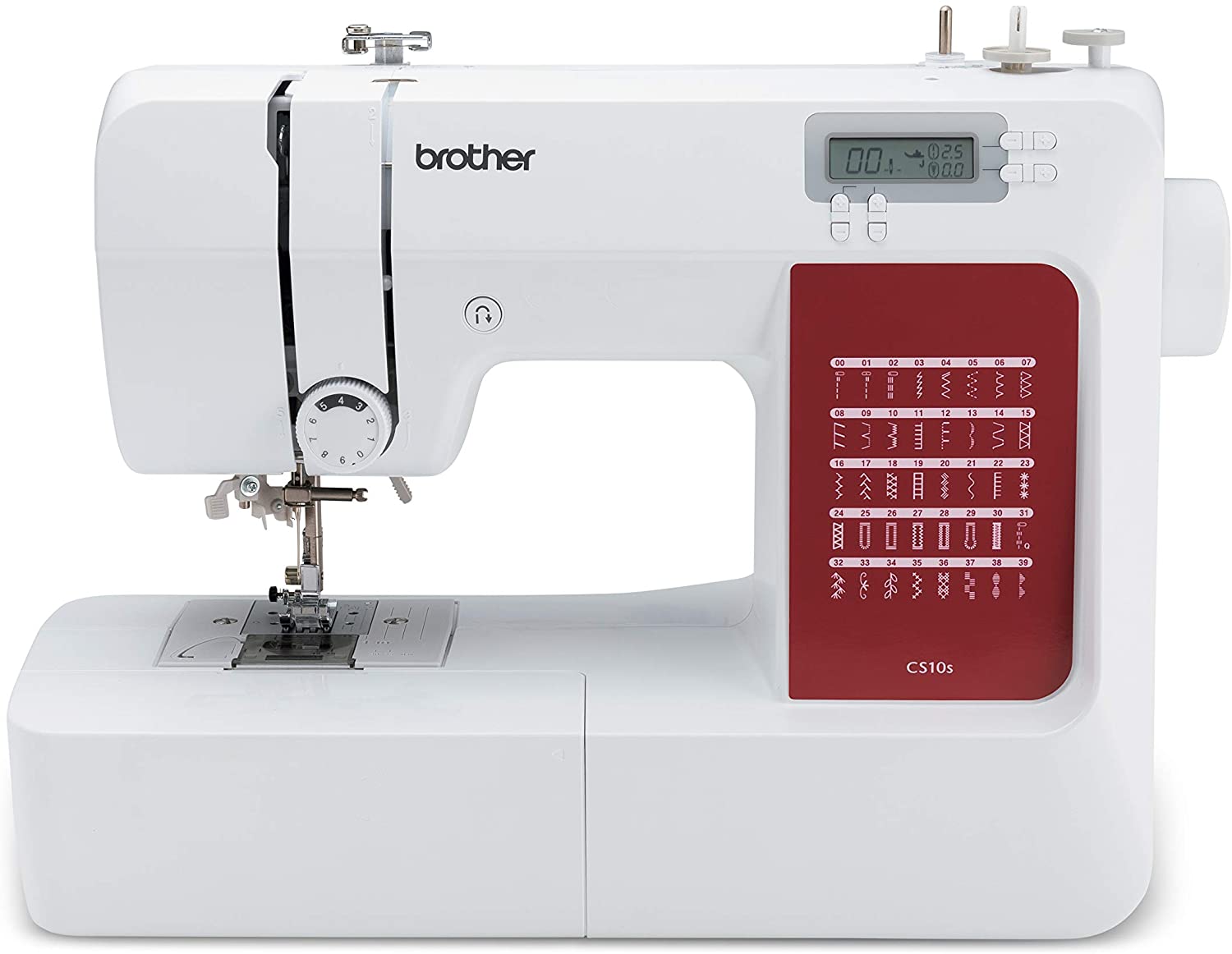 In case you want more options from Brother, I have another one for you. This machine has a nice look. Moreover, it has a robust body.
What Brother CS10s have to offer you?
Alongside its impeccable look and build, it has sufficient features too. Chiefly, this sewing machine is made for advanced-level learners.
But, it will certainly serve learners from all stages. Let's find out its features.
Top-loading bobbin
It's the latest technology making its uses easier. Many sewing machines don't have this feature. You know, new technologies are there to make the work process faster.
 It's good that, Brother is up-to-date with the technology. Also, it's very considerate of them to think about saving both time and energy of users.
With a top-loading bobbin, you can simply open the needle plate and place the bobbin!
Automatic bobbin winder
Who winds the bobbin manually nowadays? Manual threading is found in older machines. As a new generation sewing machine, this machine can thread a bobbin by itself!
All you need to do is, place the bobbin in the bobbin winder, and set the thread. And, the machine will wind the bobbin until it's done.
In addition, the manual winding can result in an overly winded bobbin or loosely winded bobbin. None of that is cooperative with the entire stitching process.
Paddle-free operation
This sewing machine has a start and stops button for the operation. Paddling requires one of the feets. That's nothing but a hindrance. All we want is an easier operation, right?
Since it contains a power button, you can turn it on and off with your hand. And, you don't have to put in the effort to think about removing your leg from the paddle to stop the machine.
Pros
40 built-in stitching styles

5 types of 1-step buttonhole maker

LED light for stitching panel

Reverse sewing button

7 sewing feet included

Comes with an instructional DVD

Touch panel for the stitch selection area
Cons
Requires cord to be powered
5. Singer Sewing Machine 3221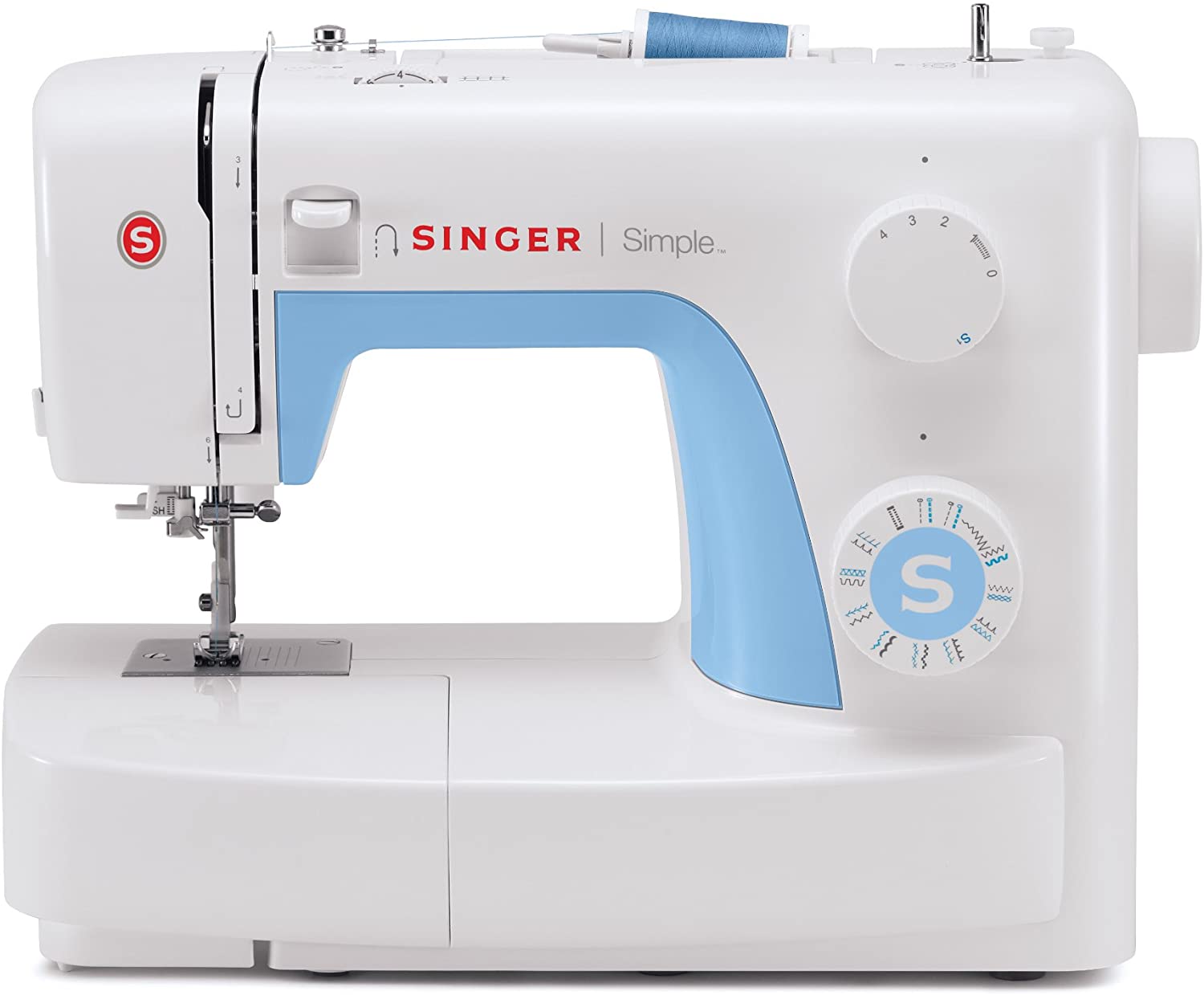 This is another sewing machine from Singer that will be suitable for the specific budget. Since Singer is a trustworthy company too, it's better if you check out more machines from them.
Just like the previous one, the formation of this machine is also excellent. And, the design is impressive too.
What Singer 3221 has to offer you?
It's a nice-looking sewing machine. It has a color combination of serene white and gentle blue. I know, look is not the main thing here. Still, who wouldn't love to have an exquisite sewing machine.
The material of the machine is durable. The material they used to create the machine makes it a little heavy. Let's have a look at its features
21 built-in stitches
This machine comes with a total of 9 decorative stitches, 5 stretch stitches, and 1 one-step buttonhole.
Automatic needle threader
Needle threading might not be no-sweat for some people. But there is another group of people who struggle to put a thread through the needle's eye.
It would have been easier for them if they could take the needle in their hand. Sadly, you have to thread a needle while it's attached to the needle bar.
But, it's easier in this machine as it comes with an automatic needle threader.
Free arm feature
Sewing sleeves, pant legs, or anything that has a tube shape is hard in a sewing machine. Even if it can be easy for advanced-level learners, it's not that easy for new learners.
That's why this machine has a free arm feature. You can simply take off the sewing bed and you will get the free arm. Next, you can put any tubular piece of cloth and sew it conveniently.
Pros
Seam guide

Stitch length adjustment

Storage compartment

4 presser feet

Darning plate
Cons
For beginners and intermediate learners only
How to Choose The Best Sewing Machine Under $500?
There are a few things one must consider while buying a sewing machine. In addition, we are talking about sewing machines under $500.
Know that, in that price range, all the sewing machines you are going to see are mainly for beginners.
However, intermediate and advanced learners can make use of them too. Let's find out what you need to check before selecting a sewing machine as a beginner.
Automatic bobbin winder
It's one of the things that will make the use easier for new learners. Bobbin winding is critical work. If you need to do it manually, you would overly fill it with thread.
Moreover, the thread might not be as tightly wrapped as needed. These will create various kinds of stitching issues. And, you end up hating the sewing process.
Automatic needle threader
Learning to thread the needle properly will take a while for new learners. Besides, it's directly connected with the thread tension. The automatic needle threader will make the work look off your shoulder.
Automatic stitch adjustment
You could struggle with setting the right stitch length and width. With this feature, you won't have to worry about the right stitch adjustment.
Automatic thread tension
I mentioned it in the automatic needle threader section once. If you select a machine that both has automatic thread tension and automatic needle threading feature, the process is fully easy-breezy.
Free arm
This makes the stitching process extra easy. And, it's main application for clothes that are tubular. Without a free arm, you might be a little scared to keep the hand under the needle and stitch a tubular cloth perfectly. So, with a free arm, you have nothing to be scared of.
Big range of built-in stitches
It's better to find a machine with huge built-in stitch collections. Yes, you have your own creativity. But, built-in stitches will enhance your creativity.
Concluding notes
If you are pretty serious about learning to stitch, do find a suitable machine. You can take help from the buying guide, and the list of the best sewing machine under $500 Australia.  Just make sure, you don't end up with one that will discourage you to pursue the dream of threads, and needles.