Looking for a computerized sewing machine? That's great! Because it's nothing but the smartest decision a sewist can ever make.
Here, you will find the 5 best computerized sewing machine in Australia. With that, I will talk about why you should decide to buy a computerized sewing machine.
Since the machines are computerized, a lot of work will be easier for you in comparison to people who use electric sewing machines.
Computerized sewing machines can do wonders with it's advanced technology. Also, they include enhanced features that will make you love sewing even more!
Our Top Picks:
(See our quick top 5 picks and below you can read our detailed reviews about these products.)
Let's have a look at the 5 computerized sewing machines I have sorted here for you!
1. bernette 38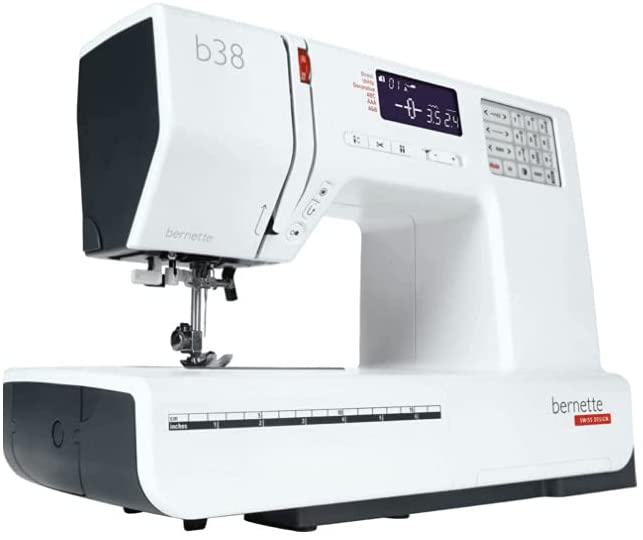 This brand has an entire series for computerized sewing machines. And, bernette 38 is the most popular one in the series.
This sewing machine is loaded with features. And, you can get all of it at a budget friendly price. The most amazing thing about this machine is- it contains a huge collection of built-in stitches.
In the stitch collection, you will get various decorative stitches along with different kinds of buttonholes.
Another amazing aspect of the machine is, it can memorize stitching patterns. That will save  you a lot of time and energy.
The sewing machine contains a display. So, whatever command you give to it, the monitor will show the output instantly. This particular feature will be most helpful for speed control.
With the machine, you will be able to sew a wide range of fabric types. Also, it can handle thick fabric layers.
You will get a wider sewing area in this machine as it comes with an extension table. Moreover, the sewing area is brighter for its high-quality LED light.
Bernette 38 comes with a bundle of presser foot as well that a sewer needs frequently. So, you won't have to buy them separately.
Keys features at a glance
349 built-in stitches & Stretch stitch

8 one-step buttonhole and 3 alphabets

Can memorize stitching pattern

Speed regulator with a display

Bright LED light for sewing panel

8 pressure feet
Pros
Larger sewing area

Automatic thread cutter

Presser foot pressure adjustment

Extension table

Comes with a hard cover
Cons
Presser foot lever is a little tight
2. Singer 5560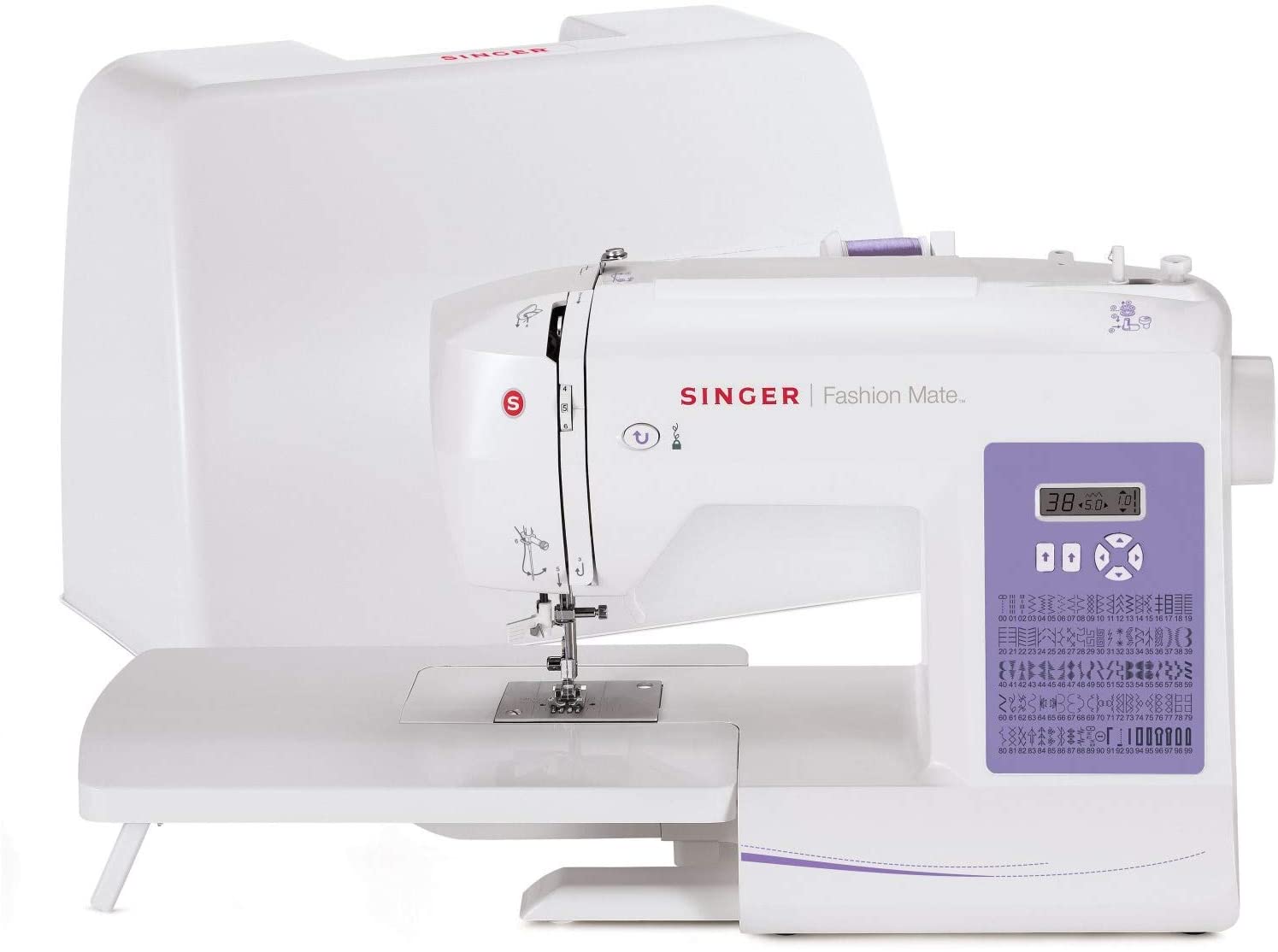 This machine will amaze you all over! The most notable aspect of this machine is it comes threaded. So, you can start working right away.
You can utilize this machine in various ways. As a result, no matter what project you are planning on doing, it's possible with this machine.
Moreover, it includes different kinds of stitching styles. That way, you will get a great deal of assistance for completing projects
For its touch sensor technology, you can select stitch just by a tap of your finger. And, the measurement of the stitches is adjustable too.
This machine makes the sewing process easier with a built-in needle. Because of that, you won't have to strain your eye and finger to thread a needle properly. And, we all know threading a needle is actually not an easy job.
Another noteworthy feature is, it comes with a darning plate. You can use that for tasks like- quilting, monogramming, and sewing buttons.
Also, there is an arrangement for sewing sleeves, and pant legs. Hence, you won't have to struggle to settle the cloth under the sewing panel.
Another good feature of this machine is, you can position the needle in different ways. Hence, pipe inserting, top stitching, zipper stitching, edge stitching- these tasks can be done effortlessly.
Keys features at a glance
203 stitch application

100 built-in stitches

6 one-step buttonholes

Built-in needle threader

Front loading bobbin

Darning plate

Touch stitch selection panel

Adjustable stitch measurement

Reverse stitching
Pros
Heavy duty capacity

LED light for sewing panel

Free arm

Protective cover

Snap-on presser feet

Extra high presser foot

13 different needle positions
Cons
No start-stop button

Fixed speed
3. Janome 49360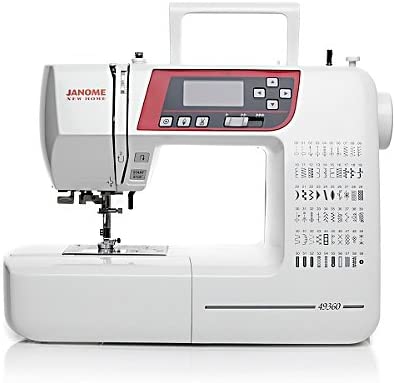 This is another good choice for a computerized sewing machine. It has a lesser number of built-in stitches.
Yet, it's still a decent number of stitch collections. Even if the stitch collection is small, it has many features that will help you to sew conveniently.
With the stitch collection, you will have some automatic buttonhole making stitches. Cutting the thread after a sewing session is also easy. Because, the machine will cut the thread itself one you are done.
Free arm is bigger in this machine. Hence, you can easily hem sleeves, and pants of any size without a hitch.
Moreover, this machine can make a maximum of 7mm zigzag stitches. And, stitching zigzags of many sizes is one of the common tasks.
You can make monograms, sew buttons, quilts, embroidery designs too as it has the drop-feed mechanism.
Another thing I should mention, it has 7 piece feed dog systems. This means, there is no chance you will see a stitch that is not straight.
Navigating is easy with the keys, and the LCD screen. The machine is equipped with light in the LCD screen, and needle bar. So, you can use it in places with lowlights.
Keys features at a glance
60 built-in stitches

6 automatic buttonholes

Automatic thread cutter

Zigzag stitch: 7mm max.

Bigger free arm

Easy navigation with keys

LCD screen with backlight

Controllable foot pressure

7-piece feed dog

Drop-feed mechanism
Pros
Larger needle plate

On-off button

Built-in needle threader

Sliding bar for speed adjustment

Memorized needle movement

Automatic stitch locking

Numbered direction for threading

Includes hard cover
Cons
Light in the sewing area is a little dim
4. Bernette 37
In this machine, you will find 50 different kinds of stitches. The stitch collection includes decorative stitches too. There is more, you will find decorative stitches in the collection.
The operation of the machine is super simple. Some people might think that, as it is computerized, it is certainly complicated. And, they finally don't buy a computerized machine.
If you buy this machine, you won't have to be worried about the operation. Since it has many automated features, it can do a lot of stuff by itself! All you need to do- command this machine.
Speaking of easy operation, this machine has a start and stop button. That means, the time of foot paddling is over!
Because, it can be challenging for some learners to operate a sewing machine both with their hands, and legs.
There is a needle control button. With that, you can determine where the needle should stop. I will make it clearer to you.
Let's say, you are done stitching. In that case, you want the needle to stop outside the layers of fabric. Right?
With the needle control button, you can command the needle ahead to stop outside the fabric under it.
Keys features at a glance
50 built-in stitches: Includes decorative and quilting stitches

5 one-step buttonhole

High quality LCD screen

Overview of the stitches

Quick start instruction

7 mm stitch width

Speed control
Pros
Start/Stop button

Speed regulator

Feed dropping mechanism

Sewing space: 170 mm

700 stitches per minute
Cons
Not entirely efficient for thick fabric layers
5. JUKI HZL-F300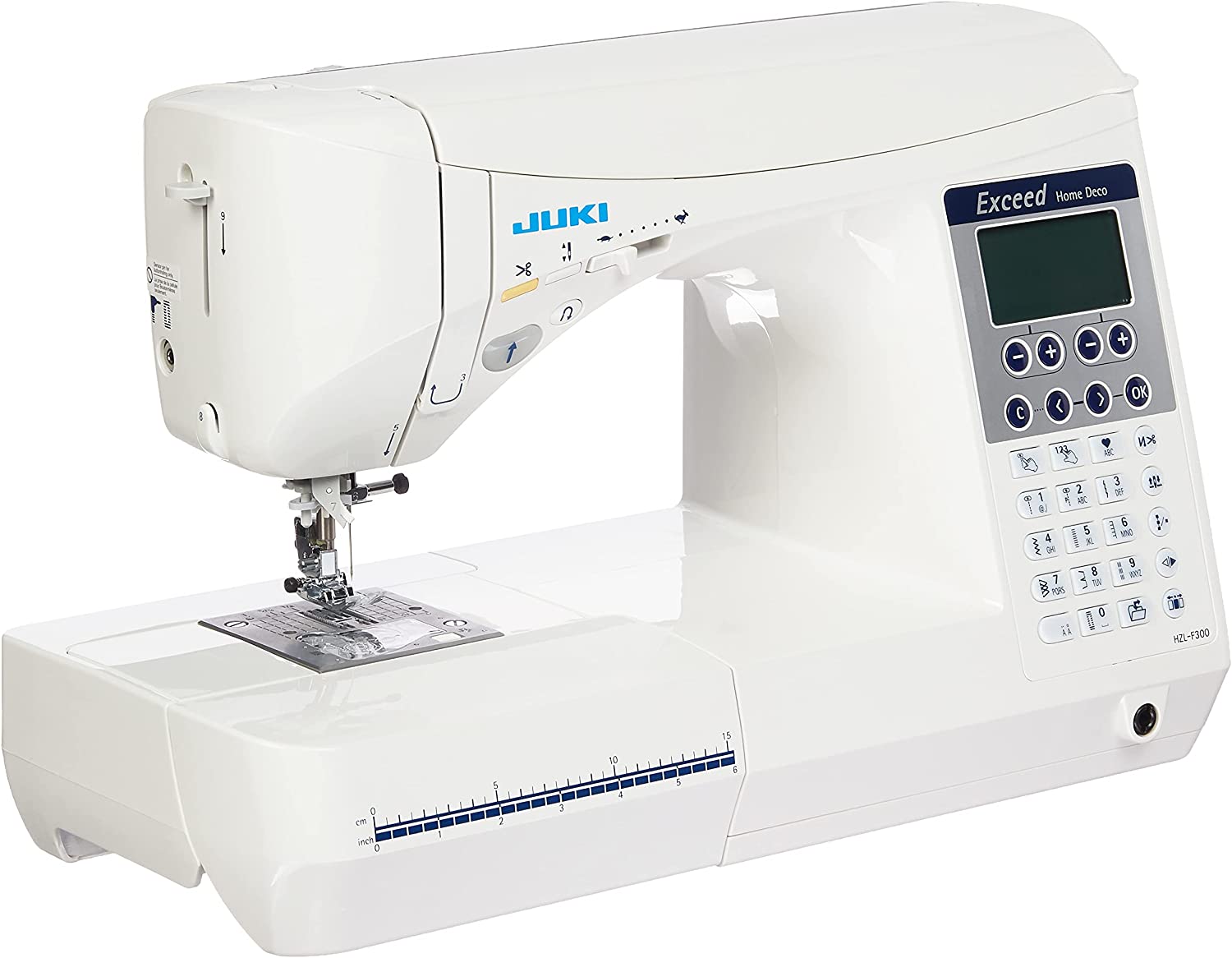 This machine is loaded with features. In fact, you will almost find all the features of an ideal computerized machine.
There are buttons for selecting stitching patterns. So, there is no hassle for turning the dial. Moreover, you keep on turning until you find the desired stitch.
Making buttonholes is effortless in this machine. All you need to do is select the stitch for the button, and place the cloth under the needle. Literally, the holes will be made by machine.
A mention-worthy aspect of this machine is, it has a separate place to wind the bobbin. In other machines, you will have to place bobbins on the pin it has for keeping spools.
Another iconic feature is- it can memorize customized stitch patterns. You can combine various stitches one time, the machine will remember that next if you want! Just give it a command for saving the stitch in its memory.
Since this machine has all the essential features, you must be wondering if you can make quilts with this machine. Yes, you can drop the feed dogs and you can make quilts. That mean, you can create monograms, and do embroideries too.
Keys features at a glance
Buttons for pattern selection

Automated buttonholes

Adjustable Widths of buttonholes

Easy bobbin placement

Self-sufficient bobbin winder

Automatic needle threading

Faster thread trimming

Memorized operation

Saves customized stitch patterns

Both auto or manual thread tension

7 pcs feed-dog

Perfect needle & stitch repositioning
Pros
Dropping feed-dogs

Quilting stitches

LCD screen setting change

Buzzer-volume control

Adjusting foot pressure

900 stitches per minute

Zigzag stitch Width: 7mm max.

Stitch Length: 5mm max.
Cons
Manual presser foot lift

Foot paddle operation
5 Reasons to Buy a Computerized Sewing Machine
If you are new to sewing, computerized sewing will help a great deal to learn stitching faster.
In a computerized sewing machine, you will find a display that will show the output of an input. Also, there will be a button to operate the machine.
On the other hand, in a mechanical sewing machine, you won't have any display. Besides, instead of buttons, you will find knod, and dials to control the operation.
Anyway, there are many features that separate a computerized machine from the mechanical ones. While buying one, you will notice that the features vary among all computerized machines.
That's pretty normal. However, if you are still confused about buying a computerized sewing machine, have a look at the reasons below to know why you should buy one.
Wide variety of built-in stitch collection
I know, your main aim is to explore creativity with a sewing machine. But, users seem to love the built-in stitches too.
Considering that, a computerized machine comes with way more built-in stitches than a non-computerized machine.
For instance, you will see the non-computerized machines to contain not more than 100 built-in stitches. But, in some computerized machines, you will find around 350 different kinds of built-in stitches.
Automatic buttonhole making
Making buttonholes is tricky. No sewist will ever deny that. Because, you need to stitch around a very small area. Moreover, you need to sew the edges to make a cut for the buttonhole.
When you do it manually with a sewing machine, the button can be imperfect. Experts can manage to make perfect buttonholes even with mechanical machines.
But, beginners will have a hard time forming nice and crisp buttonholes.
Automatic bobbin winding
This is another complicated task you will need to perform to stitch. Bobbin winding is not easy because sewers can overly load a bobbin. Or, they can underload a bobbin. Also, the thread could be loose on the bobbin.
All these will lead to thread jamming, needle breaking, thread tearing apart, and ugly stitches. No one wants that.
Automatic thread tension and stitch adjustment
Setting the thread tension is also challenging. Identifying the right thread tension will require a long time of practice.
New learners tend to do it wrong a lot. For instance, you might set the thread loose. Or, you can make the tension really tight. Loose thread tension will produce loose stitches.
If you sew a really tight thread tension, the needle will certainly snap at a point. It's rather dangerous! Because you can hurt yourself with the needle.
Saves huge amount of time and energy
Know that, many experts are choosing to buy a computerized sewing machine. Among other reasons, they would love to finish the work faster so they can move on with other projects.
Experts are always with projects that they need to deliver to clients. In that case, a computerized sewing machine will save a huge amount of time and finish projects quickly.
Alongside saving time, it will save you from straining your fingers, eyes, and shoulder. Usually, sewing machines entails a lot of finger, and hand movement/uses.
With automated features, you won't have to use your hands much. Also, these machines can save your eyes and shoulder.
Once again, the automated feature will handle a lot of work that we do in non-computerized machines.
And, at the end of the, eyes hurt, and shoulder aches. A computerized sewing machine can save you from all that inconvenience.
Final Thoughts
Here, you have learned about the 5 best computerized sewing machine in Australia. In addition, you got reason to buy a computerized sewing machine. The machines I have suggested here are widely used. Hope you get to select one from my list.