If you're looking for the Pin Cushion, this is an excellent place to start your search. Check out our top picks!
Pincushion, as the name quite clearly suggests, is for pinning up the needles and pins used while sewing. Though it might seem to be not a very important tool, the pincushion is a must-have item for sewists.
The tiny, little needles and pins, if not kept securely, could be lost. It is risky, hard to find, and bothersome. Having a pincushion ensures you are storing your pins and needles in the right place. Also, when you need those, only a pincushion could have enough pins held together.
If you felt finding the best pin cushion would be easy, you are in for a shock. Because like any other sewing tool, there is no shortage when it comes to varied kinds of pincushions. Let's find the pincushion you need with a proper buying guide. 
Our Recommended Top 5 Picks:
(See our quick top 05 picks, or go further down and read our in-depth reviews.)
$5.59
in stock
as of December 2, 2022 6:33 pm
$6.18
$6.87
in stock
as of December 2, 2022 6:33 pm
$7.99
in stock
as of December 2, 2022 6:33 pm
$12.56
$13.26
in stock
12 new from $11.75
as of December 2, 2022 6:33 pm
out of stock
as of December 2, 2022 6:33 pm
Top 7 Pin Cushion of 2022 – (Editors' Top Picks)
We have chosen the seven best, and right beneath, we are going to discuss all seven in detail. Let's understand why we thought these are the best for you to consider trying.
1. Grabbit Magnetic Sewing Pincushion with 50 Plastic Head Pins
TODAY'S BEST DEALS ⬇
Why We Love It? The magnetic force is so powerful that it can pick up the pins and needles from a reasonable distance. So, when the pins and needles stick to the pincushion, it stays there, that too, in a well-organized way.
Product information:
| | |
| --- | --- |
| Brand Name | GRABBIT |
| Color | Blue |
| Material | Plastic |
| Weight | 7 ounces |
| Dimensions | 4.35 x 4.9 x 1.75 inches |
| Country of Origin | USA |
Product Description:
We have already mentioned there is nothing that can compete with a high-quality magnetic pincushion. So, our first contender would naturally be a magnetic one. We are talking about Grabbit Magnetic Pincushion.
It is the simplest yet best magnetic pin cushion, measuring 1 5/16" tall by 4 1/4" in diameter. With it, you get 50 sewing pins with colorful heads. Each pin is 1 ½" long and has a 4mm plastic head.
Holding them and pinning the fabric with these are easy. You do not have to stop for a second as the grabbing and dropping of the pins are smooth and quick. If you end up having pins all over your work table, just hold the magnet there, and it will grab all in no time.
Features At A Glance
Powerful magnet

Quick grabbing and dropping of the pins

Organizes the pins in a pile with proper alignment

1 5/16" tall by 4 1/4" in diameter

Includes 50 1 1/2 inches colorful sewing pins

Could be used as a clip, nail, screw holder
2. eZAKKA Wrist Pin Cushions
TODAY'S BEST DEALS ⬇
Why We Love It? This pincushion uses high-quality stuffing inside. The 100% polyester padding keeps the firmness intact and holds the pins and needles well.
Product information:
| | |
| --- | --- |
| Brand Name | eZAKKA |
| Color | Carrot |
| Weight | 0.845 ounces |
| Dimensions | 7.2 x 5.63 x 1.18 inches |
Product Description:
eZAKKA is a beautiful petal pincushion with a wristband. Wear it on your wrist and keep the pins within your reach while working. The cute carrot pattern on the fabric looks incredibly catchy and could be a lovely addition to your sewing kit.
It measures 3.9"x 3.9"x1.6". A pincushion is just the right size to wear on the wrist. While sewing a basket or getting a mannequin ready with self-designed attire requires a lot of pins. It's annoying to grab a fist full of pins. Instead, have as many as you want on the wrist pincushion and work comfortably.
The wristband attached to it is also high-quality. So even after regular wearing of it on your wrist is not going to make it loose soon.
The appropriate size elastic ring fits a hand of almost any shape as if it is for that hand only. If it doesn't, just sew it according to your wrist size. Sewing the band tighter is rather convenient.
Features At A Glance
100% polyester padding

Cute carrot pattern

High-quality plastic wristband

Keeps the pins within reach

Holds the pins safely

Apt size
3. Honbay Cute Hedgehog Shape Pin Cushion
TODAY'S BEST DEALS ⬇
Why We Love It? Its size is 4.13"x2.36"x2.56". Comparatively bigger than other pincushions. So, come in handy when you have a lot to pin and store.
Product information:
| | |
| --- | --- |
| Brand Name | Honbay |
| Material | fabric |
| Weight | 0.81 ounces |
| Dimensions | 5.1 x 2.8 x 2 inches |
Product Description:
We bet you haven't seen anything like this pincushion usually. It is a Hedgehog shape pincushion, minus the spines. Prick all the pins on it to cover the Hedgehog with spikes. It is almost a stuffed toy with a purpose.
You can place this in your workroom as a pin holder. It will not just keep all the pins well organized but work as a showpiece too. 
Gift this cute small pincushion with a nose, tiny ears, legs, and blush on to your little sewing enthusiasts. It might grab their attention to learn and work on projects even more.
It is very well-made, possesses the right amount of soft, very firm. Thus holds the pins well. Though you cannot bind it on your wrist, the fabric is high-quality enough to tackle the sewing of an elastic wrist band. If needed, sew one and wear it to your wrist and keep the pins way closer. 
Features At A Glance
Unique Hedgehog shape

Soft but firm

Dimension: 4.13"x2.36"x2.56"

Bigger than regular pincushions thus holds a lot of pins

Polly filling

Great for kids to work with pins
4. SINGER 1-Inch Ball Head Jar with Pin Cushion Lid
TODAY'S BEST DEALS ⬇
Why We Love It? It is a pincushion that comes with a lot of pins, so you do not have to buy pins separately for a long time, a jar to store them, and a cushion to keep them within reach. The best DIY pin cushion so far.
Product information:
| | |
| --- | --- |
| Brand Name | SINGER |
| Color | Multicolor |
| Material | Alloy Steel, Nickel, Fabric |
| Weight | 2.25 ounces |
| Dimensions | 2.4 x 2.4 x 4.5 inches |
| Country of Origin | China |
Product Description:
You can only expect Singer to make such a distinct pincushion. Distinct because it is a reusable jar for storing pins and has a pincushion as a lid on it. 
With this jar with a cushion lid, you get 250 pins. So, if bought, you are getting three perks in one. 
These durable pins are made of sturdy nickel-plated steel. Thus, durable but very lightweight.
They prick even the solid materials easily and hold the fabrics just right. The colorful heads catch your eyes even if they are pinned on a bright-colored pattern. Not only that, but these also withstand rust.
Store unused pins in the plastic jar and prick the ones you will use on the cushion. Reuse the jar even if you have used all 250 pins. It is not less than any value pack.
Features At A Glance
Distinct and handy

Lightweight pins, plastic jar, and firm cushion

Reusable jar, that hold thousand of pins

Pincushion lid

250 colorful pins in the jar

Pins, made of nickel-plated steel
5. CUSHYSTORE Purple on Black Floral Flower  
TODAY'S BEST DEALS ⬇
Why We Love It? It is beautiful and very well-made with the right amount of firmness to hold as many pins as you want.
Product information:
| | |
| --- | --- |
| Brand Name | CUSHYSTORE |
| Weight | 0.634 ounces |
| Dimensions | 3.2 x 2.6 x 1.4 inches |
Product Description:
This one is a petal pincushion with a thick and wide wristband. The cotton fabric used as the veneer has purple flowers on a black canvas. 
The firmness comes from the high-quality synthetic polyester fiber filling inside the pincushion. Upon wearing it on the wrist, your hands never feel there is something on it. It is handy; it is comfortable on the wrist even with the pins pricked on it.
Unlike other pincushions, this one has a wide wristband. The elastic wrist band itself is enough to fit a wide diversity. To cover the rest, it has added loops for adjusting the elastic band tighter.
Pin the needles and sewing pins and wear the cushion on your wrist to avoid holding a bunch of pins in your fist or the unwanted minute breaks to grab the pins from the pincushions kept on the table.
Features At A Glance
Handy and comfy

Made of high-quality cotton

Synthetic polyester fiber stuffing

A wrist pincushion for all wrist size

Adjustable wrist band with loops for proper fitting

Keeps the pin within reach
6. NX Garden 3PCS Tomato Shaped Needle Pin Cushion
TODAY'S BEST DEALS ⬇
Why We Love It? Its outer side is cotton plush, and inside it contains cotton stuffing. The exterior is very high-quality; thus, constant pulling out of the pins doesn't leave holes in the plush layer. Keep all the pins and needles you need to sew, quilt, and embroidery close.
Product information:
| | |
| --- | --- |
| Brand Name | NX Garden |
| Color | Red |
| Material | Cotton |
| Weight | 5 ounces |
| Dimensions | 6.1 x 3.82 x 2.68 inches |
Product Description:
If you didn't know, the tomato-shaped pincushion has a backstory. NX Garden has just followed that and created some high-quality pincushions. You get three pieces of stuffed tomato. All three are of different sizes and have a small pepper shape thing hanging from them.
The design is not something random, but a firm belief. For a long time, and even now, people relate it to prosperity. If you are one of those who believe in it, you can have this cute little stuffed tomato.
The pepper-like thing is mostly for sharpening the pins, which get dull due to constant pricking. Though you can still do the same with the small pepper hanging from this pincushion, it's a mere design not effective.
Features At A Glance
Cute design with a significant backstory

Three different sizes of tomato shape pincushions

Easy to pin and grab off

A cute little hanging pepper

Plush-pulling veneer and cotton stuffing

Pricks don't leave holes
7. Rolybag Pin Cushions Wrist Pins Cushions
TODAY'S BEST DEALS ⬇
Why We Love It? This pumpkin pincushion measures 3.5 inches x 3.5 inches x 1.4 inches; the elastic band attached to it measures 5.5". The size is pretty compact. Thus wearable on the wrist and the elastic band fits almost every wrist size.
Product information:
| | |
| --- | --- |
| Brand Name | Rolybag |
| Color | yellow |
| Material | Cotton + Polyester |
| Weight | 0.704 ounces |
| Dimensions | 5 x 4.25 x 1.34 inches |
Product Description:
We have one more petal wrist pincushion with cute and colorful patterns for you. This one is from Rolybag. You can use both of its sides to store your pins. Or just wear it on your wrist while you are working on your projects.
The pincushion has used the best fabric for the pin cushion possible. 100% cotton fabric on the outer and inside has stuffed with 100% polyester filling. The materials handle constant pin insertion well. Unlike cheap fabrics, your pincushion will not have holes in it.
Having it in your sewing essentials will keep you well-organized and well-prepared. It makes your needlework and sewing easy. The sudden instant when you need pins to hold the fabric, you do not need to break the momentum and can continue working as you have what you need right on your wrist.
Features At A Glance
A pumpkin-shaped wrist pincushion

Cute, colorful pattern

100% cotton fabric outer

High-quality polyester padding inside

Allow double-sided use

Holds the pins firm, within reach, steady, and ready
What do We Need to Consider When Buying Pin Cushions?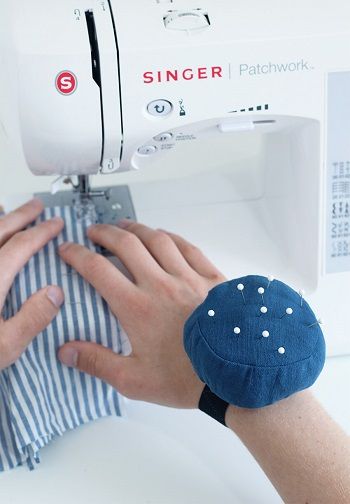 What could be the prominent points you should keep in mind while buying a pincushion? Surprisingly, there are plenty. Let's cover those points one by one.
Design
Your view of "I can do without it" doesn't change the fact that pincushion is a 'Thing'; a Product. A product has to catch its consumers' attention. So either it has to be something out of the box, or something that looks pretty and distinct.
So, when it comes to the designs and patterns of pincushions, we prefer colorful, unique, cute little ones. But if we consider something advanced, there is no competition for magnetic pincushions. These secure the pins and needles like no other.
But buy those only when you know they are high-quality. Cheap magnets will do nothing else than make a mess.
Cushion Fabric
Cotton and felt fabric are the best material to make pincushions. They are lightweight but firm, crisp fabrics. So, pricking the fabric, continuously, will not ruin the veneer much. These fabrics are not slippery or soft. That helps a solid hold of a wide number of pins and needles. Any fabric similar to those two makes great pincushions.
Stuffing
Stuffing of the pincushion is crucial. There are many things you can put inside the pincushion. Leftovers from the stitched projects, especially cotton are the best among those varied scraps.
They are firm but pretty lightweight. So the ball might roll over all the time. What you should choose, if you prefer cotton stuffing is, to buy one with a flat bottom or sturdy base. Otherwise, the best option is pincushions, which use walnut shells as filling.
They have a slight weight to them. Also, it makes the pincushion perfectly firm. Pincushions with polyfill material or steel wool pad are firm and durable too.
Size
If you have too many pins and needles to store, then go for the big ones. Keep the small ones near the sewing machine, so that whenever you need to pin the needles on something, you can do it on a pincushion that has space and is not holding too much on it.
Do not allow yourself in any way to consider your mouth as a better option than a pincushion to hold the pins. The big ones are not handy for keeping just a couple of pins and needles. So, know your requirement.
Soft But Durable
The pincushion has to be soft. But not too much. Being too soft will not allow it to hold the pins properly for long. Then, it cannot be hard as well for the same reason. Being hard will not enable the pins to prick the pincushion.
So, it has to be something in the middle, let's say, firm, keeping the durability intact. Durability is crucial because you are continually piercing the tool with pins and needles. When it is not robust enough, how is it going to tackle the constant prick? Later you might end up rethinking the utility of the pincushion. So, buy a firm but durable pincushion.
Double Side Use
Pincushions that allow double-sided use can hold up double the amount of pins and needles. So, if you have too much to store, then you must get one of these. These might not be for frequent use, because using a pincushion that holds hundreds of pins and needles is not practical.
However, these prove to be the best storage when it comes to quantity. The best you can do is get two. One that you will use while working on your projects and the other to only store the pins and needles.
Wrist Band
Having a wristband on a pincushion is practical and makes it handy. It saves you from the frustration of moving between intricate sewing work to get the pin and needles. Ultimately, you end up keeping them randomly or using your mouth as a pin holder.
So, wearing the pincushion on your wrist will keep the pincushion within your reach all the time. These might not hold up pins on both sides, but that hardly matters when they are so handy.
How To Make A Pin Cushion?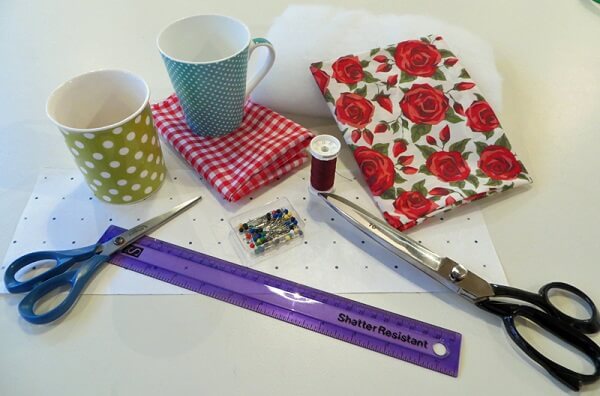 There is no dearth of beautiful and handy pincushions in the market. And they cost close to nothing. The distinct designs of the cute little pincushions will quite naturally demand you to buy those.
But what if you can make your own? Using your creations has its own charm. Also, you know your requirement from a pincushion better. Here we are, to explain the easy steps of making a simple pincushion step by step.
But first, let's see what you need. You are a sewist, so we bet all these will be more than available to you.
Things You Need To Make A Pin Cushion
Sewing machine

A round shape lid or bangle

Pencil

Cotton fabric and scraps

Sewing scissors and pinking scissors

Needle and thread

A thin stick or a chopstick

A round wooden base or a button or a wristband

Fabric glue
Step One: Decide The Shape
You can use any fabric you want, but as we mentioned earlier, cotton and felt fabric are the best to make pincushions. If you are making a round pincushion, you will need something round to mark the cloth piece. Use a lid of a box or a big bangle. You can use a square-shaped box too if you want to try a different shape.
Step Two: Cut The Fabric Round
Make sure your cotton fabric is crisp, and well-ironed. Now, place the lid or bangle on it. You will need two round cotton scraps. Take the pencil to make two round shapes on the wrong side of the fabric. Remember, not on the right side, but on the wrong side.
It is time to cut the fabric. So use the scissors patiently. You need to make the round edge as even as possible. An untidy, uneven edge will eventually make the pincushion look weird.
Step Three: Pin-Up The Circles
As you are done with cutting the fabric, time to sew them together. And to do that place the two pieces, one on top of the other. Then pin them together from all sides with sewing pins. Make sure both sides you see are the wrong sides of the fabric. You can do it manually or make it easy and quick by using a sewing machine.
Step Four: Sew With A Sewing Machine
You will need a small opening to put the stuffing inside the pincushion. Keep it vivid in your mind to avoid mistakes. Start with a backstitch to sew the pieces together. Keep the needle as close to the edge as possible. You do not need a wide seam.
A quarter-inch will suffice. Make sure to secure the stitches by backstitching again at the end. Now you have one tiny round pouch with a small opening.
Step Five: Cut The Edge Zig-Zag
Use the pinking scissor and trim the seam. It will give a nice zig-zag pattern to it. Skip trimming the opening. It will help keep it all even and keep the stitched fabric flat when you fold it to the right side.
Step Six: Fold It To The Right Side
Folding the circle to the right side could be tricky due to the small opening. So, fold it slowly but be patient. Once you are done folding it, use a thin stick to push out the edges properly.
Step Seven: Stuffing
Now put the stuffing inside the circle through the small opening. Insert a small amount at a time. When you feel putting the stuffing is impossible through your hands, use the stick. Do not put too much. Stop when it's fluffy and plump enough. Push the filling using the stick to spread them well in the circle. Now you have a firm cotton ball.
Step Eight: Stitch The Opening
Thread the needle to stitch the small opening. Slip-stitch as well as loop and knot the opening well and make sure your stitches are tight and locked. What you have is a simple, double-sided pincushion.
Step Nine: The Extra Touch
You can now turn it into a petal pincushion by taking the needle from the center to different corners of the ball and finally bringing the needle to the center to stitch the button. Sew an elastic band and turn it into a petal or round wrist pincushion.
Or just get a circular wood with a hollow to insert and adhere the ball to it. If flat, use it as a base underneath so that the ball doesn't roll. Use a strong adhesive to stick the cotton ball on the wood.
Conclusion
Handcrafted or the ones we suggested as the best, every pincushion that lasts long and holds the pins well is the best pin cushion. If you are making one yourself, do it with the right fabric and material, and you will have your own durable pincushion. These pincushions are not only sewing essentials but also enhance the beauty of your rather boring-looking workplace.
Not just the tool's performance, sometimes the look of the tools and the whole ambiance of the workplace also matters to ensure a fruitful work experience. Gift these to your mom or the little one. These will not only be useful but also make them feel good about sewing their projects.