sewingmachinegallery.com analyzes and compares the top Sewing Machine Under $500. You can easily compare and choose the best sewing machines for you.
Many fashion hobbyists buy their own sewing machines for several benefits. These machines make fixing torn clothes quite easy. Operating is relaxing and not difficult at all. The owners can create new outfits according to their preferences. Some also like to redesign the old ones.
They save plenty of bucks for not going to tailors or not buying expensive store clothes. When people want to purchase anything, the first thing they think about is the price tag. The majority of buyers seek effective yet affordable products.
So, sewing machine companies launch a variety of models to target different economic classes. We can even find the Best Sewing Machine Under $500. Let's dive into our top seven good-quality, multi-functional, and mid-range sewing machine recommendations: 
Our Top Picks:
(See our quick top 5 picks and below you can read our detailed reviews about these products.)
Top 7 Sewing Machine Under $500 for 2022 – (Editors' Top Picks)
Juki MO-654DE Overlock Serger with FREE Bonus Package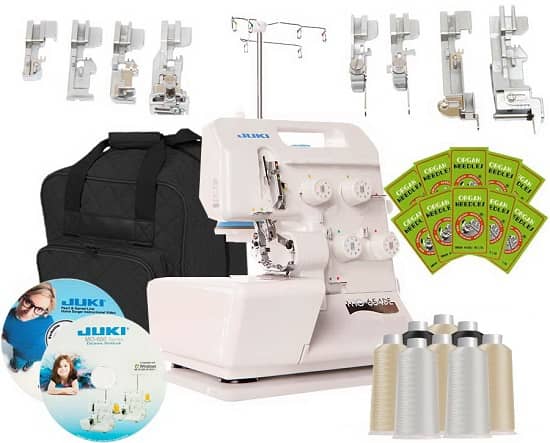 It is a versatile 2/3/4 thread serger with rolled hemming. We can do almost every famous overlock or flatlock variation. Its innovative knife system ensures consistent cutting for all fabrics. Hence, we can design both light and heavy clothes. An associated dial controls the cutting width and delivers the best seams, edges.
We can't describe how easy looper threading is. The threader disengages in no time. All the users have to do is slide their thread into the right slot. Threading the color-coded guides is also effortless. The ways are so clearly marked that anyone will understand the direction.
Feel free to change the thread tension when we need it. No matter how fast users are sewing, the guides will maintain their desired pressure. They can also set the stitch length using the adjustment dial.
The machine offers optimum lighting for a better view. It enables us to keep our eyes on the stitches, adjustments, fabric, and needle areas. Moreover, the multifunction presser foot assists in tackling different tasks quickly. We will be able to create overlock stitches, add additional decorations, and so on. Once the work is complete, we can replace it with specialty feet.
Features At A Glance
Easy tension adjustability

Fast looper threading

Multipurpose presser foot

Durable knife system

Great view with the bright lights

Differential feed controls
Janome 2222 Sewing Machine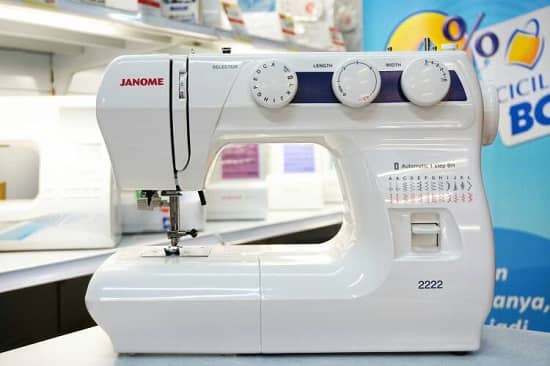 When we are talking about sewing tools, we can't neglect the Janome brand. Thankfully, the authorities launched this fantastic machine at a reasonable rate. It is a mechanical device having uncountable impressive features. Overall, the internal and external designs are heavy-duty yet lightweight. Newbies can easily bring them to the classes.
Threading seems an irritating task for most of us. Buying this machine will help us in this case. It features a needle threader, which pushes the thread through the needle's eye perfectly. Besides, the sewer will get manual control over thread tension. 
Create any project using the 22 stitches and the one-step buttonhole. A quickly-reachable dial is there to choose the stitch measurements. You can raise the length and width to 4mm and 5mm, respectively. As it offers free arm sewing, say goodbye to the struggle while making sleeves or pants.
These devices come with front-loading bobbins. Inserting the bobbin usually involves accessory compartment removal from the device's front part. A few users experience occasional non-precise stitches, though. So, we think that a drop-in bobbin would boost its service.
Brother CS5055 60 Stitch Computer Sewing Machine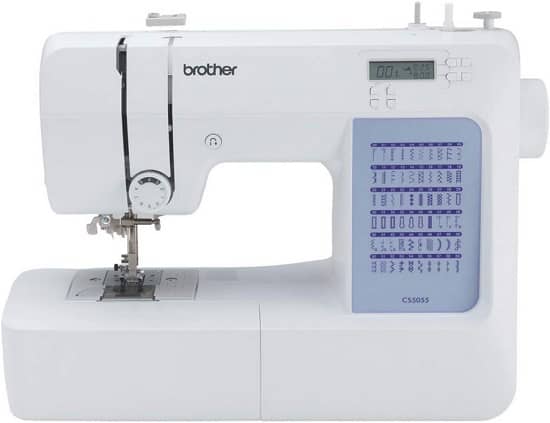 Brother is a popular name for sewing machines. Choosing the right Brother model will never let you down. Let's see what's in the CS5055. We love its exceptional feed system. It maintains flawless sewing on both thin and thick garments. Nobody will face trouble sewing denim and tweed. For preparing sleeves, cuffs, and other cylindrical shapes, it carries a free arm.
It features A total of 60 decorative, quilting, and heirloom designs. Among them, One-step auto-size buttonholes are available in seven styles. Such diversity is enough for all projects. Start from the fundamental ones and try the decorative stitches later. Adjust the length and width if necessary. These choices will appear on a bright LCD monitor.
The best property is undoubtedly the jam-resistant drop-in bobbin. It helps to generate accurate stitches and is easy to use. Plus, A fixed bar confirms even stitches by keeping the needle in its place. It won't shift anywhere during working. Still, don't forget to observe the stitches under the super bright LED light.
A modern needle threading system is part of the machine. It makes threading easy and saves time. The device has another time-saver segment- a fast bobbin winding system. It finishes winding faster than our expectation.
Features At A Glance
Various sewing styles

Bright workspace

A straightforward needle threading system

Computerized pattern selection

Free arm for convenient sleeves sewing

Automatic drop feed
Necchi Q132A Sewing Machine – Q Series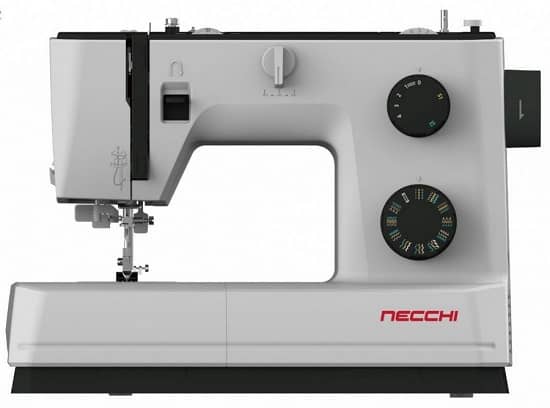 It has a solid structure and design. A powerful motor makes it even stronger. It has a direct impact on reduced sewing time. You will be surprised to know that it can achieve a maximum of 1,000 stitches in 60 seconds. Preparing a high quantity of fashionable clothes will be a matter of a few days.
Next, we want to discuss more satisfying user control options. It presents many levels for adjusting presser foot pressure. Needle positions are also changeable as per our wish. Now come to the stitch options. 32 utility plus decorative forms will be there. Sewers will get full control of the stitch length and width.
If you are handling a big project, use the given extension table. It is large enough to take free-motion sewing actions. Meanwhile, the metal bed plate feeds the garment smoothly without damage.
We are glad to see a horizontal drop-in bobbin in the machine. It never compromises the stitch quality. Threading is also much more comfortable than the front-loading versions.
Just like most other high-quality models, it has an automatic needle threader for quick threading. Other mention-worthy features are a free arm, accessories, drop feed, and bobbin thread cutter.
Singer 1304 Start Sewing Machine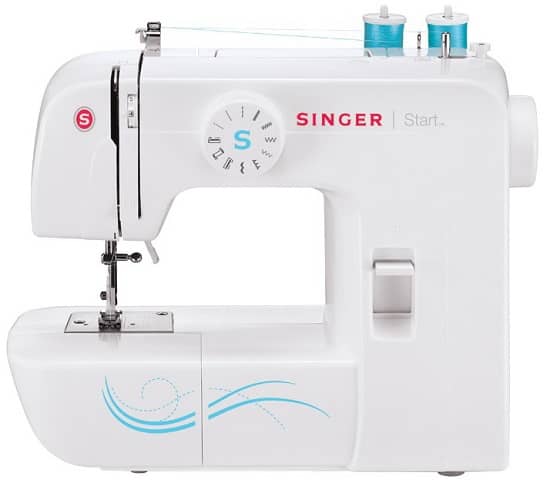 Everyone wants long-lasting sewing tools. It is not possible unless the model has a strong internal skeleton. For this season, the manufacturers utilize a metal frame to set each mechanism in the right alignment. The results are a long lifespan and skip-free sewing.
This sewing machine is suitable for new sewists. It lets them express their creativity well. Note that it does not carry many stitches but only the key ones. We are allowed to pick from straight, zigzag, satin, scallop, blind hem, and four-step buttonhole settings using a stitch dial.
Straight stitches are one of the most desirable qualities of a sewing unit. The machine implements automatic tension control mechanisms to get them. No wonder the stitch quality stays the same for all fabrics. It features a high presser foot lifter that results in smooth sewing; the thickness of fabric and volume does not matter.
Not all companies support twin needle sewing. Fortunately, this Singer unit does. Thanks to the dual vertical spool pins. If you ever have to make cuffs, collars, and hard-to-reach areas, bring the free arm out. You can remove it later.
Features At A Glance
Printed threading diagrams

Easy selection from 6 built-in stitches

Automatic tension control

Sturdy internal metal frame

Double-needle sewing approvement

Convertible free arm
Baby Lock Zest Sewing Machine – From the Genuine Collection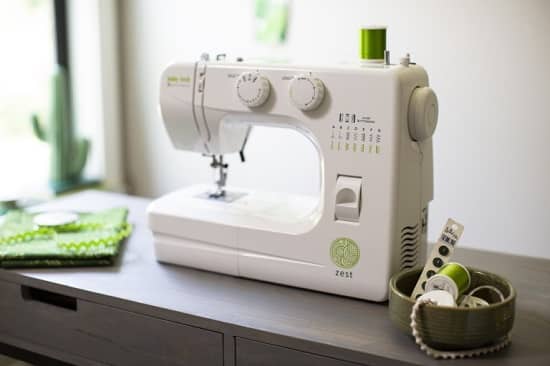 It is one of the most pocket-friendly Baby Lock products, but it does not sacrifice functionality. There are 15 unique stitches. Set your desired pattern before starting. It also gives opportunities to change stitch length from 0 to 4mm. Buyers who are interested in simple crafts can not find a better sewing machine than it.
We really appreciate the portable design. Its lightweight construction seems suitable for traveling. Just grab the tool by the handle, and you are all set to go. The bobbin is front-loading and carries plenty of thread. You will hardly run out of yarn in the middle of projects.
It also includes free arm technology. We have to replace the flatbed with the free arm first. Nothing will make sleeve sewing simpler. The same goes for the buttonhole. All sides will be stitched out in the proper dimension.
Customers will receive a good number of accessories as part of the deal. They will see Four snap-on feet, a buttonhole, zipper, and darning plate inside the box. Adding the darning plate will provide continuous, uninterrupted fabric feeding. Aside from these, it will cover three bobbins, a needle package, and setup tools.
Encore 260A Sewing Machine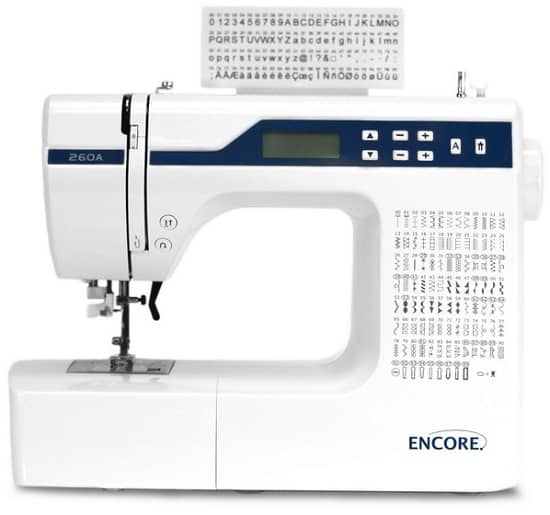 Finding over 150 stitches in a mid-range sewing machine is rare. But our last favorite gives 200 different stitches, including styles, letters, numbers, and punctuation. Again, we can increase the length up to 4.5mm and width up to 7mm. It gives eight buttonhole stitches to lock the edges of a buttonhole.
An LCD screen displays all control options. You will see the settings clearly and choose the wanted ones. If you have any confusion, check the instructional book. It is informative and has everything you need to know.
Automatic needle up and down motions and threaders in our machine are blessings. Guess what? This tool has both of them. That's why finishing a big project does not require much time. Other great features are a reverse sewing button, automatic winding, a drop-in bobbin, and a drop feed system.
It comes with all required essentials such as foot pedals, installation tools (power cord, small screwdriver, big screwdriver, thread spool lid), and necessities (needles, bobbins). Zipper foot, invisible zipper foot, straight stitch foot, button foot, and blind stitch foot will take different tasks. They hold the garment flat while feeding under the needle.
Features At A Glance
Variable stitch length and stitch width

Numerous stitch patterns, letters, numbers

LCD backlight display

8 buttonhole stitches

Automatic needle positions, needle threader, thread winding functions

Drop feed system
Factors to Consider While Buying a Sewing Machine Under $500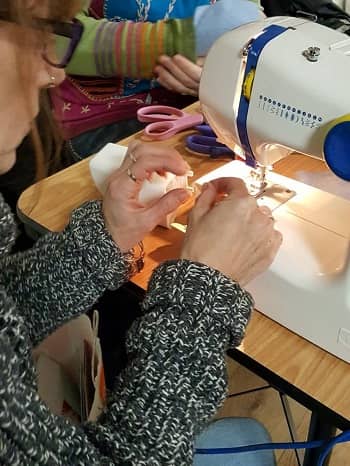 These crucial factors play a vital role in determining a sewing machine's performance:
Purpose
Sewing projects vary from customer to customer. It can be either for personal or professional use.
Some stay happy with basic sewing, whereas the rest wants embroidery and quilting opportunities too. Hence, you should be clear about your motives first.
Yes, all units can sew, but multiple models operate better for specific jobs. Even a lot of high-quality devices can not handle every type of clothing.
Using thick or delicate garments will either damage the machine or the fabric. Only models with powerful motors can work with thick layers. Focus on every single detail of the product's specifications and decide whether it will match your goal or not.
Mechanical or computerized
This debate has been ongoing since the invention of the computerized versions. Machines in the former category become comfortable as you continue the sewing class. They are so simple that you can learn how to try something new in less time.
The elderly of our home may not be fond of technology. Mechanical machines are the best option to improve their sewing skills. Although computerized units are more expensive, you can still find them below $500.
They are getting popular for precise stitching, versatility, etc. Their automated attributes save time, offer greater ease and user control. To be honest, we can't tell which one is better than the other. It is entirely the buyers' decision.
Stitch patterns
It is a must to check the available stitch patterns in a machine. Even though you want a mid-range product, it should not be underperforming. Be sure to have as many stitch options as you wish. The more preset stitches your device has, the better performance it will give.
Luckily, hundreds of affordable machines include 50 to 100 stitch patterns or even more. Such stitching variety can cover all kinds of projects you want to work on. Contrarily, we saw many sewers using only the basic styles, including straight, buttonhole, zigzag, and blind hemstitches.
They hardly use other designs because they love to keep their projects simple. They do not need to care about how many stitches the machines have.
Stitch quality
What will we do with a hundred patterns when the stitches are uneven? Sometimes, our machines produce skipped or unorganized seams for some internal problems. But if they always act like that, you should stay away from them. The next quality we should care about is speed.
High-speed machines will finish our jobs way faster than hand-sewing or their ordinary counterparts. Sewing industries are full of reasonable products with 700 to 1000 SPM (stitches per minute) speed.
Design
The functions of simple sewing machines are easy to learn. They are user-friendly too. Even beginners take less time to understand the working process. An important part of the design is the dimension. You have to determine how much space you have to place a sewing machine.
Of course, large appliances require more room than small ones. Try to maintain at least 3 ft space around it. Remember, smaller models are not necessarily lightweight. They can be heavier than a larger sample.
If you won't be carrying it outside, it is not a big deal. Go for the lightweight designs to take your device in sewing classes or other places. Almost all ergonomic units have a firm handle for easy transportation.
 Accessories
Sewing tools can't operate alone without essentials such as needles, bobbins, foot control, adjustable settings, cases, and many more attachments. They must have an instruction manual describing the product's details, setup, and working methods.
Most brands attach them along with the machine. Then, buyers do not have to waste time finding compatible items. On the other hand, limited buyers do not look after the accessories because they already have them.
They might just want the main product to save cash. However, we never know if our owned items will go well with the new machine. Therefore, prioritize companies that deliver everything you will need in a complete suite. Pay more attention to the number of presser feet, large-size bobbins, etc.
Frequently Asked Questions (FAQ) 
Conclusion
Getting the Best Sewing Machine Under $500 is a troublesome process indeed. If you are one of them, do not worry about your limited budget. The rate does not always control the product's quality. Focus on every single thing you desire.
List out your requirements by following our buying guide. You can include or exclude any feature as per preference. Consider investing in any options mentioned above. Despite costing under 500, their simple design and innovative features will blow your mind. It will be amazing if you get a match that can satisfy your demand. Give it a try, and you won't regret it for sure. 
Related Posts: