Are you thinking of starting a home business? Check our reviews of the top Sewing Machines for Home business on the market today.
An entrepreneur's journey begins at home, especially when it is related to stitching, sewing, and creating art with a piece of cloth.
Almost all the famous fashion designers' passion for their clothing brand, mostly, perhaps, started within the four walls of their house. To be precise, in their room. They started at home and grew into a brand, an entrepreneur.
The first step towards that 'never ventured' path will be putting your money on a proficient sewing machine. Try to hit a cord between the best sewing machine for beginners and an advanced one that works wonders for both the least and most skilled crafter. 
The requirement is hardly two or three from the sewing machine. First, easy to maintain but proficient to work with, and second, affordable. Downright cheap, not in quality but the price, though, with as many nifty features as possible, is the best recourse. 
Our Recommended Top 5 Picks:
(See our quick top 05 picks, or go further down and read our in-depth reviews.)
Top 7 Sewing Machine for Home Business 2022 – (Editors' Top Picks)
Now is the time to unveil our top choices for the best sewing machines for your home business.
1. Brother Sewing Machine, GX37
Let's start with a simple, lightweight sewing machine by Brother. GX37 is a sewing machine with all the much-needed features for you to start stitching projects at home.
Pointing out its small size and low weight, we are grabbing your attention towards how it needs almost zero space to work with. You can keep it on your reading desk or carry it to any other room alone, easily.
It features 37 built-in utility and decorative stitches, one auto-size one-step buttonhole, and six sewing feet. The stitch selection dial and the chart embossed on the machine always keep it simple.
Other than the stitch dial, on top, it has three more dials, one for controlling the upper thread tension and the other two for adjusting the stitch width and needle position.
There is the reverse sewing lever for backward stitching and securing the stitches, the auto needle threader to save your eyes from straining and the LED light in the needle area further helps to ease your eyes.
The easy top drop-in top bobbin saves time of removing the compartment beneath to place the bobbin there. Also, with a top-loading bobbin, you can keep an eye on whether it's out of thread or not. On top of that, the bobbin is jam-resistant.
Stitch the sleeves, seams, cuffs without any glitch by removing the storage compartment and exposing the free arm. It might not be enough for quilting, but you can easily sew baby quilts on this sewing machine.
Features At A Glance
Small, lightweight, easy to carry

37 built-in utility and decorative stitches

An auto-size one-step buttonhole

Six sewing feet and LED-lit work area

Free arm for easy sewing of sleeves and cuffs

Upper thread tension control dial
2. Brother Sewing and Quilting Machine, CS6000i
We, just a few moments earlier, mentioned quilting. If the above one was not for quilting, this one is. Brother CS6000i is the quintessential quilting machine with a detachable quilting table.
This heavily featured sewing machine is the best sewing machine for advanced sewers. From making clothes to free arm quilting, you can do it all with it.
Starting with the very basic, 60 built-in stitches, so you know you can run your creativity horse at full force. Heirloom, utility, decorative, stretch, this one features all with multiple stitch functions.
Along with a good range of stitches, it also features seven different styles of auto-sized buttonholes. Show your creativity in making buttonholes too, that too at a single motion as its one-step.
The wide table has an embossed ruler on it. Measurement is easy, accurate, and impeccable. Remove the table, and you have a standard sewing machine with a free arm. When you are not quilting, you sew apparel with sleeves, cuffs, and collars. The free arm is a must for faultless stitching of those areas.
You have an LCD screen and push buttons for selecting the stitches and adjusting the stitch length and width. Stitch width in it offers the maximum, which is 7 mm.
The machine also features an auto needle threader, jam-resistant top drop-in bobbin, and a LED-lit work area. There is this speed control slider for controlling the sewing speed. Be fast for thicker fabrics, lower for delicate, expensive fabrics, or medium when required.
Features At A Glance
60 built-in stitches with multiple stitch functions

Seven auto-size one-step buttonhole

Ten quick-change sewing and quilting feet

LCD screen with easy access buttons

Free arm and an oversized quilting table

Sewing speed controller
3. SINGER Heavy Duty 4411 with 69 Stitch Applications
Singer 4411 is a heavy-duty sewing machine, therefore durable to a tee. It is a powerful sewing machine that stitches and completes projects quickly due to its high speed. Carry it wherever you want with the convenient carry handle on top.
Even though this machine stitches 1100 stitches per minute yet, it is capable of maintaining its stability. The sturdy metal frame plays a vital role in its robustness and endurance.
You can stitch multiple thick layers with it. Isn't that exciting and sound familiar to all you quilting freaks? And the high speed smoothly sews thick, hard-to-stitch fabrics like denim and canvas.
4411 features only 11 built-in stitches but 69 stitch applications. The built-in stitches include six basic and four decorative stitches and a built-in buttonhole stitch as well. The buttonhole stitch and foot make it easy to make the buttonholes following four easy steps. Though not handy as the auto-size one-step feature, yet is feasible.
Stitch selection dial and stitch length dial are on the front side, and stitch width, needle position, and thread tension dials are all on top of the sewing machine.
It also features an auto needle threader, a reverse sewing lever, four sewing feet, a free arm, and a drop feed lever for smooth, free motion quilting.
Be sure of smooth fabric feed due to its high-quality stainless steel bedplate. By making sure of replacing needles each time you finish a project, you can also be secured by skip-free stitching as the metal frame hardly allows any mistake in sewing due to the perfect alignment of its mechanism.
Features At A Glance
Heavy-duty metal frame

Durable, powerful, and stable

1100 stitches per minute

11 stitches with 69 stitch applications

Perfectly stitches thick layers and fabrics

Ensures skip-free, stitching and smooth fabric feed
4. SINGER 4423 Sewing Machine
4423 is similar to 4411 but with a higher amount of built-in stitches. Instead of 11, 4423 has 23 built-in stitches, which includes six basic, 12-decorative, four stretch, and one buttonhole stitch.
Unlike the previous one, this one makes the same size buttonholes incessantly in one easy step, thanks to its auto one-step buttonhole feature.
It operates with a powerful motor and stitches at high speed. Complete your projects quicker than any regular sewing machine with its 1100 SPM speed.
You have the auto-needle threader, handle on top, free arm, compartment storage, top drop-in bobbin, four sewing feet, and option to lift the presser feet higher.
You can continuously sew with it for hours without any mistake. The heavy-duty metal frame ensures stability and skip-free stitching during high-speed sewing, and the stainless steel bedplate, a smooth fabric flow. It is a true workhorse.
Sew multiple layers of quilts altogether, stitch long seams as well as thick heavy-duty fabrics like denim and canvas and make designs on expensive silky, thin fabrics with equal ease with this one single sewing machine.
Maneuver this sewing machine with a total of five dials and a reverse sewing lever. There is a stitch selection dial, a stitch length dial, a stitch width dial, a tension dial, and a needle position dial. The machine offers to adjust the needle to three different positions, and the stitch length and width up to 6mm.
Features At A Glance
Robust metal frame and stainless steel bedplate

23 stitches including stretch, decorative and basic

High-speed stitching, 1100 SPM

Four sewing feet and a one-step buttonhole

Free arm and a carry handle

Allows quilting and sews heavy thick denim and canvas
5. SINGER Quantum Stylist 9960
We talked about our preference towards computerized sewing machines when it comes to home business, and here we are with one which can be called a whole package.
Quantum Stylist 9960 by Singer is a sewing machine you will need at some point in your sewing journey. If not early in your career, but at least later on. Customize your projects with it, following every detail provided by your clients and blowing their minds with your precision and creativity.
From free arm, speed control slider, individual access buttons, a top drop-in bobbin and winding clutch for auto-stop to a detachable table with an embossed ruler, LCD screen, twin needle settings, auto needle threader, stitch elongating, and mirror imaging, 9960 has every possible feature and without any doubt is the best sewing machine for making clothes, quilting, home decor, crafting, monogramming, and beyond.
It stitches at a speed of 850 SPM. So, sew smooth, at high speed and finish and deliver your projects on time. Seamless stitching comes due to its heavy-duty metal frame.
Its inside is rock solid, so even if you are stitching at a very high speed with the most intricate stitch and pattern, what you are crafting will come out flawless. That is the beauty of a sewing machine that gives high importance to stability.
The 600 built-in stitches show it's not just a basic one but can try the most advanced and unique designs without putting in any extra effort. It is automated, so you rarely need to toil.
Even the most used stitches can be selected directly through the eight easy buttons right beside the LCD screen. Then you have an auto-one step buttonhole and 13 buttonhole styles.
Features At A Glance
Sturdy metal frame

600 built-in stitches

13 styles of one-step buttonholes

High speed and advanced features

Oversized table for quilting can be detached

Direct buttons for selecting eight common stitches
6. SINGER 7258 100-Stitch Computerized 
Computerized sewing machines do not have to be overwhelming with features; the brand Singer knows it very well and makes sewing machines for every possible user.
Therefore, when they offer you a computerized sewing machine with only the much-needed features, very distinct from the whole package one we reviewed just earlier, you know what the purpose is.
SINGER 7258 is a small, lightweight, portable computerized sewing machine. Even though it is portable, its interior is a heavy metal frame. So, it is robust and guarantees years of lasting.
Incessant sewing needs a stable, sturdy sewing machine, more than anything else. And this one can put a tick on that box.
The word auto is quite glaring here. Be it the auto needle threader, auto bobbin winding clutch, auto-reverse, auto-selected stitch length and width, auto-sized buttonholes, auto tie-off function for straight stitch. That is what a computerized sewing machine is all about.
The 100 built-in stitches include nine essential, eight stretches, and 76 decorative stitches. From home decor, crafting, fashion sewing to easy appliquéing, and heirloom sewing, you can try anything to bring your creativity alive on the fabric.
The six style buttonholes include basic bartack style, round end, and keyhole, and there is one endless buttonhole as well.
All these different stitches, buttonholes, and features help you to give a professional touch to your creation. We are talking about home business; mediocrity is never an option here.
Features At A Glance
Small but portable automated sewing machine

100 built-in stitches with 76 decorative stitches

Heavy metal frame for durability and stability

Six styles of buttonholes and an endless buttonhole

10 quick-change snap-on sewing feet

13 needle position for even feeding
7. Brother HC1850 Sewing and Quilting Machine
If you are ardently waiting to know our top choice of a computerized sewing machine from Brothers, the wait is over. The feature-packed Brother HC1850 computerized sewing machine is top of the line in terms of quality. It is for sewing, basic monogramming, and quilting.
The sewing machine has 130 built-in stitches and eight styles of auto-sized one-step buttonholes. Other than that, you have 55 alphanumeric sewing stitches that are more than enough for basic monogramming.
For quilting, it comes with a detachable wide table and a spring action quilting foot. Free-motion quilting was never this easy.
Not just quilting the table is handy for larger projects like jackets and canvas too. The embossed ruler on the table cuts down the struggle of using an additional measurement tool.
As it is a versatile sewing machine, it can sew every kind of fabric from thick to the frailest. And the three different sewing speeds play a big part in not damaging the fabric and sewing it accordingly.
Thicker fabrics might require the highest speed possible, and one must go slow on comparatively delicate fabrics. All the speed control is in your hand as the machine has a speed control slider.
The LCD screen, quick stitch selection buttons, built-in flip chart referencing all the stitches, eight presser feet, LED-lit work area, top-loading drop-in bobbin, auto needle threader, free arm, are all the essential features it possesses for easy, hassle-free use.
Features At A Glance
130 built-in stitches and eight styles of buttonholes

55 alphanumeric fonts for basic monogramming

Speed control

Detachable oversized quilting table

Handy flip-chart with easy buttons for selecting stitches

Exceptional feed system
Frequently Asked Questions  
As you are new to this home business, a lot of questions will be in your mind. We are going to answer some of those and clear it once and for all, you can start with any sewing machine you want. Our top choices are mentioned above, better if you try any one of them. Otherwise, any good-quality sewing machine will do.
What do We Need to Consider When Buying Sewing Machine for Home Business?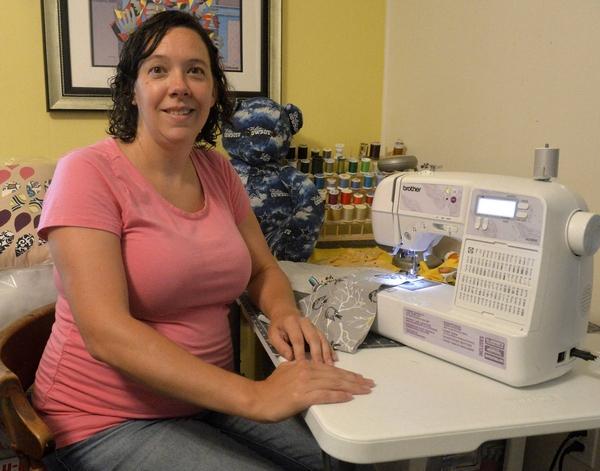 Before we dive into the intricate details and info about a sewing machine and what you need the most in it, let's discourse a bit about the user. The keyword here is the home business. You start at home, you work at home, so what type of user are you?
You can either be a beginner, want to learn sewing, or be a skilled sewist who now decides to make a career out of your skill. In the latter part of our writing, we are going to talk about some sewing machines in detail.
Some will be high in features, heavy-duty, and some will be simple yet efficient. It is for you to decide which one you need, depending on your knowledge and skill level.
User Type
A beginner will not understand the complicated features of computerized sewing machines. It will make the learning process difficult and eventually waste too much time. So, for them, a simple sewing machine with basic features is a must.
Later on, after learning and practicing, one can definitely invest in a pricey computerized machine. However, when it is related to home business, we expect that a sewist has some type of experience in sewing at least. So, considering that, we have structured our buying guide.
Simultaneously, we have discussed the best option for people who are new and also those who cannot spend a lot on a sewing machine.
Heavy Duty
When it is a business, that automatically implies orders of multiple projects, perfection, fast production, and delivery in time. The sewing machine you are using will be continuously used for hours every day. Only a heavy-duty sewing machine can tackle the workload if that is the case.
A sturdy metal interior will ensure durability, stability, and accurate stitching. You might like the lightweight sewing machine, which is also a pivotal point to consider while buying a sewing machine.
However, no matter how light it is, it has to have a rich feel to it. A bit of weight will assure the much-needed stability and help to sew with precision no matter how intricate the design you attempt is.
Basic Features
Decent amount of built-in stitches, auto needle threader, one-step or at least 4-step buttonholes, top drop-in bobbin, easy bobbin winding and stitch selection, quick snap-on sewing feet, reverse stitching lever, free arm, these are basics. All these, when available in a sewing machine, make your work easy and save time.
Computerized Sewing Machine
We prefer advanced features along with the basic ones. Again, it's business, so your clients' demands will vary. To fulfill your clients' requirements, you will have to be prepared with the most advanced sewing machine.
A machine that can do everything fast, and do something absolutely out of the world, keeping what your client asked and what you thought to do intact. For home businesses and skilled crafters, a computerized sewing machine should always be a top priority.
But we know automated sewing machines are pricey, and at the start, you might not afford such a sewing machine, what to do if that is the case. We are going to discuss that at our very next point.
More The Merrier
When you cannot afford a high-priced computerized machine, try one with as many basic features as possible. You can start with the simplest sewing machine yet show how creative you are with a bit of thoughtfulness.
You can try exquisite embroidery, patterns, and designs, even with the most basic of decorative stitches. It will consume time, not be as quick as a computerized sewing machine but not impossible.
So, even with a sewing machine with decent features, you can very well manage to grow your business. Be proud when you end up buying multiple computerized sewing machines to expand your business more even after a humble start.
Stitching Layers
Many times, even the best sewing machine keeps failing to stitch multiple layers and thick fabrics like denim and canvas. Beware of those machines. Quite evidently, you will have to sew varied materials, and you are not going to invest in multiple sewing machines, one for thick fabrics, one for quilting, and the other for regular stitching.
Make sure your sewing machine doesn't stop in between while stitching a thick, harder fabric. The stitching must be as smooth as it is while sewing a cotton dress.
How Do I Start My Own Sewing Business from Home?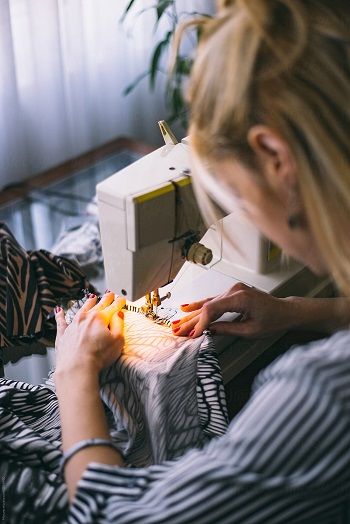 When you dream, always dream big. A business is a business, never matters if you work from home or a big office room. Your talent will speak even from the corner of your room.
But the condition is you will have to work hard and continue working come what may. To start your own sewing business, you need to do a few things. What are they, check below.
Learn And Practice
A home business is not something that you can do through other people without knowing anything about the skill your business depends on. So, when you are thinking of starting a business, we are assuming that you have a good amount of sewing experience.
If not, it is not the time to start a business. First, learn the skill. Try till you gather some experience and are confident about your sewing skill. Knowledge, experience, and learning a few styles are never enough.
Because in such a creative field like sewing, the sky is always the limit for learning new things and skills. So, make sure to improve your craft at every given opportunity. Learn new things and practice whenever you get time.
Make A Proper Plan
Now, we assume that you are pretty much ready to start a business. You need a proper plan. How much you are happy to invest, whether you can do it all alone, if not, are you prepared to hire people, how much you are aiming to earn a month, how to get the clients, and the list continues.
In our opinion, hire people only when you have a good amount of finance in hand. If you are solvent enough, hiring could be done right at the start of your business. If you need time and are saving money by earning from sewing, then start slow.
Avoid Overload
Do not overwhelm yourself by taking too much work. Take projects that you can deliver on time. But that's a different discussion because you are not going to get too many projects in the initial days. However, our point is clear, if you are working alone, go slow in taking orders.
Time Management
Divide your work schedule. You should never put all your time into sewing projects. You will have to manage your clients, promote your work, learn new skills, work on creating unique, distinct designs, and rest, too.
Manage your time by giving yourself a time limit. Give yourself four-six hours to do all the stitching-related work, keep two hours for learning and practicing new skills, and twice a week manage some time to work on promoting your work.
Overloading yourself with work by totally stopping learning or promoting might bring high earnings in the short term, but in business, always think of long-term benefits.
Select The Workspace
Have a proper workspace, even if it's in your bedroom. Keep all your fabrics, threads, tools, and the sewing machine well-organized. A bright space with all the necessary tools ensures a comfy working zone.
Buy Tools
You will need the best professional sewing machine if you want to lessen your initial struggle. Avoid manual ones. There are affordable mechanical ones for you to start within a tight budget.
Later, you can upgrade by replacing the mechanical one with our very preferable computerized sewing machine. You can have an agreement with the thread and fabric supplier. Networking with such people helps you grow.
Start With The Close Ones
You are not going to get clients at once. So, start with your kith and kin. Let your close ones know you are interested in sewing and earning through it. Ask them to inform their family and friends about your work.
And you are going to be loaded with projects for sure. Because, frankly, everyone needs a personal sewist who understands their requirements and works accordingly, that too efficiently.
Promote Your Work Outside
You can do a little bit of promotion of your work through flyers. Distribute them among people. Target those places where you can reach as many people as possible. Or you can build a website too. Just like the sewing machine, even the money you spend to develop that website will be a well-thought investment.
Conclusion
Starting your own brand, establishing a clear-cut idea of home business needs utmost clarity. Every investment here matters. Good if you could invest in the best sewing machine for crafting, stitching, quilting, making embroidery designs, and beyond.
Your business has better chances to grow sooner. However, when we say you don't need too many options but only the must-have features in your sewing machine to start your home business, you can rely on us, blindly.
We have suggested the best tool, time for you to fulfill your dream and shine. Keep your passion intact, run your creativity wheel at high speed, and see your home sewing business grow.