Are you searching for a perfect machine for your home sewing projects? Check out our reviews and guide on the excellent domestic sewing machine.
Buying a sewing machine for domestic use might sound so simple, but that is not always the case. Just like with any other product these days, you need to do a thorough analysis and perform some research before you can settle on any specific model.
It is an important decision to buy one, and when you find the perfect one for yourself, it will impact your sewing now and in the future in a lot of ways. Before you go shopping for the best domestic sewing machine, you need to know what would be best for you regarding the same. 
That would depend on, among other things, your budget and skill level. You are about to learn more about some of the best sewing machines on the market today. From here, you can find what best suits your needs. Or at least you will have learned how to choose right. 
Our Recommended Top 5 Picks:
(See our quick top 05 picks, or go further down and read our in-depth reviews.)
Top 10 Domestic Sewing Machine 2022 – (Editors' Top Picks)
The right sewing machine for domestic applications should be easy to use. We have given you top machines that will make a great investment for domestic sewing. Read on to find out which one is best for you.
1. Brother XM2701 Lightweight Sewing Machine
You need a contemporary sewing machine to use at home? Well, this one from the reputable Brother might be what you are looking for. It is pretty much up for the task. If you need a sewing machine that can perform a wide range of everyday sewing projects, this is it.
Whether you are a beginner or experienced at this, it will fit you so well. It includes 27 built-in stitches that include zigzag, decorative, stretch stitches, blind hem, and an auto-size buttonhole.
Another impressive thing about this machine is that it comes with a variety of accessories, which include six sewing feet, twin needle, 3-piece needle set, instructional DVD, manual, 4 bobbins, and many more.
It also includes an automatic needle threader, which helps in pushing the thread through the needle more efficiently and effectively.
It boasts a jam-resistant drop-in top bobbin that is very convenient. This machine will help you achieve high-quality sewing at home for a very long time to come since it is also built to last.
Features at a glance
Versatile free arm

Automatic needle threader

Jam resistant drop-in top bobbin

27 built-in stitches

Comes with lots of very important accessories
2. Brother CS6000i
Brother CS6000i's strength mainly lies in its advanced features that have greatly revolutionized the way we execute sewing projects at home. It is both a sewing and quilting machine. The brother CS6000i has a stitch selector switch that allows you to see and choose stitches with the utmost ease.
It has a good reputation as a user-friendly machine that people of all sewing skill levels can find welcoming.
It comes with a wide table that offers more than enough space for larger projects such as quilts. In it, an automatic needle threader is included.
This part functions by pushing thread through the needle so perfectly. Also, you can customize your sewing speed and experience with its adjustable sewing speed feature. The stitch speed system gives you so much, easy control.
Besides, it boasts a speed of 850 stitches per minute, which is so impressive. Doing intricate sewing projects has been made simpler for you through the inclusion of the built-in free arm. The free arm helps in sewing pant legs, sleeves, and other cylindrical parts.
Features at a glance
For both sewing and quilting

Provides easy-to-use sewing

A stitch selector allows you to see and select your stitches easily

Automatic needle threader pushes thread through the needle

The wide table provides extra space

Built-in free arm

Adjustable sewing speed
3. SINGER Heavy Duty 4423 Sewing Machine
This one will be a great choice if you are looking for a machine that is simple and easy to use. One of the qualities that make this sewing machine superior is the 23 built-in stitches that include basic, decorative, stretch, and buttonhole stitches.
All these provide you with the ability to sew a vast range of projects, some of which are home decor, fashion, crafts, quilts, and many more. You will also be impressed by the quality of its work. It does a clean job in all the above-mentioned projects.
Among its many other superior characteristics, get ready to experience high-speed sewing with this machine. This machine can sew at a maximum speed of 1100 stitches per minute. That way, you can sew your projects quicker.
Its motor is 60 percent stronger, which is what gives it the greater piercing power for thicker seams. One of the best heavy-duty sewing machines on the market by far. It had a heavy-duty metal interior frame and a stainless steel bed frame.
Features at a glance
Heavy-duty metal frame

The maximum sewing speed of 110 stitches per minute

Automatic needle threading

23 built-in stitches

Comes with a variety of sewing machine accessories

Portable design
4. SINGER Start 1304 Sewing Machine
This is one of the best sewing machines for both amateurs and experienced users. It is operated manually and easy to commence because it has three presser feet, that is, zipper foot, buttonhole foot, and multipurpose foot. Easy peddling is done to stitch fabric.
Choosing a stitch is simple, as soon as you dial the stitch you prefer, you are good to go. The straight, scallop, satin, zigzag, buttonhole, and invisible hemstitches are inbuilt in the sewing machine.
Inserting the thread in the needle is easy because there is a guide on the machine showing you how to thread the needle. LED lights supply the area with light when the power goes off so that sewing can go on in the dark. There is a fixed length of a fabric that can be stitched.
Therefore, you will experience no trouble adjusting the fabric within a short time. The frame is made of robust metal material, which ensures the longevity of the machine's life.
Added accessories include seam ripper, bobbins, buttonhole foot, needles, zipper foot, and user's manual to ease the tailoring experience.
Features at a glance
Heavy-duty metal frame

Built-in 4-step buttonhole

Dual spool pins

Easy stitch selection

Quick and easy threading

6 built-in stitches

3 presser feet included
5. SINGER Quantum Stylist 9960
The Singer Quantum Stylist 9960 is a sewing machine with a variety of new features. It is a computerized modern technology machine that offers a variety of stitching options selected by just touching. You decide the type of design you want and tap on the LCD screen.
It has 2 LED lights that ensure sewing continues even in a dimly lit environment. It boasts a high speed of 850 stitches in a minute. With this, you can accomplish loads of work within a short time. An auto threader makes the inserting thread in the needle very simple.
The machine has many designs of stitches; up to 600 types that enables you to decorate your fabric as you desire. It has 13 different types of buttonholes designs that are inbuilt, and which fit every size of buttons.
An extension of the table provides extra space to place your fabric and hands during sewing. For the bobbin where you put threads, it is placed inside a see-through cover that enables you to know when the thread is running out. A variety of added accessories like cording foot, satin stitch foot, a pack of needles, bobbin, seam ripper, and a guide make designing easy.
Features at a glance
Computerized

Large selection of stitches

Automatic threading

13 built-in 1-step buttonhole

850 stitches-per-minute speed

Comes with numerous sewing accessories

5 Alphanumeric fonts

600 built-in stitches
6. Singer Heavy Duty 4432 Sewing Machine
This sewing machine is made of a concrete metal frame, and from the name 'Heavy Duty,' it does not break easily, so it is going to last for years. The bed plate is also manufactured with stainless steel that does not rust easily, which means your fabric will not be ruined during stitching.
There is a padded cover for the head of the machine. It ensures the sewing machine is kept from damages in case it falls off and also keeps it dust-free. 
Inbuilt stitches are up to 32 and allow the stitching of fabric with several stitches. It is suitable for every fabric material.
You do not have to waste time inserting the thread into the needle's eye because it has an automated threading system.
Features at a glance
Heavy-duty metal frame

A variety of accessories are included

Built-in reverse lever

A soft-sided dust cover

The stainless steel bedplate
7. Brother Project Runway CS5055PRW  
This is an electric sewing machine that works electrically so that you have less work to do. There are 50 different types of stitches that give you a variety of stitching experiences. You can stitch the hem or decorate the fabric whichever design you will prefer.
Some of the stitches include blind hem stitch, straight stitch, buttonhole stitches, and even zigzag stitches, among others. It makes sewing cuffs and sleeves possible because you can press on the sleeves to ensure that they do not come out shapeless.
The machine also has finished for hems, so that clean stitching is achieved. This machine has a very high stitching speed of 850 stitches per minute. This great speed makes sure you achieve a lot of work in quite a remarkable short while.
Buttonholes have good shapes and designs that appeal to the customers. However, you should know that they are suitable for only specific buttons. There are special needles that can stitch zippers very well without faults. The space available is large enough to accommodate your hands alongside the fabrics to ensure maximum comfort.
Features at a glance
Consistent stitch quality

Professional 5 one-step buttonhole

50 stitches for better customization

Free arm for sewing sleeves and cuffs

The maximum sewing speed of 850 stitches per minute
8. Brother ST150HDH Machine
This is a machine that uses lots of modern technology, a quality that makes it superior. For instance, it works automatically. It boasts 50 stitches that offer a variety of decorations. You can achieve different types of appealing designs with it.
This machine has five buttonholes with already set automatic sizes. Inserting the thread into the needle is not done manually since the machine does it automatically. The bobbin is inserted into the machine on the top.
It is put in a colorless cover so that you can see how the thread is running. The machine comes with 2 pack needles for sewing such that you have a surplus in case a needle loses efficiency. There is an LCD screen that displays different types of stitches where you can tap to select a stitch. You can always change the stitch whenever you feel like it. 
Features at a glance
50 unique built-in stitches

9 sewing feet

2 sets of sewing needles

Advanced needle threader

Quality drop-in top bobbin

Convenient LCD screen
9. Janome 2212 Sewing Machine
This manufacturer has numerous great products to its name, and this is just one of them. The fact that it comes from the Janome should give you a hint of what to expect. It is an entry-level bike with some amazing qualities for domestic sewing projects. 
It features 12 built-in stitches, which is less than what some models offer, but the stitches are of very high quality. Besides, you require a sewing machine to practice, and to learn sewing skills at home; the Janome 2212 will not disappoint. 
Other features that you get to enjoy in this include a dial pattern selection and a four-step buttonhole that is simple and easy to use. Also, in this machine, you get zig-zag stitch length adjustment and stitch width adjustment. 
All these combine to deliver a well-orchestrated performance, which is what gives the perfect project execution. Other characteristics that make it a real performer include the free arm and drop feed. It is versatile and can, therefore, be used for all types of sewing.
Features at a glance
Size 14 needles

A set of 10 Janome Bobbins

12 built-in stitches

Free arm and drop feed

Entry-level model

Lightweight design

Easy to use
10. SINGER Tradition 2259 Portable Sewing Machine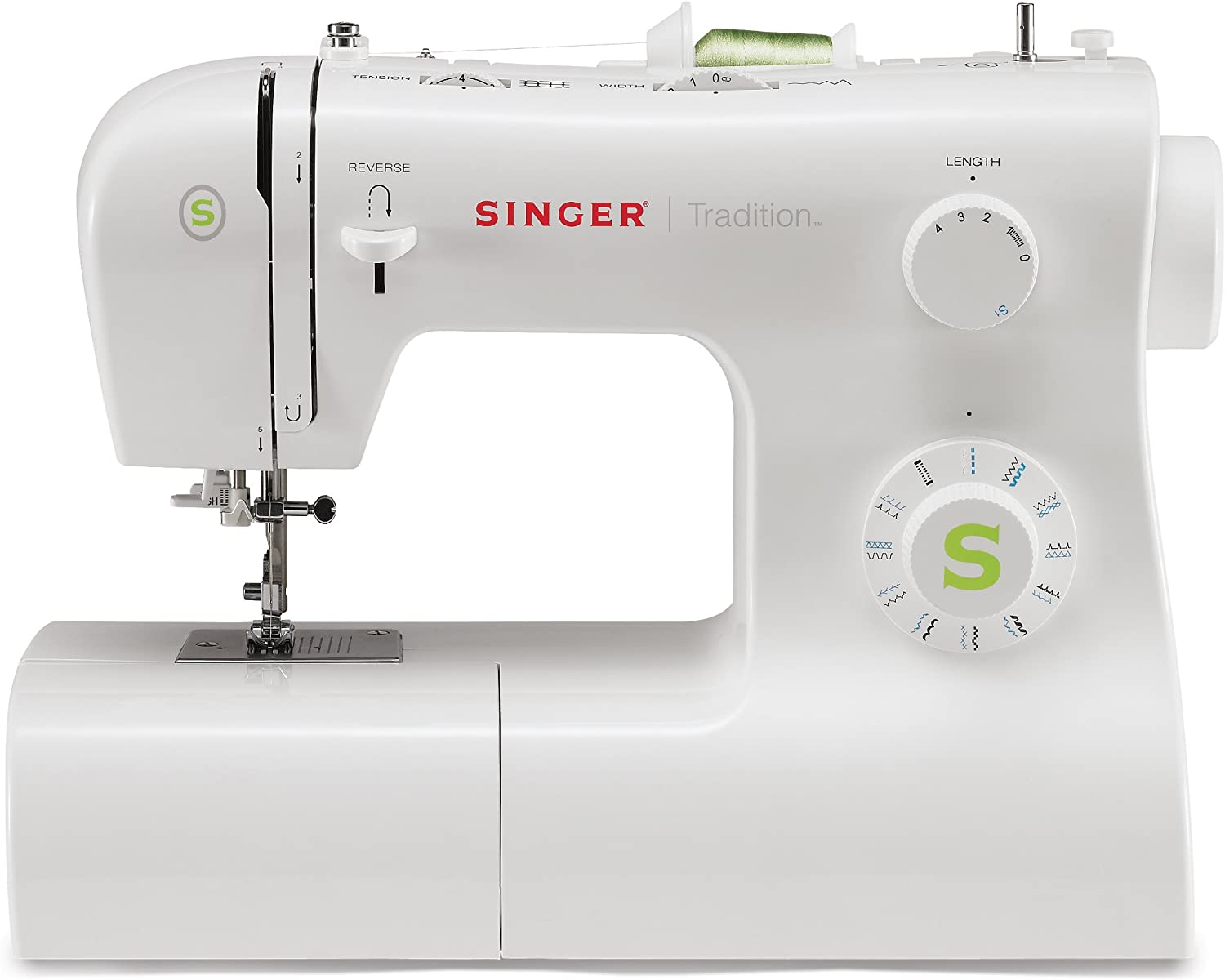 This is a traditional manually-run sewing machine. It is very good for beginners since it is easy to use and understand. 19 built-in stitches give you options of stitching. For instance, for the hems, you can use the hemstitch.
The machine is lightweight and can easily be disassembled then later assembled. These two characteristics make it a portable option. With a strong metallic frame, the machine is one of the very long-lasting types around. Several accessories come with this machine.
Bobbins are used to put in the thread that will be used to stitch fabrics. Seam rippers are used to remove seams from the fabrics. It comes with a variety of needles to stitch the fabric. The peddle at the foot enables you to sew even the thick materials without getting tired.
Arms can be left to be free so that you can rest them on the space allocated for fabric. You can, therefore, stretch fabrics when they fold, hold on to collars so that the stitches come out perfectly. You can also hold and adjust the hems so that stitches come out clean.
Features at a glance
19 built-in stitches

On-board storage

High-pressure foot lifter

Tough and strong metal frame

Quick and easy threading

Lots of amazing accessories

4-step buttonhole
What do We Need to Consider When Buying Domestic Sewing Machine?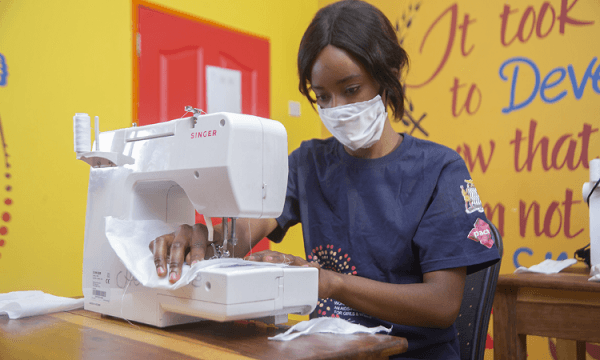 Do you need guidance on how to buy the best sewing machine? Well, you need to consider certain factors when trying to make a choice. You can always find the best if you know what to look for. In this case, the factors mentioned below are among the most common.
The type of machine
There are different types of sewing machines that you must consider before getting one for yourself. The computerized sewing machine is modernized with the use of high technology. Almost everything is programmed to be done automatically with ease. 
This is important for skilled personnel with a lot of tasks to accomplish. A mechanical sewing machine operates manually with the skills of a user while the electronic machine performs the function of the combined mechanical and computerized sewing machines. It works electrically, so the tailor has less to do.
Space for fabrics
For the space for placing your materials while sewing them, you will need just enough to be able to sew comfortably. Ensure that when your hands are free to adjust the fabric and stretch it as you sew, they should have space where they can rest without straining. 
This space is important because you can stitch a perfect stitch on your fabric. Long materials will also not flow down and get dirty unnecessarily.
The threading
Is inserting a piece of thread in the needle proving to be difficult for you? Do not worry. Just look for a sewing machine whose needle threader is automated. This way, you do not have to struggle to put the thread in a needle's hole that can be time-consuming. 
This is an added advantage to the eyes. And since this has to be done so many times when sewing, an automatic threader saves the day big time.
Stitching
How you want your materials stitched should be a concern when choosing a sewing machine. Some machines have up to a hundred stitches, which will give you a variety of stitching experiences; however, they may be complex for beginner tailors. 
Amateurs should start with a simple sewing machine with a few simple stitches like a straight stitch, stitches for buttonholes, zigzag, and invisible hemstitches, which are some of the basics for beginners. 
Cost
Choose an affordable sewing machine without sacrificing its efficiency and quality. Quality comes with a price as assumed, but it's not always. The cost also means how much are you going to spend on maintaining the machine? Search and acquire a durable machine that is less likely to break down or malfunction easily. Well-known brands will guarantee good cost-effective quality.
Additional Features
Some features may be lacking in regular sewing machines. Just check to make sure your machine has a bobbin cover, which is transparently positioned at the top. This enables you to know when the thread is almost exhausted. 
Automatic equipment that creates holes for buttons accurately is good too. Sewing machines with variable speeds is a better deal for you. It helps achieve accuracy when stitching a long and large fabric material because a particular speed can be maintained for a while. Automatic thread cutters save a tailor the trouble of pausing to cut the thread using a seam ripper.
Comfort
To achieve maximum comfort with the machine, look for a light one that is easy to carry around. It should be able to be disassembled such that transporting it in a limited space is easier. 
The sewing machine should also produce very little unnoticeable noise that doesn't irritate you and the neighbors. For the pedal, it should have friction to support grip at the foot, which makes pedaling easier and light for the feet and chest hence comfortable to use.
Final Verdict
With so many models offering almost the same qualities, buyers are more likely to find themselves in a dilemma every time they try to choose the best domestic sewing machine from the variety. This guide might ease things for you a little bit, or even totally depending on the uniqueness of your situation.

Wherever you choose to buy from, make sure it is close and accessible to you enough just in case you want to enjoy a closer relationship with your dealer.

It often helps. You may need them for after-sales services. Also, you may be entitled to many other favors in the future. Once you find what you are looking for, make sure you take good care of it.