Are you planning to buy a non computerized sewing machine? This guide will help you find an excellent non computerized sewing machine for your needs.
Even in the most glorious decade of technology, many sewers still prefer mechanical sewing machines over other advanced units. There are plenty of reasons associated with their choice. The operations of computerized units are pretty complex.
So, most of them are not suitable for beginners. On the other hand, mechanical ones are a lot easier to understand, learn, and handle. Though they may not be very advanced, they are straightforward. That's why newcomers keep searching for the best non computerized sewing machine instead of digital models.
However, some professional sewers also love such a simple instrument as well. The reason is they can try different self-repair techniques on the units. Unlike the computerized model, they are easy to fix, more durable, and not so expensive. 
Our Recommended Top 5 Picks:
(See our quick top 05 picks, or go further down and read our in-depth reviews.)
Top 10 Non Computerized Sewing Machine of 2022 – (Editors' Top Picks)
Although you will find a variety of options in the market, all of them may not be able to fulfill your needs. Therefore, after lots of researches and experiences, we selected some ideal picks for you. Let's check them out.
1. Brother XM2701 Sewing Machine
The Brother XM2701 is a full-featured sewing machine. With many user-friendly benefits and ergonomic design, it is suitable for both experts and beginners. It offers 27 built-in stitches to expand your creative plans.
You will find simple, straight, decorative, zigzag, blind hem, and stretch options. Apart from the design, you may like to create buttonholes. The built-in one-step buttonholer will enable you to do it perfectly.
It has an automatic threader to save sewing time. The threader keeps pushing thread automatically to the needle's eye. Don't worry about stitch quality while doing so. Due to the jam-proof top drop-in bobbin, the bobbin will not shift from its place. In this way, it provides fast yet reliable and even stitches decoration.
The mainframe features free arm technology. So, it will be suitable for everyday work no matter how skilled you are.
The complete package contains six different sewing feet such as button sewing foot, zipper, zigzag, buttonhole foot, etc. The customers will also get double needles, four bobbins, and a three-piece needle kit.
The complete user guide, technologies, cautions, etc are written in the manual. If you fail to follow it properly, see the tutorial on the instructional DVD. 
Features At A Glance
27 unique stitches, built-in one-step buttonholer

Automatic needle threader ensures quick sticking speed

LED-lit workspace

Jam-proof and reliable drop-in top bobbin

Different sewing feet options

Versatile free arm supports regular sewing projects
2. Singer Heavy Duty 4432 Sewing Machine
The Singer 4432 sewing devices come with advanced technology and incredible stability. Its internal structure consists of a robust metal frame. It is responsible for carrying all the improved methods in perfect alignment. So you will be experiencing long-term durability as well as skip-free sewing. Besides, its exceptional stainless steel bedplate guarantees smooth fabric inserting for making even stitches.
With a powerful motor, the machine can boost speed up to 1,100 stitches per minute. Such speed is sufficient for finishing projects within a limited period.
After threading the machine, you don't have to worry about threading the needle again and again. Because the needle threader will automatically thread the needle's eye, reducing your eye strain.
The sewers will be able to create impressive patterns with its 32 built-in stitches. The stitch collection includes six simple stitches, seven stretch stitches, and 18 decorative stitches as well. It also contains a pre-installed reverse lever to enable us to sew in reverse stitches. By combing the styles with the auto buttonhole, you can make clothes, home decorations, and crafts.
The buyers will receive lots of accessories with the main device. The four pressure feet, lint brush, quilting manual, needles, bobbins, etc will improve your sewing skill. You will find a screwdriver and auxiliary spool pin in the accessory tray too.
Features At A Glance
Heavy-duty metal frame ensures durability and stability

Four types of pressure feet

1,100 stitches per minute speed

Equipped with a variety of accessories.

32 unique stitches, one buttonhole,

Integrated reverse lever for reverse stitches
3. SINGER Heavy Duty 4423 Sewing Machine
Just like the other Singer models, Singer 4423 sewing machine is a real workhorse. Its heavy-duty metal frame is strong enough to last a couple of years. The interior combines with stainless steel bedframe to give you're the best experience ever. It will be evenly sewed through all fabrics, including heavyweight ones.
Because of the 60% stronger motor, the machine has extra-high sewing speed. Even if you are using thick seams, it can perform a maximum of 1100 stitches per minute. It offers a total of 23 excellent stitches, including simple, decorative, stretch, and buttonhole styles. The users will have many options to use in various projects, such as quilting, crafting, home decoration, and so on.
After following the printed threading way, the equipment will be automatically threading the eye of the needle. So it won't cause any eye strain and saves time too. All thanks to the built-in needle threader. Its drop-in bobbin doesn't require too much effort to insert and remove. The clear view cover will help you to keep an eye on the bobbin thread supply while working.
The product includes a variety of accessories such as pressure feet, a cleaning brush, a quilting manual, high-quality needles, and other tools in the accessory tray.
Features At A Glance
23 different stitches are ideal for lots of projects

The pressure adjustment system of the presser foot

High sewing speed

Drop-in bobbin, built-in threader

Multiple accessories are included
4. SINGER Start 1304
The SINGER Start 1304 machine features six different basic stitches, such as straight, zigzag, satin, scallop, blind hem, and buttonhole. You can pick whatever you want from them by a dial. Apart from creating innovative design, the preinstalled buttonhole helps in making buttonholes automatically in four easy phases.
The machine operates at 0.6 Amps and 110 volts. Its internal portion consists of a sturdy metal frame. The interior carries all essential techniques in proper alignment to ensure skip-free sewing. 
It prevents vibration, so the machine remains highly stable during working. There is no question about its durability as well. It is suitable for extended use.
The length and width of the stitches will already be set in the device. Besides, the stainless steel bedplate delivers the facility of smooth fabric insertion for even stitching. As the threading directions are already given right on this model, it will require less time to set it up. It also supports double-needle sewing. These characteristics make it a nice option for a newbie or a hobbyist.  
The customers will receive three unique pressure feet along with it. As a result, they can handle easy to delicate tasks at the required speeds. The all-purpose foot controls most of you're sewing tasks. The buttonhole foot and the zipper foot are for adding buttonholes and zippers, respectively.
Features At A Glance
Quick threading by the printed diagrams

Double spool pins are perfect for twin needle sewing

Different stitch selection options

Heavy-duty, long-lasting and reliable metal interior

Three included pressure feet

Auto-set stitch width and length
5. SINGER Tradition 2277 Sewing Machine
The SINGER Tradition 2277 edition comes with a sturdy metal interior for overall performance and durability. Its embroidery threader can thread the eye of the needle automatically. Thus it saves a good amount of time.
It has a total of six essential, seven stretch, one buttonhole, and nine decorative stitch styles. The combination of plenty of patterns and one buttonhole result in professional results. You have to touch a small button to turn on the buttonhole's operations.
There will be four unique pressure feet with the machine. The buttonhole foot is essential for adding buttonholes, ribbon slots, and so on. The next one is the button sewing foot that approves sewing on buttons with ease. If you want to add zipper, cording, and piping, use the zipper one.
Different fabrics need suitable stitch length and width to ensure strong seams. For this reason, the machine allows quick length and width adjustment. All you need to do is turn a dial according to the thickness of your fabric. 
Features At A Glance
Automatic embroidery threader saves energy and time

Heavy-duty internal frame

Stitch length and width selection facility

23 built-in stitches with1-step buttonhole

Four presser feet for several purposes

Free arm along with on-board storage
6. Luby Portable sewing machine
The Luby sewing machine is excellent for new users for crafting and home sewing projects. It is also one of the best choices for kid sewers. It allows a double thread sewing facility. It prevents knotting, so that gives a solid finish. Sometimes, you need to change the speed according to the fabric thickness. A Low-or-high dial is equipped for this purpose.
It supports a total of 12 kinds of stitches. The stitch selection process is not complicated at all. Gently move the knob to choose your preferred stitch. It carries a four-step buttonhole presser foot to help in creating the best buttonholes. It is also perfect for making sleeves and trousers. Whether you are a beginner or a skilled one, it fits everyone.
It is smaller in dimension compared to most other mechanical sewing models. As it does not occupy a big room, you can store it easily. It does not weigh a lot as well. So you can carry it for work anytime.
It can sew cotton, linen, silk, velvet, leather, jeans, and others. The upper thread tension dial can be adjusted depending on the thickness of the clothes. All customers receive a well-written instruction book and clear videos. These help everyone in becoming a professional. 
Features At A Glance
Double thread stitching capability

Speed selection opportunity

Small, non-heavy, and portable

Friendly diagram printed for beginners

Suitable for both thin and thick fabric

12 built-in stitches, all-purpose foot, 4-step buttonhole
7. Brother GX37 Lightweight, Full-Featured Sewing Machine
The Brother GX37 is an advanced sewing machine. It features more than 35 pre-set stitches along with a buttonhole. The utility and decorative stitch choices enable the sewers to bring huge diversity in their design. The tool is appropriate for regular sewing, garment construction, quilting, and much more.
Just like the other high-end machines, it also features an automatic threader and drop-in bobbin. The threader saves time by automatically pushing the thread through the eye of the needles. The drop-in system takes less time and simple steps to place new bobbins. It also resists jamming and clogging.
It is a versatile tool for a range of projects. Both advanced and inexperienced users can use it because of its many user-friendly benefits. Among several user-friendly options, the free arm is the best. It makes sewing far and difficult areas comfortable and effortless. It is lightweight and small enough to store in a small space.
It comes with six sewing feet for various purposes. You will get some bobbins, needles, and other accessories. If you have zero ideas about how to use the machine, simply follow the DVD and instructional manual. You will learn the product's specifications, cautions, setup process, and usage techniques. 
Features At A Glance
37 unique preset stitches and automatic buttonhole

Jam-resistant drop-in bobbin

Six high-quality sewing feet

Versatile free arm sewing capability handles cuffs and sleeves perfectly

Lightweight and portable
8. SINGER Simple 3232 Portable Sewing Machine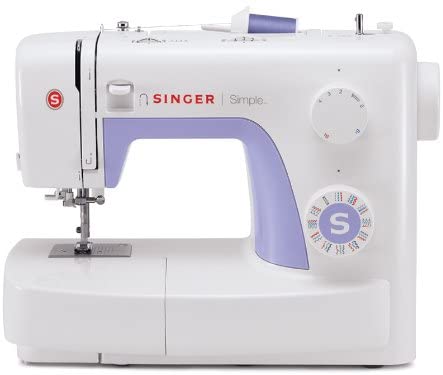 People having very little idea about using sewing machines should go for the SINGER Simple 3232 model. Its metal frame remains stable during skip-free sewing projects. Moreover, the built-in embroidery threader helps to thread the needle continuously while working.
It features a huge amount of built-in stitches. Apart from the 31 styles, it has an automatic single-step buttonhole. It supports automatic reverse stitching too. You will find a reverse button to reinforce the stitching. After pressing it, the machine will start sewing in reverse.
The four snap-on presser feet will expand the creative ideas of users. They can lift the pressure feet for proper positioning of their activities. As a result, it can sew through several layers of fabric.
The device can raise the speed up to 750 stitches per minute. Such high speed can sew large projects within less time.
The associated free arm provides quick access to far areas. Therefore, you will face no problems creating cuffs, collars, and other far areas. Another impressive property is the customizable stitch length and width. You can personalize the width up to 5mm by turning a dial. 
Features At A Glance
32 stitch styles with a one-step buttonhole

Built-in threader and free arm

750 stitches-per-minute sewing speed

Associated pressure foot lifter for handles thick fabric

Lots of included accessories

Personalized stitch length and width facility
9. Brother RLX3817A 17-Stitch Sewing Machine
Unlike the traditional high-quality machine, the Brother RLX3817 one is made of plastic. But is not lagged behind the metal models. It provides 17 unique stitch options to its users, including a four-step buttonhole. So you will explore all creative possibilities using the same machine.
As it weighs only 12.55 pounds, it is not heavy at all. Therefore, you can shift it to any place you want. Besides, it requires a small lace to store. It comes with four quick-change sewing feet such as zigzag, zipper foot, buttonhole, and button sewing feet. You can easily change the feet and stitches. The instruction is described well in the given instruction guide.
The version is equipped with an LED that brightens the workspace. Then you can continue the work even if it is night. It contains a dial for controlling the upper-thread tension. This function allows us to handle various types of fabrics. We will no longer face too loose, tight, or skipped stitches.
The integrated free arm enables sewing cuffs and sleeves with maximum ease and comfort. Otherwise, sewing the cylindrical shapes would be difficult to do. Its drop-in-top bobbin design prevents jamming threads. The installation process of the bobbin system does not take too long.
Features At A Glance
Ligh-weight and portable plastic construction

17 stitch styles, including an auto-sized buttonhole

Multiple quick-change sewing feet

Bright LED workspace

Attached free arm

Jam-proof drop-in top bobbin
10. Janome Arctic Crystal Easy-to-Use Sewing Machine
With 15 stitches and a four-step buttonhole, the Janome Arctic crystal device is ideal for anyone. Such plenty of variation is mandatory for basic sewing, high-fashion, and home decoration. They enable you to express creativity in design and customize projects. The robust metal body works pretty well even after a lot of years.
Its three-piece feed dog service leads the clothes smoothly under needles. There will be no skipped stitches or ruined fabrics. For the appropriate stitch settings, the producers design some buttons. You can select any width and length by turning the right dial with respect to the fabric type.
It is coupled with a reverse lever and a darning plate. Where the lever leads the stitching process backward, the plate delivers free-motion sewing benefits. The metal teeth od the 3-piece feed dog part pull the fabric through the device. Thus, you will be blessed by smooth fabric feeding.
It also has a removable free arm and spool pins. The double retractable pins hold and handle the thread spool properly. Besides, the overall package contains needles, bobbins, and other essentials. The bobbing graphs, tutorials, start manual, etc make this product very easy to use.
Features At A Glance
15 unique stitches, four-step buttonhole

Front-loading bobbin mechanisms

Customizable stitch length and zigzag width

3-Piece Feed Dog convenience

Included pressure feet and accessories

Easy-to-follow tutorials and instructional Manual
What do We Need to Consider When Buying a Non-Computerized Sewing Machine?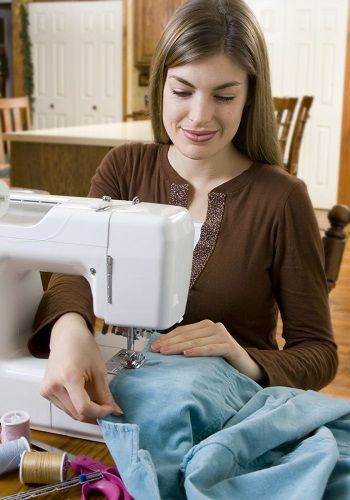 Buying non-computerized sewing equipment can be a huge struggle. We are here to help you out in this case. Check the following key features in the machine while shopping online.
Number of stitches
When it comes to sewing machines, nothing matters more than the number of available stitches. It is essential to purchasing sewing units having more than 14 built-in stitches. They can form more decorative designs with a polished finishing.
You can mix different patterns to express your creativity. In short, the more stitch options the machine has, the better it will be. The price will be a little bit higher too. But it will certainly be worth it.
However, beginners should not spend a lot on a high-end machine. Because they will not be using most of the stitch patterns instead of the simplest one. In this case, go for the fast sewing machines with one to three stitch patterns.
Stitch length and width
Controlling the stitch size properly will result in impressive designs. With adjustable lengths and widths, the users can create decorative styles on both sides of the clothes. Otherwise, they may get blank stitches, pulled fabric, and other unwanted effects. Therefore, give priority to those models that provide variable stitch lengths and widths. It will give you the best versatile sewing capability you have ever experienced.
Sewing speed
Apart from sewing, the sewers may want to use the machine in quilting and embroidery. These will take a long time if the sewing speed is not high enough. For this reason, you should prioritize the equipment with higher speeds. Unlike the slow one, you don't have to work for a longer period to finish a single task.
You can cover multiple projects efficiently within a short time. But such high-speed tools will not be suitable for the new learners. Working at a faster speed may ruin the fabric or spoil the design. Therefore, they should not get machines with more than 1,000 stitches per minute speed.
Construction and design
Next, the buyers need to pay attention to the design and construction method of the equipment. Sewing stubborn fabrics can be impossible without a heavy-duty model. So your picked one should be strong enough to sew through the tough layer of denim or leather.
Almost a sturdy and long-lasting sewing tool have a metal mainframe and a powerful engine. Don't forget to check these two things while reading the specification. Besides, think about whether you want a big machine or a small one. Smaller ones are easy to store, but they may not come with extended tables. Larger frames require big space as they come with workspaces.
Handy properties
The majority of modern sewing tool has plenty of handy features. The benefits vary from brand to brand. But an ideal one should have an accessories tray, integrated LED, auto bobbin winding, etc. If the product has a free arm, then you can handle cylindrical shapes with a lot of ease. You will also love the automatic needle threaders for the quick and effortless project.
Price range
Before going shopping, decide how much you can spend on the product. All products don't have the same quality, included accessories, other benefits, so the cost will be different too. The high-end tools will be pricey due to more advantages. But they definitely worth your every penny. On the contrary, plastic models are cheaper but may fail to offer expected performance.
Conclusion
This concludes our content on the ten best non-computerized sewing machines. They are simple and comfortable yet offer excellent productivity. Once you buy one, it will undoubtedly last for several years without any problem.
Just make sure to use high-quality threads and needles. It is also mandatory to change the needle and oil the machine on a regular basis. Check the condition of the mainframe before every use. If you find any defects, avoid using the machine until you fix them.
We hope our content assists you in choosing the right model. Also, if you want more stitches and buttonhole variety, we recommend going for a computerized model instead.