Looking for a heavy-duty sewing machine for home use? Sewing machine gallery has honest reviews on sewing machines from unbiased experts you can trust.
Every sewing professional knows that what determines how good a fashion designer is mostly is the type of machine they use. Many people use machines that are no doubt efficient, but that does not make their works turn out as it should. 
You should not make that mistake, even if you are only going to be using your machine at home. A good sewing machine affords you the chance to bring your ideas to life creatively. Therefore, it should be one that gives you such flexibility and ease, which are necessary to perform well. 
This list has been carefully curated, reviewing some of the best heavy duty sewing machines you can find anywhere. Depending on what your specific needs are, you would surely find at least one of these the most fitting for home use.  
Our Recommended Top 5 Picks:
(See our quick top 05 picks, or go further down and read our in-depth reviews.)
Top 5 Heavy Duty Sewing Machine For Home Use 2022 – (Editors' Top Picks)
1. Singer Heavy Duty 4432 Sewing Machine
The singer is a household name when it comes to sewing machines. This 4432 model, in particular, is designed for heavy-duty sewing from its design, power, threading system, etc. Its metal frame and stainless steel bedplate ensure its durability. Weighing only 17.42 lbs, it is the perfect portable home sewing machine as you might have to move it around often.
It is driven by a powerful motor that guarantees better efficiency than many other sewing machines. That is why it is able to do up to 1,100 stitches per minute. This helps you complete your sewing as fast as possible. With the 4432, you do not only get a high sewing speed but also a machine built for a variety of designs and fabrics.
It also features four different presser feet for all-purpose, buttonhole, zipper, and button sewing works. The 4432 sewing machine is indeed one that unlocks your inner creativity. 
Asides from all this, the machine makes for easy sewing as well. You do away with your previous threading operations with its automatic needle threader. Alongside a drop-in bobbin with a transparent cover that is easy to insert or remove, this is the perfect machine for you.
Features at a Glance:
Powerful motor with 1,100 stitches per minute.

32 built-in stitches (6 basic 18 decoratives, 7 stretches, 1 auto buttonhole).

Four presser feet (all-purpose, buttonhole, zipper, button sewing)

Top drop-in bobbin with transparent cover

Automatic needle threader.

Singer Sewing Assistant app.
2. Singer Start 1304 Sewing Machine
Here is another quality Singer product making a list. The Start 1304 is not quite as efficient and powerful as the Heavy Duty 4432, but it nicely gets the job done. Considering that it is also a cheaper and more portable option, it is a decent choice, especially for beginner sewers. At 350 to 400 stitches per minute, you can still easily take on many light projects, since it is for home use.
Though it has only 6 built-in stitches, all stitches have pre-set measurements to make sewing easy, particularly for those who are new to it.
The stitches also include decorative stitch types such that design does not suffer. With three presser feet type (all-purpose, zipper, and buttonhole) and dual spool spins, this is definitely a product built around convenience. The dual spool pins help in fast twin needle sewing.
Like many other Singer products as well, the Start 1304 is built to last. It is also a free arm sewing machine with a removable extension table for special sewing. 
For anyone who has just begun sewing or only needs to do light sewing at home, this is a perfect choice that fulfills many needs.
Features at a Glance:
Six built-in decorative stitches (straight, satin, zigzag, blind hem, scallop and buttonhole) with pre-set dimensions

Three presser feet types (all-purpose, zipper, buttonhole)

Dual spool spins for easy twin needle sewing.

350-400 stitches per minute.

Free Arm Convertible.
3. Brother Sewing Machine ST371HD
This Brother sewing machine aims at versatility for users and the durability of the machine. The ST371HD comes packed with 37 different stitch types to select from, including many decorative stitches. This enables you to get far more creative with your sewing. 
Alongside that are 6 different types of sewing feet for taking on different sewing processes easily. The machine enables you to handle a wide variety of projects with different types of fabrics and multiple designs to choose from.
Apart from that, the machine also does sewing and stitching very easily. For instance, it is a free arm convertible machine with removable parts in the case of special processes. Its drop-feed feature also allows for free-motion sewing, allowing you to complete your sewing with as little stress as possible. 
Though at 800 stitches per minute, it is not the fastest on this list, it is fast enough to get the job done and save some time. Perhaps what it lacks in speed it makes up for in strength and durability. Its metal needle plate and sturdy metal chassis make it a rugged machine for the largest of projects. 
Features at a Glance:
37 different stitch types are available.

6 sewing feet (zigzag, non-stick, zipper, button sewing, buttonhole, and blind stitch).

800 stitches per minute.

Free Arm Convertible for special sewing needs

Metal needle plate.

Built-in handle for easy storage.

Drop feed feature and an easy needle threader.
4. Janome HD3000 Heavy-Duty Sewing Machine
The Janome HD3000 sewing machine, which is an upgrade to the HD1000, is one of the priciest machines you would find. But it rightly earns its place as one of the best heavy-duty machines you can find. 
It is likewise not quite as fast as the Singer 4432, but its 860 stitches per minute are fast enough for many projects you might want to take on. It also does well in terms of versatility, featuring 18 stitch types, including a one-step buttonhole.
One thing this particular machine banks on is its power and strength. Its 1.0 amp motor ensures that your sewing runs efficiently even when working for long hours or with the toughest materials. It is particularly suitable for strong materials such as denim and leather, making for smooth sewing even with multiple layers of fabric. It is a real heavy-duty sewing machine.
It has other small exciting features as well, which makes sewing easier. For instance, it has a built-in needle threader to ease the usual frustrations of threading a needle eye. It also features a built-in thread cutter. This makes your work much neater since you would not have to do the cutting with scissors.
It is also a free-arm sewing machine, helping you make your cuffs, sleeves, and fulfill other special sewing needs. Janome HD3000 is a great sewing machine suitable for both the veteran and the beginner.
Features at a Glance:
1.0 amp powerful motor for efficient sewing.

18 various stitch types, including a one-step buttonhole.

860 stitches per minute for sewing speed.

Built-in needle threader.

Free Arm Convertible.
5. Janome HD3000 Heavy-Duty Mechanical Sewing Machine
There is virtually no difference between this product and the one that precedes it. The only slight difference is the fact that this comes with certain extra accessories such as extra needles and bobbins, spool holders, multiple presser feet (such as a zipper, blind hem, buttonhole, etc.), etc. 
All these are essential, and they help you to get started right away once you get your machine. It is also good to get such accessories from the manufacturer themselves; that guarantees their authenticity.
Apart from that, every other feature is the same. It features 18 built-in stitch types to enable you to handle multiple types of projects. Its 1.0 amp motor alongside the different needle sizes available make it possible to work easily with strong materials such as leather, denim, canvas, etc. even over multiple layers. Your sewing also happens quickly because it runs at 860 stitches per minute.
It also has other great features such as an easy-to-use top drop-in bobbin pin, built-in needle threader, built-in thread cutter, etc. There is also the free arm option in case you want to make cuffs, sleeves, etc.
All these, along with its aluminum body, make it a sturdy heavy-duty machine. Though it weighs slightly more than every other machine on this list, at 23 lbs, it is still 'light' enough for moving around at home.
Features at a Glance:
Bonus accessories are available.

1.0 amp powerful motor for efficient sewing.

18 various stitch types, including a one-step buttonhole.

860 stitches per minute for sewing speed.

Built-in needle threader.

Free Arm Convertible.
What Do We Need to Consider When Buying Heavy Duty Sewing Machine For Home Use?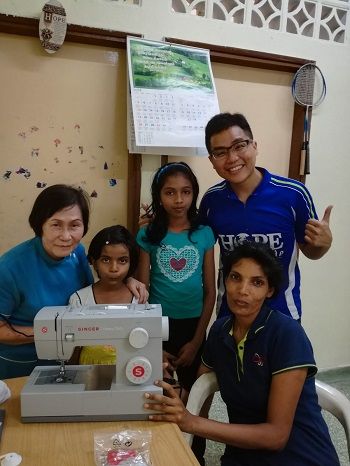 There are many varieties of sewing machines in the market, and having to choose one can be overwhelming, especially for beginners.
However, when it comes to making a purchase, you should not only look out for the 'best' sewing machine but rather the 'right.' That is because there are a lot of products that are indeed very efficient and top-class but may not match your current needs. 
That is why it is important to determine what your needs are before going to the market. Just as a guideline, here are some factors you may consider to know which kind of sewing machine will be the most suitable for you. 
Built-in Stitches and Adaptability
Depending on the kind of sewing you do, you would need a certain level of versatility. The number of stitches that come with your product will determine how adaptable the machine will be for different processes. For professionals, they would require a machine with several types of built-in stitches because they would have to handle 'special' projects. 
However, a beginner or someone who needs a sewing machine for light home use might not need that much variety. Even more, some machines allow you to adjust your stitch dimensions to custom specifications. Others have pre-set non-adjustable dimensions. You need to take note of that.
Speed
Anyone would want to buy a sewing machine that gets the job done as fast as possible. You should know the number of stitches per minute that a machine can handle before going for it. It necessarily may not be the fastest machine, but you should be comfortable with its speed, depending on the kinds of projects you want to use it for.
Size and Design
A sewing machine should be lightweight and easy to move around, most especially one that is meant to be used at home. You should be able to move your machine from the sewing table to convenient storage, as is necessary. The size and design determine this. Therefore, before you purchase your next machine, take a look at the weight and dimensions to know if it is the best fit for you.
Cost
This is indeed a no-brainer. Every product you buy should be affordable. That is, the cost should match its specifications. For this, you would have to carry out extensive research, comparing prices and features of similar machines that meet your requirements. That will protect you from falling for a product with bogus specifications.
Additional Features
This is equally important. Machines often come with unique extra features meant to make your sewing easier and faster. Examples of such features include presser foot pedals, needle threaders, button holders, bobbin load space, free arm support, warranty, and technical support, etc. A good sewing machine should not just provide the bare minimum, but also have extra niceties and necessities. 
Conclusion
Whether you are a beginner or an experienced sewing expert, the fact remains that a good sewing machine is an investment and determines how efficient you would be. Therefore, a decision as to which one to buy must be taken carefully.
You definitely want a reliable sewing machine that matches your needs, and that brings the best out of your efforts. As pointed out earlier, there is no absolutely 'best' sewing machine.
The best sewing machine is the one that is right for you, and that fulfills your current needs. Choosing a sewing machine should not be much of a hassle once you already know what you need.