(Last Updated On: September 4, 2023)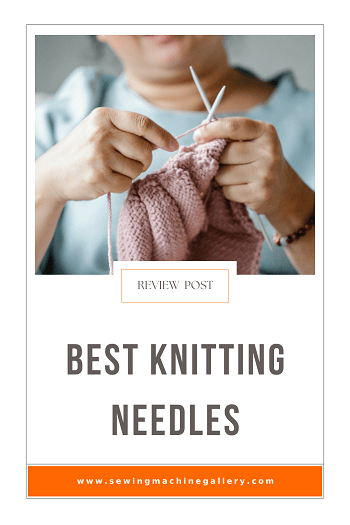 If you are just starting to knit, there are a few things you need to know. For example, did you know that there are different kinds of needles that you may use? Or, did you know they are also available in many different sizes?
These are some critical pieces of information that you need to know if you want to feel comfortable when knitting.
But, don't worry. We know how we can help you out.
In this article, you will know about all the different types of needles that you can find, and in which cases you could use each one of them.
Plus, we did a review on some of the best knitting needles, which we are sure you will find useful.
So, without further ado, let's begin!
Our team of experts has selected certain products and assigned a star rating to each product. Read our detailed review below.
Beginners Guide For Knitting Needle Sizes
Before we begin, you should know that needles come in many different sizes.
Depending on which kind of yarn you are using and which project you are working on, you will need a specific size of needles.
Knitting Needles Sizes: 0-1
If you are kitting with a light material (like lace for example), you will also need a light needle. For instance, if you are knitting a pair of gloves, this size is perfect.
Knitting Needles Sizes: 1-3
This size is commonly used to knit socks of all kinds. Most sock patterns are more comfortable to complete with these needles since they are not massive, but they need a bit more of precision.
Knitting Needles Sizes: 3-5
These are best used with sport-weight yarn. It is common to see straight needles with these sizes, but they will eventually make your hands cramp up since the thread is a bit heavier than sock yarn.
Knitting Needles Sizes: 5-7
If you are working on a more massive project such as a sweater, or a scarf you may need bigger needles. You may find that these are a common pick among experienced knitters.
Knitting Needles Sizes: 7-9
This is the kind of yarn that you can find anywhere. It is also known as worsted weight yarn. It is great for medium size projects, but this size is also known to cause cramps after long sessions of knitting.
Knitting Needles Sizes: 9-11
These are some of the biggest needles you can find, and they are specially used for some of the heavier yarns. You can see that circular needles are perfect for this kind of thread since they will help you with the weight.
Knitting Needles Sizes: 11-17
These needles are rare since there are used for super bulky yarn. This yarn is usually used to make quilts or for a more complex project.
Our Best Knitting Needles Reviews
We have compiled this review on many factors. Some of them being how durable the needle is and what size it is.
Remember, it all comes down to preferences and what type of project you are working on.
Yeah, you could just use the needle size and yarn that is recommended in whichever tutorial you are following, but there is nothing wrong with getting a little creative.
1. ChiaoGoo Red Lace Circular 16-inch Knitting Needle – (

Best Circular Knitting Needle

)
ChiaoGoo is known to be one of the best knitting needle brands. If you need a specific yarn with a particular needle, you can rely on ChiaoGoo. In fact, its name directly translates to "highly skillful and crafty lady," and once you try one of their needles, you will feel like one. The whole needle is made of durable stainless steel, which means that it can last for a long time. 
The tips are a bit longer than usual, which allows you to be a bit more precise since you can work on more detailed or small stitches. They are also made of stainless steel, so don't worry about them ruining after long sessions of knitting. The ionic feature of this set of needles is the circular cable. It is flexible, yet firm enough to ensure a continuous pattern.
This is because it is made from a multi-strand coated steel. On top of that, the steel is covered in red nylon, giving these needles the "Red Lace" name. They are great for many projects, even if these projects don't have anything to do with circular knitting. Plus, they are easy to identify since they have the size engraved on the needles.
There are almost no bad reviews, but there are a few things that some customers find to be annoying. For example, although the needles are from stainless steel and the lace is firm, there are cases in which this lace is separated from the needles, which can be annoying.
2. LIHAO Mixed Aluminum Handle Crochet Hooks – (

Best Knitting Needles For Beginners

)

This is the best knitting needle set you can find at this price range. It includes 22 different needles of different sizes, which means that you can knit any project of any size. The smallest needle size is 0.08mm, and the most significant needle size is 10mm. These needles are made from aluminum, but they have some parts that are made of rubber.
This makes them versatile, and perfect for all kinds of stitches. Additionally, these needles are incredibly smooth, which allows the yarn to travel along them without a problem. This can be a great gift for beginner knitters since they can choose from a wide variety of needles depending on what they are doing.
The fancy leather case is designed to display all of the needles in order, so it's easier to distinguish the sizes.  The smaller needles have no color and are on the right side of the case. On the other hand, the bigger needles come in a wide assortment of colors, which makes the choosing process much more natural.
And in any case, each of the needles has its size engraved on the side. They are a pretty great deal. Perfect for a gift or as a starting kit. Many other sets have fewer needles and are not even half the quality of these LIHAO needles.
Reviews are generally positive, with a few exceptions. Some users have found that the small needles will bend if the weight of the project is too big. The same can be said for the hooks, which will turn if they are not handled correctly.
3. CHIAOGOO 40-inch Red Lace Stainless Steel – (

Best Sock Knitting Needle

)
You will see a lot of ChiaoGoo needles in this review. This is because they are so easy to use which makes them the best option for beginners. They are also widely known to be the best knitting needles brand out there. Plus, they are so easy to handle that even weathered professionals choose them.
As most ChiaoGoo needles, these are made from stainless steel. They will endure any weight, and they will not bend even if you are working with "bulky? yarn. (Although it is not recommended since this may give you cramps). The lace is made out of steel cable that is covered in nylon.
Several strands are combined to form an elastic lace that will allow you to maintain any pattern you are working with. Plus, this lace is very high-grade. And when you compare it to other laces, it is the definite winner.  The 5mm stainless needles are very light and have an elegant look to it. Plus, the tips are perfectly tapered which helps you with smaller stitches.
It is rare to see them bend, which already makes it better than other knitting needles at the same price. The needles are made in Hangzhou, China. The incredible feature of these needles is that some of the needles are recyclable. They are mainly distributed by Troy which is located in the USA.
These needles also go through an exhaustive quality process, so you can be sure that you have the best products. Again, there have been some issues with the lace and the needles. The lace may detach from the needles if they are not handled correctly. The good thing is that they are hard to bend so they can last for a long time.
4. ChiaoGoo Red Lace Circular 24-inch ( 60cm ) Stainless Steel – (

Best Size Knitting Needle for Beginners

)

Yes, you are not reading this wrong. It is another ChiaoGoo needle, with almost the same name. This exact needle is a size 4mm, and the one in the last position is a 5mm needle. Because of this, you may find that the features are pretty much the same.
This needle is also made from stainless steel, which ensures durability and reduces the risk of a bent needle. It also brandishes a red lace that is made from several nylon-covered steel threads joined together under the red cover.
You may not be surprised, but even in this model, several users report the lace detaching from the needles. And since they are made from stainless steel, the repairing process can be a bit tedious. Aside from that, it may be one of the best needle types you can find. 
5. Vancens 18 Pairs Bamboo Knitting Needles Set – (

Best Wooden Knitting Needles

)
These are a great addition to your needle collection. Mostly because this set has 18 different needles, each one from a different size. You will find that they are easy to use because of their shape and material. Additionally, each one of them can be easily identified from the others. The main reason many knitters go for this option is that they are made from natural bamboo.
This means that the bamboo is not tampered with by any chemical, and they have a pleasant smell as well. Additionally, they can be recycled. Bamboo needles tend to be incredibly smooth, and these needles are no exception.
Since they are soft, and light, it is easier to handle them. This makes them a great option if you tend to suffer from joint pain. Plus, they come with a comfortable thumb rest. These needles come in sizes from 2mm to 10mm.
Each needle is carefully marked so you can distinguish them from the other, but there are some cases in which this mark begins to fade due to use. Since the cords are not interchangeable, you just need to change the needle which helps you save time. They have a full arrangement of sizes, and both experienced and new knitters can find them useful.
Mostly because bamboo allows the yarn to thread smoothly over the needle, which eventually saves you some time. You can be sure that no yarn will get stuck on the needles. There have been some cases in which the laces come off the needles, but this only happens if they are not handled correctly. The good aspect is that these laces can be reattached without much problem. Apart from that, many users are happy with their experience with these needles.
6. RELIAN Double Pointed, 75 Pcs Bamboo Knitting Needles – (

Best Bamboo Knitting Needles for Beginners

)

This knitting needle set comes with 11 pairs of some of the best quality needles you can find. These single-pointed straight needles are great for a flat project like a scarf. Since they are from stainless steel, you can be entirely sure that they won't fail. Since they are single-pointed, they may not work as well for circular projects.
The bright side is that they allow you to knit with increased precision since the tips are longer than usual. Usually, straight needles are more comfortable to use, and most of them will give you cramps after long sessions. But these are an exception.
They are polished and specially designed for those of you who have joint pains. In the right hands, they feel lighter and more balanced so you can use them for hours without any pain. As long as you use the right yarn that is. The metric sizes are edged in the top portion of the needle, so they are easier to identify when they are not in order.
Additionally, they come in a convenient pouch, where they can be easily stored. You will find that these are a great gift for anyone, even professionals will find them pretty interesting since they are a bit firmer and form a better quality than other needle sets of the same size.
Plus, the stainless tips allow experienced users to complete more complex patterns. The major downside to these needles is that the yarn may get stuck in these. They are not entirely smooth, so you may have a hard time getting yarn to travel on it. If you are careful enough you could keep this from happening.
7. CHIAOGOO Circular Knitting Needle –
(

Best Size Knitting Needle for Beginners

)
In this position, we encounter yet again another ChiaoGoo product. Don't worry; this is the last one on the list. If you are still interested in purchasing this kind of product from the same brands, you can find other models and yarns on their website. These circular needles are the same regarding construction.
The only difference is the size, but then again this can be the most critical feature of a circular knitting needle. For example, the size of this model is 3.5mm, which can be cataloged as a thin needle. It still maintains the stainless-steel needles which are extremely durable.
These are also very hard to bend, so you can rest easy since they won't give in after a few jobs with heavier yarn. This model also has the same red lace as the other ChiaoGoo circular knitting needles.
This lace allows you to venture into complex and challenging circular patterns that can be used to create fancier projects. You can also notice that the lace is not tightly adjusted to the needle, so they still suffer from the same issue as other ChiaoGoo needles according to other knitting needle reviews. This is the lace detaching from the needles if they are not cared for correctly
8. LIHAO 36 PCS Bamboo Knitting Needles – (

Best Brand Knitting Needles

)

LIHAO is another knitting needle brand that is known worldwide for its unique designs. And, from all the products they offer to the consumers, this bamboo knitting needles set is known to be their best product. This is because they are not the conventional bamboo needles, they are much more.
The bamboo has been bleached which makes it a lot stronger than untampered bamboo. This kind of needle is so smooth that you can knit quietly for hours without feeling any kind of stress on your joints. Sizes vary from 2mm to 10mm, and each of the needles is carefully identified with its size. In some cases, the number may fade a bit, but can still be identifiable.
Plus, they are very comfortable to use, and they have a thumb rest so that you can grab a better hold of them. These needles guarantee no dropped stitches. If you are looking for knitting needles for a more delicate project, this could work correctly for you. For example, these could work pretty well to make baby clothing or apparel.
Baby hats need to be stitched closer together, and these can easily pull that off. Usually, bamboo knitting needles are not durable, but there are no reviews of any users saying that these models have bent when appropriately used. They will eventually turn if you use the thinner needles with thicker yarns.
Most negative reviews come from the fact that the size number fades away, but if you store them in order, you can still distinguish each size. Also, you could tie a piece of ribbon on top of each needle if you still have a hard time identifying a specific size from the others.
9. Knitter's Choice Bamboo 14-Inch Knitting Needles – (

Best Knitting Needles for Sweaters

)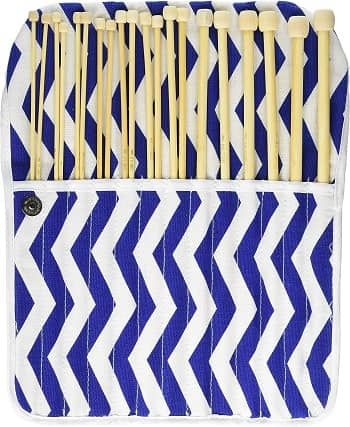 This is by far the best bamboo knitting needles set you can find in the market these days. Ranging from 4mm to 15 mm, these fine needles will help you complete that problematic and complicated pattern you've been waiting to finish. Using the premium carrying case, you can quickly switch between needle sizes to accurately gauge any project.
The case that comes with it may seem simple, but it can help you keep each needle in the correct order, so it is easier to change needles mid-project without thinking much about which model is which. They are made from bleached bamboo to ensure a comfortable grip while it retains a smooth and fancy finish.
These bamboo needles feel smooth, but their shape allows you to get a firm grip on them, which reduces the possibility of a dropped stitch. Believe us, dropping a stitch is tedious, and you don't want that. The different sizes can be used by any kind of knitter, but as you can notice, the range is a bit higher than average.
This makes this set a perfect option if you are thinking of using a thicker yarn than usual. If you are planning to use thinner yarn, this may not be the ideal set for you. This set of knitting needles is excellent if you are just starting your knitting journey because they are cheap and come in a lot of different sizes.
But you may want to change them if you are going for the long haul since there has been some report that some of the needles break after a while. There have been a few exceptions in which the knitting needles are not entirely smooth, which gives you problems when knitting. This is because the yarn or lace will get in the way of your project when it gets stuck on the needle instead of helping you out.
10. Susan Bates 14099 Knit-Chek for Knitting Needle
This last item in the review section is not a needle or a set of knitting needles. It is a tool that will help you find the size of your needle. You can also use it to check out the gauge on your knitting, which is pretty crucial if you are following a strict and complicated pattern.
This Knit-Check works in a simple, yet wonderous way. To check the gauge on a project, you merely have to compare the outlines on this tool and the size of the indicator. This will allow you to readjust accordingly, or to continue working with the same measure. Additionally, you can check the size of the needle that you are using.
This is because in many cases the marking on some needles may fade, making it difficult to distinguish the size from other needles in your collection. You only need to insert the needle into the middle holes of the tool. If it fits, then that's the size of the needle.
Bear in mind that in many cases the job can only be done by a specific knitting needle, so you need to make sure that you have the right one.
What to Look for Before Buying Knitting Needles?
When you are starting your first project, you will see that yarns and needles have so much different aspects that you may feel overwhelmed by them. But don't worry. We'll help you out. Here are some tips that you can find useful when buying needles and yarn for the first time.
Before you start looking for a needle, you need to know precisely what kind of yarn you are going to use.
This is because specific needles work better with certain threads. If you don't know what type of knitting needle you will need, don't worry. Many yarn brands make it easier by adding on the label for the kind of needle recommended for a specific yarn.
You will most probably see size eight needles since these are great for most weights.
WHAT TYPE OF NEEDLE WILL YOU NEED? 
Next, you need to know what type of needle you will need. It mostly depends on what you are going to knit. For example, if you are going to knit in a circle, you may want to use a circular needle. If you are going to knit a scarf, a straight needle can be more useful, and so on. Another thing you must watch out for is the material the needle is made of.
There are three common materials; aluminum, bamboo, and plastic. Bamboo or wooden needles are a dream since you don't have to adjust the yarn, it merely slides through it. A small con that they have is that they are a bit expensive.
Aluminum needles are not that expensive, and they will surely last for a long time. And finally, plastic needles. If you are beginning to knit, this will be the right one for you. They are not expensive, so if you feel that knitting is for you after you give it a try, you won't feel as bad. 
WHAT SIZE OF NEEDLE SHOULD YOU GET? 
If you are beginning your journey in knitting, you may want to purchase 10″ needles. They are much easier to handle, and they are also easier to find. Since you are starting out, you don't need a full collection of needles of all sizes to finish your projects.
After all, needles have so many aspects, so you can find one that best fits your technique. Which will make you comfortable doing so. If you are afraid of purchasing a kit because you are not sure if knitting is for you, try asking a friend! Maybe he or she can lend you some of their needles. Give them a try and decide if you are going to purchase it.
Knitting Needle Types: What Kind of Needles Should You Buy?
Before we analyze the different types of needles that you can find, it is important that you know the different kind of materials that these needles are made of.
The material is an important factor since this will help you feel more secure when knitting, and it will determine how long you can use the needle.
Aluminum: You will find that most knitting needles are made out of aluminum. This is because they are less likely to bend, and they will last for a long time.
Wood: You can find ordinary wood needles or bamboo needles. These are great for fast knitting since they are so smooth that the yarn moves smoothly over it.
Plastic: These are the best option for you if you are a beginner. This way you can slowly learn if you have the hand for knitting or not. Plus, they are not expensive.
Types of Knitting Needles
There are four available types of these needles. Below you will have a clear idea what are they are why are they used for.
CIRCULAR
This type of needle is perfect for kitting any kind of circularly shaped things such as hats or sweaters.
There are many kinds of lengths of circular needles, so you may want to check out which range is the ideal one for the specific project you are working on.
STRAIGHT
These are better for flat knitting projects such as scarfs. They are the most common type of needles, and some knitters use these regardless of the project.
They are a bit heavier, so you may want to be careful with your wrists.
INTERCHANGEABLE
Interchangeable needles are great to have if you need to save some space. They are smaller in size and easy to carry around.
Usually, these sets have many kinds of needles sizes for different lengths, so they are perfect for many projects.
DOUBLE POINTED
Also known as DPNs, these needles have a tip on both ends, and they are great for narrow circles or small projects such as socks or baby hats.
For example, if you are going to knit an I-cord, these are the best needles that you can find.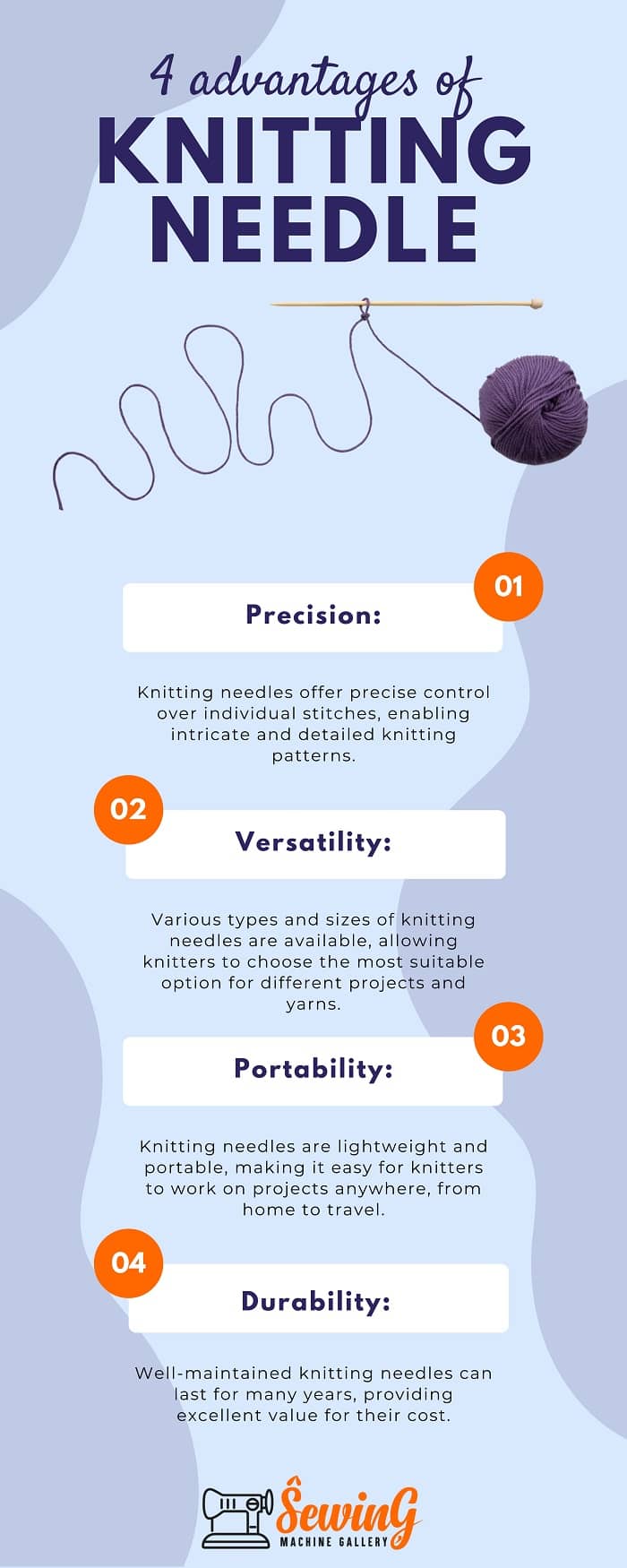 What is the Purpose of Double Pointed Knitting Needles?
You may have noticed that we mentioned double-pointed knitting needles a few times in this article, but do you know what they are really for? These are some of the most popular types of needles. Once you are done reading this, you will also be a fan of these kinds of needles as well.
As we mentioned earlier, double-pointed needles are specially used to knit smaller round things. An example of this can be a baby hat or the top of a standard cap. In these kinds of projects, fewer stitches are depending on how much you have advanced with it. There will be a point where the stitches are so close together, that it is harder to reach them with a circular needle.
And it's here where you will find double-pointed needles useful. There are some cases where you need to turn the piece of workaround if you are using circular needles. And if you are an experienced and weathered knitter, you'll know that this is not recommended. The fabric should always be in the same position, and double-pointed needles make this easier.
Another great feature of these needles is that they usually come with other needles. This means that you could find a double-pointed knitting needle set with 4 or 5 needles in it. This is because you can hold a sure knot with three needles and knit it down with the other two.