(Last Updated On: November 2, 2023)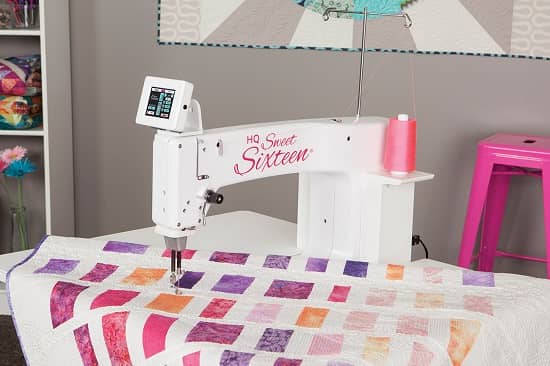 Stitches Per Minute: 1,800

Included Presser Feet: 2

Warranty: 10 Years

Throat Space: 16"

Weight: 53 lbs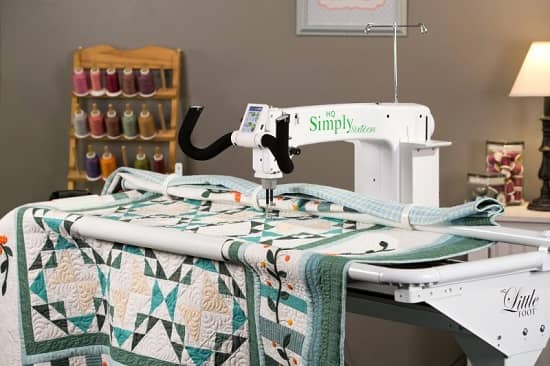 Stitches Per Minute: 1,800

Frame Sizes: 5ft/10ft/12ft

Warranty: 10 Years

Throat Space:16"

Display: LCD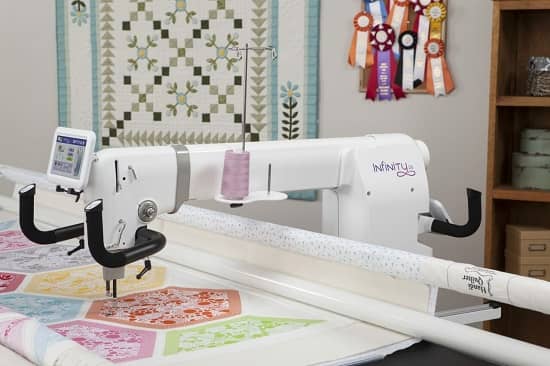 Stitches Per Minute: 3,100

Included Presser Feet: 2

Includes designs: 500+

Frame Sizes:10ft/12ft

Throat Space: 26

"
Our team of experts has selected certain products & assigned a star rating to each product. Read our detailed review below.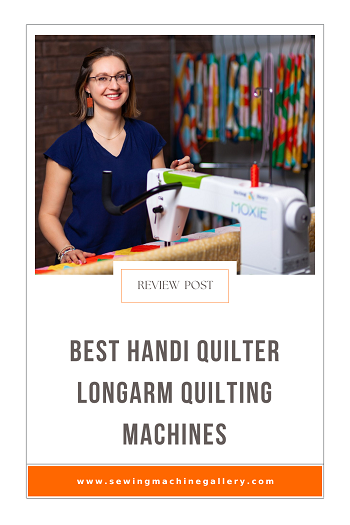 Are you searching for handi quilter longarm quilting machines? By looking at our reviews you would be able to make the right choice from the available options.
The brand Handi Quilter manifests passion, inspiration, and hard work.
It exhibits how a quilter working on quilts at home with a sudden idea, a creative mind, and an instant urge to turn that idea into a legit product with whatever tools around made it to being an entrepreneur and ended up being the founder of an ever thriving quilting company.
Our attempt at Handi Quilter Sewing Machine Review will all be about the innovative longarm quilting machines by the very brand, fully-featured yet within budget.
We will try to gauge and come to a conclusion about whether these machines are worth all the hype and do we actually feel the difference or not.
This thorough analysis will help you to get the long arm Handi Quilter, the one you actually need, hopefully. So, without further ado, let's start reviewing our top eight picks one by one. 
(See our quick top 5 picks and below you can read our detailed reviews about these products.)
Top 8 Handi Quilter Longarm Quilting Machines of 2023 – (Editors' Top Picks)
TOP PICK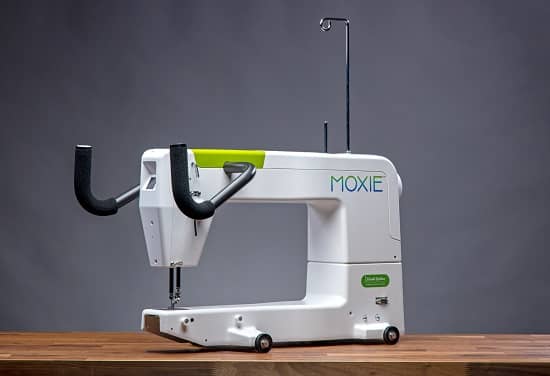 Features At A Glance
Allows free motion quilting of quilts of any size
A 15-inch quilter with an 8-foot frame
Large-capacity M-class bobbin
Easy-to-use controls
Full-color display
1800 SPM
Why We Love It? It is equipped with long-arm essentials, like the already installed Handi Feet mount with a quarter-inch ruler foot and already included open-toe foot.

Product information:
| | |
| --- | --- |
| Brand Name | Handi Quilter |
| Throat Space | 15″ |
| Stitches Per Minute | 1,800 |
| Stitch Regulation | ✓ |
| Frame Sizes | 8ft. – 2ft extension optional |
| Display | Touchscreen LCD Display |
| Included Presser Feet | 2 |
| Rear Handlebars | Optional Add On |
| Warranty | 10 Years |
Product Description:
Moxie provides 1800 stitches per minute with a consistent stitch quality from 4-18 stitches per inch. With it, you can own every stitch of your quilt from the very first to the very last.
It is not just a long arm quilter but also allows you to sew every possible apparel with minute details in designs and patterns.
The quilter includes the versatile and customizable 8 Foot HQ Loft Frame made of high-quality, powder-coated steel. It is that firm base that you need to set up your longarm quilting machine on and sew all kinds of quilts, any size from small to king-size, in a limited space.
Handle the quilter with the front handlebars, well-cushioned with solid grip and easy-to-use controls, and keep an eye on your every move on the user-friendly icon-based display.
The quilter allows both Precision and Cruise stitch regulation and easy software updates and has built-in diagnostics too.
TOP RATED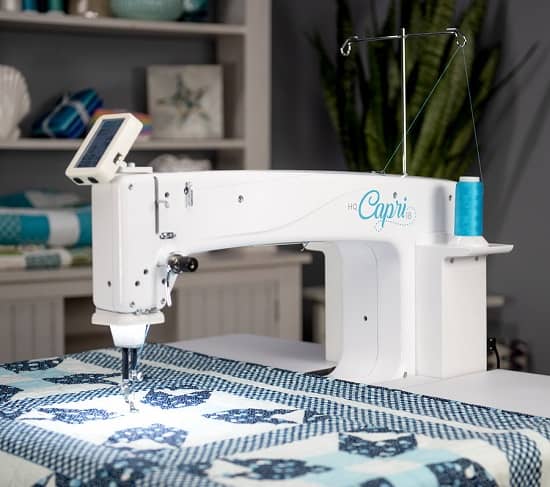 Features At A Glance
36"x32" table with an adjustable height of 25.5"-39.5"
Longarm quilter with 18" throat space
Color touchscreen with icon display
Multiple lights and two stitch modes
4-22 precision stitches per inch
2200 SPM
Why We Love It? It stitches at a high speed of 2200 SPM and maintains a consistent stitch quality of 4-22 stitches per inch. It stitches in both precision and cruise stitch regulation modes.

Product information:
| | |
| --- | --- |
| Brand Name | Handi Quilter |
| Throat Space | 18″ |
| Stitches Per Minute | 2,200 |
| Stitch Regulation | ✓ |
| Frame Sizes | Sit Down Table |
| Display | Color Touchscreen |
| Included Presser Feet | 1 |
| Warranty | 10 Years |
Product Description:
Handi Quilter Capri is a big machine, and its 36-inch by 32-inch HQ InSight Table provides four times the quilting space of the average home sewing machine. The 18-inch of throat space and 8-inch vertical space makes it the apt machine for limited space.
You have absolute control over the quilter, thanks to its adjustable high-resolution color touch screen. The easy controls are swift and easy on the eyes and hands too.
Your eyes are at ease due to the multiple lights it has. You have the LED light ring, throat lighting, and bobbin light, too, so whatever you do on it or stitch with it, you see it clearly.
The machine is compatible with Handi feet and includes both a quarter-inch ruler foot and the open-toe foot. You can try all types of motifs on your quilts and complete the project with a perfect finishing touch. The machine is of that high quality.
Bring changes to your machine with software updates and built-in diagnostics. Also, transfer additional designs and patterns with the easy-to-use USB port.
EDITOR'S CHOICE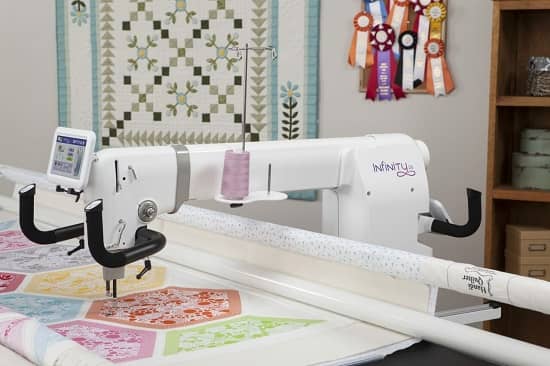 Features At A Glance
Two touchscreens and handlebar controls
Precision and Cruise stitch regulations
3100 precision SPM and 4-24 SPI
HQ 10ft or 12ft Gallery2 Frame
26-inch stationary longarm
Adaptive and intuitive
Why We Love It? It has both the touchscreen and handlebars with buttons and integrated micro handles for easy controlling of the machine.

Product information:
| | |
| --- | --- |
| Brand Name | Handi Quilter |
| Throat Space | 26″ |
| Stitches Per Minute | 3,100 |
| Stitch Regulation | ✓ |
| Frame Sizes | 10ft/12ft |
| Display | 10″ LCD Touchscreen |
| Included Presser Feet | 2 |
| Warranty | 10 Years |
The quilters are turned bigger and better until now. So, this one is Handi Quilter Infinity. It has a 26-inch long stationary long arm for all kinds of quilting purposes. With it, the possibilities are endless.
It stitches 3100 precision stitches per minute with a precision stitch range of 4-24 stitches per inch.
You can either have the HQ 10ft or 12ft Gallery2 Frame with it. The choice is yours. Irrespective of the size, it is a professional-grade combination table and frame system made of high-quality steel.
And speaking about the touchscreen, it has two actually, a large at the front and one large at the rear. So, no matter where you are standing, you have full control over the machine.
The touchscreens have a simple icon-based interface and on-screen reference, nothing complex, yet very useful.
It is that flexible machine that grows with your skills. The machine will adapt the style of your ever-evolving designs, patterns, and stitching styles. It will remain that creative, adaptive, intuitive quilter full of intelligent features for years to come, thus a great investment.
BEST OVERALL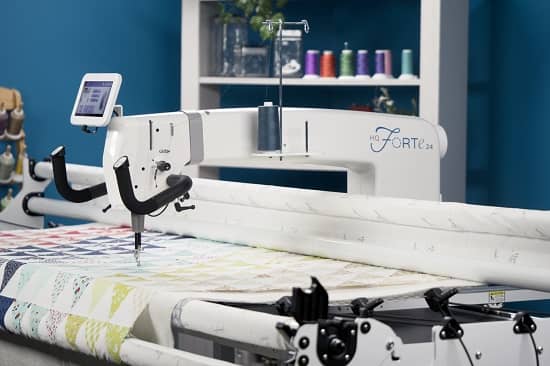 Features At A Glance
Front handlebars with micro handles for easy, precise control
Precision and cruise stitch regulation with 4-24 SPI
24" longarm with a 10ft or 12ft HQ Gallery2 Frame
Powerful stand-alone bobbin winder
2500 stitches per minute
7-inch color touch screen
Why We Love It? It has front handlebars with integrated micro handles. That proves to be very ergonomic and independently adjustable.

Product information:
| | |
| --- | --- |
| Brand Name | Handi Quilter |
| Throat Space | 24″ |
| Stitches Per Minute | 2,500 |
| Frame Sizes | 10ft/12ft |
| Display | 7″ Touchscreen |
| Included Presser Feet | 1 |
| Warranty | 10 Years |
Features At A Glance
Forte, unlike the Infinity, has a 24-inch throat space. But just like the Infinity, it offers you to choose from a 10ft or 12ft Gallery2 Frame. Not just a frame, you also get an 8-wheel HQ Precision-Glide Track for easy gliding of the machine on the long frame.
It stitches 2500 stitches per minute, and the stitches per inch will always be your call, somewhere between 4-24, in precision and cruise mode.
Not just that, it flaunts QuiltMaster servo-controlled stitch regulation. So your every stitch will come out perfect. And you can make sure it comes perfect with all the throat, needle bar, and bobbin lights.
If the handlebars were not enough, you have the 7-inch color touch screen. Touch and set the machine the way your design demands.
The machine has a large capacity M-class bobbin as well as a powerful stand-alone bobbin winder. You can make stitches on your quilts manually with three different preset speeds
PREMIUM PICK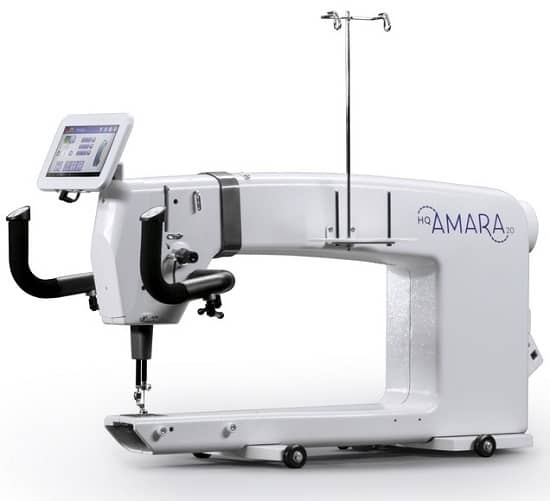 Features At A Glance
The 7-inch touchscreen and ergonomic handlebars
Apt for tight spaced stand-up quilting
4-24 stitches per inch in two modes
QuiltMaster LED Lighting Package
HQ 5 foot Little Foot Frame
2500 stitches per minute
Why We Love It? It has a 20-inch stationary longarm. That implies you will get a 20-inch throat space that is too brightly lit, thanks to the Menu-controlled QuiltMaster LED Lighting Package.

Product information:
| | |
| --- | --- |
| Brand Name | Handi Quilter |
| Throat Space | 20″ |
| Stitches Per Minute | 2,500 |
| Frame Sizes | 10ft/12ft |
| Display | 7″ Touchscreen |
| Included Presser Feet | 1 |
| Warranty | 10 Years |
Features At A Glance
Handi Quilter Amara is made for you to quilt at home. It is made to continue quilting in the tightest of spaces with its HQ 5-foot Little Foot Frame. You can start stand-up quilting anywhere you want, at home, cabin, studio, and make quilts of any size, small, or king.
Not just the throat space, but the bobbin and needle bar are brightly lit too. You also have the pinpoint needle laser, which ensures accurate needle placement from the start to the end of the quilt design.
The 7-inch touchscreen allows you to set the machine the way you want. From stitch regulation mode and needle positions to SPI and SPM, everything can be set through it. It also displays a handwheel through which you can control the machine as if it's an actual handwheel.
Then you have the handlebars, ergonomic and adjustable. The built-in micro handles allow you to adjust and turn the handlebars at any angle that you need to make a minute design on your quilt. You have the programmable button on the handlebars too.
UPGRADE PICK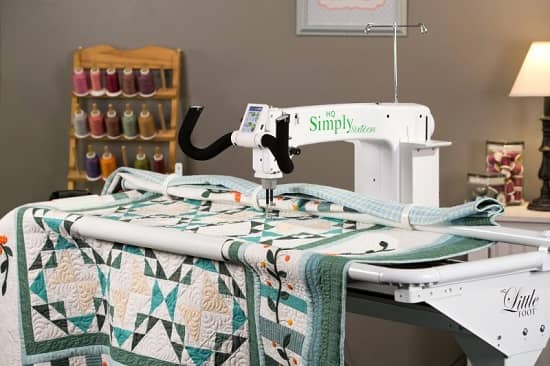 Features At A Glance
Makes any size quilt, skill level beginners to advanced
Two stitch regulation modes with 4-18 stitches per inch
Color touchscreen and handlebars with buttons
5ft Little Foot Standing Frame
16-inch longarm quilter
1800 SPM
Why We Love It? It allows precision stitching where the machine's speed depends on your pace of moving the machine with the bars and the cruise stitching that makes stitching of the turns and points of a design flawless and effortless.

Product information:
| | |
| --- | --- |
| Brand Name | Handi Quilter |
| Throat Space | 16″ |
| Stitches Per Minute | 1,800 |
| Stitch Regulation | ✓ |
| Frame Sizes | 5ft/10ft/12ft |
| Display | LCD Touchscreen |
| Included Presser Feet | 2 |
| Warranty | 10 Years |
Features At A Glance
If the above-20-inch long arm quilters are massive for your little quilting room, then we have even smaller options for you. The first one we have is the Handi Quilter Simply Sixteen with a 16-inch longarm and 5ft Little Foot Standing Frame. The perfect combo for your limited space requirement.
The unconventional frame system doesn't compromise quilting abilities and features. It can stitch at a speed of 1800 SPM and finish any size quilt pretty quickly and with finesse. This small-spaced quilting machine is for both beginners and advanced-level quilters.
Set up the stitch regulation mode and 4-18 SPI through the color touchscreen, and the quilter will provide you with a fine quilt with even stitches.
Other than the touchscreen controls, you have handlebars with programmable buttons on top. Changing the settings becomes all the easier when you have multiple easy-to-use controls on a machine.
OUR CHAMPION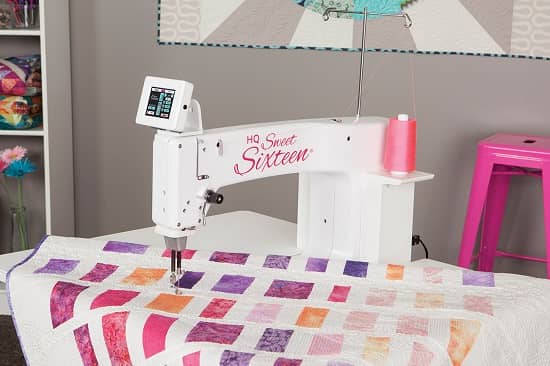 Features At A Glance
Brightly-lit stitch area with innovative 28 LEDs light ring
Color touchscreen for easy access to all the functions
16-inch throat space and 8-inch vertical space
HQ InSight Table, extendable
Customizable stitch speed
1800 SPM
Why We Love It? It stitches at 1800 SPM and offers three different stitch speeds depending on your quilting needs. So, you can use the color touchscreen to set the speeds, make one slow, one fast, and one for free-motion quilting.

Product information:
| | |
| --- | --- |
| Brand Name | Handi Quilter |
| Throat Space | 16″ |
| Stitches Per Minute | 1,800 |
| Stitch Regulation | ✓ |
| Frame Sizes | Sit Down Table |
| Display | LCD Touchscreen |
| Included Presser Feet | 2 |
| Warranty | 10 Years |
Features At A Glance
Quilting on a standing frame in a tight space, if not, is your cup of tea, then try this sewing machine that includes an HQ InSight Table, which is perfect for sit-down free motion quilting.
The machine has a 16-inch throat space and more than 8-inch vertical space, perfect for quilting in tight spaces, irrespective of the quilt size. You can make a king-size quilt on it and try the most intricate designs on the quilt. The end result will be perfection personified.
The machine will remember the settings, and you can directly choose the speed depending on your requirement and start stitching at once.
The innovative light ring with 28 LEDs keeps your quilting area bright and clear. You can see every stitch and set every feature and tool on the machine with a clear view.
ALSO, CONSIDER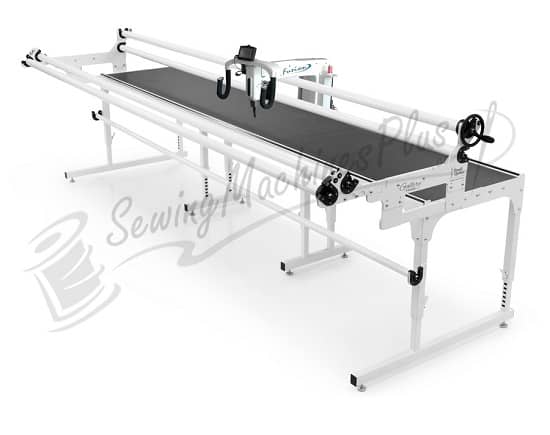 Features At A Glance
Handlebars with micro handles and control buttons
High-end technology and precision function
Touchscreens at front and rear
Includes a 12ft Gallery Frame
2200 SPM and 2-18 SPI
24-inch throat space
Why We Love It? To make things much more convenient, it includes two touchscreens. One set with the handlebars at the front and the other at the rear. You can control the stitch settings, stitch regulation, needle position, and a lot more with just your fingertips.

Product information:
| | |
| --- | --- |
| Brand Name | Handi Quilter |
| Throat Space | 24″ |
| Stitches Per Minute | 2,200 |
| Frame Sizes | 12ft |
| Display | LCD Touchscreen |
| Included Presser Feet | 1 |
| Warranty | 10 Years |
Features At A Glance
We have an easy-to-use and easy upkeep Handi Quilter machine for you with a 24-inch long arm and 12ft Gallery Frame. The quilter stitches precision stitches at a speed of 2200 SPM, and you can set the stitch count anywhere between 4-18 SPI.
Stitch any size quilt from crib to queen or king-size with utmost detailing in designs with this high-end technology quilter. It has merged function with vision.
The handlebars with cushioned grip allow you to move the machine with ease, and effortlessly. You also have the handlebar buttons and integrated micro handles on them for easy control of the quilter.
HQ 24 Fusion also features a thread-break sensor, LED lighting functions with menu control, built-in laser light, and an M-class bobbin.
Things to Consider Before Buying Handi Quilter Longarm Quilting Machine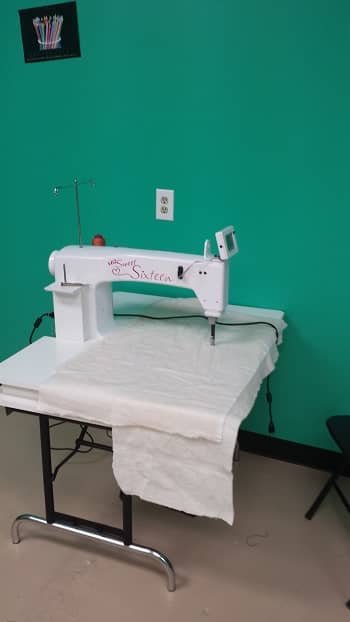 When you compile a buying guide for sewing machines from the same brand, knowing your requirements turns all the more important. It all comes down to your own preferences.
Longarm
No sewing machines by Handi Quilter are the same. They could be similar but not the same. So, the first thing you need to consider in an HQ sewing machine is its longarm space. Longarm space is basically the combo of throat space and vertical space.
The longer the machine, the wider the throat space. So, you have a large area to work on the quilts. Longarm will also help you comfortably work on thicker batting and larger patterns on king-size quilts.
So, it is up to you whether you plan to make quilts of that sort. The thicker and larger quilts you plan to make, the longer machine with longer longarm you will need for comfortable quilting.
Frame/Table
When you are quilting, you are doing it either on the frame or quilting table. HQ makes the best quilting surfaces. You can either choose a frame or a table for your machine. The quilting machine you are purchasing already includes the frame or table you need, but even then, some of them give you options regarding the size of the frame or whether you need extensions to the table or not.
So, gauge your workspace and precisely measure which length and width quilting frame or table will better fit your limited workspace.
Depending on that, choose the frame/table. If you have space, then go for the 12ft frame, and if you are limited in space, then a quilting table will do enough for you to continue quilting comfortably.
Sit-Down/Standing Quilter
Now some machines and frames will let you work on your quilts while sitting and moving the quilt with your hands to make designs and patterns, and some machines will let you move the whole machine to make the design and patterns.
Between the two we find moving the machines more convenient. The machine moves so smooth and fine that making the most intricate designs and patterns on the thickest and largest of quilts seems a piece of cake. If you are good at manually moving the quilts, then go with the sit-down sewing machines. Otherwise, standing frame quilting machines are the best.
Stitch Speed
You can go with a minimal 1800 SPM or go as high as 3600 SPM. You have ample choices to choose from. Going for a higher stitch per minute is always great to complete the projects sooner than regular. But if high-speed sewing machines are a bit tricky to handle for you, then stay in the middle ground. The SPM entirely depends on your skill level.
Stitch Regulator
You will need both precision and cruise stitch regulation modes along with the manual control of the machine. So, ensure the sewing machine you are getting has that feature. Without both the stitch regulator modes making the designs, patterns maintain even, consistent stitches from first to last is impossible.
Touch control And Handlebars
Without the touchscreen, touch controls, and handlebars, quilting is tough and not at all enjoyable. If you can choose a sewing machine with handlebars both at the front and at the rear, that will call for optimum convenience.
The same applies to touchscreens. Therefore, you need one at the front and one at the back. Two is always better than one. So, with that, you can have control over the machine and your quilts from all sides.
The Complete Guide To Handi Quilter Sewing Machine Maintenance
If it's a machine, it will need proper maintenance. The more you meticulously upkeep your sewing machine, the better it performs, and its lifespan increases too. So, here we will discuss how you can properly upkeep your Handi Quilter sewing machines.
All the HQ machines are pretty much the same inside, so the rule of upkeep is the same too.
The Mild Cleaning
Every time you are done quilting for the day, it is imperative for you to clean the machine. Not from the inside, but from the outside, like say, the bobbin area, tracks, needle plate area, touchscreens, the whole machine, so forth.
When you keep it clean from the outside, the inside doesn't get too dirty, too soon. There would be threads, lint, cloth pieces, dirt, dust all over the machine.
So to protect your HQ machine from accumulating layers of those and then getting jammed, you better have a long bristled brush or a piece of quilt batting and softly remove the dirt around the needle, bobbin, and track with those. And it would be best if you did it every day. You need to religiously oil the machine too, which also comes within regular maintenance.
The Deep Cleaning
Deep cleaning is something that you need to do frequently, not daily. If you are a professional quilter and work for hours on the same machine daily, your quilting machine will need deep cleaning every month.
So, the thumb rule is, the more you use the quilting machine, the more frequently you need to deep clean it. Now, let's explain the step-by-step process of maintenance.
Step #1 – Remove The Needle
Before you start your deep cleaning, make sure you are removing the needle from its slot. Also, you need to replace the needle every day for better and consistent stitch quality. If you are using the same needle for long hours on thick quilts, it will turn blunt, and stitch quality will not be as consistent and sharp as they were at the start.
So, remove the needle every time you start a new day or a new quilt, and clean up the needle area with a brush or pin.
Step #2 – Unscrew The Throat Plate
After you have removed the needle and the feed dog, now time to remove the throat plate and expose the area beneath. And for that, you will need a screwdriver, that perhaps is already included with the quilting machine.
Now, be careful while unscrewing the throat plate, and keep the screws in a safe place where you could find them easily. When you remove the plate, the area will be exposed. There will be the feed dog base, lots of screws, a bobbin area, slots where the needle hits every time to pick the thread, everything.
So, it will be full of crevices and small slots, which will be hard to clean. Make sure you do not blow air through your mouth to clean the dust and lint. That doesn't work in this case. The moisture will double up your cleaning chore.
Take a brush and clean the bobbin basket and bobbin area from all sides. From the top, from beneath, from sides, basically, clean it from all around. Also, make sure to clean the throat plate and the slot of the throat plate too. They will be full of dirt and lint as well.
Step #3 – Clean the Bobbin Case
After exposing the under-throat plate area, take out the bobbin case. It will be jammed with lint or thread for sure. Use a business card to remove the lint from the tension area of the bobbin case. And brush all the dirt off it with a small brush. Avoid using pins to save the case from scratches. A slight scratch will cost you the stitching performance.
Step #4 – Oiling
Just like the bobbin case, the bobbin case slot will be full of lint and fuzz too, and once again, give it a good clean. Now apply a drop of oil on the bobbin race, and you are done cleaning the machine. Make sure you put that drop of oil every time you change the bobbin.
Step #5 – Prepare The Machine For Stitching
Now place the bobbin case with an inserted bobbin in the bobbin slot. Screw the throat plate once again with the screwdriver. Magnetic ones are the best to unscrew small screws conveniently.
And the final step is to put on the needle and feed dogs, and you are up and ready for quilting for the next whole month. Once in a while, do not forget to remove the sides of the machine and remove the accumulated fluff and lint from there. You cannot do it frequently. But, cleaning those areas once in a while is a must.
Frequently Asked Questions  
Conclusion
Our Handi Quilter Longarm Quilting Machine Review highlights one thing pretty loud and clear. And that is all the Handi Quilter machines, at least the ones we reviewed are all high-quality quilting machines for both the beginners and the most skilled and for making any size quilts from crib to king size.
Some allow standing quilting, and some sit-down, but all are more likely for home use and limited space. However, the quilting frame or table and the stationary longarm decide how tight-spaced sewing machines can these actually be.
So, before you buy any of the ones, know they are all easy machines, high in technology, and fully featured. What you will have to know specifically is your requirement.
Please measure your space, fix your budget, and decide your comfort level, is it while standing or sitting down, you need a sewing machine over 3000 SPM, or you can do with an 1800 SPM one, and so forth, and then go for the Handi Quilter that fulfills your specific requirements closely.
The quilts you make will come out the best when you are in your optimum comfort zone, and only a perfect machine with accurate features and surface matching your requirement can ensure that comfort zone. 
Related Posts: