Buy the sewing machine table to finish your sewing projects in the best quality. Check our article for buying tips and pick the right one.
A sewing table may not seem to be very important, surely any old table will do? But consider this, you may well spend a great deal of time working at your sewing machine, and if you are distracted because you are not comfortable or if you are not working at the correct height, then your productivity will be hit. Work will take longer, and your standards will slip. 
You may also spend a lot of unnecessary time searching for sewing accessories that are stored all over the house. How much better if they were stored in cupboards and drawers under your sewing station.
In this guide, we look at what we consider to be some of the best available sewing tables and look at factors that you should consider when searching for the best sewing machine table. 
Our Recommended Top 5 Picks:
(See our quick top 05 picks, or go further down and read our in-depth reviews.)
Top 5 Sewing Machine Table of 2022 – (Editors' Top Picks)
1. Sauder 411615 Miscellaneous Storage Sewing Craft Cart
The Sauder 411615 comes in a "cinnamon cherry" finish. It is constructed using "engineered wood " (not real timber). The table has a traditional look, and the table is protected by a heat-resistant and scratch-resistant melamine top.
A feature of this table is that the front door opens and swings round to support a drop-leaf extension. On the back of the door are two storage containers for the convenient placement of accessories and tools. When this door opens, it reveals a full-width shelf on which the sewing machine can be stored when not in use.
On the right of the unit is a second door that opens to reveal two adjustable storage shelves.
The Sauder 411615 is a well-designed and compact unit that is very functional whilst at the same time when not in use making an attractive piece of furniture that would enhance any room.
Because of the drop leaf table extension, it also has one of the largest table widths of any in our selection.
The table is delivered in a "flat-pack" form and will require assembly before use.
Features at a Glance:
Drop leaf extension extends the useable working area substantially

Clever hidden storage behind the door including shelves and containers

Space to store the sewing machine out of sight on a hidden shelf

Heat and scratch-resistant melamine surface for working area

Dimensions width: 40.08" | depth: 19.45" | height: 28.50"

Finish: Cinnamon Cherry Engineered wood
2. Sew Ready Eclipse Hobby Sewing Center Sewing Craft Table
The Sew Ready makes no attempt at being discreet. It is what it is, a practical sewing table constructed from heavy gauge steel and MDF. It is light enough to be portable so the user can bring it out of storage when required, and it is also described as a dual-purpose sewing table/computer desk.
The Sew Ready comes in a choice of four colors: black/white, dark grey, silver/white, and white/cement grey. It comes in three options: No drawers, one drawer, and three drawers, although at the time of writing, only the no drawer option seemed to be available.
A feature of this table is that the sewing machine sits on a dropped shelf, which is adjustable so that the bed of the sewing machine will sit flush with the work area. However, when checking the dimensions, some larger sewing machines may not drop far enough to be flush.
The table includes a drop leaf section on the left, which adds an extra 9.5" to the working area. The drop leaf is supported by two metal brackets.
Features at a Glance:
The sewing unit has a drop-down shelf for the machine, so it is flush with the table

Six floor-levelers are supplied for uneven surfaces

Lower storage shelf for storage of larger items

The finish is in a selection of color options

Dimensions width: 60.25" | depth: 23.75" | height: 29.25"

Lower storage shelf dimensions: width: 32" | depth: 9"

Assembly is required
3. SEI Furniture Eaton Expandable Rolling Craft Station Sewing Table
The Southern Enterprises Eaton is a basic MDF flat-pack table with a bookshelf unit at one end of the unit and a lower storage shelf at the back of the footwell, where the sewing machine could be stored when not in use.
There is no other storage space, and the sewing machine sits on top of the table. The table comes in white and is constructed of MDF and melamine paper. The unit is on castors so it can be rolled away to a storage area.
If you are seeking a no-frills table unit to deposit your sewing machine on, and storage is not an issue for you, then this entry-level unit would seem to be what you are seeking. The primary benefit of this table is that it is on castors and can be rolled from room to room, so, for example, you can move the table into the living room and sit with the family while using it.
Features at a Glance:
Table is mounted on casters for portability 

Drop leaf table extension

Supplied in white

Dimensions: width: 31.5" | depth: 19"" | height: 29.5"

Assembly is required
4. Arrow Sewing Cabinets 601 Gidget
The primary feature of this sewing cabinet is the fact that when not in use, it can collapse/fold up into a very small space for storage. If space is a major consideration, then this may well be the table for you. Of course, the ability to fold flat does mean that the table has zero storage space.
The table does have a dropped shelf for the sewing machine so that the bed will be flush with the work surface when working. This is a useful feature. 
Before considering this table, you should ensure that your sewing machine is no larger than 17 " wide, 7 3/8" deep. Ideally, you need a top-loading bobbin on your machine as it is difficult to load a front-loading bobbin when the machine is dropped into the table. If you do have a front-loading bobbin, you will need to remove the sewing machine from the table first before changing it.
The table is constructed of MDF/melamine and comes with steel legs. And arrives fully assembled when delivered.
Features at a Glance:
Completely foldable table for those with limited space.

a Dropped platform to house the machine so that it is flush with the work surface.

The Dropped platform is adjustable for different sizes of machines – maximum size 17 " wide, 7 3/8" deep. 
5. South Shore Crea Craft Table
This is a cleverly designed sewing table that has ample storage set into a compact sewing center. The surfaces are designed to be scratch-proof, and the whole unit sits on 4 wheels that allow the user to maneuver the unit easily. 
This unit feels more like a sewing center than just a sewing table. The quality work surface and the ample storage that is placed conveniently on each side of the user demonstrate a clarity of thought when it comes to the design. When closed, this unit will look like an attractive piece of furniture and can be utilized as a writing desk or computer table.
There is a useful pull-out section that allows the sewing machine to be stored when not in use, and also has a useful shelf that is easily accessible to the user. 
On the left of the user, there is a set of drawers. The top drawer has removable dowels so you can place your cotton and threads on them in an orderly fashion. Underneath there are three useful storage drawers.
The table is eco-friendly as it is built of non-toxic particleboard, which complies with all American safety standards.
The only downside to this sewing unit is that there is no dropped platform to house the sewing machine, so when in use, the machine is raised above the work surface. However, some users may prefer this.
This unit is delivered "flat packed" and will require assembly by the user.
Features at a Glance:
Scratch proof and water-resistant working top

The unit is mounted on wheels for easy relocation

This is a complete sewing center with well-designed storage included.
That concludes our exclusive five reviews of what we think is an excellent range of sewing tables. We move on now to take a look at the important factor to consider when choosing the Best sewing machine table. 
What do We Need to Consider When Buying Sewing Machine Table?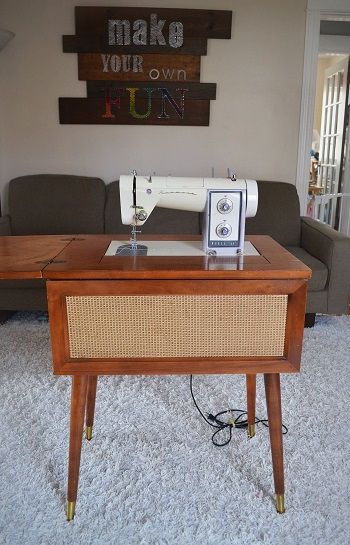 You must be comfortable when you sew. Your body should be in a healthy position and not bent over or reaching for the table. You may be spending a lot of hours at the table, so it is important to select the right table for your needs.
In this section, we will take a look at some of the key factors to consider when choosing a sewing machine table. Here are our top six tips for buying the top sewing machine table
What kind of work do you expect to do most?
The width of the table should reflect the type of work that you do most. If you are going to sew a lot of large items, then you should look for a wider sewing table, so that you can access the room needed to work comfortably. However, if you mostly work on smaller items, you may not want to fill your room with an oversized table.
The chair is important too
The chair and table work in concert to give you the optimum sewing position, and you should consider which chair you are going to be using when considering the table. A chair that has an adjustable height may well be a perfect choice, as it will allow you to change position as required.
Your table should be the correct height 
When working at your table, your wrists should be straight, and the work should be level with your elbows. Now that is the ideal position, but if you cannot find a table that meets those requirements, then you should consider raising the table by fixing some wooden blocks to the legs or cutting a small amount off the legs.
You will need storage space
Cupboards or drawers will allow you to keep all your sewing materials and accessories together in one central place. When you consider all the reels of thread, sewing machine needles, sewing machine feet, machine bobbins, tape measures, and fabric pieces, there may be a considerable amount of items to store. Some sewing machine tables go to great lengths to provide extra space for the user.
Table Extensions
Some tables have drop leaf sections that allow you to extend your table when in use and fold them away when you finish your work, so your table can be more compact and not dominate your room. 
A few other factors to consider
Of course, this list of five factors is only a selection of the most important factors that normally are considered when choosing a table. There may be many other considerations that you will need to consider, such as whether or not the work surface is durable and will put up with you throwing down scissors or dropping glue on it, without becoming scarred and scratched.
You may have a preference for a wood color so that the table matches the rest of your furniture. In fact, you may also want the table to reflect the style of your furniture, whether it be modern or traditional. 
Final Word
We have researched the best tables and brought you a selection of those we consider the best, read our reviews again, perhaps more slowly, and compare them against these points we have made in this last section. If you think you have found a table that suits you, then follow the link and check out the full specifications.
We hope that you have enjoyed this article and that it has provided "food for thought" and we wish you the best of luck in finding that perfect sewing table.