Are you looking for the top sewing machine in Canada? We got covered the top Sewing Machine's detailed features, and performance.
Sewing has been a tradition for women for a long time. Back then, they used to perform hand-sewing with colorful yarns, needles, etc. Now, we have a new alternative named sewing machines. It is way more efficient, more manageable, and less time-consuming than the previous method.
Thousands of fashion enthusiasts buy their personal sewing tools to explore new dimensions of creativity. Other people use them to make new clothes themselves and fix the old ones. Whatever your goal is, you must get one within your budget.
The required features of a sewing machine vary from person to person. They may have different targets, skill levels, and priorities. So selecting the right model is very important. Today, we are listing out ten best buy sewing machines in Canada for your convenience.
Our Recommended Top 5 Picks:
(See our quick top 05 picks, or go further down and read our in-depth reviews.)
C $165.09
in stock
8 new from C $165.00
as of December 3, 2022 9:33 am
C $249.00
in stock
5 new from C $249.00
1 used from C $209.00
as of December 3, 2022 9:33 am
C $319.99
in stock
9 new from C $319.99
as of December 3, 2022 9:33 am
C $325.00
in stock
5 new from C $295.00
as of December 3, 2022 9:33 am
C $539.51
in stock
2 new from C $539.51
1 used from C $349.99
as of December 3, 2022 9:33 am
Top 10 Sewing Machines In Canada – (Editors' Top Picks)
1. Singer 4423 Heavy Duty Sewing Machine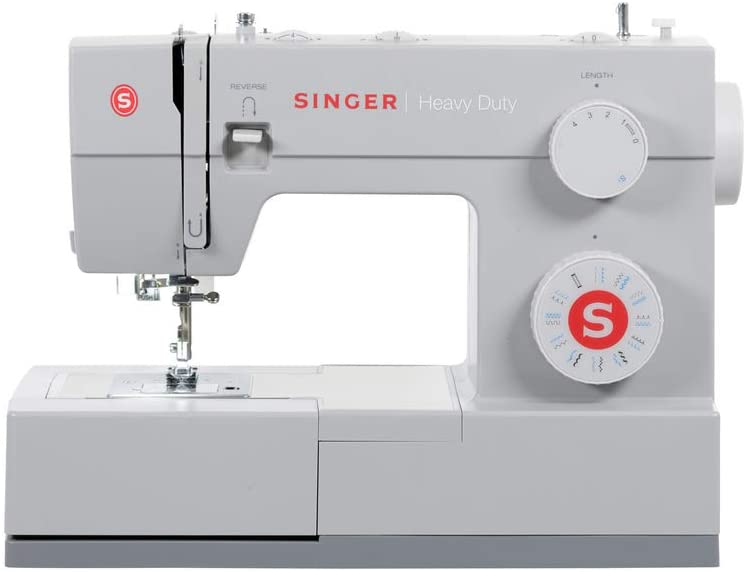 TODAY'S BEST DEALS ⬇
Product information:
| | |
| --- | --- |
| Stitch Count | 23 |
| Stitches Per Minute | 1, 100 |
| Weight | 14.5 Pounds |
| Warranty | 25 Years |
| Color | Grey |
| Material | Metal |
Product Description:
Our winner is the Singer 4423 machine. It utilizes a 60 percent more powerful engine compared to ordinary machines. No wonder it performs more than 1,000 stitches per minute (SPM). Even the biggest projects can be completed within a short time because of the high pace.
A solid metal mainframe and a bedplate are parts of its construction. The plate feeds garments smoothly.
All stitches come to be perfect and equal; you won't find any missed stitches there. It would not be feasible without the heavy-duty core. Whether you use the machine occasionally or regularly, it will definitely remain usable for a couple of years.
Its drop-in bobbin system is simple to set in place, wind, and remove. Keep your eyes on the thread supply while working. You will see it clearly through the transparent bobbin cover. If you don't understand anything, take help from the user manual or Singer assistant software.
It covers 23 stitches such as fundamental, stretch, decorative, etc. One of them is for making buttonholes in four quick steps. Aside from the buttonhole foot, the package carries three more presser feet. Plus, there will be a lint brush, pack of needles, compatible bobbins, dust lid, and setup tools.
2. Brother CS6000i Feature-Rich Sewing Machine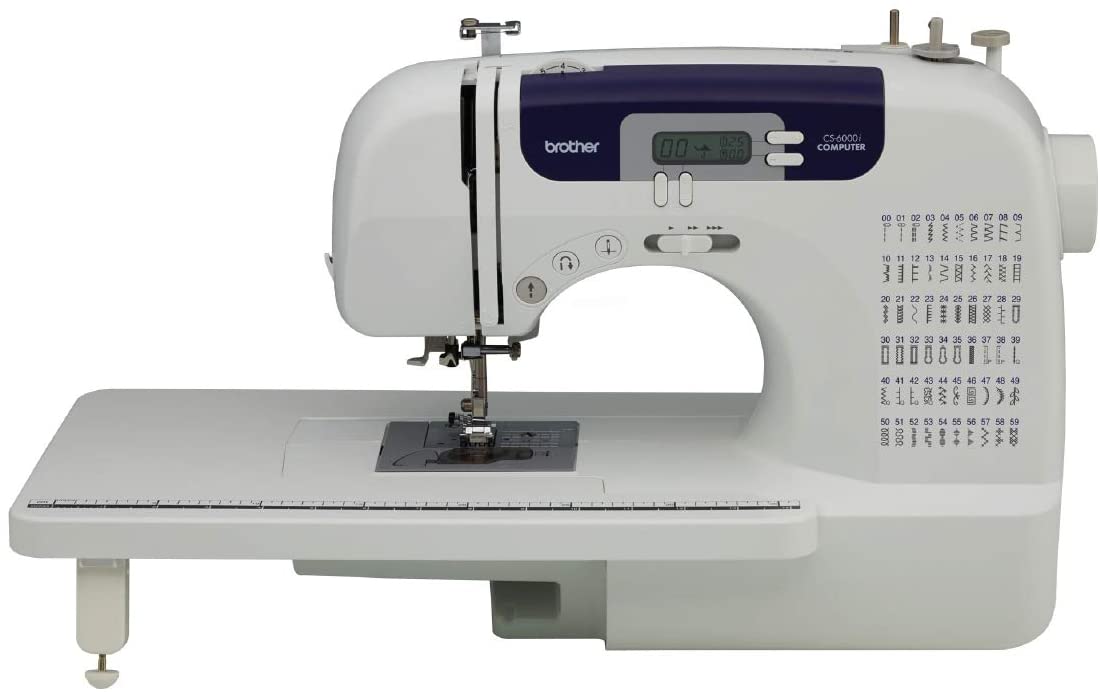 TODAY'S BEST DEALS ⬇
Product information:
| | |
| --- | --- |
| Stitch Count | 60 |
| Stitches Per Minute | 850 |
| Color | Blue/Beige |
| Warranty | 25 years |
| Weight | 5.9 Kilograms |
| Dimensions | 40.64 x 17.02 x 28.96 cm |
Product Description:
Brother is a reliable name when it comes to sewing machines. The CS6000i model is one of the most versatile creations of the company. It supports both sewing and quilting. You can customize the stitches and set the dimension with respect to the projects. All adjustment settings appear on a large LCD monitor.
We are so grateful to the manufacturers for the easy threading advantages. They added a numbered diagram to this device. We just have to load the thread following the signs. The machine becomes ready within no time. Use the side lever for needle threading. As soon as you touch it, an automatic threader will thread the needle.
All users want to control the speed. It indicates how slow or fast they like to stitch. A stitch speed slide is coupled with the sewing tool for this purpose. Meanwhile, the drop-in bobbin prevents jamming so that no discontinuance comes in the mid-process. It is effortless to position and access.
We are happy with the size of the included table and the free arm. The former is broad enough to accommodate quilts, big projects, and the latter takes the responsibility of stitching hems, cuffs, sleeves, etc. After finishing work, sort all items in the machine's storage.
3. Brother Sewing and Quilting Machine, XR3774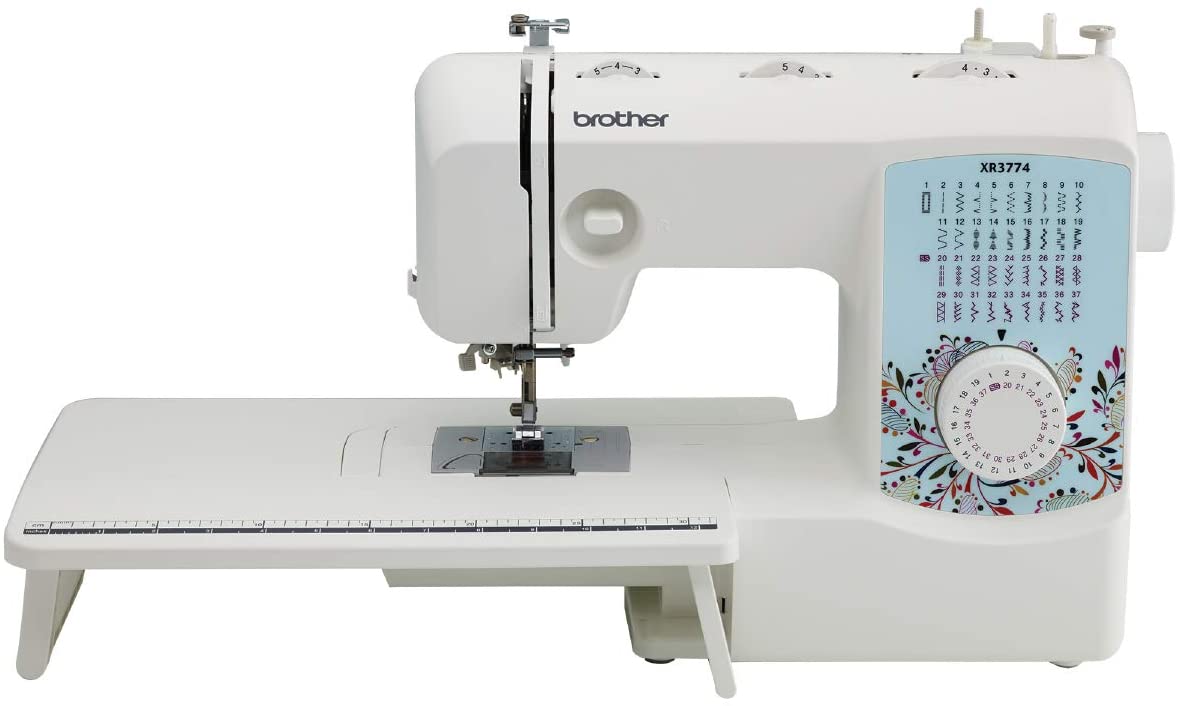 TODAY'S BEST DEALS ⬇
Product information:
| | |
| --- | --- |
| Stitch Count | 37 |
| Stitches Per Minute | 800 |
| Warranty | 25 years |
| Weight | 7.2 Kilograms |
| Dimensions | 38.86 x 14.73 x 30.48 cm |
Product Description:
It provides several regular, blind hem, quilting, and decorative patterns. Altogether, there are 37 unique stitches. Endless eye-catching designs can be made using them and a one-step buttonhole. Users are allowed to choose a suitable match with the help of the stitch selector. Watch the instructional DVD if you don't know how to use it.
Many of us suffer from severe eye strain while threading the needle. It becomes frustrating and time-consuming when they fail. Nothing but a needle threader helps them out. It works well along with the device's drop-in top bobbin. The key benefits of such a bobbin are flawless operation, precise stitches, etc.
We are surprised to see the long list of accessories. Eight different sewing feet are packed with the main product. Beginners and intermediate sewists do not have to buy any other foot separately. The box will also cover needle sets, installation tools, spool pins, bobbins, innovative foot controllers, a power cord, a darning plate, and a bilingual instructional book.
Large projects generally need an expansive workspace for efficient sewing or quilting. Besides, a free arm is mandatory to sew long, cylindrical sections conveniently. Thankfully, this machine involves both of them.
Features At A Glance
37 built-in patterns

Automatic needle threader

A versatile free arm

Quick stitch selector

Spacious quilting Table

Easy-to-set drop-in bobbin
4. Brother XM2701 Lightweight, Full-Featured Sewing Machine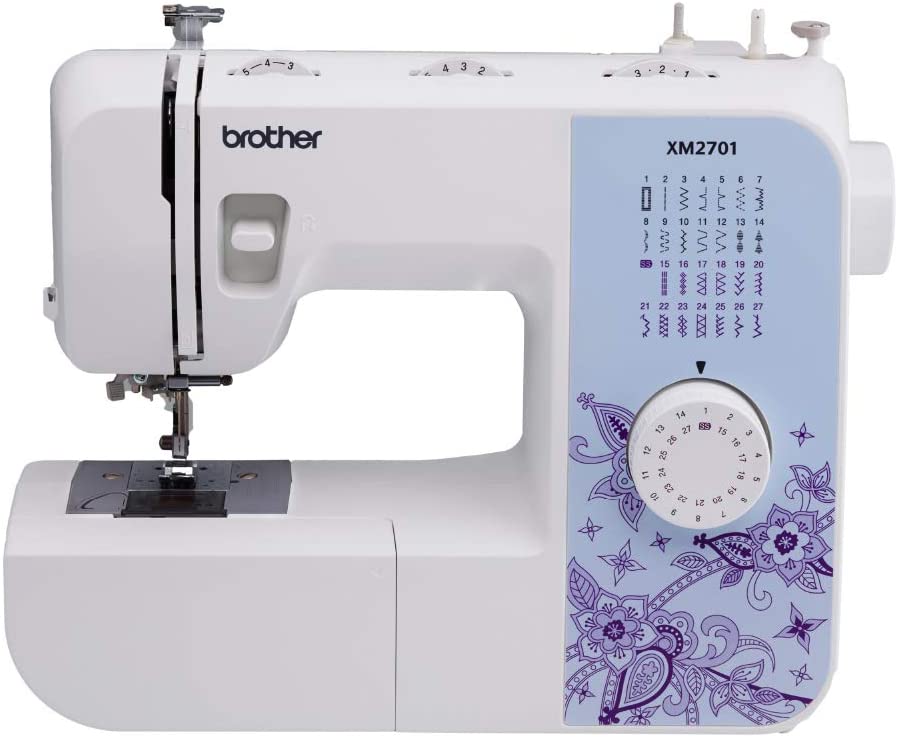 TODAY'S BEST DEALS ⬇
Product information:
| | |
| --- | --- |
| Stitch Count | 27 |
| Stitches Per Minute | 800 |
| Warranty | 25 years |
| Weight | 5.72 Kilograms |
| Dimensions | 30.73 x 14.99 x 38.86 cm |
Product Description:
It delivers 27 stitches to try any type of sewing project. A buyer can use either one or a combination of multiple stitches. These styles boost a fabric appearance instantly. If you want small holes for attaching buttons, stones, or ribbons, the auto-size buttonholer will do that.
The thing we like the most about this machine is its ease-of-use properties. It has an automatic threader, which finishes threading while maintaining a stable stitch quality. As a person runs the device, the fabric goes under the needles quickly. Its drop-in bobbin keeps the threads safe from jamming.
It is needless to describe the importance of presser feet. They finish certain tasks correctly. This tool arrives with a buttonhole, narrow hemmer, zipper, blind stitch, zigzag, and button sewing feet.
Beginners to experts- everyone can replace them quickly. People typically use matching threads to the fabric color. It gives an illusion of invisible seams. Tracking the stitches becomes hard, sometimes. The sewing machine's LED lights brighten up a wide area for accurate monitoring.
Read the user guide right after receiving your order. Be familiar with the machine's parts if you are a beginner. Note down all important details. Check the DVD tutorials for a better understanding.
Features At A Glance
Unique built-in styles

Six sewing feet

LED-lit work area

Easy threading approach

Built-in needle threader

Easy stitch selection method
5. SINGER Mechanical MX60 Sewing Machine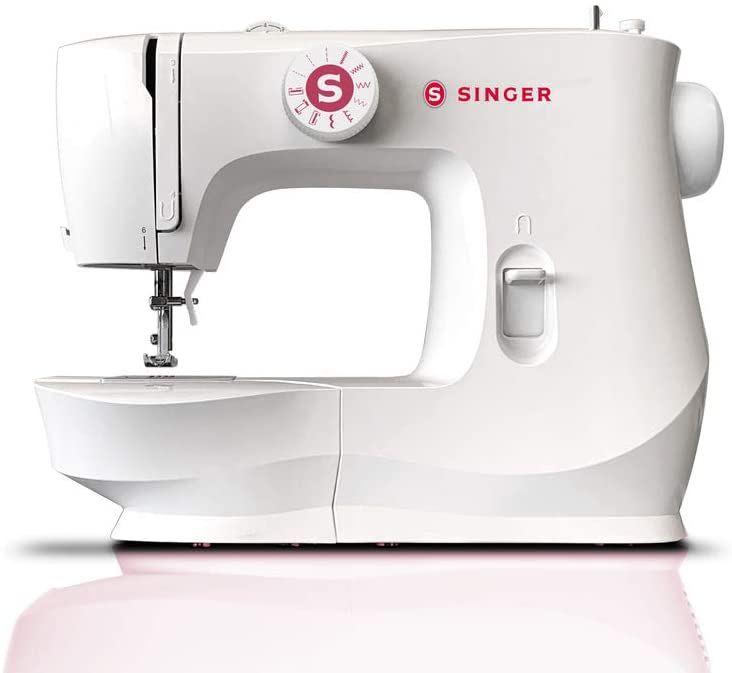 TODAY'S BEST DEALS ⬇
Product information:
| | |
| --- | --- |
| Stitch Count | 6 |
| Stitches Per Minute | 850 |
| Needle Threading | Automatic |
| Warranty | 90 Days |
| Color | White |
| Material | Metal |
Product Description:
It is the best basic sewing machine in Canada one can ever find. The reasons are obvious. It has six preset stitch options. They are okay to apply standard sewing techniques. We can set not only the wanted styles but also the preferred length and width. Moreover, four easy steps will create nice buttonholes as per our wish.
Now come to the construction. Solid inner and outer layers are the secret behind its long lifespan, skip-free sewing, effectiveness, etc. A good amount of long-lasting sewing devices are heavy. Unlike them, it does not sacrifice portability. You can bring it everywhere.
As you can see, it is a mechanical appliance. Its maintenance, using process, and manual controls are easy to learn. Another positive side is that it implements quick threading mechanisms. Winding can be quickly done by following the threading guide.
A reverse level is its other mention-worthy feature. It assists in reverse sewing. It seals the seams properly and resists unraveling. Last but not least, it offers an adjustable thread tension scheme. It enables us to adjust the thread tension depending on the elements we are using. Thus, the machine prevents thread breakage.
Features At A Glance
Six beginner-friendly stitches

Customizable stitch length, width

Light-weight, non-bulky, portable

Easily-accessible stitch dial

Variable thread tension

Stable, long-lasting machine
6. Brother CS5055 Computerized Sewing Machine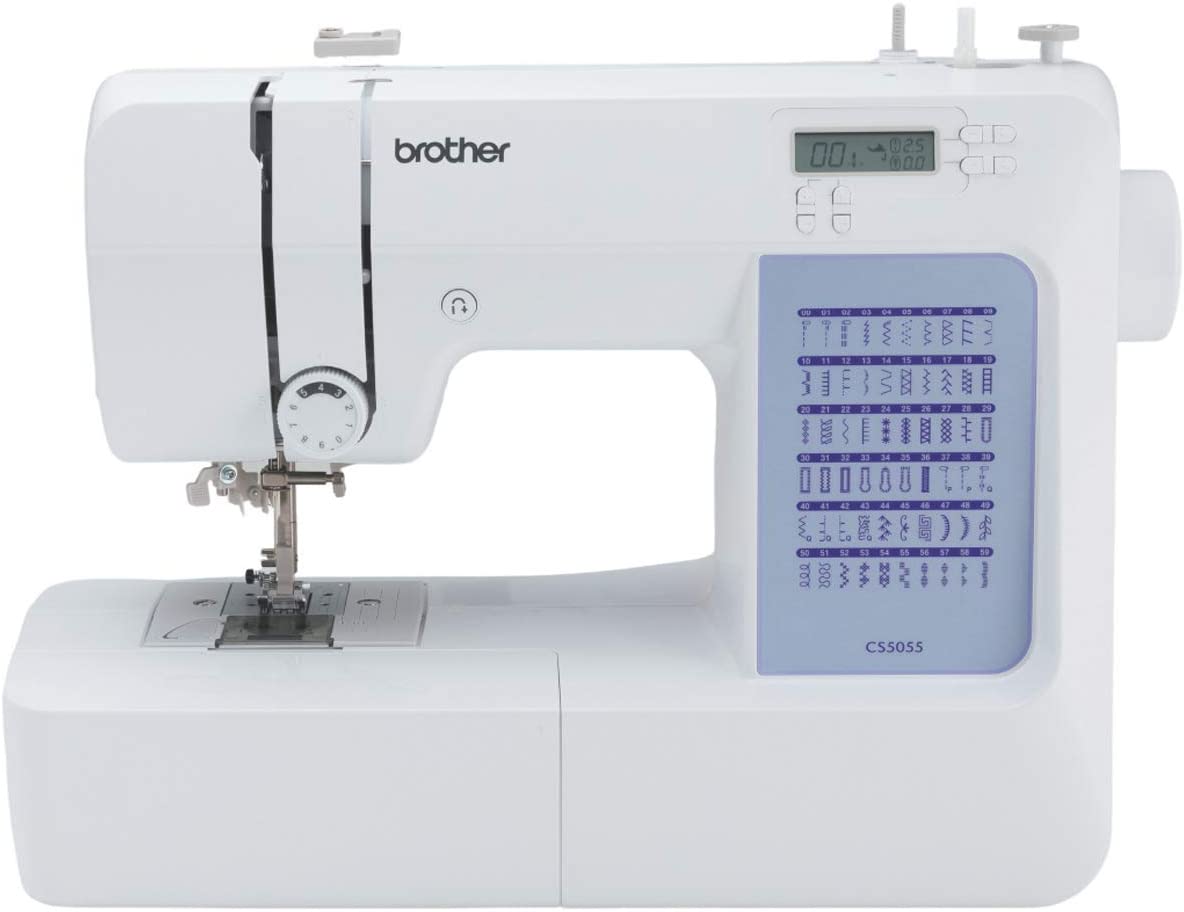 TODAY'S BEST DEALS ⬇
Product information:
| | |
| --- | --- |
| Stitch Count | 60 |
| Color | White |
| Material | Metal |
| Weight | 6.3 kg |
Product Description:
It is a computerized item from the Brother brand. It has a metal body to tackle all kinds of loads. We have used light, medium and heavy fabrics and didn't notice any difference in its performance and stability. We appreciate the thought of adding a fixed needle bar. It does not let the needle move too much. And the results are clean and even stitches.
Sixty different stitches are in the machine. This number is way higher than most other high-end alternatives. Fashion designers, creative sewists, stylish people, and tailors find it excellent for all the designs they want to make. They also get seven one-step buttonholes as a bonus. Beginners can use some particular patterns, develop skills, and try other stitches gradually.
An improved needle threader always guides threads through your needle. It barely takes any time. Just load the drop-in bobbin thoroughly and start running the device. It will remain stable during working. As a consequence, your thread will never get jammed.
Larger projects are easy to prepare on a broad needle-to-arm space as the machine has. The deal covers seven presser feet, many high-quality needles, and multiple bobbins as well. Read the given trilingual user manual to learn the working procedure.
Features At A Glance
Many stitch choices

Seven one-step buttonholes

Advanced needle threader

Functional drop-in top bobbin

Included accessories

Robust metallic body
7. Brother CS7000X Computerized Sewing and Quilting Machine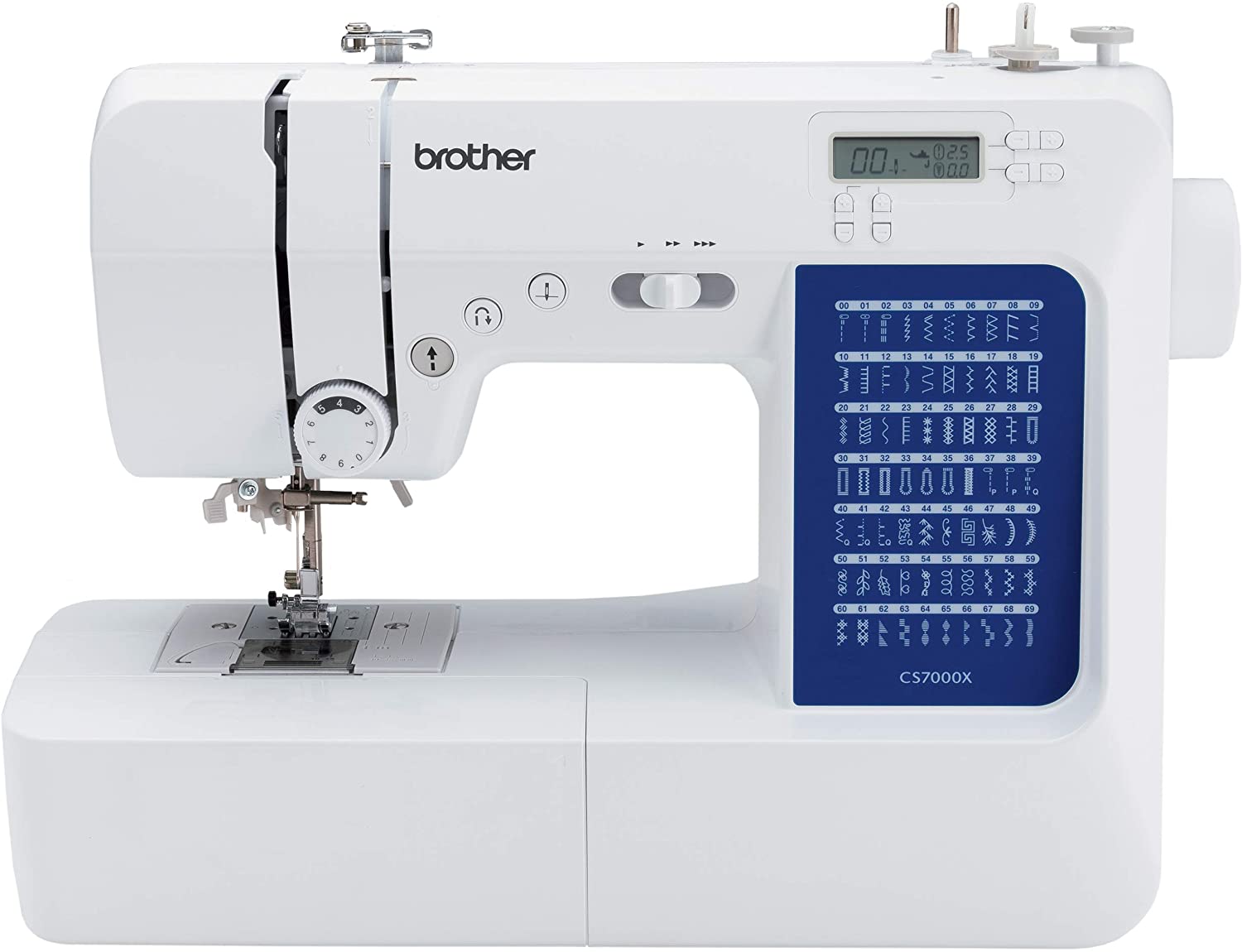 TODAY'S BEST DEALS ⬇
Product information:
| | |
| --- | --- |
| Stitch Count | 70 |
| Color | White |
| Material | Metal |
| Needle Threading | Automatic |
| Warranty | 25 Years |
Product Description:
It is almost similar to the previous one except for the fact that it has more built-in stitches. Such a variety of basic, utility, decorative, and quilting styles is sufficient for every single project. Seven automatic buttonholes create even holes in a single step. Select any options from the LCD screen, and you are all set.
Another difference is the number of included feet. It has ten presser feet for various jobs. Other included items are a protective case, drop-in bobbin, a spacious table, and an instructional manual. The bobbin offers a jam-free outcome with minimum effort. It prevents thread breakage and tangling successfully.  
Its huge needle-to-arm gap accommodates a good amount of fabric. The fabric will hardly be wrinkled, scratched, or torn. It acts as a desirable surface to build quilts. No matter how big and tough the project is, the fixed bar locks the needles in their places. Each stitch comes out to be precise, well-formed, and clean.
Threading can be a challenge for users. It consumes time, and energy and gives eyestrain. With the machine's needle threader, you won't experience those problems ever. Every time you come to work, it will thread the needle itself.
Features At A Glance
Plenty of built-in stitches

An automatic needle threading system

Wide working table

Ten sewing feet

Durable construction

Stable needle bar
8. SINGER M3330 Making The Cut Sewing Machine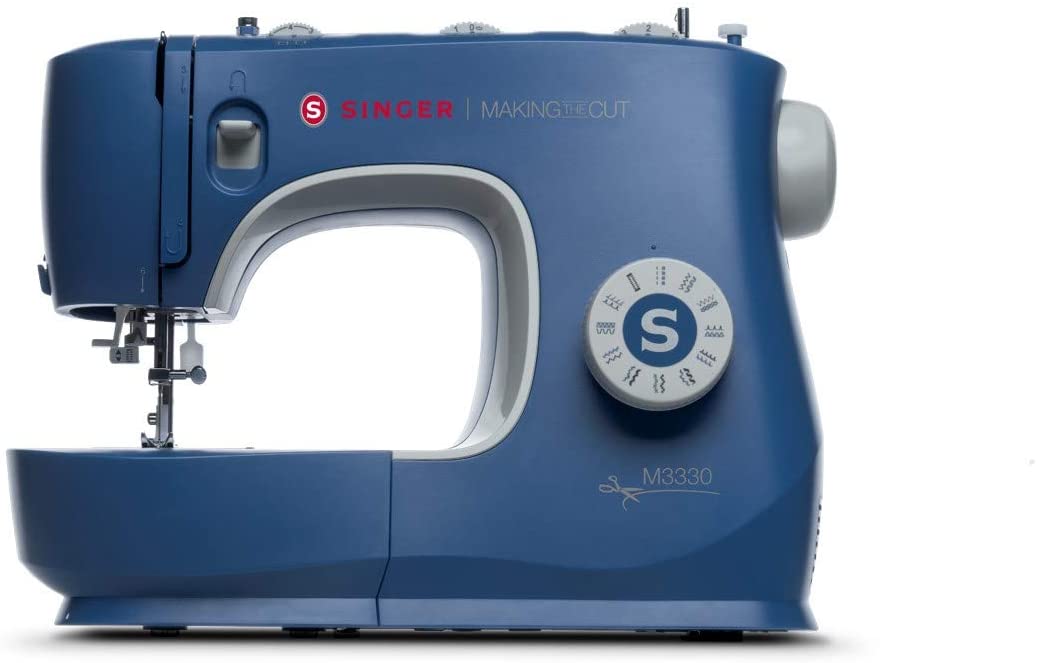 TODAY'S BEST DEALS ⬇
Product information:
| | |
| --- | --- |
| Stitch Count | 97 |
| Color | Blue |
| Material | Metal |
| Needle Threading | Automatic |
| Weight | 6.49 Kilograms |
| Warranty | 90 Days |
Product Description:
This single piece of equipment can take care of 97 stitch applications altogether. Every client is happy with the number of stitches. Additionally, it features a one-step buttonhole. It never generates irregular buttonholes. It suits traditional sewing, quilting, decorative cloth making, alternation, hold fixing, and home projects.
Say goodbye to the complexities of needle threading as the device features a threader. It pushes the end of the yarn through the tiny needle space. It happens faster than we expected. As soon as the needles are ready, begin feeding the fabrics. Monitor the stitches under the bright LEDs.
Work with heavier garments as much as you want. It won't mess with the device's durability. All thanks go to the solid metal structure. It literally lasts for over twenty years. If you need additional room, bring out the free arm. It helps to form hems and cuffs.
Overall, it is an amazing sewing machine. A drop-in bobbin would make it even better. Unfortunately, it has a front-loading bobbin. It is not bad but lacks superior stitch quality like its drop-in counterparts. Still, it offers a good outcome. Bobbin insertion and winding processes are pretty easy.
Features At A Glance
A total of 97 stitch applications

Time-saver threader

Front-loading bobbin

Four presser feet

Consistent one-step buttonhole

Free arm stitching
9. Brother Sewing Machine, GX37, 37 Built-in Stitches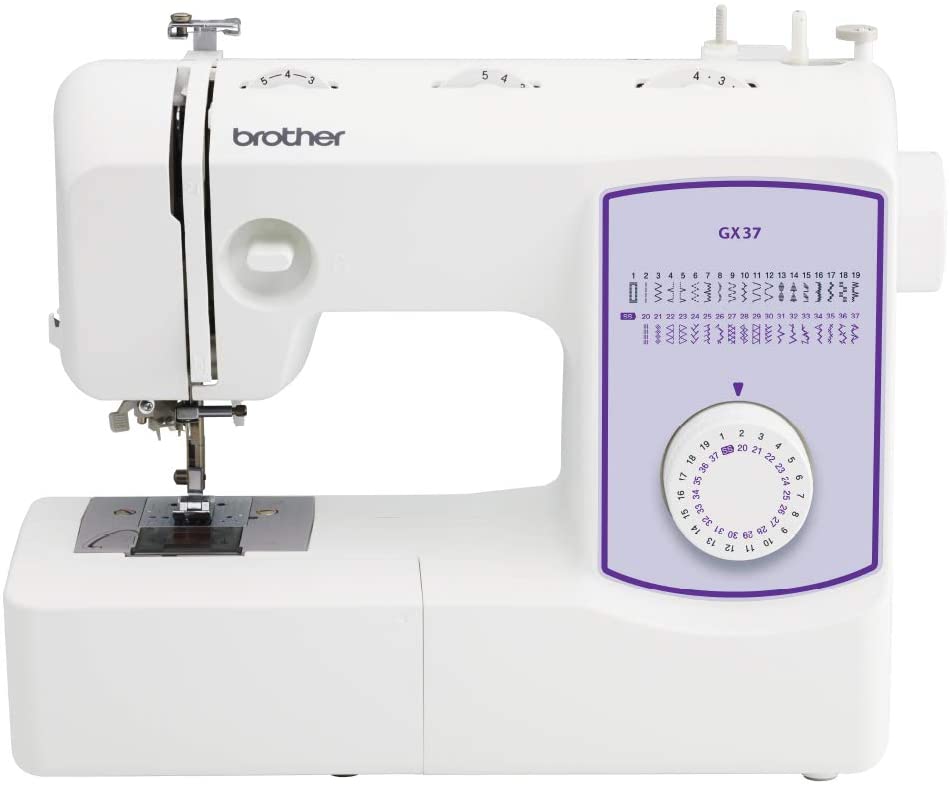 TODAY'S BEST DEALS ⬇
Product information:
| | |
| --- | --- |
| Stitch Count | 37 |
| Needle Threading | Automatic |
| Weight | 6.99 Kilograms |
| Colour | White |
| Warranty | 25 years |
| Dimensions | 43.18 x 35.31 x 26.16 cm |
Product Description:
This one comes with 37 preset styles as well as a buttonhole. As you can assume, it is an incredible match for learners and intermediate workers. Also, it can do most professional garment construction, quilting, and applique. The machine shuffles patterns if anyone turns the dial. Settle up a certain option before feeding your fabric. The needles will produce the same design all over it.
Just like all pro-grade units, it contains an automatic threader. You can imagine how much time it saves. One more time-saving part is the drop-in bobbin. Its placement on the case hardly takes minutes. You don't spend much time on tension adjustment too. It maintains consistent stitching quality without skipping.
Users of all skill levels are aware of the difficulties they face due to limited space. Sewing pants, cuffs, and cylindrical shapes become quite challenging, and so does quilting. This model features a versatile free arm to remove these complexities.
The suit has almost everything clients need. They receive bobbins, needles, video tutorials, and an instructional book. There are six different presser feet (zigzag, buttonhole, button-making, narrow hemmer, zipper, blind stitch) to do respective actions.
Features At A Glance
Different stitch varieties

Jam-proof drop-in bobbin

Six sewing feet

Multi-purpose free arm

Best for sewing, and quilting projects

packed with multiple essentials
10. Singer 1304 Start Basic Everyday Free-Arm Sewing Machine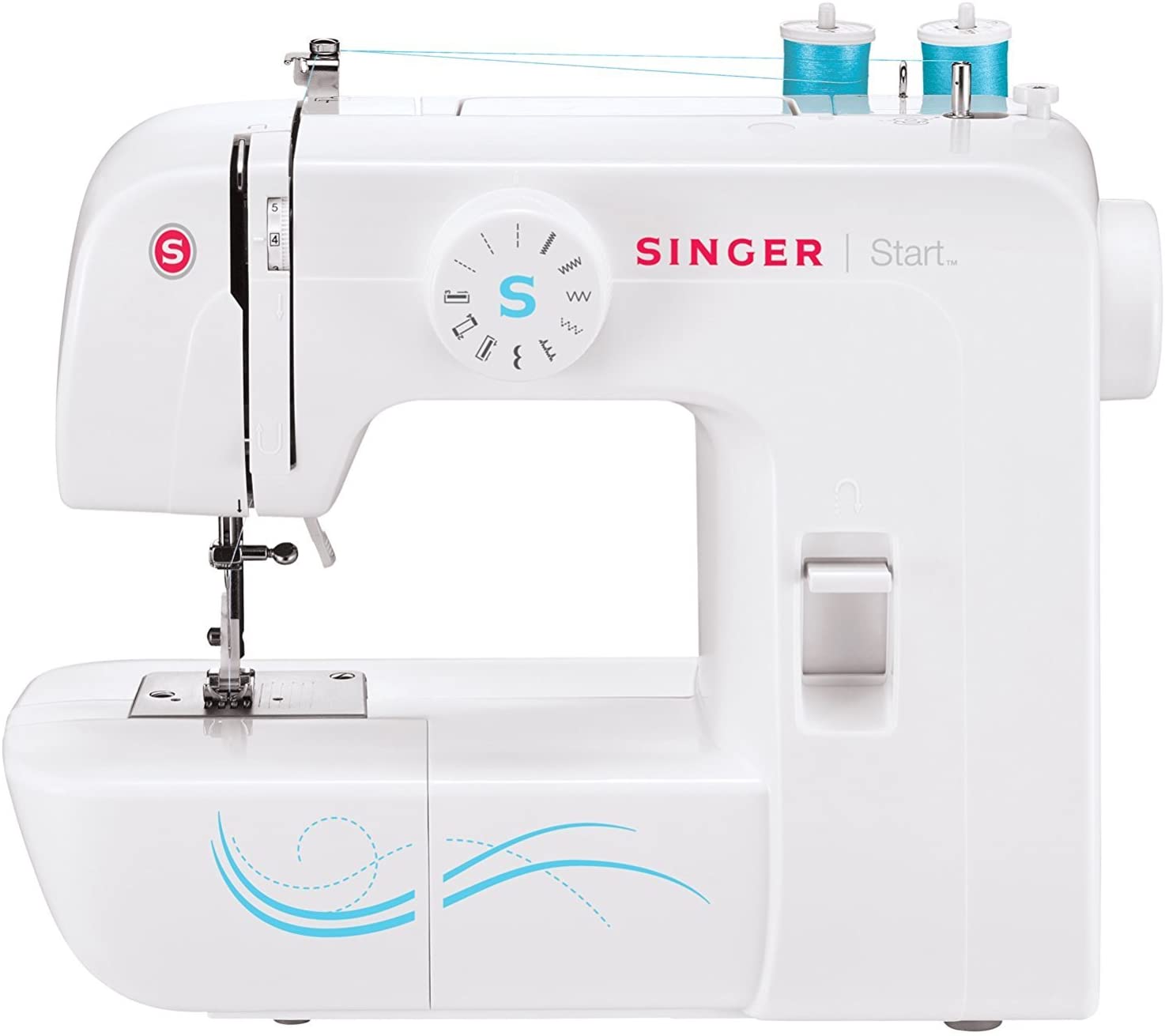 TODAY'S BEST DEALS ⬇
Product information:
| | |
| --- | --- |
| Stitch Count | 6 |
| Bobbin Winding | Automatic |
| Weight | 4.45 Kilograms |
| Colour | White |
| Warranty | 25 years |
| Dimensions | 33.02 x 17.78 x 29.21 cm |
Product Description:
Consumers who like using corded electric units should grab this one. We really like its simplicity. Although it does not have hundreds of choices, there are regular, blind hem, zigzag, buttonhole, satin, and scallop stitches. Therefore, we can call it the best beginner sewing machine in Canada.
There are three presser feet in the combo. The first one is an all-purpose foot; it handles most sewing tasks. If you want to add a slot for buttons, laces, or anything else, use the buttonhole foot instead. Finally, you will get a zipper foot. Feel free to attach zippers, and piping by using it.
The machine has printed signs, which indicate the path of guiding the thread. Anyone can do its threading effortlessly without wasting time. Don't worry about the bobbin winding. An automatic winding system will handle it. Use the free arm to get well-stitched cylindrical shapes like pants, sleeves, and many more.
Nothing can be better than a sturdy interior to guarantee stability, reliability, and longevity. That's why the manufacturers put a metal frame in this machine. It assures skip-free sewing even at the highest speed (750 SPM). Since the stitch length and width are preset, none have to bother with them.
Buying Guide for Choosing the Best Sewing Machine In Canada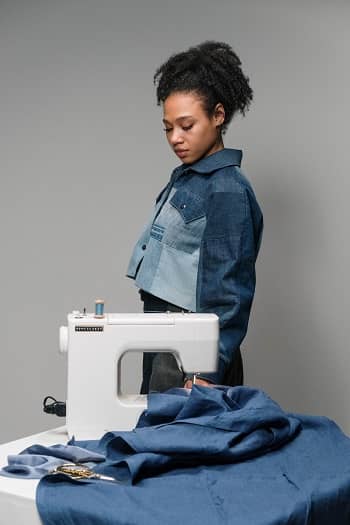 Take the following characteristics into consideration to know which is the best budget sewing machine in Canada:
Type
Four types of sewing devices dominate the marketing environment. They are:
Mechanical machines: They are the most affordable products. You can only expect the basic functions from them on lightweight fabrics. Heavy-duty projects and fancy designs are not possible at all.
Electronic machines: They operate with electric power. All of them contain a high-speed motor for fast, accurate, fault-free sewing. Tailoring thick fabrics, great speed control, and effortless handling- are their major benefits.
Computerized machines: As the name suggests, a touchscreen LCD completes these devices. They offer good-quality sewing along with excellent control features. Despite being pricey, such an appliance is the best sewing machine for beginners in Canada.
Serger Machines: They are mainly for overlocking your fabric. They combine two or more fabric pieces together and give a flawless finish.
Construction
Longevity is the main concern when buying a sewing machine. Nobody wants a model that breaks just after a year, even if it is affordable. They should better get an expensive one because it may last up to 25 years or more.
So, don't regret ordering a plastic unit. You will notice faster degradation, unreliable service, and difficult repairing. Go for a metal frame instead. They usually last for a lifetime. Their downside is being on the heavy side.
Home applications are okay, but they are not for taking in the sewing classrooms or traveling. Beginners should prioritize lightweight machines with handles.
Features
Here are the top features a sewing appliance has:
The number of stitches: Straight and zigzag patterns are fine for the newbies. As a sewist learns the basic two stitching, she may need more. A professional typically needs thirty or more stitches for creative designing.
Type of stitches: Focus on your aim. If a model has over 100 stitches but lacks your desired one, don't buy it.
Threader: It leads the yarn through the needle's hole. Users don't have to do anything.
Thread cutter: It trims off the unwanted thread automatically.
Speed control: Users should be cautious when they work with delicate, ultra-thin, or thick materials. They have to adjust the pace accordingly; otherwise, the machine will ruin the fabrics.
Stitch dimension adjustability: It enables us to change the stitch length, and width based on our needs.
Buttonholer: A buttonholer sews perfect buttonholes within seconds. Nobody has to rotate the clothes or manipulate any buttons.
Feed-Dog adjustment: It helps in freestyle embroidery.
Tension control: Too light thread often breaks, whereas too loose tension results in poor finishing. A person should get a way of adjusting the thread tension.
Number of accessories
The majority of consumers like a complete package. And why not? They don't have to look for compatible items, pay more cash, or wait until they receive the orders. Presser's feet are the first items a person should check.
Her picked one must include a zipper foot, buttonhole foot, multi-purpose foot, walking foot (for quilts), and embroidery foot (for embroidered tasks). It should not miss large bobbins, needle sets, or high-quality yarn either. Items like extended working tables, bright LEDs, free arm, and storage compartments make a sewing machine much better.
Brands
Each brand employs different ideas to attract clients. Many are great in extra features, some are unbeatable in terms of durability, some have user-friendly designs, and a few brands have all. Hence, investment in a branded product will never be a loss.
Brother, Janome, and Singer are the best sewing machine brands in Canada. Their products will be worth every dollar. Unbranded models are comparatively cheaper. But there is no chance to judge their quality and functionalities.
Be careful while going for a random sewing tool. Contact other users to be sure of its performance. It will lead you to the best cheap sewing machine in Canada.
Frequently Asked Questions (FAQ) 
Conclusion
Sewing machines give us the satisfying feeling of wearing something prepared by ourselves. We can customize attire by adding layers, ruffles, beads, and lace; there is no need to go to the tailors and pay many bucks. A versatile sewing device is enough for these jobs.
In this review of the best buy sewing machine Canada, you will get ten options to choose from. You will find their specification, basic features, advanced features, and so on. If none of them meet your criteria, try other products from the market by following our buying tips. We hope you will get a suitable fit in this way.