We've got you covered with our buying guide and reviews of the top 5 commercial sewing machines. Find the results here.
Are you a professional tailor or seamstress and like to deal with extremely heavy-duty work with the sewing machine? As a sewing enthusiast, are you eager to keep pace with ever-increasing sewing projects?
Hence, you need to have a commercial sewing machine, commonly known as an industrial sewing machine, to have a positive turn in your work. It will enable you to sew several projects within a limited time frame.
In addition, it will enrich you with better results and professional looks and of course, without any interruption. So to perform the daunting task of handling bulk orders and sewing through multiple layers of fabric with ease, these machines are very good solutions. 
Our Recommended Top 5 Picks:
(See our quick top 05 picks, or go further down and read our in-depth reviews.)
Top 5 Commercial Sewing Machine of 2022 – (Editors' Top Picks)
On the market, you will come across multitudes of commercial sewing machines. In the case of being the first buyer, it will be a challenging task for you to get the right one. For your convenience, here goes the review of stop 5 best commercial sewing machines.
1. SINGER 191D-30 Complete Industrial Commercial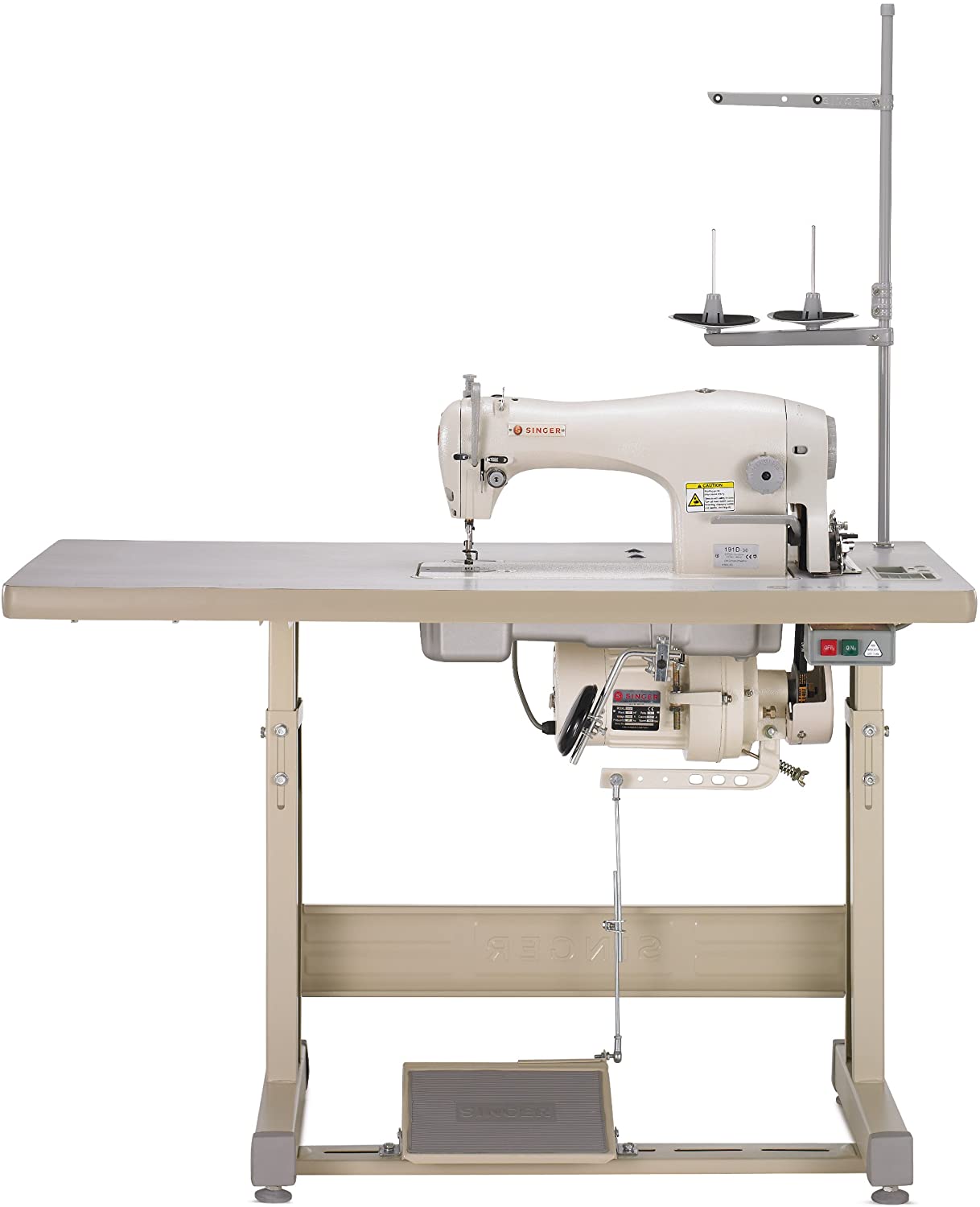 You are a tailor, a seamstress, a home decorator, a fashion designer, a dry cleaner, or an industrial sewer? 191D-30 Complete is a good match for you. If you are eager to have an ideal machine for medium to heavy fabrics, this complete-industrial-commercial-grade-straight-stitch machine is a good option for you.
Its configuration can satisfy you in every way as it is a combination of sewing machine head, motor, and completely assembled single-pedal stand.
You will definitely love it, for it enables you to complete your task in the shortest possible time with its high sewing speed & straight stitch.
The heavy-duty motor, able to deliver ½ horsepower, is a notable aspect of the machine. It will allow you to sew on multiple layers of various fabric eights, and you can use the machine for decades without any hesitation.
To give ease to your work, there is a knee lifter with which you can raise and lower the presser foot hands-free. You can lift up to 13.0 mm (0.50 inches) with the extra-high knee lifter. Without using the knee lifter, 5.5 mm (0.22 inches) of lift is possible with the traditional presser foot lifter.
Features at a Glance:
Complete assembling and ready to use

Used to sew medium to heavyweight fabrics 

Straight stitch

High speed(4,000 stitches/ minute)

Maximum stitch length 5.0 mm (0.20 inches)
2. Yamata Industrial Sewing Machine FY-8700
Those who are looking for a machine to sew all types of fabric ranging from a light denim, silk, and medium-thick cotton materials, here is Yamata-industrial-lockstitch-commercial-ddl-8700 for you. Its special features are to create lock stitches, provide power enough to push the needle through light and medium fabrics with powerful 1/2 horsepower of the clutch motor. 
It enables you to work as long as you want without any interruption. You need not be worried about the limited time frame for completing your sewing project because this machine is able to create 5500 stitches/minute with its high-speed of 1725 rotations/minute.
Another lucrative part of it is the sewing table, a thick wooden top of which gives you a large working space for your fabrics to be placed and supports the machine head and anything else kept on it. Besides, a heavy-duty metallic frame holds all the other components firmly in place.
The components included are the sewing table, drawer, motor, and belts. All its parts are shipped separately, and you are to assemble the machine head, table, motor, and the rest following the assembling guide after unboxing it.
Features at a Glance:
Unassembled

5500 stitches per minute 

Creates 5mm long stitches

Applicable for different materials

Clutch motor sounds like a servo motor after a few seconds in idling

Decreases noise

Having a speed of 1725 rotations per minute

13 mm knee presser foot lift and 5 mm hand presser foot lift

Heavy-duty metallic frame 

Motor speed controlled by the pressure foot pedal

Includes a bobbin winder, 5 bobbins, 10 needles, and a screwdriver

Automatic lubrication
3. VEVOR Industrial Sewing Machine DDL8700
The VEVOR-Industrial- DDL-8700 is a great machine for those who want to use it to sew goods such as business agriculture, chemical industry, transportation, etc. Its versatility has turned it into a user- friendly and you can sew both soft and hard fabric.
Bags of rice, flour, animal feed, fertilizer, chemicals, gravel, charcoal, etc. which are made of cloth, cotton, hessian, heavy paper, jute, and more can easily be sewn, or you can fit anything in a bag. The heavy-duty motor makes it possible.
You may prefer it for its lightweight. This industrial sewing machine includes a sewing machine head, servo motor, and a completely single-pedal stand with a table and LED lamp & you need to assemble them as all the parts come separately. 
There is an optional pulley system enabling you to hang it from the ceiling. It is also fitted with a noise-decreasing device that can be loved for its top speed. An integrated lubrication system ensures that your machine oil will never run short & with this feature, you need not be tensed about spoiling your sewing machine.
Features at a Glance:
Stable performance

Long-lasting

Automatic cut line

Insulated handle

Pulley rotation 

High sewing speed, low noise, small size, and lightweight

Convenient to operate & repair

Single-Thread chain stitch

Integrated lubrication system

Can be hung from the ceiling (with optional pulley system)

Suitable to sew thin, moderate thick garments, gunny sack, cloth bag, brown paper bag, plastic bag, etc.

Includes mechanical sewing machine with servo motor, stand & LED lamp 
4. goodcrafter Industrial Sewing Machine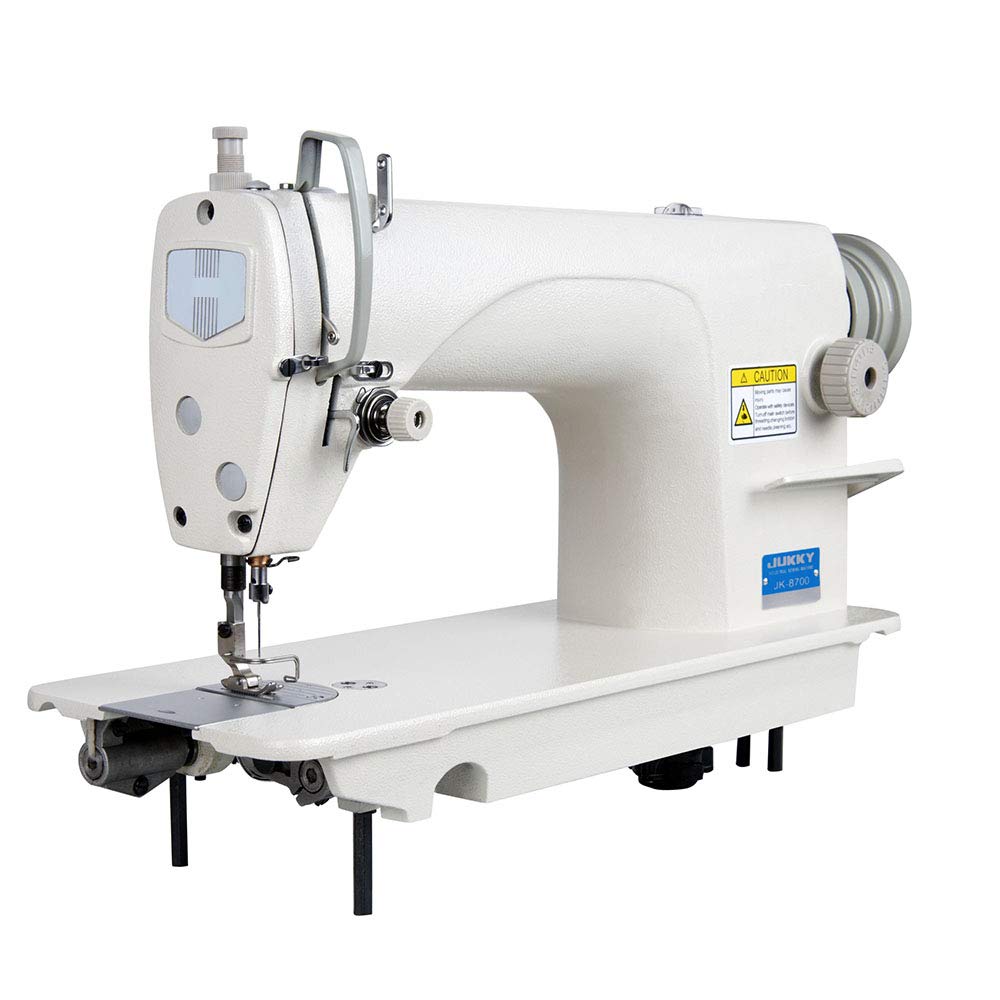 If you need a powerful machine responding to the different types of sewing materials, industrial-commercial-thickened-adjustable-fabrics(Juki DDL) are suitable for you.
Furthermore, this industrial sewing machine offers various processes that will give you beautiful and delicate seams. 
This ready-to-use machine will impress you with its high speed of about 5,000 stitches/minute. The stitch length is 4.5mm and can be adjusted freely. It helps you complete your projects in a predetermined time and matches your sewing skills. 
It suits best for silks, denim, wool, hem pants, drapes, holes rips, etc. With ease, you can do any repair and alteration or fulfill any sewing requirement. It lessens your trouble with a high-precision bobbin, built-in metal, mechanical gears, recycling lubricants, etc., and ensures sewing works' stability.
The whole body of the fuselage is kept in a heavy-duty metal frame. It has a winding and reverses stitching function. When the bottom bobbin is used up, it can be automatically wound, or the bottom line color can be changed. 
Features at a Glance:
High-precision bobbin. Built-in metal mechanical gears, recycling lubricants

Stitch length of sewing 4.5mm, and adjusted freely 

Having a winding function

Straight stitch 

High speed of 5000 needles/min

Uses single needle 

Sew cotton, chiffon, knitwear, Yester, denim, silk, and silk, etc.

Has a reverse stitching function

Heavy-duty metal frame 
5. Sister Industrial Sewing Machine SR-8700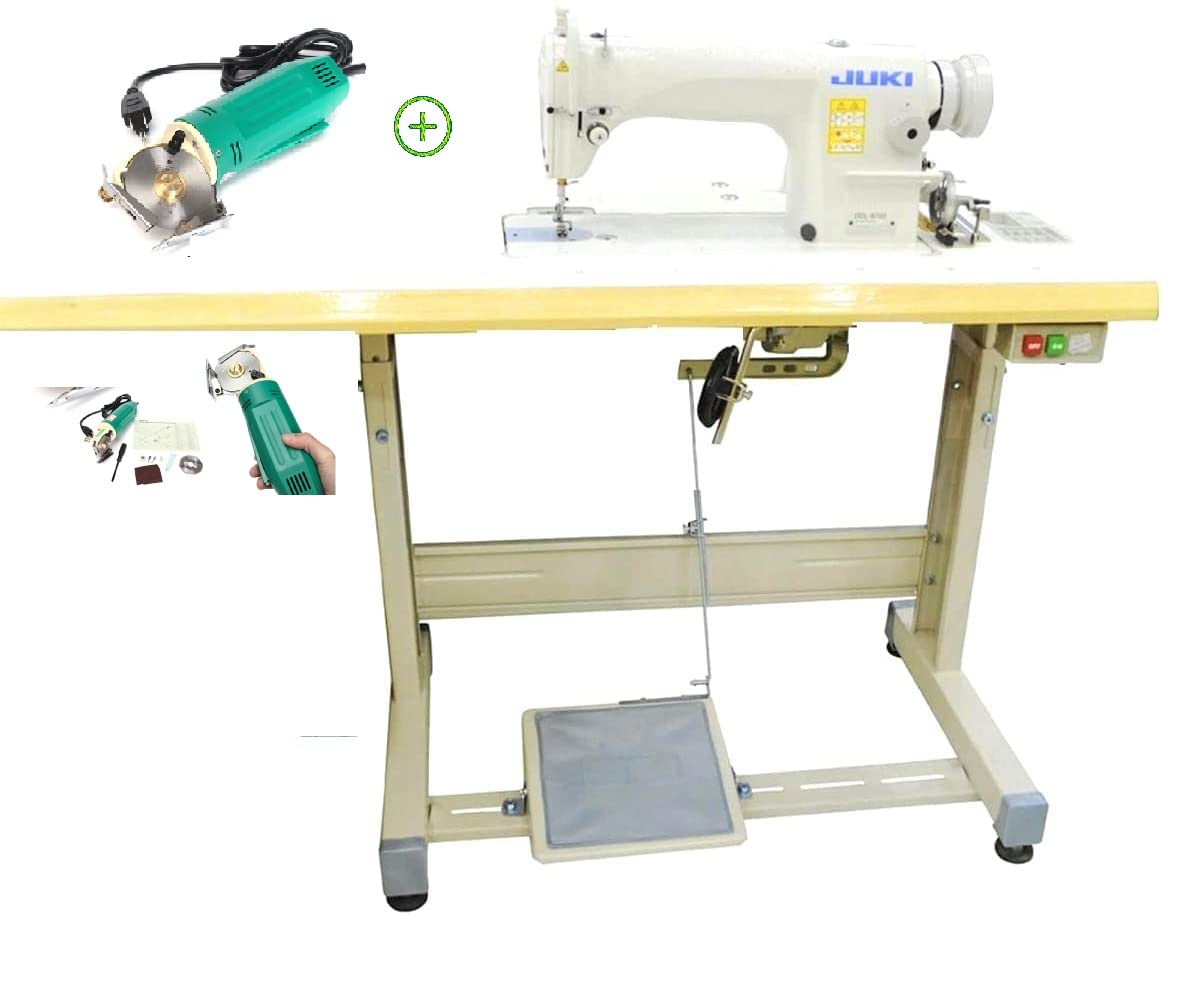 The Industrial-Machine -DDL-8700 is just the right machine if you need a powerful machine offering a smooth sewing facility for a range of materials. This superb machine features a novel engineering technology that not only keeps the noise low but also reduces the vibration to a minimum.
It responds to your fondness for quality sewing fused with great speeds. It is so advantageous that you can easily interchange the parts with JUKI DDL 8300 – 8500 – 8700 – 8100 – DDL5550n etc. The machine head has an LED lamp attached to it is in your assistance to illuminate the working space for better visibility, especially when working on dark fabrics.
This single needle, straight stitch/ lock stitch machine comes with a servo meter, a table frame unassembled. Apart from being quiet, the motor can produce up to 5500 stitches per minute at full speed, enabling you to complete sewing projects quickly.
The tabletop, available with the machine measuring 48″ x 20" easily accommodates bulky sewing projects. It is also thick enough to hold the machine head and other items placed on it.
Features at a Glance:
Great sewing speeds 5500 stitches/minute

Sew multifarious fabrics

Accessories interchangeable with JUKI DDL 8300 – 8500 – 8700 – 8100 – DDL5550n

Reliable DC servo motor 3/4 H.P(500 watts) 

Low noise levels 

Single needle

Combines thread stand, bobbin winder, oil pan/knee lifter, extra bobbins& needles, LED lamp, etc

Lockstitch facility 

Heavy-duty adjustable legs 

Large tabletop

Requires sewing technician to set it up

Delivered in 3 boxes with no detailed assembling instructions
What do We Need to Consider When Buying Commercial Sewing Machine?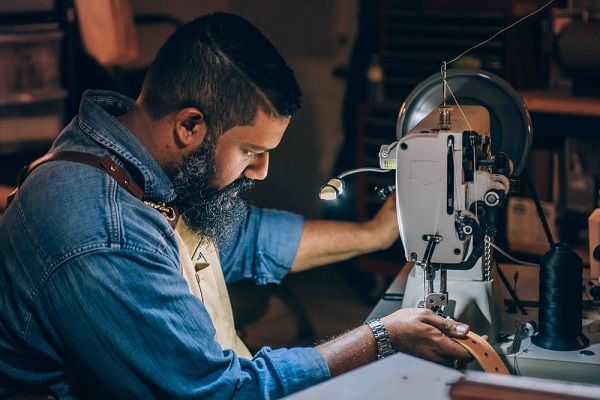 When you set out on purchasing the commercial sewing machine, a couple of things you need to look at before setting down on one. Not to make the poor selection of any commercial sewing machine, you must have a comprehensive set of features to be considered. 
Must considerations are included in this buying guide to help you make an informed choice before purchasing a suitable one for you. They are as follows:
Speed
Speed is the precondition for any commercial machine as it is meant for income-generating activities and related to more products within a limited time frame. Accordingly, in most cases, they offer speeds ranging from 1000 to 5000 stitches per minute; some even offer higher switching speeds. 
And speeds depend on the type and speed of the motor as well as its intended use. A stitching machine, with the highest speed, ensures faster sewing of a medium-thick or light fabric. On the contrary, thick fabrics and leather material may require slower stitching speeds for a tight and perfect stitch.
Motor 
To accomplish any difficult sewing jobs comfortably, you are in need of a powerful motor. And it may vary according to the type of work. Commercial sewing machine motors are of two types: clutch motors and servo motors. The first one is quite noisy, and the latter is lower noise. 
Clutch motors are quite strong and mostly preferred for machines dealing with leather, canvas, and other tough or thick materials. Servo motors are suitable for home use machines. The stitching speed may be adjusted with it. You cannot get better outcome sewing tough or thick materials but good for light and medium fabrics.
Size
The size of the machine matters a lot as space available in the workplace influences it. An exact assessment of it might not always be possible before purchasing. This is because some sewing machines are shipped being assembled. 
Power Consumption 
Commercial machines undoubtedly consume a lot of power; if you are a home user of them, it should be a matter of great consideration. So power used on these appliances is to be keenly monitored. 
As used for heavy sewing work and it is not unlikely that your electricity bills could run into the hundreds if not thousands of dollars. An Eco-friendly brand with low power consumption is to be looked for.
Bed Type
You may wonder that in the case of sewing if the bed type matters or not. Yes, you should consider it. Three-bed types are to be considered. 
First comes post-bed type, having a high and even small surface beneath the needle that helps you focus on the stitches, especially for decorative stitches. Then cylindrical bed types are useful for those small and hard-to-reach places such as inside purses. 
Lastly, flat-bed, the conventional one can be used if post-bed and cylindrical types are not required.
Lubrication
Proper lubrication ensures the smooth running of the machine. Self-lubrication in case you forget to do so is a feature of an ideal machine. Avoid purchasing machines requiring manual lubrication, for it may damage the sewing machine if not checked.
Feeding Feature
This is an interesting feature that you need to consider before purchasing a commercial sewing machine. It determines how you feed the fabric to the machine. There are drop feed, manual feed, puller feeds, needle feed, and even walker foot feeds. 
Additional Features and Warranty
Price is to be considered before purchasing a commercial sewing machine. Be sure to get something that matches your budget & works according to your needs. 
Conclusion
It's really a daunting task to pick the best commercial sewing machine due to the sheer volume of models available in the market. At first, specify your requirements. It will help you narrow down the potential models.
To get the maximum value out of them, their capabilities and features are to be considered. The sewing machines, reviewed above, offer the highest quality components and are made to last. You may avail of one of these incredible sewing machines to stand out in your clothing designs.