Cosplay is a fun thing, and it takes me back to many memories. Well, dressing up is the fun part, but sewing the dress is not child's play. There are several things that one has to take care of while making a cosplay dress. So, to curb your dress-related issues, I am here with some of the world's best sewing machines for Cosplay.

When it comes to sewing for doing a cosplay, there are many main features that you'd have to keep in mind. These features might be machine built, free arm, types of stitches, the fabrics it can work on, and its storage capacity.

For that purpose, I have gathered all the sewing machines, which gave me satisfying results in all these years. Today, I will not only tell you about these machines, but also I will let you know about their advantages and disadvantages. 
Our Recommended Top 5 Picks:
(See our quick top 05 picks, or go further down and read our in-depth reviews.)
Top 10 Sewing Machine for Cosplay 2022 – (Editors' Top Picks)
1. Brother Sewing and Quilting Machine, CS6000i
This sewing machine offers quite a lot to consumers. It is a brilliant amalgam of conventional versatility patched up with the modern needs of technology. Thus, it will offer you the most that you can wish for. Not only the professionals but the beginners also love this sewing machine since its built-in features make the sewing convenient for the users.
Let's take a look at its body design first. It has a convenient size. Since it is built for carrying out larger projects too, it has a large-sized table alongside its machine, which will help you in sewing larger projects like sewing a train. So, you can easily carry out your extraordinary cosplay projects.
It also comes with a hard outer cover, which will protect your sewing machine while you are not using it. The cover will keep the machine well and durable for a longer time. So, I'd recommend you to use it every time you are done with your projects.
This sewing machine comes with almost 60 different built-in styles of stitches, which you can choose according to your needs. Thus, you do not have to make an extra effort into making the dress. You can select the stitch you want and then make an effortlessly beautiful dress.
The LCD comes in handy when you need to take care of such minute details of the sewing machines. The stitch type and further details that you chose will appear on the LCD, which makes the whole experience more pleasant.
Other built-in features of the machine, such as an easy start/stop button, reverse stitching, variable speed control, will help you out in doing most of the work in a shorter time.
Let's take a look at some of its pros and cons for a better review!
Pros:
60 built-in stitches

Hardcover

Powerful for larger projects

LCD monitor for quick lookup

Automatic needle threader
Cons:
Takes up some space

Might need some frequent services
Final View:
This sewing machine does a great job, especially for beginners, since it has many built-in features to make your experience convenient and comfortable.
2. SINGER Start 1304 6 Built-in Stitches
SINGER is one of the biggest names in the industry of sewing machines. This benefitted them in formulating various machines all the best in their respective category. The former sewing machine that we reviewed was a heavy job sewing machine. This, on the contrary, is a sewing machine built for beginners. As per being designed for beginners, it contains easy built-in setups for the consumers for a pleasant experience.
Firstly, let's review its body design. It is designed to make the first experience easier for beginners. It is lightweight, small, and easy to carry. The best thing about this machine is that despite being small and lightweight, its body frame is a heavy-duty metal frame. It makes the machine sturdy and durable.
There are 6 built-in stitches preset in this sewing machine. This excavates the hustle of forming versatile stitches manually. You can choose a stitch that you want, and the machine will take care of the rest.
A stitch dial is present on the top of the sewing machine, which will help you in choosing the stitch you want to go with by just simply rotating the dial. There are 6 different stitches that you can choose, such as a straight, zigzag, satin, blind hem, scallop, and 4 step buttonhole.
There is a built-in buttonhole maker present. Thus, you can do a hard task like making buttonholes by just following 4 simple steps on this machine. This is why it is one of the most convenient sewing machines for beginners.
Let's take a look at its pros and cons for a better review!
Pros:
Lightweight body

Heavy-duty metal frame

6 built-in stitches

Free arm available

4 steps easy buttonhole

Dual spool pins for twin sewing
Cons:
Not recommended to professionals

Less variety of built-in stitches
Final View:
For a beginner at sewing or the ones who do not want a costume malfunction, this machine does a great job. It is affordable, yet durable. Thus, a fit for beginners.
3. Brother XM2701 Lightweight Sewing Machine
This sewing machine does a great job for beginners and amateurs. It is not only easy to use but also easy to transport. It has a lightweight body that comes with a variety of features that you can try. You get to experience so many features within an affordable amount of money. For a better review, let's discuss some of its features!
This sewing machine has a compact and lightweight body. Its lightweight body makes it easily portable. The manufacturers have not compromised in its quality while making it lightweight. So, you can trust its durability.
It contains 27 built-in stitches that work for various occasions and designs. The durable stitching makes it perfect for cosplay. 27 important built-in stitches will keep you free of the stress of inflicting the perfect design stitch manually.
You can choose the desired stitch with the help of the easy stitch selector. All you need to do is to select the number of the stitch you want and rotate the dialer to that number. The stitches, along with their numbers, are given on the sewing machine.
Threading with this sewing machine is pretty easy since it contains a built-in needle threader, which will automatically pass the thread through the needle. This feature is a time saver and works wonders for senior citizens.
It comes with a variety of 6 different feet that you can use while working on various projects. The versatility of the 6 feet allows the machine to do well on almost every type of project that you are hopping on. The six feet include zipper, button sewing, zigzag, buttonhole, blind stitch, narrow hem.
Pros:
27 built-in stitches

Versatile free arm

LED-lit work area

Lightweight compact body

Jam resistant top bobbin

1 step auto-sized buttonhole
Cons:
Less durable body

Speed control is not beginner-friendly
Final View:
This sewing machine does a good job for beginners. You might take some time to catch up with its sewing speed, but with the rest of the work, it performs well.
4. SINGER Heavy Duty 4423 Sewing Machine
This is a heavy-duty sewing machine and every feature that it contains supports the heavy-duty nature of this machine. It has a durable metal body that works perfectly well for all types of fabrics and projects. Even though it is designed for professionals, it has many built-in features that will help in quickening the progress.
Let's take a look at some of its important features!
Heavy Duty 4423 is a sturdy sewing machine that is built to help you out in doing various large-scale projects. It is designed with a metal body that might feel a little heavy to some people. But, it does not take much space even though it will do a tremendous amount of work for you.
The heavy-duty metal frame allows the sewing machine to do the work neatly no matter what fabric you are working on. It will stitch clear patterns on the fabric.
The 23 built-in stitches will help you in designing the projects with many variations, each participating in increasing the beauty of your projects. Each stitch will speak for its perfection and clarity. The stainless steel bedplate will help in gliding the fabric smoothly so that the stitching will be perfect.
It can sew 1,100 stitches in a minute, which speaks for its impressive performance itself. Thus, it is the best option for people who want to make an extraordinary dress effortlessly.
Built-in features such as a needle threader will help you in passing a thread through the needle without any wastage of time. The presser foot lifter and pressure control will also help you in speeding up the project. This will help you in doing large-scale work projects in a short amount of time.
Let's take a look at some of its pros and cons!
Pros:
Heavy-duty sewing machine

No storage issue

23 built-in stitches

One-step buttonhole

1,100 stitches in a minute for quick sewing
Cons:
No accessories except a bobbin
Final View:
For professional-level use, this sewing machine is the best sewing machine for Cosplay. I wouldn't recommend it to beginners since it would be difficult for them to control their speed. But professionals should try it!
5. Brother Quilting Machine, CS7000i
This sewing machine resembles a lot with the first sewing machine that we reviewed. Well, the manufacturers of both sewing machines are the same. So, you can expect some features from this machine too. It provides a variety of qualities that you don't usually get to witness in competing for sewing machines.
Firstly, let's talk about the body design of this sewing machine. It has an easy-to-transport lightweight body. You can rely on the working performance of this sewing machine despite its compact appearance.
There is a wide table attached to the body which will support you while quilting and sewing. It also allows users to sew large-scale projects with fine stitching. It also contains a hardcover that you can use to cover the body of your sewing machine. It will help in increasing the durability of the sewing machine.
There are built-in 70 different types of stitches that you can try while working on your maneuver. These built-in stitches will help in making the sewing more convenient for beginners.
The automatic needle threader helps in saving time and struggle by automatically passing the thread through the needle in no time.
There are other convenient features available such as a streak of buttons that will allow you to turn on/turn off the machine, reverse sewing, needle up/down, speed control.
Pros:
Takes less space

The lightweight metal frame body

70 versatile stitches

Automatic needle threader

LCD screen

Hardcover
Cons:
Frequent service needed

Threader might be problematic
Final View:
As a beginner, you will find this sewing machine pretty convenient and easy to use. It is durable and affordable.
6. Brother Project Runway CS5055PRW
This sewing machine by Brother does a great job when it comes to versatile fine sewing. It has almost every quality that you would want your machine to have. It is one of my favorites too since it made sewing easier for me. Let's take a look at some of its important features:
It is designed on modern techniques while it is efficiently layered with modern technology. It is lightweight and compact. You can easily carry it from room to room or your sewing classes.
It contains a wide range of 50 built-in stitches, which will give you the variety that will help you in experimenting with new horizons. You can easily look at the 50 stitches present by taking one glance at the stitch chart available on the top of the machine.
It contains a vertical spool pin that ensures better performance of the machine over the stitches. It will get you a consistent flow of the thread while working, which results in neat stitches.
The LCD present allows you to keep a tag on the system settings that you have applied, which ensures the working accurately.
The LED-lit work area will help you in looking at the stitches and fabric with accuracy. It will help you in keeping a closer look at the details.
Pros:
Lightweight and compact body

LCD monitor

50 built-in stitches

Quick set top bobbin

5 one-step customized buttonholes

Affordable price
Cons:
The customer review is not supportive
Final View:
This machine is pretty flexible for people who are amateurs or even professionals. You can carry it around and it does a pretty job with various fabrics.
7. SINGER Simple 3232 Portable Sewing Machine
SINGER Simple 3232 is an affordable purchase for beginners who want to use a good reliable sewing machine. This sewing machine provides built-in stitches for a convenient experience. Many other features sum up to make it an excellent choice for a beginner.
It has a compact, designed body that is lightweight and, as the name says itself, portable. You can carry it around even to your daily classes if you are enrolled in one.
This sewing machine offers a total of 32 varieties of stitches that you can try while performing various projects. These stitches vary from the basic designs to the decoration ones.
There is an automatic needle threader available in this machine, which eases out a hassle-some work for you itself.
You can also try your hands on reverse stitching. This too will help you out if you are just a beginner.
It contains supporting features such as a free arm which helps you out while working on collars and other such intricate things. It has a metal frame body which will help you in working on almost every fabric.
Pros:
Affordable price

Lightweight & compact body

32 built-in stitches

Reverse stitching

Free arm
Cons:
Might not be much durable

No LCD
Final View:
This sewing machine does a great job of the newbies experimenting with new techniques and styles.
8. Brother ST371HD Strong and Tough Sewing Machine
Brother ST371HD is a heavy-duty sewing machine that is made to sew any fabric with a neat stitching pattern. There is a variety of stitches that it offers along with user-friendly features such as!
It has a powerful body that allows it to work on stiff fabrics without disturbing its performance.
It has unique 37 built-in stitches that you can try for designing your projects. This comes in handy, especially when you are working for cosplay.
The heavyweight needles help it in passing through materials like duck fabric, jeans, etc. there is a variety of needles that you get to use with it.
Easy stitch selector dialer allows you to see the number of the stitch from the chart on the machine and select that stitch design.
It contains a free arm for conveniently sewing tricky parts such as collars and sleeves.
Pros:
6 versatile feet

Heavy-duty performance

Versatile built-in stitches

Automatic needle threader
Cons:
Not a good option for beginners

No LCD monitor
Final View:
It does a pretty well job for the people who are working on a heavy project so that they can do it in minimum time.
9. SINGER Quantum Stylist 9960 Computerized Portable 
This Computerized sewing machine offers several functions for a professional who has various projects going on. The versatility that it contains honestly shook me. So, it's time to tell you more about it now.
It contains 600 built-in stitches. This is the maximum number of stitches that we have in a sewing machine on our list. You can play with its versatility.
It has a built-in extended table that allows it to work on high-scale fabrics with perfection.
The machine also has 13 built-in one-step buttonholes to make your projects look extraordinary.
It has a high speed when it comes to stitching. You can inflict 9960 stitches in a minute on any fabric irrespective of its toughness.
It has a twin needle stitch setting too which will help you in making sure that your fabric is getting stitched according to your desire.
Pros:
Heavy-duty work

The heavy metal frame body

600 stitches available

Automatic needle threader

LCD screen

2 LED lights
Cons:
Not recommended to the beginners

Might be expensive
Final View:
This sewing machine works well for fast heavy project workers.
10. Brother Quilting Machine, HC1850
This sewing machine impressed us with its versatile stitches yet affordable prices. You can use this machine, whether you are a beginner or a professional. Here are some of its features!
It can give you a variety of 185 built-in stitches that you can select conveniently. They are present on a chart on top of the machine.
Advanced automatic needle threading and drop-in bobbin make the whole setup process easier for the users.
The extended table helps in working on heavy projects with the same convenience.
The LCD screen is present on the top of this machine, where you can choose and see the stitch that you have selected. 
Adjustable sewing speed allows this machine to do the work for beginners as well as for professionals.
Pros:
Heavy-duty work

Versatile stitches

Extended table for heavy projects

Adjustable speed

Quick set bobbin
Cons:
Some customers had issues with its system performance
Final View:
This sewing machine suits everyone from a beginner to a professional while it is pretty affordable too.
OUR Top 3 Recommendations!
If you still feel a little puzzled regarding which sewing machine will be your best companion, then don't worry. With such a wide range of efficient options, I can understand your confusion. So, to resolve your issue, I have some of my personal favorites lined up for you. Here are my top 3 recommendations based on different preferences and priorities:
Overall Best: Brother Quilting Machine, HC1850
Best Price Range: Brother Quilting Machine, CS7000i
Luxurious Best: SINGER Quantum Stylist 9960 Computerized  
How to Choose Sewing Machine for Cosplay
Not all of us can afford cosplay costumes, and not all of them are available in the store as well. That's why many people make them according to their desired shapes, size, and design. It is quite satisfying but seems challenging unless you are a skilled sewer.
However, you must get high-quality materials and the right sewing machine to unleash your cosplay creativity. Make sure to have the following features in your sewing device:
Various fabric materials
Some costumes only require regular fabric and basic accessories. You can use cotton, silk, or satin clothes to make them. Any sewing machine can handle them. But the requirement can vary as per the theme. You may have to work with leather, linen, velvet, and other heavy-weight materials. So, your machine should support different fabrics.
This is an important factor that many devices lack. Whenever you use thick fabric, the needle breaks, or the machine stops running. On the contrary, a sturdy machine can handle all materials no matter how heavy they are. Such a device should be your priority.
Types of stitches
Almost all modern sewing machines come with built-in stitches. The stretch and zigzag stitches are often used in designing fancy attire. If a machine skips any of these stitches, it will not be suitable for cosplay. Luckily, the majority of tools utilize the basic stitches, which are enough for beginners.
The experienced sewer also seeks for other decorative stitches to make their clothes more fascinating. As all models do not include them, they will limit some decorative patterns. Check the specifications carefully to check whether it offers the essential stitches or not.
The construction of the machine
Of course, the performance and durability of sewing tools somehow depend on their components and structure. Remember, you may have to use tough materials for cosplay projects. A robust one will support both thin and thick fabrics.
They are highly reliable as they work better and faster. You can sew whatever you want without any issues. If a machine is not sturdy enough to satisfy your demand, don't go for it. It will be nothing but a waste of cash.
Generally, metal frames are quite famous for costume making due to their high stability and long lifespan. The only drawback is they are heavier than the plastic ones. The manufactures also launched advanced plastic machines that are lightweight yet quite powerful.
Working area
Cosplay should be made with extra care. A simple move can lead to visible imperfections. Nobody wants to waste time and effort, making any mistake. A machine with a spacious working area can save you from such problems.
It will provide maximum convenience and comfort while designing attire. It will fit all sewing gears within your range. You can quickly grab the items you need. We strongly recommend buying a sewing machine with a large working table.
Storage space
You have to use plenty of little objects to prepare the cosplay. Sometimes, we can't find the threads, needles, scissors, as well as other items. Storage can be a great benefit to deal with them. You can organize everything in place so that there is no more chance of losing them. Though it is not mandatory to have a storage space, it can boost your speed.
Free arm 
Many models include free arms below the needle. The users can extend the area and also remove it. It is a small area where we can sew sleeves, trouser legs, cuffs, etc. For cosplay, we have to create several patterns. It will help us in sewing the circular shapes efficiently. It is advantageous to sew one cloth layer of fabric without interrupting the other layers.
Speed
The speed of a sewing device refers to the number of stitches per minute. As you can assume, the higher rate indicates more stitches. The high-end brands are often capable of performing 1000 or more stitches per minute. A few also offer less than 800 stitches per minute.
Recently, machines with adjustable speed have been trendy. They provide different settings such that the users can select any option depending on the size of the project. In this way, the same machine provides various sewing speeds. It will be a boon for the cosplay jobs.
Other features
You will find machines with a built-in needle threader. With them, you no longer need to struggle with threading the needle. Some also have built-in scissors, which is pretty impressive. If your machine involves a needle up/down feature, you can adjust the clothes without changing place. We like to mention that these features are not necessary, but will make sewing easier for you.
We hope you have a complete idea of what characteristic a sewing machine should have for making fancy costumes. Think wisely and choose accordingly.
How to Make Armor Cosplay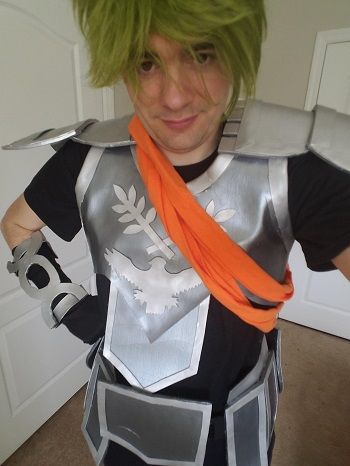 Cosplay refers to dressing up as imaginary characters from books, games, and movies for fandom outings, parties, etc. People love to wear intricately detailed outfits just like their idol superheroes do.
Where creating some cosplay is quite easy, many can be super complicated and time-consuming as well. Cosplay with armor may seem confusing for beginners, but it will undoubtedly be worth your effort. We want to take you through all associated steps to make your DIY armor costume. Let's dive into the procedure:
Step 1: Collecting the essentials
You will need various items to create a set of armor. Gather them all before starting the work so that you can get everything whenever you need it.
Paper

Pencil, ball-point pen

Scissors, small knife, and blade

White Glue

Measuring tape

Poster Board

Cardboard, Craft foam, Wonderflex

Gesso

Worbla

Hair-dryer/ iron/ other heat sources

Colors, paint plates, paint brushes
Step 2: Sketching
Start your work by sketching the costume design. Take a close look at the shape, joints, and size. Do not worry about the color or details because you can take care of them later. Make sure to simplify the pieces so that you don't have to connect lots of pieces. Determine which parts are going to overlap to join different pieces. Another alternative to collect pictures of the cosplay is printing out the armor patterns online.
Step 3: Recoding Details
Note the measurements of the guy for whom you are making the armor. Take tape to measure the height, shape, size, diameter, joint-to-joint distance, and other required details. Record the dimensions on paper. They will act as a reference for your every cut, coverings, and connection.
Step 4: Making a Template
In this phase, you have to make a template by using a flexible poster board. Place it against the person and outline according to his/her body. Adjust the proportions as per need. If you don't get a well-shaped overview, try again until you get one. When you get satisfied, sharpen the lines and cut all the shapes. It would be best if you can build a mannequin with the parts.
Step 5: Shaping the Craft Foam
Do not ruin the carpet and floor while doing this. Always do such jobs on thick cardboard, which will protect the floor from scratches. Trace the lines of all parts to the foam. A ball-point pen can help you with this because it won't tear the element while gliding.
Make some trials first and cut shapes as accurately as you can. Be careful to cut along the drawn area using the scissor. Maintaining a slow and steady speed will result in sharper foam edges. If the corners are not clean, it will cause many problems later.
The large parts may require attaching two or more foam. Preferably, combine pieces such that the attachment line will not be visible. However, you can also use cardboard, Wonderflex as well as other materials for costume armor.
Step 6: Armor assembly
After gluing, set the craft foam based on the curves of the body. The flexible foams will make a nice contour in each place. Besides, it is possible to soften foam with a heat source. As a result, you can set it on anything with the help of a rolling pin. Try to complete the task within seconds. For best results, practice these techniques on a scrap first before the main project.
Step 7: Gluing the Foam
White glue is the best option to attach the craft foam. Choose the best side, flip it, add glue, and gauzy fabrics over it. Complete small sections first and then combine the large sections. Let it dry after the first coating and reapply more coats to make the construction sturdy.
Step 8: Covering with Worbla
Worbla is a thermoplastic component, which assists in covering the foam while forming the armor. Take the available heat source and select the lowest setting. Start heating the Worbla, holding the iron a little far from it.
When it becomes warm and flexible, it will perfectly mimic the foam sculpture. Tab it gently with slight pressure to set against every detail. Remember, once it becomes cold, it will harden. So, you can make your change as long as it remains warm. Seal the Worbla by a layer of Gesso and wait until it dries.
Step 9: Painting the Armor
Before painting, rub sandpaper all over it to get a smooth platform. Choose your designs and colors. Professional artists often give the armor a stylish look by covering its back with acrylic paint. Avoid using regular paints as they are more likely to bend along your movements. Apply high-quality craft paints evenly. It will be ready to wear after it dries.
We hope the mentioned phases will help you to create excellent, lightweight, and durable armor. Don't waste any more time, choose your character, and get into sculpting the look.
Conclusion
This was all about the best sewing machine for cosplay by my side. I hope that by the end of this article, you have gathered all the information that you expected to get when you clicked on this article. If you still have any queries regarding these sewing machines then crash the comment section, I'll patch it up for you!