Looking for the Sewing Machine for Intermediate but don't know where to start? We've reviewed thousands of machines and found the best machines for your money.
Every skill has three levels. Sewing skill is no different. At the start of learning to sew, you are a novice. You continue learning and developing your craft. You understand the sewing machine and not shaky, confused, or end up with uneven stitches anymore. That is when you step into the intermediate level.
You are not a novice and still have a long way to go to be an expert. Expert, the words say it all. Efficiency, pro-level, quick stitching without error, are all that a craft of an expert looks like and conveys.
The Best Sewing Machine for Intermediate thus implies to the tool that is not too complicated, nor too easy. Something which is in between a beginner and an advanced sewing machine for the most skilled. 
Our Recommended Top 5 Picks:
(See our quick top 05 picks, or go further down and read our in-depth reviews.)
Top 10 Sewing Machine for Intermediate Sewer 2022 – (Editors' Top Picks)
The plan is simple, to discuss and pursue median level sewing machines in depth. We will start by reviewing some, then form a buying guide, and explain the intermediate skill.
1. SINGER 4423 Sewing Machine 
SINGER 4423 is a robust machine with a potent motor and maximum sewing speed. It sews 1100 stitches per minute, and the 60% stronger motor sews thick fabrics with ease. Complete your projects on time, and maintain the goodwill.
You can expect long-term stability and even stitching from 4423, thanks to its sturdy built. Starting with the heavy-duty metal interior frame, stainless steel bed frame, and each component being high-quality, this one is a legit investment.
Try fashion, home decor, quilts, crafts, or make simple dresses for home use, with its 23 built-in stitches with 97 stitch applications. They are categorized into basic, stretch, decorative, and buttonhole. So, you have a variety.
The one-step auto-sized buttonhole, quick and easy guide for threading, hand wheel, stitch selection dial, free arm, top-loading drop-in bobbin, four presser feet; you get a bunch of features that are useful and make your sewing experience pleasant.
Features At A Glance
Sturdy metal body with a 60% stronger motor

High sewing speed, stitches 1100 SPM

23 built-in stitches with 97 stitch applications

One-step, auto-sized buttonhole for consistent buttonholes

Has auto needle threader and includes four presser feet

An easy top-loading drop-in bobbin system
2. SINGER 7258 100-Stitch Computerized 76 Decorative Stitches
SINGER 7258 has to be the best sewing machine for home users. It is compact, portable thus apt for taking it outdoors as well. Operating it is easy due to its easy-to-read LCD screen and easy-access buttons for stitch selection and adjusting stitch length and width.
It's a robust sewing machine and will last for years due to its heavy-duty frame. The sturdy metal built ensures stability while sewing thick layers too. It also features ten presser feet, 13 needle positions, an auto needle threader, top drop-in bobbin, illuminated workspace, free arm, to name a few.
Though compact, it flaunts 100 built-in stitches, including nine basic, 76 decorative stitches, and eight stretch stitches. Thus, a sewist can try fashion sewing, home decor, decorative sewing, quilting, crafting, and heirloom, basically a wide variety with it.
To sew a variety of buttonholes, this one provides you with six built-in one-step buttonholes. You can control the speed with the speed control button, and the bobbin winding will auto stop once it's filled, thanks to the bobbin winder clutch.
Features At A Glance
Best portable sewing machine

100 built-in stitches with multiple auto buttonholes

Customized stitch length and width

Easy access button for convenient operating

Auto needle threader and ten presser feet

Auto bobbin winding clutch and top-loading bobbin
3. SINGER Tradition 2277 Sewing Machine
Tradition 2277 by Singer is a simple, basic sewing machine but with all the much-needed features. By the way, it's a lightweight sewing machine with a front-loading bobbin. Those of you who are not comfy with top load bobbin, try this. From a beginner to an intermediate, it's a machine for every hardworking sewist.
It has a lot to offer to intermediate sewists. Let's start with its 97 stitch applications. These allow you to sew a variety of sewing projects with varied basic and decorative stitches. The stitch dial makes it easy to select the stitches.
It has three other dials on it too. One is for adjusting the stitch length, one for stitch width, and the one in the furthest left on top of the machine is for controlling and changing the thread tension.
The heavy-metal built makes it durable, and you can be sure of skip-free stitching. It features an auto embroidery needle threader, no eye strain, no waste of time. You can be quick and relaxed. The auto-sized one-step buttonhole does the same for you.
Features At A Glance
Heavy-duty metal frame

97 stitch applications

1 step buttonhole and 3 presser feet

Adjustable stitch length and width

Front-loading bobbin

Free arm to sew hems, collars, and cuffs
4. SINGER Heavy Duty 4452 Sewing Machine
We will now discuss one of the best-selling sewing machines of Singer. Singer 4452 is a heavy-duty sewing machine with a 60% stronger motor. It is a workhorse and known for its stable and skip-free performance.
It has 110 stitch applications and works at a speed of 1100 SPM. The high speed and stability call for easy sewing of quilts and thick fabrics like denim, and the free arm makes the sewing of small projects like collars, seams, and cuffs easy.
And the varied basic and decorative stitches allow the sewer not just to create but also to alter and repair.
For easy functioning of the machine, you have four dials for selecting stitches, setting stitch length and width, and thread tension. You have the auto needle threader, seven presser feet, a one-step buttonhole, and a variety of must-have accessories.
If you are one of those intermediate-level sewers who want to invest in a sewing machine that works for you even after achieving the expert status, 4452 is the perfect one to try. It is not just the best sewing machine for advanced sewers but also an apt one for the medians to develop their skills.
Features At A Glance
Heavy metal interior

Durable, stainless steel bedplate

110 basic and decorative stitch applications

60% stronger motor

1100 SPM

7 presser feet, 1 step buttonhole, and top load bobbin
5. Brother XM2701 Sewing Machine
After discussing quite a few Singer sewing machines, let's migrate to another renowned brand Brother. The first one by Brother is its XM2701 Sewing Machine. Its lightweight design and small build make it easy to carry to your classes. Being compact doesn't compromise the features in any way. It is a machine with a full range of features.
Sew your projects quicker with its 800 stitches per minute speed. From beginners to the sewers of mid and expert skills, from home sewers to quilters, this little machine is everyone's favorite.
It is a trouble-free sewing machine with 27 built-in stitches. The stitches include blind hem and decorative stitches, plus quilting stitches as well as an auto-sized one-step buttonhole. An embossed stitch chart on the XM2701 with a stitch selection dial beneath it further necessitates easy use.
Apart from the common but requisite auto needle threader, free arm, jam-resistant top-load bobbin, and bright workspace, this one also features six presser feet.
Features At A Glance
Full range of features

Compact, lightweight, and portable

27 built-in stitches

800 stitches per minute

Top loading bobbin and auto needle threader

Six presser feet
6. Brother XR9550PRW Sewing and Quilting Machine
Till now, we talked about sewing machines that could be used for quilting, but none were quintessential quilting machines. So, time to introduce a sewing and quilting machine. Brother XR9550PRW is apt for quilting and sewing larger projects due to the wide detachable table it includes. Otherwise, it is a moderate-sized sewing machine with a free arm.
Just by exposing the free arm and attaching the table with an embossed ruler, you come across a workhorse. Besides, it features an auto needle threader, a top-loading bobbin, a thread tension controller, and a long stitch chart.
The machine features 165 built-in stitches, eight presser feet, and eight auto-sized one-step buttonholes. Among all the stitches, not all are decorative, utility, heirloom, and basic stitches, 55 of those stitches are alphanumeric sewing stitches. So, you can try monogramming as well.
The intuitive push-button stitch selectors, backlit LCD screen, and speed control slider turn this advanced sewing and quilting machine into a handy one. The speed control slider brings us to the three different speeds it boasts of.
Features At A Glance
110 built-in stitches and 55 alphanumeric sewing stitches

Eight buttonholes and presser feet

A quilting table with an embossed ruler

Three stitching speed and an LCD screen

Intuitive push-button stitch selectors

Auto threader and top load bobbin
7. Brother Sewing and Quilting Machine, XR3774
Searching for a pro-level sewing machine, you do not have to look too far away, because we have the perfect one. For the novice, XR3774 is one of the easiest sewing machines with a full range of features for sewing and quilting. And for the skilled sewers, it is the best professional sewing machine.
XR3774 comes with 37 built-in stitches and a one-step buttonhole. It also includes eight presser feet along with the free arm and quilting table. Moreover, the wide table, as usual, has an embossed ruler for proper measurement.
This one sews heavy fabric and thick layers like no other and in the simplest way possible. That is why it works for both a beginner and the most skilled. It being apt for both extremes quite naturally makes it one of the best sewing machines for mid-skilled/ intermediate sewers.
Let's get the features straight. It has dials for stitch selection, adjusting of stitch length and width, thread tension, a stitch chart, auto needle threader, top-loading bobbin, a reverse stitch lever, and a handwheel.
Features At A Glance
Sewing and quilting machine for beginners, medians to experts

Full range of features with a lightweight design

37 built-in stitches

Auto threading and jam-resistant top-loading bobbin

A wide quilting table and free arm

Eight presser feet
8. Janome 2206 Sewing Machine
Janome 2206 is a simple, full-size mechanical sewing machine that grows on you with your increased skills. It has very few uncomplicated features, thus the best sewing machine for making clothes. Those of you who want to concentrate only on learning and perfecting the making of clothes of different designs can find it truly useful.
Another reason for it making it on our list is its different bobbin, feed dog, and buttonhole system. Unlike maximum sewing machines in our lineup, this one features a four-step buttonhole, a 5-piece feed dog, and a front-loading bobbin system. It's front-loading vertical oscillating hook bobbin system to be definite.
We are catering to all types of intermediate sewers, right? Though the above two features might seem inconvenient to many, there are a lot of many who are comfy with these features only.
You can speed up this sewing machine to 860 SPM. Quite fast considering how simple this machine is. You are going to work with no more than just six stitches. It lacks a needle threader, but to compensate, it features a built-in thread cutter. We said simply, and here we are.
Features At A Glance
A full-size mechanical sewing machine

Six built-in stitches and a four-step buttonhole

Auto thread cutter

860 SPM

5-piece feed dog system and three presser feet

Extra high presser foot lift
9. Janome 740DC Sewing Machine
Janome 740DC is a sewing machine full of essential features. It has 40 built-in stitches. 20 of them could be directly selected through the 20 buttons on the sewing machine. The rest of the 20 stitches can be selected by sliding out the chart and the navigation keys. All are shown on the tiny LCD screen from selected stitches to chosen presser foot, set stitch width, and length.
The machine also features an auto-lock stitch feature. Through the button, you can lock off the stitches and patterns. Sewing decorative stitches become easy with this feature. You can continue the same pattern several times, and upon pressing the button, the repeated pattern stops and auto-locks the stitch.
It operates at a very high speed of 820 SPM. The die-cast aluminum frame makes it sturdy and stable while sewing at high speed. It also features 71 needle positions. The wide range of needle positions allows you to stitch the way you want and the exact place you want without manually moving it.
We have already reviewed two other Janome sewing machines. But this one without a doubt is the best Janome sewing machine for intermediate-level sewers.  
Features At A Glance
Die-cast aluminum frame

40 built-in stitches

High-speed sewing, 820 SPM

71 needle positions

Three styles buttonholes

Built-in needle threader
10. Janome 7330 Magnolia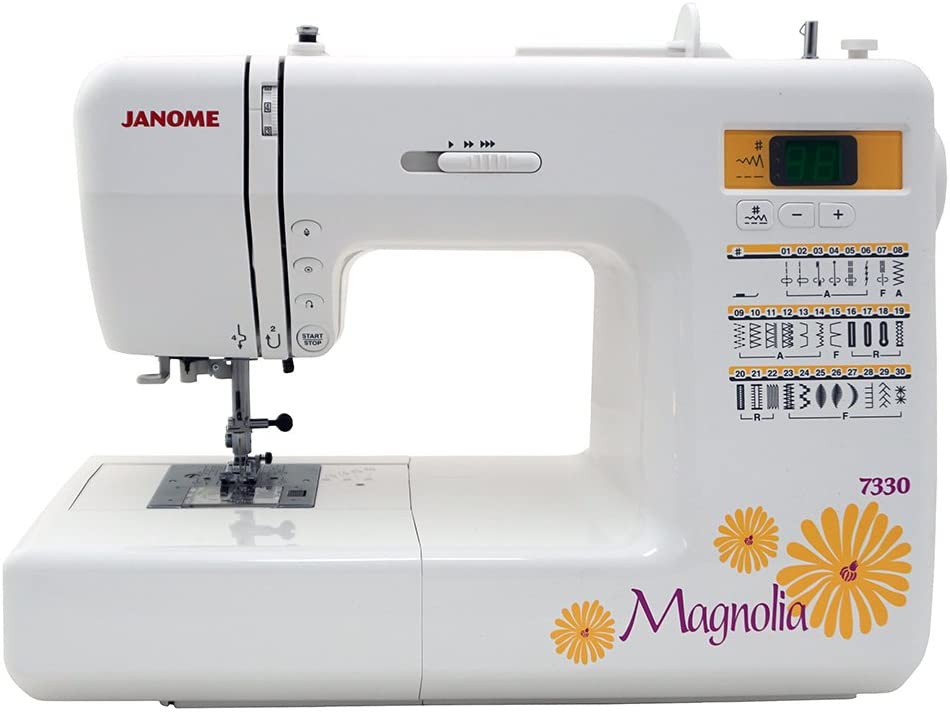 Janome 7330 Magnolia is a small, portable machine that is easy to carry to the sewing sessions. Storing it in the corner of your room is easier too. Thus, it is prevalent among beginners, home users, as well as intermediate sewers.
Though hard to imagine, this one sews thick fabrics too well. The reason is its double lift presser foot. You lift the foot higher and set the thick folds. Then you have the 7-piece feed dog system, which is essential for a solid grip on the fabric. The tight hold, along with the superior feed system, further ensures the smooth flow of the textile and even stitches.
It has 30 built-in stitches and a backlit LCD screen. Select the stitches following the stitch chart with the easy access navigation keys. It also features six one-step sensor-type buttonholes, a couple of presser feet, and three sewing speeds. Set the pace from low to high with the speed control slider.
Other than that, you have the top-loading bobbin and auto-declutch bobbin winder, an auto needle threader, memorized needle up/down, adjusting ability of the stitch length and width.
Features At A Glance
Compact, lightweight, easy to use, and carry

30 built-in stitches

6 one-step sensor type buttonholes

Easy convenience buttons

Three sewing speeds

Auto threading and top-loading bobbin with auto declutch winder
Frequently Asked Questions About Intermediate Sewing Machine
Consider Before Buying Sewing Machine for Intermediate
Features that are not fully expedient for beginners are all for the intermediate sewers because this is the level to start learning complicated sewing and heading towards the expert level by perfecting them.
Robust Built
Robust built is not just limited to sewing machines that are for skilled sewers. It is the need for every sewer. The build of the sewing machine can make or break one's learning process. Just imagine, you have all the basic knowledge of sewing, and you also have learned about some of the complicated stuff about a sewing machine, but the very sewing machine is unsteady, the features it has don't work as it should.
Your learning process will be as wobbly as the sewing machine. Also, it will not even last a year. So, a sturdy metal frame, stainless steel bedplate, and other hard plastic components should all be high-quality and potent.
Stability
Stability automatically comes with a robust frame. When the machine is well-made, and the features work due to a high-quality mechanism, there would be no uneven stitches. You can stitch skip-free, the fabrics will never pucker, and the machine will have a weight to it to sew at high speed, albeit steady.
Those who sew know how difficult sewing a seam straight is if the sewing machine is not stable enough and wobbles as it operates. Proper stability is the only recourse while sewing thick and thin fabrics, seams, and at a high pace and all other intricate stitching.
Lightweight Design
When you are a mid-level sewist, you are still learning. The beginners learn and practice simple stuff, and just like them, you will learn and practice, but the more complicated kinds of stuff about sewing. An intermediate learner needs a tool more than a beginner.
So, a sewing machine is somewhat compulsory for you. You will join the classes. You might be working on different groups on different projects as well. It will not be too unlikely that you will carry your sewing machine most of the time.
Unless, of course,  you have earned enough to buy multiple sewing machines. Now we know why a sewing machine being lightweight, compact is so essential. However, most of the lightweight ones are wobbly and compromise the performance. Our suggested ones become all the more relevant for you to stay safe from buying an underwhelming product.
Price
We will keep it forthright. A well-made sewing machine with all the basic and a few complicated features will cost a little higher. We prefer a well-made sewing machine even if it's high priced compared to one that is affordable but doesn't stay true to what it promised. If you do not have the budget, wait for a while and save money to invest in a good one. The years it lasts will be fruitful in the long run.
More Built-In Stitches
We do not suggest anything more than 50 built-in stitches for an intermediate sewer. Trust us when we say you do not need anything more than 50 stitches. The ones that have 100 and more could easily count as decent advanced-level sewing machines.
So, if you are opting to purchase one of those, you could be sure of using them for a long time. Still a good deal, nevertheless. If you ask us to be very specific, we will reply no more than 50.
Moderate SPM
A high-quality intermediate machine is capable of sewing at a high speed of 800-1100 SPM. Anything over 1100 SPM is for advanced users. Even 1100 SPM is fine for the most skilled to manage. More than the pace, we emphasize the speed control system.
While a skilled sewer will manage sewing a delicate fabric at high speed, an intermediate sewer will most probably struggle and ruin it. Different speeds from low to high will help an intermediate sewer to have better control over the fabric.
Auto Needle Threader And Top-Loading Bobbin
Auto needle threading and top-load drop-in bobbin are a must in a sewing machine. The competency level has nothing to do with it. Why strain the eyes or remove the whole storage box to load the bobbin if you can afford machines that auto thread the needle and allow loading the bobbin from the top. There are sewing machines still available without an auto threader and front load bobbin. We have reviewed some, but you know our inclination.
Free Arm/Quilting Table
Unless you are an intermediate-level quilter, you can do without a quilting table. However, a wide table makes tailoring large sewing projects easy. It's optional, though, because the intermediate level is not where you often sew large projects. What you will need and is compulsory is a free arm. Stitching without a free arm is like welcoming a mess. Hem, cuffs, sleeves, all these need exposing of the free arm.
Adjusting Stitch Length And Width
At this level, you can very well try different stitch lengths and widths. There is no need to stitch with the same setting on all your projects, especially when the sewing machines let you set the stitch length and width with easy dials or buttons. It's time to experiment with different-sized stitches depending on the design and pattern.
Varied Fabric Stitching
An intermediate-level sewer will work on varied projects ordered by different clients. It is not like you can choose the fabric. Thus, your sewing machine should sew every type of material.  Better be prepared to sew a cotton fabric to a satin, a net to denim with the same sewing machine.
7-Piece Feed Dog System
We have talked about how vital sewing varied fabrics for a sewing machine is. So, how does a machine ensure that? Simple. By properly holding the fabric over the needle plate and beneath the presser feet. Now, if those components are holding the fabric, what about the continuous flowing of the material.
That is what feed dogs do. Feed dog with its diagonal teeth ensures a smooth flow of fabric. No matter how thick or delicate it is, the flow will be smooth. Thus no pucker, no crease, no uneven or skipped stitches. The best is the 7-piece feed dog system, but the 5-piece one also works fine.
What Skills Should Intermediate Sewers Have?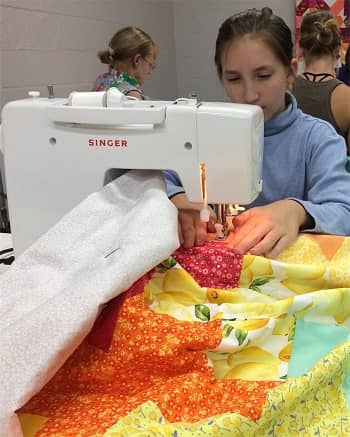 Skill is a subjective thing. There is no specific way to determine how skilled a sewist is. Knowing your machine well could label you as an expert but not anymore if you are given an upgraded one.
When the subject is sewing, the learning process, the practice sessions, and the range of crafts are infinite. There is no bound to it.
But as we discuss the intermediate competency level so in-depth, it is high time we let you know the skills we think you should have to become an intermediate sewer.
You Must Know All That A Beginner Knows
Isn't it quite obvious! You are in the middle of a book, so you must have read the first half and need to finish the rest of the half to be the most skilled.
Sewing Language
As an intermediate sewer, you must know the sewing language. Every language is different. So, why will the sewing lingo not! You should know every single term used to explain sewing components and techniques. It doesn't matter if you can practically do it or not, but you need to know them.
Hand Stitching
The next thing to learn is hand stitching. You should know basic stitches by hand. And you should be quite good at it. Also, stop depending on the auto needle threader, though we are a fan of it. But not knowing to thread your needle manually is blasphemy. Yes, we are overreacting. Just learn it.
Know Your Sewing Machine Well
You need to know every part of your sewing machine and should be able to use it with close eyes. You should be basically an expert in using a simple sewing machine. Adjusting the thread tension, bobbin winding, loading the bobbin, setting the presser feet, knowing your needles and threads, and which one suits which fabric, are all basics.
Basic Stitches Both Manually And With Machine
You must know how to stitch some basic stitches both manually and with a sewing machine. Straight stitch, zigzag stitch, making buttonholes with or without sewing machines, sewing the buttons by hand and sewing machine, gathering the textiles, are all you should know and do in no time, by now. 
Fastenings
This is the level where you know how to sew a zipper, basically all types of fastenings. That, too, with confidence. You do not need the instructions anymore. You have practiced enough to do it all by yourself in half the time.
Pattern
Those who know at least the above techniques could be termed expert beginners who are very close to the intermediate level. Expand your skill a notch higher by knowing how to do proper measurement and change the patterns by changing the measurement. Not just the basic one but something a bit tricky.
An intermediate-level sewer understands the patterns well. Patterns, be it of any type is not a complicated subject at this level. Making them could be, but what the pattern instruction says should be understood pretty quickly if you are an intermediate sewer.
You must know how to sew a frock, for instance, a circle ruffle dress. Or, make a tote bag or a regular PJ set. By set, we mean both the top and the pant/pajamas.
Collars, Pleats, Seam Finishes, And A Bit More
Just like the patterns, intermediate sewers also understand the varied seam finishes and practically make it. They must also stitch collars and pleats. They must know how to create simple designs. Be it adding a few pockets here and there or belts or borders to the collars, sleeves, or the edges of the dress or simply trying some design through basic and decorative stitches.
Alter
Apart from that, an intermediate sewer also knows altering. A free size dress that doesn't fit well to a small size individual could be altered according to the new measurement.
Even an intermediate sewer needs much practice to reach till here. Unless you do it well, you cannot be sure of developing intermediate sewing skills.
Own Patterns And Clothing
The last stage of the intermediate level journey is making clothes with one's own created patterns. That, too, with a variety of fabrics. You should also be able to change the style of the dress or increase or decrease the dart and hem length. Some intermediate sewers can make quilts, as well. Quilting requires many technicalities, as well as stitching multiple layers.
And that is all we think is enough for an intermediate sewer to know and do. Knowing a bit more will not make one an expert. Knowing a bit more will only make you a wanderer in the journey to attain the expert tag. So continue practicing and never stop learning new techniques. Always leave open your creativity window. Practice, a lot of it, will one day make you the perfect skilled sewist.
Final Words
We have, albeit, made a list on the Best Sewing Machine for Intermediate sewers. But that doesn't imply these machines are for them only and not for the beginners or the experts. These are all great sewing machines.
Some of these are too advanced, apt for the experts to use for professional purposes. But easy to use for the median skilled sewers also. And an intermediate user, if invested in such a sewing machine, can work for a long duration that eventuates in pro-level skill.
Which one do you think will be perfect for you in the long journey of being an intermediate to becoming an expert? Be it any, make sure to work hard with it.