(Last Updated On: June 1, 2023)
Engraved instructions

All Sizes in One Set

Weight: 9.3 ounces

Time-Saving Tool

Easy to clean
High-quality thick material

Optional filter pocket

Include how-to video

Weight: 7.2 ounces

Material: Plastic
Template: 12″ x 4.625″

Weight: 3.5 ounces

Comfortable mask

Made in the USA

Easy to use
Our team of experts has selected certain products and assigned a star rating to each product. Read our detailed review below.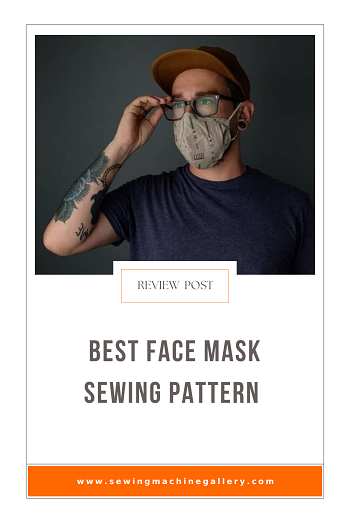 Face masks are the new trend in fashion and beauty. They can be worn for a variety of reasons, from protecting you from the cold to blocking out allergens.
In addition, face masks are a great way to add a little extra glamour to your everyday looks or special occasions.
Are you one who likes to read and not watch videos? Then scroll down until you find the best options for your comfort.
The first step is choosing a mask pattern. So, I am here to help you with that. I've got five suggestions for you. These face mask templates are going to blow your mind.
These face mask templates will help you to create your own masks. They can be used for both children and adults.
Also, these patterns are easy to use, and no experience is needed.
5 Face Mask Sewing Patterns: At a glance
Check out the table below before learning more about the product in detail. You will find out about the sizes and materials used to make the face mask templates. And that is important to know because when choosing a pattern, one must first take into account these two factors.
1. ISTOYO Face Mask Pattern
I am sure you don't want to waste your money and time on broken paper templates anymore. Here's the solution. This pattern is easy to use for sewing. So, no more wasted time.
The clear acrylic material will allow you to see through your work, while the pencil holes let you mark better. And the engraved instructions will help you make a professional item in no time! You can even use this as a gift for that special someone who loves sewing.
This Face Mask Pattern is the perfect way to add your own personal, custom pattern to any sewing project. Don't waste time cutting, trying to fit templates, or tracing patterns anymore with this face mask pattern and easy-to-follow instructions. And each pattern piece fits into the same size of baggie as well, so you can use it over and over again.
Key features
See-through

Pencil holes to help mark better

Engraved instructions

All sizes in one set
Pros
Cons
Needs an elastic band around the head
2. HLZC Acrylic Sewing Ruler Pattern
Whether you are looking for an extra mask to put on when traveling or just a fun craft project—this face masks templates kit is a perfect choice.
Use the reusable, plain-colored templates to trace your design onto the filter paper, then cut out shapes and insert them into the filter pocket. The filters are available in four sizes so that everyone stays comfortable no matter what mask design you choose.
This kit is a great way to get started sewing. Use the template to make a mask for yourself or as a gift for a family member or friend. Using this kit is easy and includes step-by-step instructions that tell you exactly how to make each mask.
You will not have any problems with it slipping or cutting through fabrics. This acrylic template kit is designed to help you make a face mask from simple materials.
Key features
4 sizes in one kit

Easy-to-read markings and instructions

Sturdy & durable acrylic

Easy to cut out several layers at one time using a rotary cutter
Pros
Very convenient for quick patterns
Cons
Poorly written directions
3. Stitch Buzz 3D Mask Pattern Template, Large
A great way to make your own mask is with this Stitch-Buzz 3D mask template. Make your dream mask with this easy template. It's fun, fast, and so much better than a store-bought mask!
Use it to save yourself time and money, cut out all the pieces you need and sew them together quickly. The front outer piece is continuous, and the nose and chin pieces gently cup the face. So there is no middle seam. This one has a clear template for positioning your design on fabric or embroidery.
Key features
Most comfortable mask and a super-fast make

Template: Approximately 12″ x 4.625″

Finished size: Approximately 10″ long

No middle seam

Made with 1/8th inch thick acrylic
Pros
Cons
4. Stitch Buzz 3D Mask Pattern Template Medium
This medium size pattern will fit most women and teenagers. Consider using this pattern if you are looking for a quick and very simple face mask to sew.
You can add a filter to the inside of the face mask. You can do it without adding an extra pocket because of the shape of this mask. These face mask templates are all made with 1/8th inch thick acrylic
There are, use the clear acrylic template to quickly cut masks and make your own face mask. Besides,the 3D mask pattern will make the most comfortable masks!
How? The design will allow you the nose and chin pieces gently to cup the face while the front outer piece is continuous. Once again, no middle seam.
You might have noticed that this 3D face mask pattern is exactly like the previous one. The only difference is the size.
Key features
Creates the most comfortable mask to wear.

No middle seam

Add a filter to the inside of the face

No need for an extra pocket
Pros
Cons
5. Digital Wood Face mask Plastic Sewing Pattern
Enjoy your sewing projects faster with the use of face mask pattern templates! It has a variety of sizes available, and they are quick and easy to use. This set will allow you to create a small, medium, or large-sized mask.
Learn how to create a full-coverage mask with an optional filter pocket in just minutes. Use them over and over again. They're reusable, so you can keep adding new patterns to your collection.
These templates make it easy to create a fitted mask that is simple to make and fits most face sizes. They include a link to a how-to video so that you can get started right away.
You can turn out a lot of masks in an afternoon with these handy sewing templates. Just print, cut, and sew.
The template is also paired with an optional filter pocket for those with allergies. If you add filter pockets to your designs, you will be making the mask even more convenient—and much more stylish!
Key features
Include a link to a how-to video

Makes full coverage fitted masks

Optional filter pocket

Made using the Flo-Mod system
Pros
High-quality thick material
Cons
Little short on the sides
Final words
The face mask pattern makes sewing easier, faster, and cheaper than going to a tailor. It is handy to know how to sew a face mask and make it yourself.
Here I have covered the best face mask patterns that are available in the market for you to use. You see, these patterns are easy and fast to sew. I hope now you have the best face mask sewing pattern in your mind now.
You May Also Like: