(Last Updated On: September 6, 2023)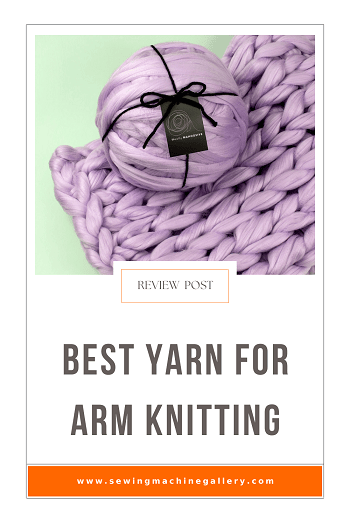 Arm knitting can be the most fun knitting option if you've got the right supplies. It not only saves you money but also saves you from the hassle of having to store more crafting items.
One thing you should be careful about when arm knitting is the type of yarn you use. Whether you want to create that oversized blanket or scarf, make sure you use the best yarn for arm knitting for the best results.
How do you know the right yarn to use for this project? Below, we'll discuss with you everything you need to know about yarns for arm knitting including some buying tips and the 10 top yarns on the market today.
Why Super Bulky Yarn For Arm Knitting?
The typical yarn for arm knitting is super bulky. To understand why you need to use this kind of yarn, you'll first need to understand what arm knitting is all about…
Arm knitting involves using your arm (in the place of knitting needles) to knit projects such as blankets, scarves, and pillows, to name but a few.
As you can see, your arms act like giant knitting needles. Giant needles can only be matched with a super chunky yarn for arm knitting.
Thankfully, the growing popularity of arm knitting and its final products has made the giant yarn for arm knitting readily available in all places—including your local knitting supply store.
You also have multiple choices to pick from…you can choose to work with roving yarn or the super chunky yarn. Some people have also devised a way of saving money by combining several standards of the standard yarn to come up with their own giant yarns.
All in all, the secret to great arm knitting experience (and results) lies in using the bulkiest possible yarns you can get…think weight category 7 (Jumbo) which means larger than weight category 6 (super bulky).
Image
Product
My Rating
Price

TOP PICK

Vrawas Store Arm Knitting Yarn for Chunky Yarn Blanke

Suitable for hand-knit, weave, & crochet.
High-quality choice for unique creations.
Comes in a convenient 0.55lb size.
Available in attractive light green.
Perfect for DIY craft projects.

Check on Amazon

TOP RATED

Casaphoria Chunky Yarn for Hand Knitting Blanket

Suitable for pet beds and pillows.
Perfect for arm knitting projects.
DIY cotton tube yarn blanket.
Super soft for cozy blankets.
Bulky yarn for quick results.

Check on Amazon

Amazon's Choice

Vrawas Store Arm Knitting Yarn for Chunky Yarn Blanket

Suitable for hand-knit, weave, and crochet.
Soft and washable cotton wool blend.
Ideal for chunky yarn blankets.
Braided knot design for texture.
Bulky giant yarn for cozy results.

Check on Amazon

BEST OVERALL

Arm Knitting Yarn for Chunky Braided Knot Throw

Ideal for hand-knit, weave, and crochet.
Soft and washable cotton material.
Bulky giant yarn for cozy results.
Stylish light purple color option.
Convenient 0.55lb size.

Check on Amazon

EDITOR'S CHOICE

Chenille Chunky Yarn Arm Knitting Thick Bulky DIY

Ideal for blankets, cushions, and decor.
Provides approximately 24 yards.
Comes in a 250g/0.55 lb size.
Elegant navy color option.
DIY crafting made easy.

Check on Amazon

ALSO, CONSIDER

Chunky Yarn for Arm Knitting, guofa Giant Soft Fleece Yarn

Perfect for cozy throw blankets and pillows.
Versatile for hand knitting projects.
Soft fleece material for comfort.
Ideal for DIY home decorations.
Suitable for creating cat beds.

Check on Amazon

BUDGET PICK

GULAKY Chunky Giant Cotton Tube Yarn Super Soft Thick

Ideal for DIY arm knitting blankets.
Super soft and thick for comfort.
Enhances home decor projects.
Merino wool alternative.
Stylish light grey color.

Check on Amazon
Our team of experts has selected certain products and assigned a star rating to each product. Read our detailed review below.
Our Best Arm Knitting Yarn Picks:
1. HomeModa Studio 100% Non-Mulesed Chunky Wool Yarn – (

Best Chunky Yarn for Arm Knitting

)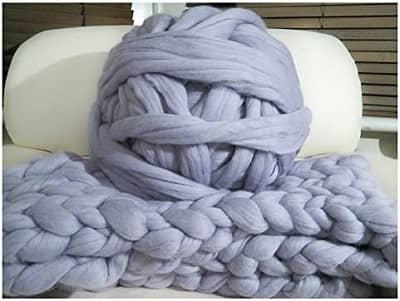 HomeModa Studio 100% Non-Mulesed Chunky Wool is one of the best chunky yarns we recommend you to use for arm knitting. The handspun merino wool yarn is great for arm knitting, giant knitting, extreme knitting, super chunky knitting…name it!
The yarn boasts of incredibly soft and bouncy feel, making it a great choice for making blankets scarves, rugs, wall hangings, and many other beautiful homemade items. The beautiful, luxurious yarn is made of un-spun wool, making it one of the highest-quality wools you can get on the market today. And that assures you that the items you make with it will last forever.
The yarn is dry-clean compatible, so you'll not have a problem cleaning the items you make it when the need arises. The yarn comes in multiple color options, so you'll be able to your preferred color.
Highlighted Features:
Soft chunky yarn

Bouncy texture

Handspun Merino wool

Great for making blankets, rugs, and scarves

Multiple ball sizes and color options
2. Charmkey Yarnyaya Jumbo Chenille Yarn – (

Best Jumbo Yarn for Arm Knitting

)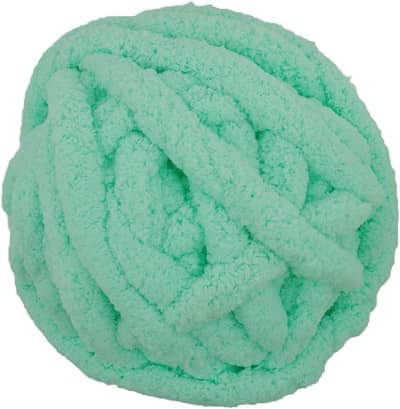 If you're looking for the best yarn for arm-knitting baby blankets and other baby items, the Charmkey Baby Chenille Yarn will not disappoint you.
The yarn is made from 100% extra-thick polyester fabric. As such, it comes with a gorgeous soft texture that will not irritate your baby's sensitive skin. Besides, the yarn is hypoallergenic to ensure it has no effects on those with wool/lanolin allergies. The fact that it's man-made makes it a better choice for those looking for non-allergic yarns.
The beautiful-looking, lightweight yarn is easy to clean and maintain. You can choose to hand wash it or put it in the machine. If you go the machine route, make sure you follow the manufacturer's directions to avoid damaging your handmade items.
Highlighted Features:
100% super soft polyester

Man-made chenille yarn

Weight category: super chunky, 250 g/ 8.82 ounce

Solid: 20mm diameter; multi-color: 15mm

Machine washable
3. FLORAVOGUE Merino Wool Big Chunky Yarn – (

Best Yarn for Arm Knit Blanket

)

Are you a beginner knitter experimenting with the fun world of arm knitting? If yes, this is the yarn for you. The super chunky yarn is easy on beginners and will enable you to make your very first arm-knitted item while enjoying the whole process.
The extra thick yarn is made of 100% Australian Merino wool. As you already, this is a genuinely natural, super soft wool with hypoallergenic properties (for those with wool allergies). What's more, this wool is high-quality, meaning it'll enable you to build long-lasting items.
You can use this bulky roving yarn for finger knitting, arm knitting, and crocheting felting. It's ideal for making blankets, rugs, and many other crafts. For the cleaning part, the manufacturer recommends you wash your crafts in cold water and dry them in the shade.
Highlighted Features:
Natural super soft yarn

100% merino Australian merino

Fiber: 20-micron w/staple length of 4-5"/12cm

Suitable for finger or arm knitting

1.1 lbs. per ball, 1.6" large size, 33 yards per ball
4. Zituop Super Chunky Roving Big Yarn – (

Best Yarn for Chunky Arm Knit Blanket

)
For the knitters on a tight budget, you might consider the Zituop Super Chunky Roving Big Yarn as it comes at an affordable cost. This particular roving big yarn is ideal for beginners and master crocheters alike.
Made from acrylic fiber, this super chunky yarn has a thickness of 10-20mm. The single skein weight is 250g/0.55lb. And it has an approximate length of 40 yards (36-37m). Like the previously discussed yarns, this one is also suitable for working on projects such as hats, scarves, sweaters, shawls, blankets, and so much more.
Unfortunately, the colors of the yarns tend to vary due to the dye lots factor. For this reason, you're advised to buy enough quantity to help you complete your arm knitting project successfully.
Highlighted Features:
Acrylic super chunky yarn

Yarn thickness: 10-20mm

One skein weight: 250g/0.55Lb

Length: approx. 40 yards (36-37meters)

Multiple color options

Hand wash in cold water
5. Zhengjun Arm Knitting Chunky Wool Yarn – (

Best Bulky Yarn for Arm Knitting

)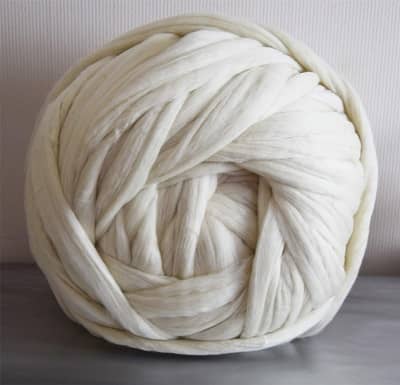 Zhengjun Arm Knitting Chunky Wool Yarn is fun to work with. It offers you instant gratification if you're the type of knitter who wants to make luxurious, beautiful looking homemade items in no time.
The high-quality yarn is also made from Australian merino sheep wool and can be used for arm knitting, giant knitting, chunky knitting, and extreme knitting. It's great for making knit blankets, super chunky scarves, rugs, and many other items.
This yarn is hand spun and hypoallergenic, making it safe for kids and animals, and even adults who have wool allergies. In other words, the wool feels incredibly soft on your skin and does not cause itchiness or irritations.
Highlighted Features:
High-quality, super chunky yarn

Made from Australian merino wool

Suitable for arm knitting, giant knitting, chunk knitting

Hypoallergenic wool

Dry clean compatible
6. Clootess Chunky Merino Wool Yarn – (

Best Wool Yarn for Arm Knitting

)
Clootess Chunky Merino Wool Yarn is another great choice for experienced arm knitters looking for even greater quality. This giant yarn is 100% made in the USA—where it's dyed and twisted manually.
As with most of the other yarns we've discussed in this list, this yarn is also designed using 100% natural merino wool. Needless to explain, this makes it not only super bulky but also soft, gentle and delicate.
Since it comes with a vast stretch of colors (over 100 options in all weights available), it becomes easy for you to get just the right color you're looking for. This yarn is suitable for arm knitting chunky blankets, scarves, and many other merino wool crafts.
Highlighted Features:
Made in the USA

100% natural merino wool

Super soft and bulky yarn
7. Zituop Super Chunky Soft Bulky Yarn – (

Best Soft Chunky Yarn for Arm Knitting

)
This soft, bulky yarn is also a good choice for knitters who are still learning the art of arm knitting or those looking for affordable but quality arm-knitting wool. It's made of cotton fiber, with it inside filled with hollow fiber for a lightweight, cozy, and warm yarn.
The yarn is an excellent choice for making items like blankets, hats, scarves, carpets, and pet or dog beds. Blankets made using this yarn are sure to keep you warm while adding fashion, and modern style to your home.
Despite the low cost, this yarn is very durable and will not easily fall apart during knitting. It doesn't produce any smell, no color fades, and no shades! You can also easily clean it in the machine (following the manufacturer's directions) without worrying about possible damage.
Highlighted Features:
Material: Cotton

Big and chunky yarn

Durable yarn

Machine washable

Odorless, no color fade
8. HomeModa Studio Giant Yarn – (

Great Yarn and Worth the Money

)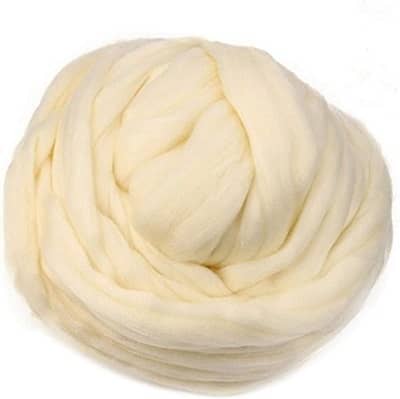 Another good yarn for arm knitting from HomeModa! This giant yarn perfectly fits the definition of a super soft fluffy wool with multiple colors to choose from… and packed with all the natural benefits associated with wool.
The 23-micron giant yarn wool is ideal for extreme knitting. You'll find this wool so much fun to work with, especially if you're the kind of knitter who wants instant gratification in everything, including your homemade items.
With its hypoallergenic properties, this yarn is also resistant to bacteria, mold, and mildew which can help trigger allergic reactions in people as well as pets. The yarn is suitable for making super chunky blankets, rugs, scarves, and so on.
Highlighted Features:
23-micron giant yarn wool

Hypoallergenic properties

Easy for beginners to work with

Yarn ball size: 2.2lbs

Many colors to choose from
9. Sugar Bush Yarn Chill Extra Bulky Weight – (

Best Durable Yarn for Arm Knitting

)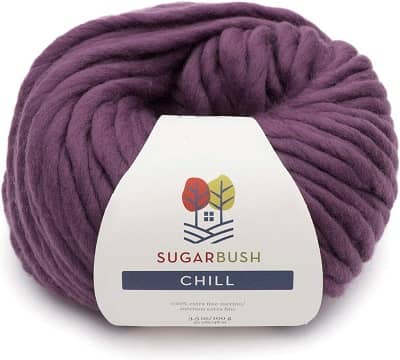 Sugar Bush Yarn Chill is another moderately priced, super bulky weight roving yard for arm knitting lovers. It's made using 100% Extra-Fine merino wool, making it one of the softest yarns you can find on the market today.
The alpaca yarn is ideal for arm knitting, traditional knitting, and even crocheting. Like all the other yarns in this list, its super bulky nature makes finishing projects easy and quick, even for beginners. You can use this yarn to make sweaters, blankets, scarves, cardigans, hats, and so on.
Chill extra bulky yarn comes in a variety of shades to enable you to find a color of your preferences. Its natural fibers are incredibly easy to work with and will give your projects a premium (soft, irresistible) look.
Highlighted Features:
100% extra-fine merino wool

Ball size: 3.5 oz / 100g

Yardage: 52yrds/48m

Weight category: 6, super bulky

Gauge: 9 sets per 4 inch on us 13 (9.00 mm)
What To Look For Before Buying Big Yarns?
After going through our list of the 10 super chunky yarns for arm knitting, you might start wondering how we were able to choose these yarns.
Right?
In this section, we'll share with you our top tips on how to choose the best yarn for arm knitting easily and quickly:
Material
Chunky yarns for arm knitting are usually made from different materials, with wool being the most popular type of material.
The two most popular wool yarns are made from animal fibers (merino and lambswool).
You can also find some good quality yarn made from other natural fibers such as cotton, bamboo, and linen. Synthetic fibers like acrylic and polyester are also available.
Where possible, we advise you to go for bulky fibers made from merino (Australian or New Zealand). This wool has an exceptional softness and smooth feel against your skin—making it ideal for making a wide range of items.
Weight Category
As we said earlier before, you should focus on getting the bulkiest possible yarn for arm knitting.
Remember that you're using your arm as the needle and not the traditional needle… hence the need to buy a giant, extra-thick yarn.
Check the specifications of the yarn you want to buy to confirm that it's a super bulky yarn of weight category #6 or higher.
Color
Every knitter has their color preferences. Some items also come out well when knitted using certain colors.
With this in mind, you'd want to make sure that the color you choose matches not only your preferences but also matches the type of project you're working on.
BEWARE of dye lots
It's important to pay special attention to yarns that come with dye lots. The term "dye lots" means that the yarns are dyed in HUGE batches and might not be entirely identical.
If the yarn you're buying has dye lots, we advise you to buy it in sufficient amounts upfront to ensure you don't end up neglecting your projects or using a different color due to lack of identical yarn.
Sensitive Skin & Allergies
Do you have wool/lanolin allergy? Or are you planning to knit something for your young ones or for your pets?
If yes, it's crucial that you look for a yarn with hypoallergenic properties. This means that the yarn does not attract bacteria, mildew, and molds that end up triggering the allergens.
If you can't find merino wool that is hypoallergenic, look for other animal fibers such as alpaca and llama as they're safe for sensitive skin and allergic knitters.
Even more comfortable are plant fibers like cotton and bamboo.
Washable
There's no point of knitting with a yarn that's not washable. This will give you problems when you need to clean your crafts (blankets, scarfs, etc.)—especially the ones for babies as they need regular clean up.
We found that most of the chunky yarns on the market come with three main washing methods namely: hand wash, machine wash, and dry clean.
It's essential that you take your time to identify which of these methods will not shrink, stretch or distort your precious arm knitted items.
There's no better way of getting to know about the yarn you want to buy than reading firsthand info from previous knitters who have used the yarn before.
In most cases, their feedbacks will answer all your questions regarding the yarn—like is it itch? Does it hold up in the washing machine? Is it soft? Does it shed?
The pattern you usually to work on usually indicates the amount of yarn that you should use to complete it. This can be specified in terms of the number of yarn balls or skeins.
Where To Buy?
There are many places you can find the giant yarns for arm knitting…but not also the avenues might give you quality yarns for quality project results.
Here's is our list of the BEST places to get high-quality chunky yarn for all your arm knitting projects:
1. Amazon
Amazon is, doubtlessly, one of the most popular places where knitters get quality chunky yarn for their arm knitting projects. Here, you'll find yarns of all types, colors, weights, and prices. Our list of the top yarns above will point out to you some of the top yarns you can get from Amazon for any arm knitting project.
2. Etsy
Etsy is another popular place where all types of crafters get their supplies. You'll get different sellers selling good quality yarn that you can use to come up with fantastic yarn-knitted items and crafts.
3. Loopy Mango
While most of the sources sell raw wool roving, Loopy Mango offers you felted merino wool, which makes it sturdier and denser. For this reason, we recommend you to buy their wool if you plan to craft items that will be subjected to a lot of abuse, like poufs and rugs.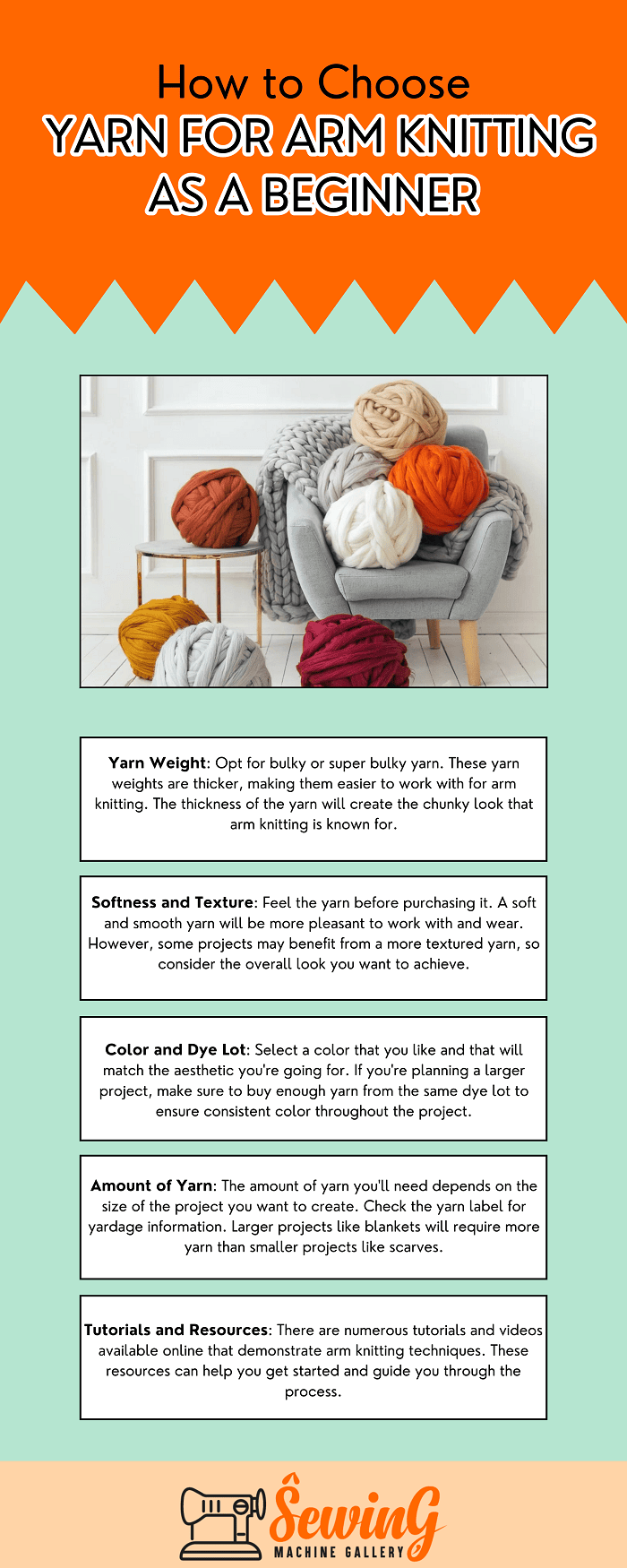 Frequently Asked Questions
1. What is the best yarn to use for arm knitting?
The best yarn for arm knitting should be in the super bulky weight category. Check our reviews section above for the 10 most popular types of yarns you can find on the market today for your arm knitting project.
2. How much yarn do you need to complete an arm knitting project successfully?
The amount of yarn need to complete a given project is usually indicated in the pattern information. This can be in the form of the total number of balls or skeins you need.
3. What is roving yarn?
Roving yarn refers to the type of yarn that's not twisted or plied like the other types of yarns. It's a fun style of yarn used by arm knitters to create quick and bulky items/crafts.
4. Can I stop midway an arm knitting project?
Yes, stopping in the middle of your project is possible and easy. All you have to do is move your stitches (one by one) onto a stitch holder. If you don't have a holder, you can consider placing your stitches on a long piece of scrap yarn.
You should also make sure you remember the arm on which your last row of stitches to ensure you'll not have problems picking up from where you left off.
Final Verdict
Arm knitting has become more popular than ever before. Knitters are now obsessed with this art of using just the arms to come up with incredibly luxurious-looking items such as chunky scarfs, blankets, hats, rugs, scarves, and even wall hangings.
As we made it clear at the beginning of this post, you should invest your time before in finding the best yarn for arm knitting before you start your project. This will ensure your projects bring in the results you're expecting.
Our post above has outlined for you the 10 super bulky, highest-quality yarns you can use for any arm knitting project. This, plus our exclusive buying tips for arm knitting yarns, will help you get the perfect yarn for your new project.