Sewing without having a pair of scissors close by can give you a very difficult time. Get a close-up of the excellent embroidery scissors right here.
Good tools are always essential to any practice. When it comes to embroidery, scissors are very important for trimming and cutting any excess threads.

However, not all scissors can be effective at this task. You will be better off having embroidery scissors, which are specifically designed for convenient cutting and trimming of threads while practicing this craft.

Most notably is the scissor's small design, with small blades, which are curved in some models, and some optional decorative work on them. With this in mind, it is important to get the best embroidery scissors that are comfortable to use.

This article gives an in-depth review of 5 of the best ones in the market so as make it easier for you to pick the most suitable one for your needs. 
Our Recommended Top 5 Picks:
(See our quick top 05 picks, or go further down and read our in-depth reviews.)
Top 5 Embroidery Scissors of 2022 – (Editors' Top Picks)
1. D&D Stork Embroidery Scissors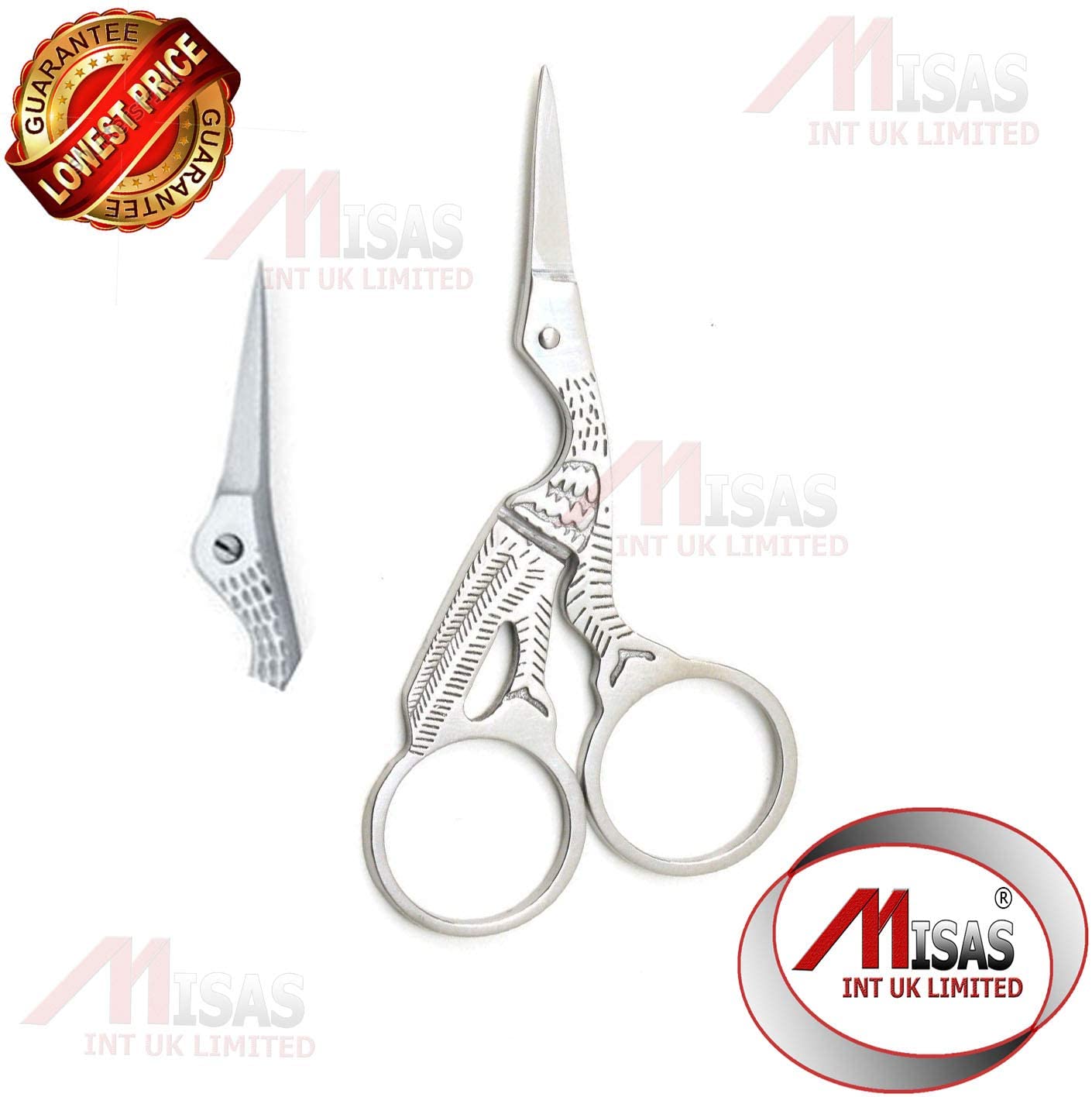 D and D's scissors are stork-style embroidery scissors with a sharp front point for precision cutting in detailed decorative work.
Regarding size, this is a 3.5-inch unit, which is quite small and thus, ideal for cutting and trimming threads in the tightest of spaces. Usually, in embroidery, you have to deal with tight spaces within the threading, and this means that the small size is very beneficial for this craft.
This small size also means that it is very lightweight, and coupled with comfortable handles; this pair is very easy to use. Apart from comfort, the handles have an ambidextrous design, making them usable by both left or right-handed people. 
Despite being lightweight, the scissors are very strong, and this is due to a stainless-steel blade construction. Stainless steel is also rustproof, which makes the unit very durable.
Aesthetics are important in embroidery, and this pair of scissors is equipped with a colorful layer to match the craft. It is available in a wide variety of colored designs, which include blue, gold, green, pink, red, white, and yellow. 
These colors are not plain. They consist of flowery designs that set the mood for building a colorful project.
Features at a glance
Stork-style design.

3.5-inch in size.

Sharp front point for precision cutting

Small in size. This makes it very portable.

Lightweight.

Durable stainless-steel blade construction. 

Comfortable handles with an ambidextrous design.

Available in a wide range of flowery designs that are classified into blue, gold, green, pink, red, white, and yellow colors.
2. BIHRTC Vintage Plum Blossom Scissors  
These embroidery scissors are top-rated products, and this is because they come in a set consisting of two pairs of scissors, one being in a vintage plum blossom style and the other being in a classical crane style.
A combination of clouds, bamboo, and other styles is also available, giving you plenty of options to choose from.
However, the twin set also makes it the most expensive product in this review, but if you consider the price per unit, their price difference is not that big.
Construction-wise, these beautiful vintage-like scissors have a pointed edge, which is particularly good for embroidery and other sewing projects, and sharp blades that are made using a high-quality stainless steel alloy.
This kind of build quality makes the scissors very strong and durable, which is a big advantage to have.
Size is also a big factor to consider, and this set has the classical crane piece being 3.6 inches long while the vintage blossom piece is 4.5 inches long. This is also a small size, which is good for embroidery purposes and also makes them very portable.
The other styles, such as clouds and bamboo, come in different sizes, but they all vary in this range.
Features at a glance
Comes as a set of two pairs of scissors

Expensive.

Pointed edge design for precision cutting in embroidery projects

Durable, high-quality stainless-steel alloy blade construction

Small in size. Crane piece is 3.6 inches long while the blossom piece measures 4.5 inches in length.
3. MonkeyJack Antique Embroidery Scissors
MonkeyJack's embroidery scissors are built in an antique vintage style, which is unique and is available in 4 different colors to give you some options to choose from. These colors include rose gold, bronze, red bronze, and silver.
Regardless of the color, the scissors are well polished to have a bright and shiny finish that is very pleasing to the eyes.
Regarding size, this piece measures just a little over 3.6 inches in length, which is a good size for most crafty work that includes embroidery, cross-stitching, and needlework, among many others.
Structurally, stainless steel is used to build the entire body of the product, making it strong and very durable because this material does not rust.
The blades are small in size and have a pointed design that enables you to make very precise thread trims and cuts, meaning that it is a very useful tool for embroidery.
Despite having such features, MonkeyJack's pair of scissors are very affordable and are therefore recommended for beginners as well as hobbyists who want a pair of scissors on a tight budget.
Features at a glance
Antique vintage style.

Available in rose gold, bronze, silver, and red bronze colors.

Bright and shiny finish.

3.62 inches in length.

Stainless steel handle and blade construction

Small, pointed blades for precision cutting

Affordable.
4. BIHRTC Classic Stork Embroidery Scissors
If there is something unique about BIHRTC, it is its wide variety of embroidery scissor styles. This particular product is available in 5 options, which include a 3.5- and 4.5-inch stork crane scissor set, a 3.6-inch stork crane option, and a 3.6, 4.3- and 4.5-inch stork crane, hollow leaves, and guitar style set.
The fourth and fifth options include a 3.6- and 4.5-inch stork crane set and a single 4.5-inch crane. With these, you will surely get your most preferred size, in the quantity that you want and at the style that suits your preference.
Additionally, these styles come in different colors such as white, black, silver, hot pink, and others, such as florals and pictures, and these enable you to maintain the decorative spirit among your embroidery tools.
On the blades, this 3.6-inch stork crane pair of scissors has 1.18-inch blades, which are ideal for cutting threads in the tightest of spaces due to their short length. They are also pointed, and this is a critical design that makes it possible to cut with high accuracy.
Stainless steel is used to make these blades, resulting in very durable cutters, while metallic handles make the unit more durable and more comfortable to hold.
Features at a glance
Available in 5 quantity, size, and style options.

Comes in several color options

Short pointed blades for precision cutting in very tight spaces

Durable metallic handles that are comfortable to hold.
5. Bohin Embroidery Scissors
Bohin's embroidery scissors are also top-rated products that have a very simplistic design. They are not decorated in any way. Each pair has a plastic handle with metallic blades.
This makes the pair ideal for someone who prefers keeping things plain and simple and only looks at the functionality as compared to aesthetics.
Despite being simple, these blades are made using strong and durable metal and have a curved design that makes it possible to cut threads while being much closer to the surface.
Other than this, a pointed nose at the blade front makes it quite easy to make accurate thread cuts, and thus, the process of embroidery becomes very much simplified if you have this tool.
When it comes to size, Bohin's unit measures 4 inches in length, which means that it is very easy to carry the scissors around due to its small size.
On the downside, this product is only available in one color (a black handle with silver metallic blades) and in one single style, which is a curved blade design.
Features at a glance
Simplistic design. 

Plastic handle with durable metallic blade construction.

Curved blade design for cutting closer to the surface

4 inches in length.

Short, pointed blades for making high precision thread cuts and trimmings

Available only in one color and one style.
What do We Need to Consider When Buying Embroidery Scissors?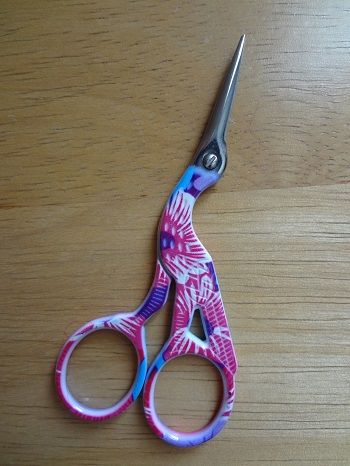 Being very important tools in the embroidery process, it is important to consider the following before buying a pair of embroidery scissors.
Style
There are many styles that can be used to define embroidery scissors. These include:
Stork scissors
Stork embroidery scissors are very common, and there is a high possibility that a newbie will buy this style if he/she picks a random pair for the job. 
They are called stork scissors because they resemble storks, with the blades forming the bird's beak and the handles being something to step on.
Vintage-like scissors
Vintage-style embroidery scissors are designed to have a gothic-like kind of appearance. Although functionally, they are just like stork scissors or any other style, the vintage finish makes them look very sophisticated and very cool to own.
Hollow leaves scissors
Also named after its shape, hollow leaves scissors resemble leaves but have a hollow center to form the handles.  
There are many other styles of embroidery scissors, but these are the most common. It is essential to note that there is no style that is better than the other, so the choice between them is basically down to personal preference. 
Design 
Design can be looked at from many angles. First is the decorative color or pattern on the pair of scissors. Some scissors are designed to be plain, while others feature floral paintings or pictures. The second is the appearance of the blades. 
Most of these scissors usually have straight, pointed cutters, but there are some that feature curved blades, which can be very good for cutting threads while being much closer to the surface. 
Even though these curved models are better than their straight counterparts, some people prefer the straight blades, and thus, it is recommended to try all of them to decide which one feels comfortable for you to use.
Size
Size and weight usually go hand in hand. A bigger-sized pair of scissors is most likely to be heavy than a small-sized one because of the extra material used to make it. With this comes the problem of being less portable. 
A big and heavy pair of scissors will be cumbersome to carry, and thus, if you like traveling while carrying on with your embroidery project, such a tool will be very uncomfortable to tag along. Small and light units are the best ones because they are easily portable.
Material
The element that is used to make these tools is usually considered due to durability purposes. Generally, all metallic construction is the best one to have because the metal is very strong and durable. Stainless steel is widely used to make these scissors, and the good thing about it is that it is also rustproof.
Some embroidery scissors feature plastic handles, and although these might contribute towards making the unit much lighter, they are weaker than metallic handles and might not feel firm and comfortable to hold.
Quantity
A single pair of scissors is quite enough for any project. However, if you would like to mix up the styles or colors a little, you can buy a set containing differently-sized embroidery scissors with vintage, stork, guitar, and hollow leaves styles to choose one depending on your mood or the project that you are working on. 
However, it's important also to consider the cost of these sets because some might be more expensive than buying the differently-styled pairs of scissors individually.
Conclusion
The scissor that you settle on should help make your work easier. Therefore, it is a must to understand the features of embroidery scissors to see how they can help you with this craft.
By going through this review, you will get a better understanding of what the features in these scissors mean and their benefits and, thus, help you get the best embroidery scissors to suit your needs. 
Related Posts: