Would you like to buy your little one a sewing machine? If so, we have reviews of the top kid-friendly sewing machines that you can consider buying.
Sewing machines and kids! Looks like a bad idea. The truth is, kids can enjoy sewing just like adults as long as they are not very young, and there is someone to supervise them. I count sewing as a learning opportunity for kids.
This is because it promotes eye and hand coordination, and it also teaches kids to be patient. And for your little one to enjoy sewing, you need to get them the best kid-friendly sewing machine. Selecting the right sewing machine for kids can be troublesome.
This is why we prepared this article to help you buy a machine that will attract your kid's attention. My team and I spent more time on research to help you get machines that are easy to find. Continue reading for more details. 
Our Recommended Top 5 Picks:
(See our quick top 05 picks, or go further down and read our in-depth reviews.)
Top 10 Kid-Friendly Sewing Machine of 2022 – (Editors' Top Picks)
While there are many sewing machines on the market, not all are suitable for kids. The good thing is that you don't have to spend a lot of money to get a kid-friendly sewing machine. The following machines are safe and reliable to use, and they also come at very affordable prices.
1. SINGER Start 1304
When it comes to sewing machines for kids and adults, SINGER is one of the top brands on the market today that provides high-quality machines. The SINGER Start 1304 is a kid-friendly sewing machine with many impressive features. It features a stitch dial that is easy to access so your little ones can change the stitches easily in just one step.
This machine also provides fast and easy threading. Your kids will have a simple time using it since it has printed threading diagrams on the right which makes setup easy. This sewing machine also allows kids to make smart buttonholes, thanks to the built-in 4 step buttonhole. They can also choose between six built-in stitches depending on their preference.
This sewing machine is designed to last for many years. It has a quality metal frame to enhance its durability. It will give young sewers many years of great use. This machine makes sewing easy because you don't have to come up with adjustments on the length and the width of the stitch.
Features at a Glance:
Equipped with a quality and durable metal frame

The Machine features six built-in stitches

Has dual spool pins for easy twin needle stitching

Designed with a built-in 4 step buttonhole

Has a preset stitch width and length

The presence of a stich dial makes it easy to select the stitches
2. Brother Sewing Machine XM2701
This is another kid-friendly sewing machine you can get at an affordable price. The machine is equipped with 27 built-in stitches that your kid can choose from to express their creativity. These stitches include stretch stitches, zigzag, blind hem, and decorative among others. The machine has a versatile free arm that makes it suitable for various sewing projects. This also makes it ideal for beginners and advanced users.
It comes with an automatic needle threader as well as a drop-in top bobbin. This makes the needle push conveniently without jamming. Apart from the sewing machine, the package also includes other important accessories like 4 bobbins, six sewing feet, a twin needle, an s-piece set of a needle, a manual, and an instructional DVD.
I also like the LED light included that illuminates the work area. Young sewers can see their creations clearly. The machine also carries a 25-year limited warranty and you will also enjoy free technical support throughout the life of this machine. Isn't that awesome?
Features at a Glance:
Lightweight design makes it suitable for beginners

Has an easy stitch selector with 27 built-in stitches

Designed with LED lights that brighten the work area

Drop-in bobbin makes you get quality stitches

Comes with accessories, an instructional manual

Easy threading system pushes the thread automatically through the needle
3. Portable Sewing Machine Mini Sewing Machine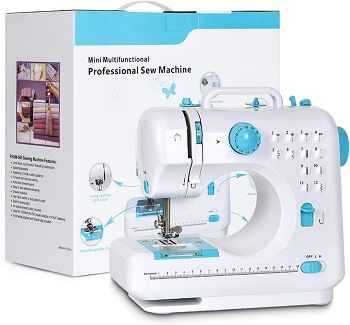 You've been wondering where to get your kid suitable sewing, crafting, and mending machine? Your solution is right here in this preview. The NEX Sewing machine is built in 12 stitches of different patterns.
First four stitches; for a straight line

5&6; Different patterns

7&8; special designs for holes to put buttons

9-12; curved lines pattern
Why I chose the NEX Sewing machine is its reverse sewing designs. It saves your child from having to change the direction of the fabric while making a reverse design. It is also easy to use. It comes with LED lighting bulbs to illuminate your work area.
There are also scissors, which makes it very easy to cut the threads. It is easily portable and has a foot pedal that can easily handle daily sewing. The NEX sewing machine is also suitable for beginners learning how to craft fabrics.
Features at a Glance:
Lightweight and portable design making it suitable for beginners

A light bulb to illuminate your kid's work area

Has a battery and a foot pedal, also works with 6v dc

Suitable for creating home décor

12 built-in stitches for enhanced creativity
4. Janome FastlaneFuschia Basic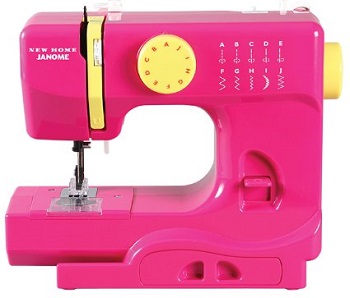 Janome 10- Stitch portable sewing machine fit for your kids.  It is compact which makes it portable. It is great for both professionals and young learners. Built with essential features that help many different kinds of sewing and crafting work.
It has a lightweight 5 pounds which are easier to move from one apartment to another or any other place. It has 4 stitches and 6 stitches in width and love variations. It enables the young learner or the experienced tailor to sew simple things, scrapbooks,s and also crafts.
Stitch A-E are straight for basic sewing and inserting zippers

Stitches F, G &H is zigzag used for basic mending and garments construction

Has 1 crescent-stitch used for embellishment and also for applique

0ne multi-stitch, the zigzag design used to stretch fabric knits
Features at a Glance:
Has 10 built-in stitches for improved creativity

Threading diagrams together with a top drop-in bobbin which has a clear cover thus makes it easy for setting it up

Has a pressure foot that incorporates finger guards that ensure the security of little fingers

Easy to store the accessory

It is possible to perform reverse sewing designs with little effort.
5. Varmax Mini Sewing Machine
Varmax Mini Sewing Machine with an extension table is a specially- mini-sized design which comes with an extension table for smooth and stable sewing. It is suitable for industrial use and also for your kid's learning and practice.
It has a built-in lamp that illuminates your sewing area. Made with an easy mechanism for rewinding bobbins on a winding pole.
It has this amazing and classic straight-linen stitch which is suitable for primary sewing. It does not come with the reverse function. After sewing your fabric you can easily cut the threads simply by using the cutter attached. The Varmax Mini Sewing Machine is suitable for various types of fabrics like silk and denim.
Allows for easy setup of bobbins and also the rewinding of bobbins automatically when the machine is turned on. It comes with a one-year warranty and is equipped with an AC/DC adaptor and your kid is assured of a user-friendly machine that will suit their practices.
Features at a Glance:
An extension cable

Has a power adaptor

Comes along with a sewing foot pedal

4 primary bobbins

A needle

It also comes with a user manual to guide your kid
6. HAITRAL Portable Sewing Machine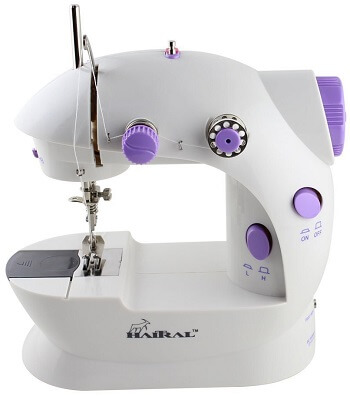 This is a lightweight mini, affordable, compact, and very portable sewing machine. It features a double thread and a double speed mechanism which makes it possible for teaching kids and also for beginners in sewing. It can stitch on any type of fabric available be it delicate like silk or tough like denim.
It has a top drop-in mechanism for fixing the bobbin but lacks the reverse sewing function.  The machine has two power supply modes where the two modes can't be used at the same time as it will cause damage to the machine.
Features at a Glance:
A sewing foot pedal

An external power supply

Comes along with a user manual

It has 4 bobbins, 4 needles, and a needle threader

Has two lines sewing design top and bottom giving your fabric a high-quality look

Runs at a double speed that is a kid will switch their suitable speed as well as a professional tailor

Double switch where you can either use the hand switch or the foot pedal after reading and understanding the instructions outlined in the manual

Portable and small made of plastic, has lightweight which makes it easily portable
7. Janome Arctic Crystal Easy- to –use Sewing Machine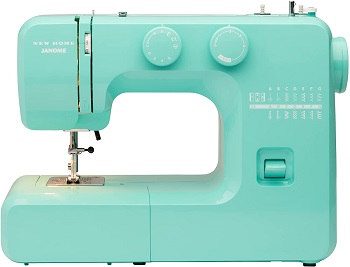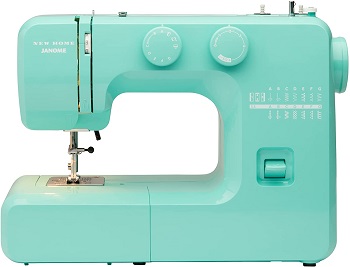 This machine has an interior metal frame, a bobbin- diagrammatical expression made to suit your kid's sewing and crafting lessons. It has customizable features like the stitches which have an adjustable length. It is user-friendly with built-in bobbin diagrams and also inclusive of a user guide.
It has a great deal when it comes to the warranty duration, 25 years, this is a great offer and assures you a durable one.
It comes with convenient 15 built-in stitches and a four-step buttonhole. This machine is one to grow your child's skills. The interior metal framework ensures the durability of the sewing machine. Suitable for sewing fabrics for home decoration that are of high quality.
Features at a Glance:
LED light bulbs to light up your sewing area

Has a max speed of 800 stitches per 60 seconds

Comes with standard accessories like needles and bobbins

Four feet pressers included zipper foot, buttonhole foot, general-purpose foot

An amazing 3- piece feed system for easy and smooth fabric feed

Has a durable interior metal framework thus long-lasting

Has 15 built-in stitches to improve creativity and decoration
8. KPCB mini sewing machine
Are you looking for a user-friendly mini sewing machine? The KPCB mini might be what you need. It features a basic sewing technique ( straight line stitching) for simple sewing. It is ideal for all age groups including kids. Moreover, the sewing machine comes with upgraded environmental material. This improves the durability as well as the quality of the sewing machine and its accessories in general.
Not convinced yet? Then how about a convenient foot peddle operation. Get to concentrate more on your work with both hands as your foot controls the speed. The foot peddles is designed in a way that you can control the way your machine sews. You will also be glad to know that this machine supports both battery and adaptor electrical supply. It also comes supported by a 3-month guarantee.
Additionally, with the machine, you can see various fabrics and it is also compatible with 75/11, 80/12, 10/16, and 9/14 needles. You will love the large extension table on this unit which makes sewing smooth.
The inbuilt Windling pole plus the spool will help when rewinding the bobbins as you start the Machine. They also make bobbins' replacement easy. On top of that, you'll get two speeds to choose from. This sewing machine also comes equipped with the necessary accessories to get you started.
Features at a Glance:
Equipped with accessories

Made with in-built windling Pole and spool

Designed with upgraded environmental material

Has a large extension table

Made to suit all ages including kids
9. NEX sewing machine light pink 39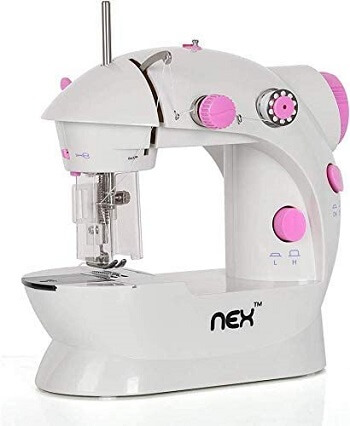 One of the most impressive perks of this unit is its lightweight. It only weighs 2.35 pounds making it possible to take anywhere. You can easily fit this machine into your backpack or shoulder bag.
Additionally, it can be powered in two ways that are by power adaptor or by use of the four AA batteries. This together with its portable design allows sewing anywhere that is at home while in an isolated place without a power supply.
Due to its small size design, you can also choose to gift this sewing machine to your loved ones. It is a great beginner machine that can also greatly improve your kid's hands-on ability plus their imagination.
If you are a craftsperson or you simply want to do small emergency sewing then this machine is for you. It is very easy to use thanks to its straight-line sewing technique, foot pedal, and also the on/off control button.
NEX sewing machine comes with an inbuilt LED light to offer you a clear review of your work. The high and low-speed buttons are designed to give you total control on your projects. You don't have to worry about safety especially if you are buying this sewing machine for your child. This is because it has a safety cover around the needle to prevent any injuries.
Features at a Glance:
Can be powered in two ways

Has a portable design

It is equipped with easy control buttons

Has a safety cover around the needle
10. Best Choice Products 6V Multifunctional Compact Sewing
If you love creating and making fashion statements then you will also love the sewing machine. It is ideal for beginners as well as professionals looking for a compact size machine perfect for emergency touch-ups anywhere. Its size can let you take it with you anywhere as it won't take up a lot of your space regardless of where you decide to place it.
This unit comes with 12 presets to allow beginners to improve on their skills. The Presets stitch patterns will ensure that if you are new to stitching you get to improve and also complete your projects regardless of how complex they may be. Once you purchase it you don't have to take time setting it up as it requires no assembly. It will also come with a very low voltage rating meaning it won't take a lot of your power. This
This best choice sewing machine is easy to use as it comes equipped with an automatic thread rewind, tension dial, thread cutter, and an LED light. These make sewing simple for both professionals as well as beginners.
You will also get two speeds to choose from plus a foot pedal or hand switch to make you more comfortable with the machine. If you are one who loves keeping stuff in one place then you will love the storage compartment on this unit. You will be able to keep your threads needles and other supplies safely.
Features at a Glance:
Equipped with 12 Presets

It has a portable design

Made with a storage compartment

It also has two speeds to choose from

Automatic thread rewind, tension dial plus thread cutter
What do We Need to Consider When Buying Kid-Friendly Sewing Machine?
Before you pick the right sewing machine for your kid, it is important to pay attention to some important things that comprise a good machine. Make sure you consider the following tips to help you get the right machine that is suitable for your kid.
Features
If you would like your child to develop sewing skills, then consider buying a machine with real features, not a toy. This will help them practice and improve their sewing skills with time. You need to consider a machine that has an attached foot to make it easy for kids.
Sewing Speed
This is another essential consideration that you should have in mind. In as much as there is no better speed, consistency is crucial. Doing this will help your kid come up with quality products, and they will have a simple time when using adult sewing machines.
Weight and Dimension
You should also consider the weight of the Machine based on the size and the age of your kid. Make sure that you get a lightweight sewing machine so that kids can use it without trouble. You should also consider the dimensions of the Machine.
This is especially if your kid would love to carry it around the house. Ensure that the size of the Machine is manageable so that it can be easy for a kid to carry around the house.
Built-in Stitches
When considering this factor, make sure you know the ability of your kid. Having too many options can end up confusing them if they are beginners.
If your child is getting started, consider some basic stitching options, but if they have some advanced skills, a sewing machine with multiple options can be fun for them to use. Such a machine will also help them increase their level of creativity when sewing.
Warranty and Price
You don't have to spend a lot of money when buying a sewing machine for kids. Set your budget and look for a machine that meets your budget requirements. You should know that the more features, the higher the price.
When it comes to a warranty, consider a machine that comes with a decent warranty. Kids are prone to breaking items, so the warranty can be a great way to secure your investment.
Safety Features
We cannot forget about the safety of your child. In as much as sewing can be a fun activity, it can also be a frustrating experience if your kid gets hurt. Therefore, make sure that the Machine you buy is safe. Not only should you consider safety on the pedal but also a push button that can start or stop anytime.
Sturdy Construction
When you are buying a kid-friendly machine, make sure that the Machine is built to last longer. You will find that most machines on the market are designed for kids to feature bright colors to attract attention but feature poor-quality construction.
You want something that will last longer. Therefore, you should consider all the essential factors that you check when buying an adult machine. The Machine should also be easy to use so that your kid can be interested to learn how to sew.
Final Verdict
Sewing is an interesting activity for both adults and kids. Not only is it fun, but it also instills some educational value to the little ones. If you have a kid who is interested in sewing, the above are the best kid-friendly sewing machine that you can consider buying for them.
These machines have basic features that little ones need to get started sewing. We selected affordable, reliable, and safe sewing machines for kids that will make their dreams come true. So, choose any of the above sewing machines and give your child the chance to express their creativity.
I hope after reading our honest reviews and guide, you will not have problems picking the most suitable sewing machine for your kid.