Looking for the top sewing machine under $300? Read our article for tips on how to pick the best product in addition to the reviews of the best-selling sewing machines under $300.
Affordability is the biggest attraction for frugal minds. If a product is affordable, the prudent sense is ready to compromise a lot, with the pleasure, of course. However, the manufacturer cannot take a chance with the quality of the product. 
That is another thing that is the main criteria for an economical and wise person to invest their tight budget on. Not just the frugal minds, affordability is crucial for beginners as well. The beginners who are just thinking of starting something have to be thrifty too.
So when we had to talk about sewing machines, we decided to focus on the best sewing machine under $300 for all those frugal minds and beginners who are naturally on a tight budget. Every well-revered brand makes a budget-friendly yet good-quality sewing machine because the brands know their consumers pretty well.
If they have advanced, high-end sewing machines to attract skilled couturiers, they have a few to offer to their tight-budget beginners as well. And we are presenting you those offerings right below with the utmost details we have with us. These are from renowned brands.
So, just glance at which one attracts you the most concerning the features because price and quality are not what you will have to worry about.
Our Top Picks:
(See our quick top 3 picks and below you can read our detailed reviews about these products.)
Top 5 Sewing Machine Under $300 for 2021 – (Editors' Top Picks)
Janome 2222 Sewing Machine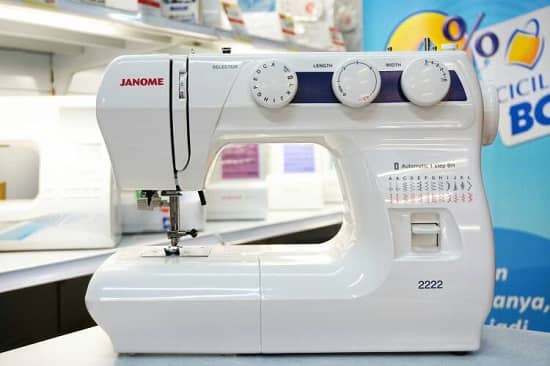 Starting with the renowned brand Janome, it has a compact yet good quality entry-level sewing machine for all you beginners. Not just compact, it's lightweight and super easy to use. It is a mechanical machine that offers you 22 built-in stitches to make your projects look unique and pretty looking.
The three convenient dials on the machine for conveniently and quickly choosing the stitches and setting the stitch width and length to a maximum of 5mm and 4mm add ups to your fun learning experience. You can adjust the thread tension manually according to your preference too.
It has a front-loading bobbin which means the vertical oscillating bobbin loads from the front. Some might find it a tad bit difficult, but with practice, it gets easier, and you can have all the advantages of the front-loading bobbin.
The compact, sturdy machine has a free arm for easy storage of accessories and sews the small stuff like collars, pant hems without messing them up. It's one 1-step automatic buttonhole, integrated needle threader, drop feed mechanism with 3-piece feed dogs, seven presser feet with snap-on facility takes the expediency of the sewing machine a couple notches high.
Singer Sew Mate 5400 Factory Serviced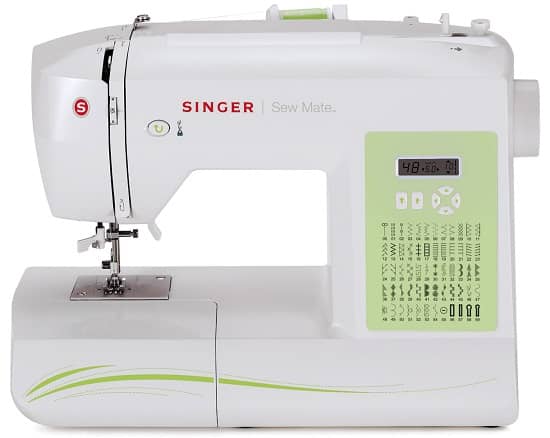 We will talk about sewing machines, and one from Singer will not pop up; that's never going to happen. It's the 'OG' brand and makes the ideal entry-level sewing machines for beginners, and this time it is their Singer Sew Mate 5400 that caught our attention with its relevant features.
This compact sewing machine has a sturdy heavy-duty metal frame. The frame holds the mechanism with perfect alignment no matter how long and rigorously you are using the appliance on your projects. Each stitch the machine leaves on your projects shrieks perfection and evenness.
You can create a lot with this sewing machine because it offers you 60 built-in stitches. Start with the 8 essential stitches, 40 decorative stitches, and 8 stretch stitches, choose what you want from the vast options and make the buttonholes different and stand out as well with all the four automatic 1-step buttonholes. The convenient push buttons and the chart for selecting the stitches are right on display.
Whether your fabric type is delicate or thick, the auto thread tension always helps you maintain the even stitches. Then you have the auto needle threader, which saves your time and eyes from straining.
Stitch your projects at a moderate speed of 750 SPM, adjusting the stitch width to a maximum of 6.5mm. You get three presser feet, snap-on ones, a free arm for easy sewing of the sleeves, cuffs, collars, pant hems, and several other accessories and features to work on your fashion sewing, quilting, heirloom, crafts, home, and decorative sewing.
Brother ST531HD Sewing Machine (Refurbished)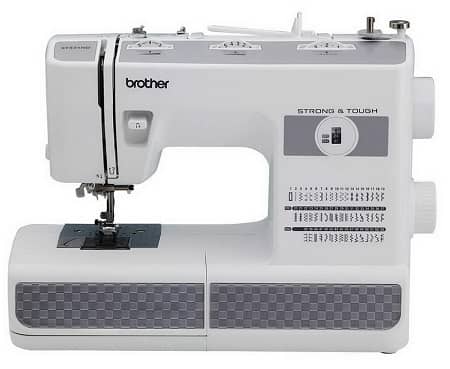 If you can put your money on one sewing machine that can sew lightweight, delicate silk fabrics to napped finish suede and six layers of denim with equal ease and perfection, then this is that machine. The sturdy metal frame aligns the perfect mechanism, and the equally sturdy needle plate ensures the supremacy of stitches with smooth fabric feeding.
Not comfortable with front-loading bobbins, then it is your ideal option as it flaunts the quick-set drop-in top-loading bobbin. When it says quick set, you know it takes only a couple of seconds to load the bobbin, and when you put the bobbin in its slot, it will not budge, ensuring even stitches all the time.
All sewing machines include needles, good quality ones, but this one deserves a special mention due to the heavyweight sewing needles it comes with that can sew water-resistant canvas. The six feed dog points, along with spring action zigzag foot, handle the thick fabric feed smoothly. Other than the mentioned foot, you receive five different presser feet, including a button sewing foot.
It's a strong and tough sewing machine with 53 built-in stitches with a maximum of 5mm stitch length and 7mm stitch width, beginner safe metal finger guard, and flaunts an 800 maximum sewing speed. The needle threading is auto as well. The LCD is simple, and the work area is always bright and easy to work on due to the LED lighting and free arm.
Features At A Glance
Heavy-duty metal frame, needle plate, and needles

800 stitches per minute

53 built-in stitches

Jam resistant quick-set drop-in top bobbin

Six feed dog points and presser feet

Metal finger guard for safe use
Brother FB1757T Sewing Machine with Quilt Extension Table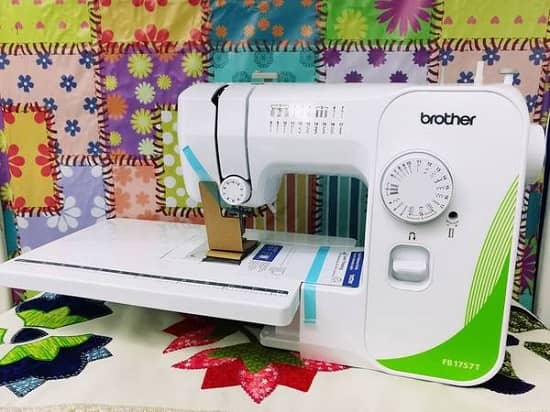 All this while we were talking about affordable sewing machines that were compact and had a free arm to make working on small projects or difficult-to-reach areas of the bigger projects more accessible. Now, Brother has a sewing machine with a free arm equally compact but with the exception of an extension table for quilting. So, turn the sewing space to a comparatively larger one locking the extension table to the relatively compact but sturdy Brother FB1757T.
You have 17 built-in utility and decorative stitches and four presser feet to work with, and the buttonholes you make might be a tad tough as it has one style of a four-step buttonhole. For smooth fabric feed and even stitches, you have six feed dog points, and you can work on your projects pretty quick as it sews 800 stitches per minute.
The manual thread tension and needle threading will need little practice to subsist with, but the top-loading bobbin and bobbin winding by pressing the vertical shaft will save you time and energy. Select the stitches with the convenient dial and adjust the stitch length and width up to 4 and 5 mm, respectively.
It's a machine to mend projects as it provides the facility of blind hem stitch, which lets you stitch professional-looking hems. Then it allows you to try free motion quilting too on its vast quilting table and brightly lit sewing space.
So, it is basically the quintessential easy-to-use, compact, lightweight sewing machine with some very basic features, but the large extension table, along with a few other estimable features, pretty much makes up for the ostensible lackings.
Juki HZL-353ZR-C Compact Simple Sewing Machine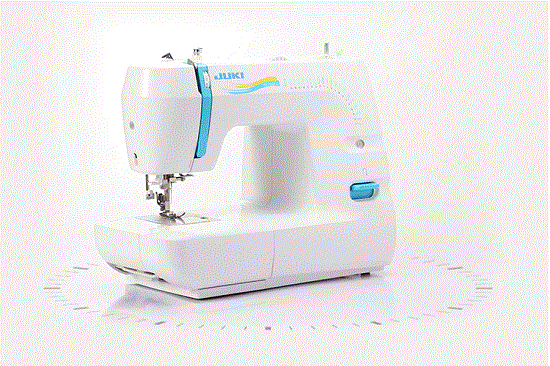 Our last contender is the HZL-353ZR-C compact sewing machine by Juki. It stitches at a speed of 750 SPM. It's a compact, lightweight sewing machine that allows you to take it anywhere you want to work on your projects and learn sewing-related stuff.
Make your projects stand out with the 21 built-in stitches and make buttonholes the exact same size in all your projects super quickly with the help of its one 1-step auto-sized buttonholing. The threading of the machine is quick, too, as it's auto.
You get four presser feet, and you can adjust the pressure of these feet on the fabric manually depending on what type of fabric you are stitching at the moment. The machine lets you set the stitch width as high as 7mm and length to 4mm.
The drop feed system not only lets you lower the feed dogs for sewing buttons but also allows you to try free-motion quilting. Just move the lever and start free motion quilting.
Remove the free arm to work on sleeves, cuffs, hems and perfect the awkward sewing jobs. And fix the arm again to work on larger projects lighting up the needle entry area with the white LED backlight. Your long working hours will not heat the light or sewing space up. Neither will you have eye fatigue, so continue working on your projects as long as you want to.
Features At A Glance
Go-anywhere sewing machine, compact and lightweight

Sews 750 SPM

21 built-in stitches

1-step auto-sized buttonhole and 4 presser feet

Free arm and drop feed system

Auto needle threader
Frequently Asked Question (FAQ) 
Conclusion
When we had to talk about the best sewing machine under $300, along with the price and quality, we emphasized compactness. A beginner has a lot to consider, and taking the sewing machine to classes and practicing sewing or working on mini-projects in any corner of a room is a common sight for any beginner.
The focus is to make things work for them to hold on to their interest with full zest continuously. So, if you are buying one on your own, keep that point in your mind. An easy, compact sewing machine will not bind you with its size and features.
Neither such machines, due to their parsimonious price, will be near advanced or automated. Your learning journey will be convenient and fun for sure. Hopefully, our choice has helped you to choose your sewing companion for the next couple of years.
Related Posts: