Are you searching for the High End Sewing Machine? Here are the seven different High End Sewing Machines that you should consider – with a buying guide.
The term high-end before a product explicitly elucidates it to be expensive and of top quality. Hence, the Best High End Sewing Machine clearly depicts a robust sewing machine made of high-quality materials, full of features, a tad out of reach concerning the price, but worth every penny.
A high-end sewing machine makes even the toughest of couture easy and smooth. Stitching thick pieces of denim or Fairy Feather silk and multiple layers of quilts get as easy as sewing a cotton palazzo pant.
However, every sewing machine with a hefty price tag dangling on it is not necessarily high-end. So, while buying one without any knowledge or research might land you in a catch-22 situation.
One needs to be very careful to the extent of being over-suspicious. Thus, a dire need for discussion for a buying guide. Which we did right below, please help yourself. 
Our Recommended Top 5 Picks:
(See our quick top 05 picks, or go further down and read our in-depth reviews.)
Top 7 High End Sewing Machine of 2022 – (Editors' Top Picks)
Buying a high-end sewing machine is a massive investment. So, if the sewing machine fails and is not up to the mark, it will hurt real bad. Let us unburden you from the scary thought of those unwanted circumstances and present you some of the nonpareil high-end sewing machines.
1. Brother HC1850 Sewing and Quilting Machine
Brother HC1850 consists of 185 built-in stitches, among which 55 are alphanumeric sewing stitches, apt for monogramming. The rest 130 sewing stitches allow you to try utility, heirloom, and decorative stitches on your projects.
Those 130 built-in stitches also include stitches for quilting, clothing, and making same-sized buttonholes every time. But in eight different styles. The best professional sewing machine, without a doubt.
The convenient flip chart displaying all the stitches is built on the machine and the LCD screen with quick access buttons and slider, all make the selection of the stitches simple. The needle area remains bright and lit with the LED light.
You have two options to control the sewing machine. You can either do it with the foot controller or the convenient controls. It is easy in both ways.
It boasts of a superior feed system. So, basically, it sews fabrics of every kind smooth and easy. Also, the smooth feed system ensures precise stitches and skip-free stitching.
It has an easy bobbin winding system as well as a top-loading drop-in bobbin. So, whoever thought 'bobbin' is going to be a tough nut to crack can relax a little
Try the free motion quilting attaching the detachable quilting table it includes. The table has a ruler embossed on it for precise measurement. Didn't we talk about its exceptional drop feed system, it does the trick of stitching the layers and how!
Features At A Glance
Versatile, stitches all types of fabric

185 built-in stitches including monogramming fonts

Eight different styles of buttonholes and eight sewing feet

Auto needle threader, free arm, and a quilting table

Three stitch speeds and a thread tension adjustment dial

Allows free motion quilting with an exceptional feed system
2. Brother CS5055PRW Sewing Machine 
Next on our list is Brother CS5055PRW, with 50 built-in stitches and five auto-sized one-step buttonholes.
It is a computerized sewing machine with a sturdy built yet compact and lightweight, thus portable. The effortless sewing of a wide range of fabrics places it among the versatile sewing machines, and that's a well-deserved tag.
Those of you who are into quilting will find this one a tad bit inconvenient due to the lack of a detachable quilting table. However, you can still attempt free motion quilting.
The exceptional drop feed system helps you to tackle free motion quilting with ease. Moreover, the 50 built-in stitches include quilting stitch functions along with the decorative, utility, and heirloom stitches. So no harm in the separate buy of a quilting table.
The sewing machine features an auto needle threader, seven sewing feet, top-loading bobbin, free arm, LED work area, LCD screen with a stitch chart right under it, and easy push buttons to select stitches without any trouble.
Stitching close to the edges was never so fun, and that, along with the feed system, is a couturier's dream come true. The fashion designer can try a range of styles and leave a unique customized vibe to his creation with its satin, scallop, checkerboard, or feather stitches.
Use the feed system to its fullest to sew any-and-every fabric from fine, thick to lightweight. The skip-free, precise, incessant stitches are soothing to one's eyes and a boon to the seamstress.
Features At A Glance
Sews a wide range of fabrics

Lightweight, easy to carry but sturdy

Effortless, precise, skip-free stitches

50 built-in stitches including quilt stitch functions

5 buttonhole styles and 7 sewing feet

Smooth free-motion quilting with drop feed system
3. Brother XR3774 Sewing and Quilting Machine
XR3774 is great for advanced, skilled seamstresses as well as the best sewing machine for beginners. The easy maneuvering of this machine, simple yet all the much-needed features, and easy learning of how to use it, balance well for both the users, which are evidently from two opposite poles.
Although it might not be expedient for stitching something totally out of the blue, it is the best for everyday sewing projects, from smaller to larger projects and advanced to amateur sewers.
It features 37 built-in stitches and only one auto-sized one-step buttonhole. And considering the bare minimum stitches, one buttonhole style is fine. The stitches include blind hem, decorative as well as quilting stitches.
The quilting stitches bring us to its detachable quilting table and the free arm exposed with the removal of the compartment storage.
There are a stitch selection chart and a dial, as well, for easy and quick selection of stitches. Then there are three dials on top for adjusting the stitch length, width, and thread tension.
This simple but high-end sewing machine also features an auto needle threader, a top-loading bobbin, eight quick snap-on presser feet, and an embossed ruler on the quilting table.
It is very lightweight, portable and if this somewhat hinted that it might fail to stitch layers, you need to think twice because this one sews denim with as much precision and ease as it hems cuffs, sleeves, and pants.
Features At A Glance
Perfect for everyday sewing projects

A peerless amalgamation of advanced and novitiate use

37 built-in stitches with a stitch chart and selection dial

Free arm and quilting table

One auto-sized one-step buttonhole and eight presser feet

Jam resistant drop-in top loading bobbin
4. SINGER Heavy Duty 4452 Sewing Machine
SINGER 4452 is a high-speed sewing machine that seams 1100 stitches in a single minute. Such high speed proves to be beneficial in completing projects before time without compromising precision.
A good speed is very much required to sew fabrics like denim, leather, and canvas, as well as the top, batting, and backing, the three infamous layers of quilts together.
The strong motor and the superior piercing power it possesses are pretty much unmatched. Gone are the chances when the needle just broke due to the thickness of the fabrics or the machine simply stopped working and ruined the fabric.
This heavy-duty sewing machine runs 30 percent faster than any standard sewing machine. The power lasts till the end of the edge, and the accuracy in stitches is just unbelievable. It is hard to tell which one was the first stitch and which one was the last.
Inside, you have a sturdy metal frame that increases the chances of it lasting tenfold and ensures skip-free stitches. Then, for smooth fabric flow, you have the stainless steel bedplate. It almost protects the fabrics, especially the more delicate, fine, and expensive ones.
4452 offers 110 built-in stitches, a one-step buttonhole, and seven presser feet. Just one buttonhole is underwhelming, but auto buttonholes make up for that.
And then the varied options of decorative, basic, and stretch stitches allow you to be so creative that buttonholes take a back seat.
The top-loading bobbin, the auto needle threader, the drop feed, stitch length-width dials, thread tension dial, and stitch selection dial make the machine much more accessible.
Features At A Glance
Heavy-duty

30 percent faster

1100 SPM, superior piercing power

110 stitches and seven presser feet

Stainless bedplate for smooth fabric flow

Selection dials for easy maneuvering
5. SINGER Quantum Stylist 9960
If you are searching for the best sewing machine for crafting, this is it. SINGER 9960 Computerized sewing machine is a featured-packed machine with a sleek design and all the necessary accessories.
It is a best-seller, and there is no dearth of reasons for it being the best among the rests. This one is a real workhorse with a whopping 600 built-in stitches in it.
Six hundred stitches can be quite overwhelming; that is why this machine has one-touch stitch selection buttons. If that was not enough to make it easy for you, then it also has eight separate buttons for selecting the basic and most-used stitches directly with one push on those.
And if you are not feeling like keeping an eye on your work, you can just enable autopilot mode and relax. The stitching will be as precise as it would have if you had done it all by yourselves with proper scrutiny.
The machine operates at a speed of 850 SPM and offers two different speed options. There is a slider for selecting the speed according to the fabric you are stitching.
The built-in stitches include five alphanumeric fonts, basic, stretch, and decorative stitches, and last but not least 13 styles of auto-sized one-step buttonholes. So, be it home decor, basic monogramming, quilting, haute couture, or crafting, do them all with ease.
Options of mirror imaging and stitch elongation would open your creative window fully if 600 stitches were not enough to open it wide. It features both thread cutter and auto needle threader as well as top loading bobbin.
Features At A Glance
Versatile, a true workhorse

Heavy-duty metal interior

Two stitch speeds and operates at 850 SPM

600 built-in stitches

13 buttonholes styles and an equal number of presser feet

One-touch stitch selection
6. Janome JW8100 Fully-Featured Computerized Sewing Machine
Here is another Janome computerized sewing machine with 100 built-in stitches and seven different styles of buttonholes. It is a sturdy, heavy-duty machine with a metal frame. Be assured of a skip-free stitch performance and long-lasting machine.
The built-in stitches include 20 basic and fashion stitches, 18 quilting stitches, 27 heirloom stitches, and 28 stitches for home decor. Thus, a versatile sewing machine as well as the best sewing machine for seamstress or seamsters.
There are multiple convenience buttons all over the machine. Even the stitch selection is made with easy access selection keys with the help of the LCD screen and a removable stitch chart."
For choosing the speed of the stitch, you have the speed slider. Slide it to increase the speed from low to high. The machine offers three speeds.
Removing the storage compartment exposes the free arm, which is essential for faultless sewing of sleeves, pant hems, and seams, and the detachable quilting table turns it into a giant quilting machine that sews layers of fabric with ease and perfection.
It features a drop feed system, and it is 7-piece, the highest quality. So, drop feed to take control over the machine for free-motion quilting. Also, a seven-piece drop feed ensures smooth fabric flow, no matter what the fabric type is.
Both the auto optimal stitch settings and locking stitch button features make your work easy. No need to change the stitch length and width manually, neither you have to backstitch for locking a seam.
Features At A Glance
Heavy-duty metal frame

100 built-in stitches

Versatile sewing machine for seamstress, quilter, and haute couture

One-hand needle threader

7 auto buttonholes, 4 presser feet, and a 7-piece Feeding System

Auto declutch bobbin winder
7. Janome 6050 Sewing Machine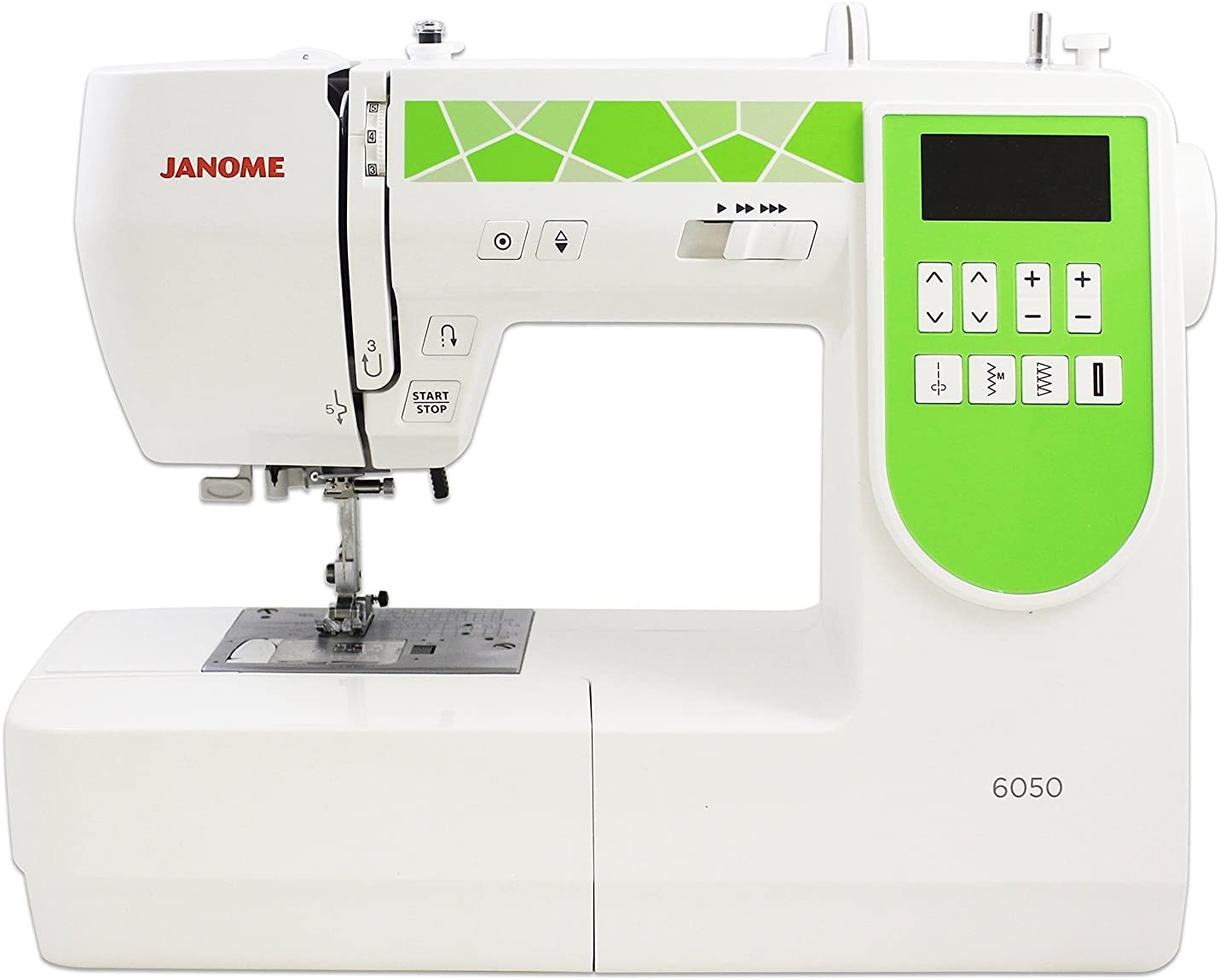 Janome 6050 is a computerized sewing machine filled with useful features. It is easy to use, portable, and offers a vast range of built-in stitches. Along with the 50 varied stitches, this machine also offers three different styles of buttonholes.
It is a moderately high-speed sewing machine. But it can sew slowly too. While sewing layers, low speed proves to be very handy. The layers remind us of it, to be a quilting machine as well. For quilting, you get a large detachable quilting table.
You have a slider that allows you to change the stitch speed from super-low 70 SPM to a very high 820 SPM. Change the speed according to the fabrics you are sewing.
This sewing machine features an auto-lock stitch.  With the auto-lock, you can opt for a precise locking off of the stitches and the patterns. It also has an auto needle threader, thread cutter, built-in light, free arm, and 7-piece feed dog.
There is an LCD screen that displays the different options you chose for stitching through the multiple easy-access buttons right beneath.
Other than the stitch length and width selection keys as well as the stitch selection keys, you have four everyday-stitch selection keys. Pressing those selects the particular common stitches directly.
The different foot pressure that the foot control offers allows you to sew thin, sheer fabrics as well as thick denim.
Features At A Glance
50 built-in stitches and three buttonhole styles

Works at a varied speed between 70 to 820 SPM

Three stitch speeds with an easy slider

Auto-lock stitch

Allows direct pattern selection

Includes a large quilting table and 7-piece feed dog system
Frequently Asked Questions About High End Sewing Machine
What do We Need to Consider When Buying High End Sewing Machine?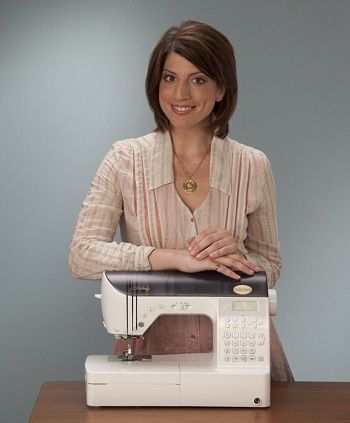 There are several aspects you need to contemplate in a high-end sewing machine. Let us promulgate the major ones.
Robust Built
A sewing machine being heavy-duty is a vital requirement. When it is high-end that needs proliferates. Robustly built sewing machines ensure stable stitches and smooth performance. It is high-end because every single material used to construct it is of top quality.
The sewing machines that are not high-end, often use cheap plastic materials, which doesn't happen in the case of a high-end sewing machine. Superior metal interior, stainless steel bedplate, and plastic components, if used, should be the best in quality.
High Number Of Stitches And Buttonholes
Manual work is something that should have no connection with a high-end sewing machine. An LCD screen with easy access buttons and a long stitch chart beneath it is the most basic necessity it must own.
Regarding the number of built-in stitches and buttonholes, we will suggest the more, the merrier. Such a deluxe machine should fulfill a couturier's biggest sewing fantasies with hundreds of built-in stitch options and very distinct, but easy to make auto-sized one-step buttonholes.
Extra Is The New Basic
Auto needle threader, one-step buttonholes, auto thread cutter, start-stop button, reverse stitch lever, stitch length and width dials, exceptional feed system, built-in stitches surpassing a double-digit, wide table with an embossed ruler, even the presser feet other than the all-purpose foot might be considered as something unexpected, extra or bonus when its a simple, affordable machine.
However, a high-end sewing machine needs to have these features. Precisely these are compulsory. When it comes to pricey, heavy-duty sewing machines, extra features are the new basics that the high-end machines must have in them.
Accessories
The accessories and extra features brought us here. You can still do without a free arm or quilting table if you have spent close to nothing in buying a sewing machine. But if it's an expensive one, the free arm is a must. Even the most basic, non-heavy-duty sewing machines have one.
Most importantly, demand a quilting table or at the least free motion quilting and quilting stitch functions. These sewing machines are so costly that it needs to have every single feature that exists in the sewing machine sphere.
Free Arm And Quilting Table
The accessories and extra features brought us here. You can still do without a free arm or quilting table if you have spent close to nothing in buying a sewing machine. But if it's an expensive one, a free arm is a must.
Even the most basic, non-heavy-duty sewing machines have one. Most importantly, demand a quilting table or at the least free motion quilting and quilting stitch functions. These sewing machines are so costly that it needs to have every single feature that exists in the sewing machine sphere.
Long Shelf-Life
We will wrap this part up in one or two sentences to hint at the gravity of this feature. A high-end machine must last for generations of heavy use. Anything otherwise is out of the question. Even the manual ones that our granny used lasted more than expected. So, long shelf-life and high-end must be synonymous.
Top-Loading Bobbin
To be frank, no one has the time and patience to open the storage box and insert the bobbin just like we need to do in case of the front-loading bobbin. So, we are emphasizing you on get sewing machines with the top-loading bobbin.
You can just remove the cover beneath the needle, drop the bobbin there to set it, see how the bobbin is working, and whether it is out of thread. In a few words, top-loading is way too convenient.
Speed Control And Thread Tension Adjustment
Controlling the speed of stitching and adjusting the thread tension varies from fabric to fabric. No one speed and thread tension work on all the fabrics you are going to stitch. Stitching a cotton dress and working on denim requires two very different stitching speeds and thread tension.
So, buy a sewing machine that enables different stitching speeds and thread tensions. You will have a speed control slider and thread tension dial on the sewing machines to easily maneuver these features.
7 Major Benefits of High-End Sewing Machine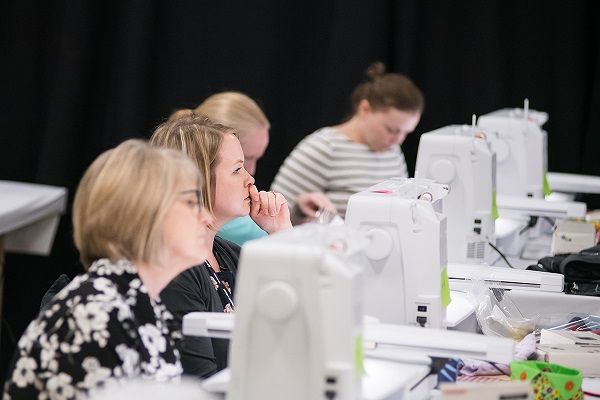 You might be wondering whether spending so much on such a sewing machine would be practical. Decide yourself as we discuss the seven major benefits you reap from investing in a high-end sewing machine.
Versatile
From small sewing projects like sleeves, collars, pant hems, to stitching multiple layers of quilts altogether, from sewing denim and canvas to working on cotton dresses and making intricate designs on net fabric, from monogramming to trying embroidery, these sewing machines offer a plethora of options.
The only thing these sewing machines demand from you is creativity. What you wish, these sewing machines take it as a command and serve you with a precise result.
Durable
High-end sewing machines boast of being heavy-duty. So, these are durable, period. That means having a heavy-duty interior frame and stainless steel bedplate. They will do all the intense work fast with a bare minimum maintenance cost yet will last for years.
Even the little accessories like needles, bobbins, screwdrivers, and beyond, these come with are durable. The sewing machines that are actually durable quite naturally will cost more than affordable sewing machines, which just claim to last.
Easy To Maneuver
The high quantity of features and accessories in a sewing machine will quite naturally establish a thought of them to be tough to use, understand, and maneuver. But we are talking about the high-end sewing machine. They are the best because they defy difficulty and make things easy and smooth.
Everything you think is difficult to sew or create remains under your fingers. From threading, reverse stitching, stitch selection, speed control, to the adjustment of stitch length, width, and thread tension, bobbin winding, monogramming, creating same sized buttonholes, and beyond, all are easy to do, mostly with just a push on a button.
Fast
These sewing machines are made to work fast, at a jet speed, with precision. The prompter the sewing machine sews, the quicker you finish your projects and deliver them to your clients. Being fast is not the key, but being fast without making mistakes is.
That is why sewing machines that ensure stable performance and skip-free stitches are so in demand. When it is your job, you are bound to work on multiple projects in one single day. The hearsay of a man making mistakes, but a machine doesn't; stay true here. If you know how to operate these machines, there are rarely any chances of error in your craft.
Stable
Stable performance is very crucial in the case of a sewing machine. Instability and a wobbly sewing machine deter from precise stitches. It also skips stitches in between and causes an uneven, displeasing end result. The instability ruins the fabric you are working on as well.
The damage multiplies when you are working on fine, expensive fabrics. So,  what could be the most significant benefit of working on a high-end sewing machine, you wondered, and the explanation is sewing the thinnest, lightest to the thickest materials with equal ease and precision. Making intricate designs is enjoyable due to the optimum stability these machines provide.
Lucrative
The issue is always the amount of money you are paying for one single machine. We have kept affordability in check, but still, these machines cost a lot. But that is the catch if you try to be far-sighted. It is literally a one-time investment.
You are spending a lot at first, but the way these machines work, the timespan they last, the options you get, the versatility you can show in your creations, and the fact that how quickly these complete projects, these machines pay off in the long term.
Extra Accessories And Features
No other sewing machine includes as many accessories and features, as a high-end sewing machine. There is a reason for these sewing machines being pricey. Singer, Janome, Brother, and other popular brands make sewing machines that are less pricey too.
But when you have all the much-needed accessories and extra features in a single sewing machine, the price is bound to be high. And in return, along with smooth stitching, longevity, sturdy frame, you get all you need to sew every type of project in just one package.
Conclusion
We truly understand how tough it can be for someone with a limited budget to buy a high-end sewing machine. So, each one of our Best High End Sewing Machine represents high-quality at an affordable price.
We deterred ourselves from going overboard and kept the affordability in mind, and still heads up-you need to save money at least for a short period to invest in one of these.
However, it is worth mentioning that these machines are only useful if you are highly skilled and sewing is your profession. We believe these are the sewing machines that will provide a wide range and variety of options to Pro sewists.