Need the sewing machine on a mid-budget? If you are finding the best mid range sewing machine then you should consider this one.
Sewing is an activity that has been practiced at homes from time immemorial. It is probably one of the best ways you can spend time while also doing something useful and save an awful lot of money too. There are so many dresses that we put away because there is a tear here or a missing button there.
What if you can do all the mending and stitching works at home without ever learning to sew? You can with the best mid-range sewing machine that is just made for beginners. You can get these at very moderate prices and they have all the features that you will require. You will find that they are worth a look at. We have picked up the top 5 among the mid-range sewing machines. 
Our Recommended Top 5 Picks:
(See our quick top 05 picks, or go further down and read our in-depth reviews.)
Top 5 Mid Range Sewing Machine of 2022 – (Editors' Top Picks)
Though we have lined up the top 5 in an order, it doesn't strictly mean that it is in the order of how good they are. We just picked them up and put them in order. You can look at the features and see which suits you the best.
1. Brother XM2701 Sewing Machine
This is an excellent choice for those who don't want to put all their money into a hobby which they are not sure about. This machine has everything you need for a beginner starting with an automatic needle threader. It even comes with a DVD with full instructions for any beginner to start their project.
There are 27 preset stitch styles that you can choose from. The styles can be chosen just by turning a knob. You can do blind-hemming, quilting, and a variety of decorative stitches to suit any of your projects.
The machine has an LED-lit work area to see what you are doing and an easy drop-in bobbin that helps you get even stitch quality that you need. You can create buttonholes of any size with ease in one step with the built-in buttonholer.
Features at a Glance:
Best mid-range sewing machine with full instruction DVD.

27 stitch styles with blind hemming, quilting, and decorative stitching

LED-lit work area and automatic needle-threader with the touch of a lever

Easy drop-in jam-resistant bobbin for secure bobbin placement and even stitching

6 interchangeable sewing feet for buttonhole, narrow hem, zipper, zigzag, blind hem and button sewing
2. Singer Start 1304 6 Built-In Stitches
There is nothing like the Singer Start 1304 for a beginner. This machine is best to learn the basics before moving on to advanced sewing. Threading the needle is very easy with this machine with the diagrams printed on the machine itself. You don't have to check the instruction booklet every time.
The heavy-duty steel frame ensures that your machine stays in place during stitching. This will allow for skip-free stitching and the machine will last for many years to come. The smooth stainless-steel bed plate helps the smooth movement of the fabric for even stitching.
The machine has 6 present stitching styles that you can select easily with the turn of a dial. You can do the blind hem, straight stitch, zigzag, scallop, satin, and buttonhole.
The length and width of stitching are fixed and hence there is no chance for uneven stitching.
Three sewing feet are available with the machine. They are for button-hole foot, zipper foot, and an all-purpose foot. You can easily stitch buttonholes in 4 steps. You can purchase an optional twin-needle system for making parallel stitches.
Features at a Glance:
Best machine for beginners with enough features for regular use

Easy threading of needle with a diagram printed on the machine.

Sturdy heavy-duty steel frame for stability. No stitch skipping.

6 stitching styles for straight, zigzag, scallop, satin, and buttonhole. Fixed length and width.

Three sewing feet for button-hole, zippers, and regular stitching
3. Brother RSQ9185 Computerized Sewing And Quilting Machine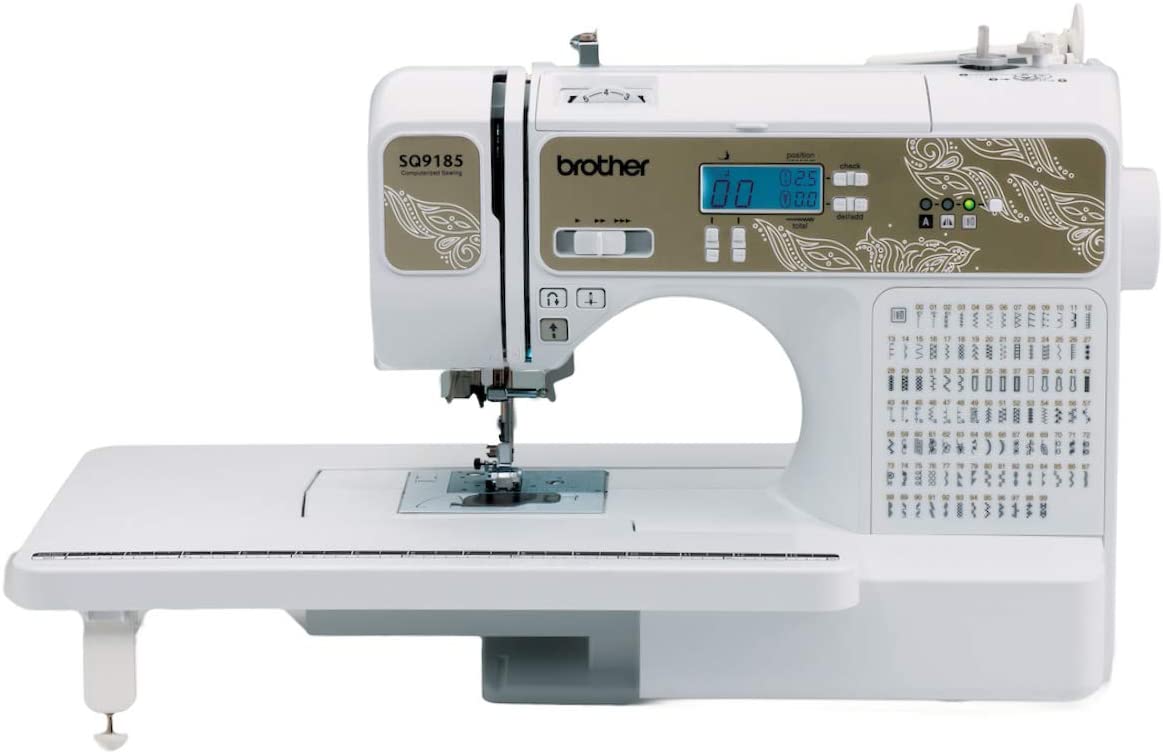 Buying a refurbished product is the best way to get an advanced model at a low price. This machine is remanufactured by Brother and carries the usual warranty available for other machines. The machine is tested by Amazon and comes with regular refund and warranty conditions.
This machine comes loaded with features like 130 built-in stitching styles and 55 alpha-numeric styles for monogramming. These include both utility and decorative stitches. There are eight different buttonhole stitching styles.
The machine boasts a much larger workspace with a wide table allowing you to stitch quilts, costumes, and home decor. It also has a free arm for easy stitching of cuffs, pant-legs, and shirtsleeves. There is LED lighting to illuminate the stitching area which helps when stitching dark fabrics.
Other features include the facility to drop the feed dogs for free-motion stitching. Threading the needle is easy with a one-touch lever. The display is backlit for easy viewing even in the dark. There are 11 sewing feet to accommodate the simplest to the most complex stitching. 
Features at a Glance:
Refurbished machine with Amazon return and refund facility

130 stitching styles with 55 additional alphanumeric stitching styles. You have 8 different buttonhole styles.

The feed dogs can be dropped for free-motion stitching.

The extra-wide table allows stitching large fabric

Backlighting for style panel and LED lighting for stitch area.
4. Singer Simple 3232 Portable Sewing Machine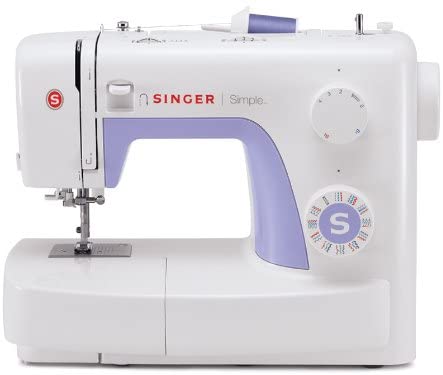 This machine is best for beginners to show their creative skills. Available with a heavy-duty metal frame this sewing machine has everything needed for easy stitching in different styles. This portable machine has everything you need.
You get the fastest needle threading with this machine. Everything from the spool to the needle will be done in seconds. 
It comes with the highest speed of 750 stitches per minute which allows large projects to be completed very quickly.
The machine has 32 built-in stitch styles with 19 decorative styles. You can stitch several layers of thick fabric as the presser foot can be raised. You can do reverse stitching which helps in reinforcing your stitches. The length and width of stitching can be adjusted with just the turn of a dial to prevent bunching.
You have a free arm that helps reach cuffs, collars, and other areas difficult to access. You get a lot of accessories like foot control, darning plate, lint brush, seam ripper, edge/quilting guide, thread spool caps, pack of needles, etc. free with this machine.
Features at a Glance:
Beginners' machines with advanced features.

Quick automatic threading of needles from spool to needle. High-speed stitching for large projects

32 preset stitching styles with 19 decorative styles. Raised presser foot for thick fabrics.

Automatic reverse stitching. Length and width of stitching adjustable

Free arm helps reach cuffs, collars, and other inaccessible places.
5. Singer Tradition 2277 Sewing Machine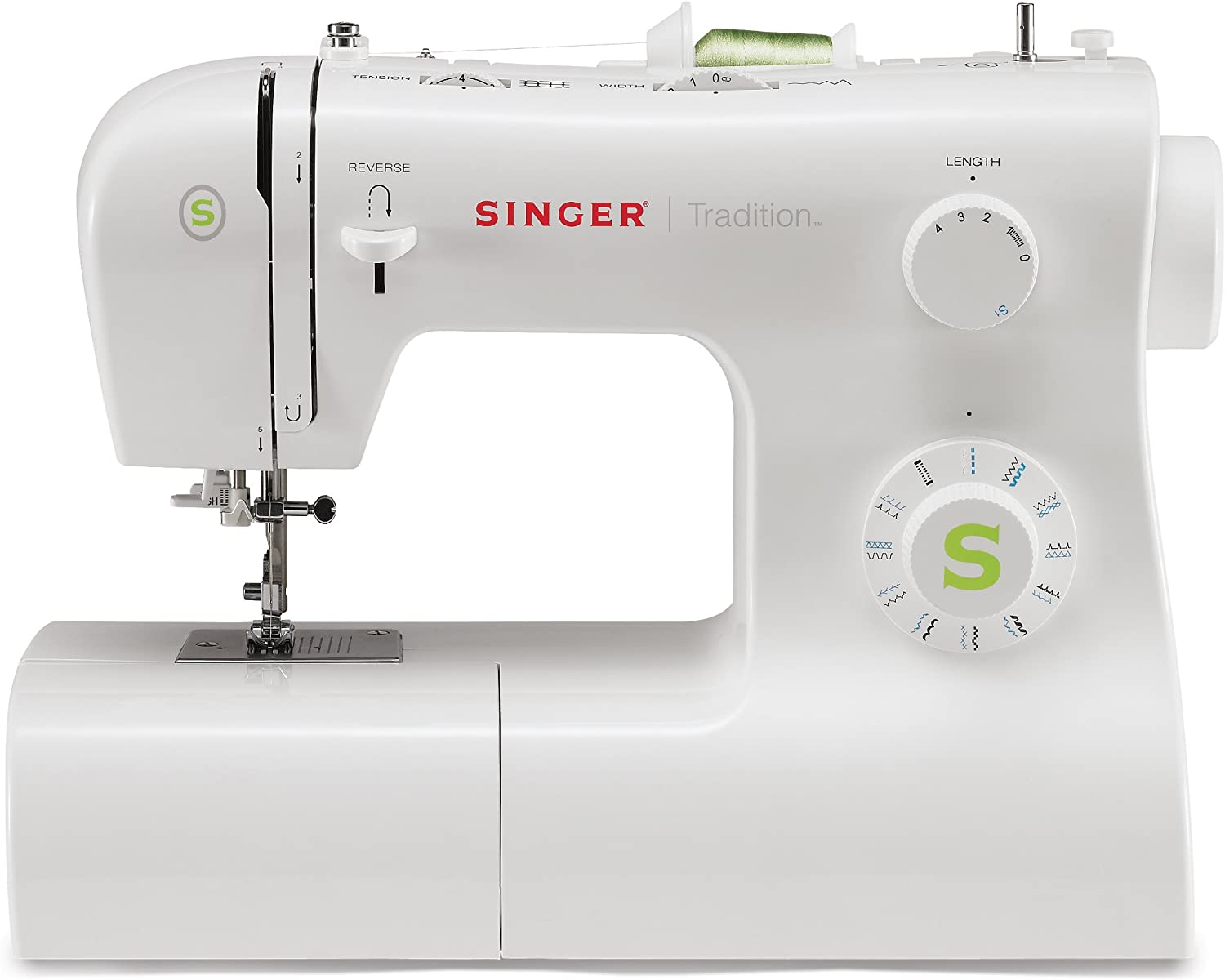 With 23 built-in stitching styles and an extra-strong metal frame, this is probably the best buy among the basic sewing machines. You have a multitude of features including an automatic needle threader for a lesser strain on the eyes. The snap-on presser feet and automatic tension help in trouble-free sewing.
The free arm that helps you reach cuffs, sleeves, etc. also has a storage facility to keep all the accessories that come with the machine. You get three presser feet, bobbins, foot control with cord, bobbins, and needles as accessories.
The extra-high presser foot lifter allows you to stitch thick fabrics or multiple layers of fabric with ease. The length and width of stitching can be adjusted with a dial. There is a one-step buttonhole stitching facility.
You can stitch reverse to make your stitches stronger. There are multiple needle positions and a twin needle facility. 
The machine offers automatic bobbin winding. There are 6 essential stitches, 11 decorative stitches, 5 stretch stitches, and one fully automatic buttonhole stitching facility.
Features at a Glance:
Metal frame. Free Arm with storage space.

23 preset stitching styles, automatic buttonhole stitching, and extra high presser for thick fabrics. 

Reverse stitching and multiple needle points for stitching flexibility. Three presser feet for all-purpose stitching, buttonholes, and button sewing.

Adjustable length and width of stitching.

Automatic needle threading and bobbin winding.
What do We Need to Consider When Buying Mid Range Sewing Machine?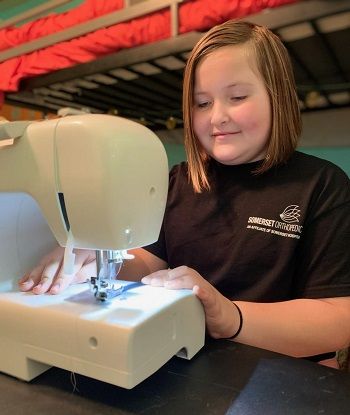 The list is not exhaustive by any means. It is just a guideline for you to know the top 5 best mid-range sewing machines available in the market. The below factors are very important when you think of buying a mid-range sewing machine.
You will certainly make a smart choice if you look at the below factors when you buy your machine.
Cost
This is a very important factor considering that you are looking for a mid-range machine which you will be starting to use. For a beginner, the amount that you invest is a big factor because you don't know how far you will progress in your stitching. Your initial enthusiasm may wear off in a few days or grow into an obsessive hobby. That is for time to tell.
You must look at something that you can afford. You must fix a budget first before you go searching for your sewing machine. This budget should be within the amount that you can spare without having to sacrifice anything else. Have a realistic budget so that you don't end up buying those cheap plastic varieties.
The Number Of Stitches
It is very exciting to see several stitches on the sewing machine. Think clearly about how many of them you will be using. Ask yourself whether you will use all those fancy stitches that you are paying extra for. Your basic necessity is only the straight and zigzag stitches.
You don't have to restrict yourself to just the two basic stitches and regret later when you want to stitch something fancy. Look at the number of stitches and buy one which has some fancy stitches but will come within your budget.
Look For Different Presser Feet
This is an invaluable addition to your sewing machine. Having different presser feet will allow you to stitch a variety of clothes. If you want to stitch a dress you will need a buttonhole foot and a zipper foot. Many machines come with these as standard attachments. If they are not available to find out if you can buy them separately.
Machines with an extra-high presser foot or adjustable presser foot will help you stitch a variety of fabrics. This will help in improving your sewing capability and reduce dependence on a tailor.
A Machine With More Possibilities
You don't have to restrict yourself to too few features even if you are just a beginner. You must always have a scope for developing your hobby. You can look for additional features in your sewing machine.
There are mid-range sewing machines that come with extra stitching space to accommodate large fabrics like costumes and home décor. Look for machines that allow free motion stitching which will help you stitch more designs. You must see if you can get a machine with automatic needle threading which will save time and reduce strain on your eyes.
See if you can get one with adjustable stitch length and width which is a very useful feature. But be careful to buy a machine that will not overwhelm you with too many features that you shy away from the machine.
Brand, Warranty, And Durability
We don't have to tell you that brands do matter. There are many famous brands of sewing machines that come with a lot of features but are available in the mid-range. The advantage of buying good brands is that they will give you a better life and parts will be easily available. They will also have more models for you to choose from.
Ensure that there is a warranty on the machine. Even if you are buying a refurbished machine you will be able to get a warranty on it. Look for the best mid-range sewing machine that is sturdy and made heavy. Such machines are not only more durable but also will be stable during stitching.
Conclusion
The list of machines has been carefully selected after considering many aspects that a person might want to find in a mid-range sewing machine. The features that we have used for highlighting are those which are most commonly used by people who sew regularly and are considered important.
There are indeed many other brands of sewing machines that are good mid-range machines. However, we find that these top 5 machines on the list give you the best value for money. These machines are the top of the pick at this price range and you will surely find your requirement here.