In this review, I will reveal the fifteen different best long arm quilting machines you can buy online!
A long arm quilting machine is not something that is used by all who sew. It is an industrial sewing machine, not for regular seamsters. However, those who make quilts know how quick and easy a long arm quilting machine turn the whole lengthy process of sewing a bed size quilt.
Tackling a long quilt, in any case, is tough. And if you try to sew it using your home sewing machine, the process takes lots of time and energy. One needs to be the most patient when it comes to sewing a quilt without a long arm quilting machine. If you are one of them, that is great. But if it's your job and not just a hobby, then attempting that is not a good idea.
So, here the importance of the best long arm quilting machines intensifies. So, if you need one, have patience and let us tell you all the nitty-gritty details of some of the best of them available in the market. 
Our Top Picks:
(See our quick top 5 picks and below you can read our detailed reviews about these products.)
What Can A Long Arm Quilting Machine Do?
A long arm quilting machine is more powerful, sews at better speed, and is pretty massive. It is expensive and requires space.
To make the perfect quilts, that too regularly at a reasonable quantity, one has to have a long arm quilting machine. One cannot take years to make a couple of quilts.
So, the best thing that a long arm quilting machine does is save time. With it, you don't need to baste. Also, all three layers- top, batting, and back, you can load and sew on it altogether. Less hassle and saves enough time.
When it comes to business or profession, both higher quantity and top quality matter the most. Or it remains a mere hobby, not a solemn job. So, high speed, perfect stitching, and time are what you need in this case. And a long arm quilting machine is the best at it all.
Top 15 Long Arm Quilting Machines of 2022 – (Editors' Top Picks)
We say 15, so you have plenty of options to choose from. These machines, in general, are expensive. So, choose wisely.
Handi Quilter Capri 18 with HQ InSight Stitch Regulation Table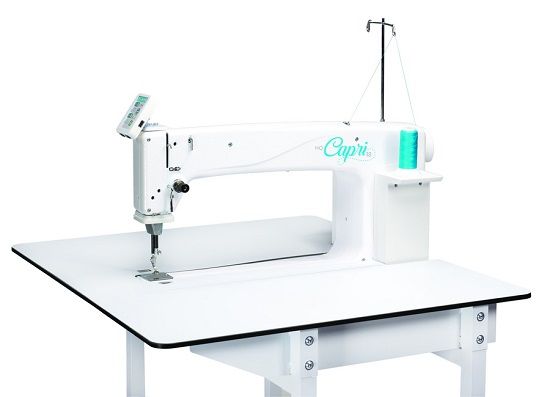 A long arm quilting machine requires ample space. However, Handi Quilter Capri 18, though, is a big machine but occupies comparatively less space. It is designed that way. The machine is connected on top of a patented 36-inch by 32-inch HQ InSight table.
When it comes to patented features, its stitch regulation is patented too. And it has two modes- precision and cruise. When you think you need a specific speed and better control to sew a quilt, then use the precision mode. But if the quilting requires constant speed and in between slight deceleration, try the cruise mode.
The machine sews at a speed of 2200 SPM. Decide the number of stitches you want per inch as it offers a range between 4-22. All the motifs you can try with this machine on the quilt to make it as distinct as possible.
Free motion cannot get easier than doing it on this machine. It is not only an easy-to-use machine but also has an 18-inch throat space. You also get a vertical space of 8-inch. So, king-size quilting is right up your alley.
See all the beautiful stitches you are making on your quilt with the different lights the machine has on it. The LED light ring, throat lighting, and bobbin light help you see better while working.
Features At A Glance
Easy free motion quilting

A big machine but requires small space

Patented HQ InSight Table and Stitch Regulation

2200 stitches per minute

18 inches throat space

Precision and cruise stitch regulation
NEW King Quilter II ELITE Long Arm Quilting Machine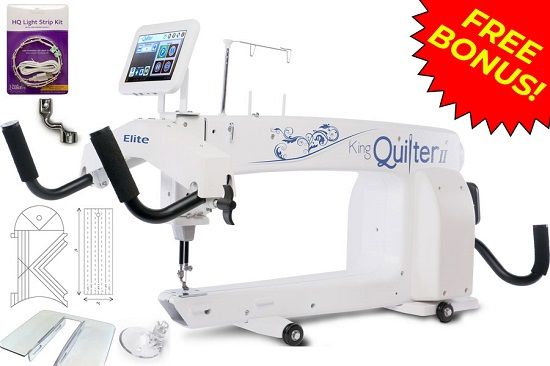 For a top-quality performance at a price that you can afford, try this one. It's sturdy and once bought lasts for decades. This sewing machine is full of useful features. Pretty similar to the previous one in terms of SPM and throat space, which is 2200 SPM and 18-inch, respectively. It offers the same 4-22 SPI and two stitch regulation modes.
The machine works at manual mode with two presets too. So, if you want, chuck the stitch regulation and let the machine take over with manual mode.
Other than that, this machine has two sets of handlebars. One set at the front and the other at the rear. Versatility is what this machine has in it that too ample amount.
You have four options when it comes to the basting stitch. The basting stitch is very crucial to hold all the layers together when you are working on a quilt. It helps you to have a better hold on the quilt. So, smooth stitching and then removing it after completing the quilt is only possible with these different options of basting stitch.
The 7-inch color touchscreen keeps the control of the machine at your fingertips. You see what you chose. It doesn't come with a table. Rather, it has four wheels beneath. So, it is easy to move.
Features At A Glance
2200 SPM and 4-22 SPI

18-inch throat space

7-inch touchscreen

Front and rear handlebars with controls

Two stitch regulation modes- Precision and cruise

Four different options for basting stitch
Q'nique Long Arm Quilting Machine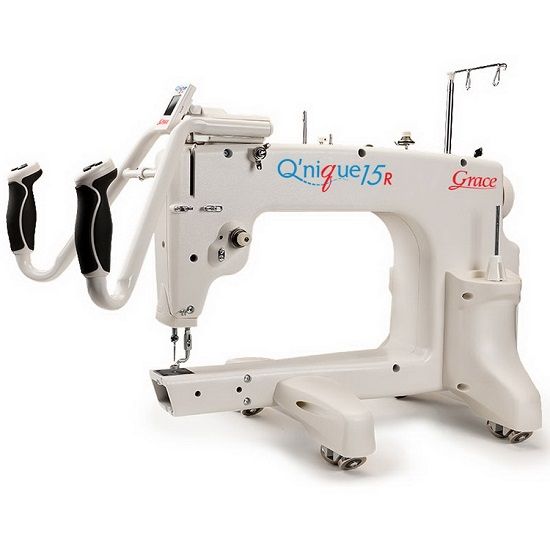 Keep the control of your sewing machine on your hand with Q'nique 15R. You also have 15M and 15 Pro, but here we will specifically talk about 15R. Perfect for sewing larger blocks and patterns, this machine lets your creativity flow. It sews at a speed of 1800 stitches per minute and allows you to have an uncluttered, free working area.
The 15-inch throat space keeps you at ease even if the quilt is too large to handle. It could have been a tremendous mid-arm quilting machine, but with all the advanced features, it turns out to be one of the top-rated long arm quilting machines.
You have four stitching modes. Start with the requisite precision and cruise stitch regulation. Then you have the baste stitch mode to sew the edges in three different lengths- long, medium, and short. Lastly, use the manual mode for a free motion constant stitching and control the machine with the quick access buttons on the handlebars.
The bright 2.5 inch OLED screen allows you to set the needle position, stitching modes, stitch speed, or stitch length. Wind up the bobbin fast without running the machine with the motorized bobbin winder.
This one also has wheels beneath for easy transporting. Other than that, it has a pair of handle grips with a few quick access buttons at the front right beneath the OLED screen.
Features At A Glance
1800 stitches per minute

Four stitching modes

15 inches of throat space

5 inches bright OLED screen

Grip handles with quick access buttons

Built-in LED lights
Q'nique 21 Long Arm Quilting Machine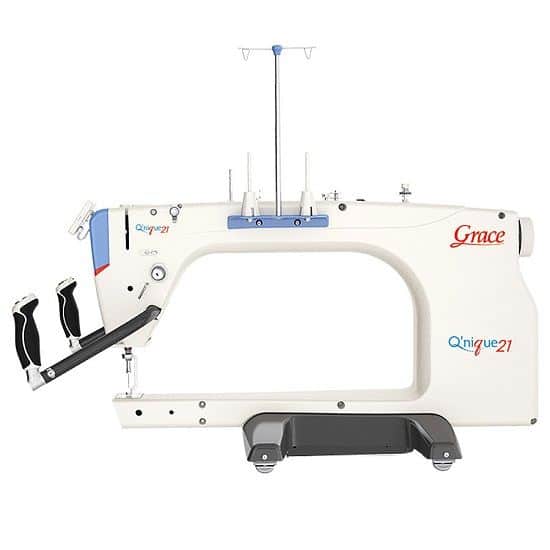 We have another Q'nique long arm quilting machine, and this time it's Q'nique 21. It has a pro version too. When it comes to precision stitching, there is hardly any sewing machine that can topple this one. The stitching quality is an absolute dream, totally unmatched.
The machine sews smoothly at a speed of 1800 SPM. It has a whopping 21 inches of throat space. The highest till now, so time for even larger blocks and patterns on the quilt.
The sewing machine has grip handles with quick access buttons at the front. The main functions can be set and controlled through the handlebars. You have a total of six quick access buttons on the two grip handles. Rotate the handles down and use them in a micro handle position. That way, you can get better control over the stippling and fine stitching.
Right at the front of the machine, you have the bright, full-colored OLED screen. All the functions, menus, and settings are shown on that small screen, and you can have easy navigating through it.
Give yourself a rest from bobbin winding with the auto bobbin winder. It is fast and hassle-free and stops winding the bobbin automatically when it's full. Keep a hawkeye on your beautifully crafted quilts and the stitches you are making on them with all the built-in LED work lights.
Features At A Glance
Powerful motor works at 1800 SPM

Top-quality precision stitching

21-inch throat space

Built-in LED lights

Adjustable handlebars with a comfortable grip

Quick access buttons and an OLED screen for easy controlling
Handi Quilter HQ 18″ Avante with 5ft Little Foot Frame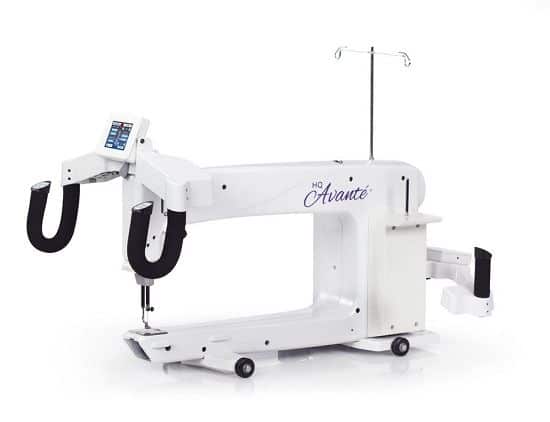 From king-size quilts to crib size, Handi Quilter HQ stitches quilts of every size with its 18-inch throat. The 18-inch throat provides a 15-inch space, which is perfect for versatile quilting. With large patterns and blocks to more precise work, the throat space works great in every which way.
The machine sews at a great speed of 2200 SPM and offers the option of 4-22 SPI. It comes with a 5 feet foot frame. Thus, no need to buy a separate frame for it. It's a package.
You have two touch screens and two sets of handlebars both at the front and the back. All the quick access buttons to control the major functions of the sewing machine are right there on the handle grips. Thus under your fingertips. And the fully bright, colored touch screens allow you to navigate the rest of the settings and menus.
Other than that, you have all the basic stitching modes. The baste stitch, as well as the precision and cruise stitch regulation. You can use the manual mode and operate the machine and stitch a quilt at a constant speed. Even that has variation as the machine has three preset speeds in manual mode.
Check out what you are stitching without straining your eyes and keep track of your sewing activity, respectively, with the work lights and two stitch counters. 
Features At A Glance
18-inch throat with 15-inch space

2200 stitches per minute

4-22 stitches per inch

Two stitch regulation modes and four basting stitch options

Manual mode with three presets

Includes a 5 feet foot frame
HQ Sweet Sixteen Long Arm w/ HQ Insight Table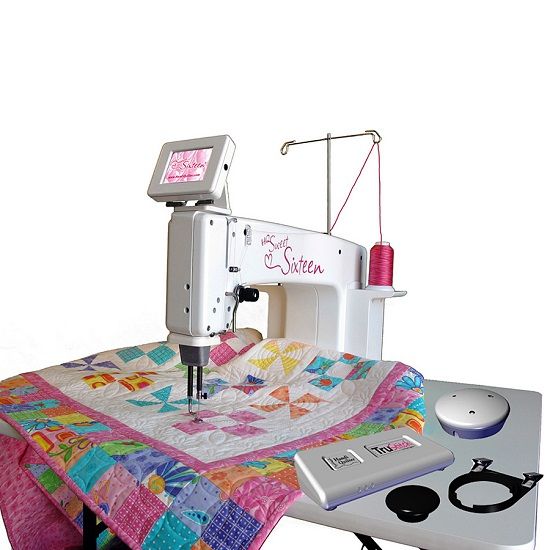 HQ Sweet Sixteen is a sit-down, long arm quilting machine. It comes with a 30" x36" table surface, and the machine is attached on top. You can comfortably sit in front of it and sew quilts for hours.
It has a 16 inches throat space and also an 8 inches vertical space. Sewing a king-size quilt on this machine will be easier, no doubt. Control the speed, volume, stitch counters, and beyond with the color touchscreen.
The machine features a low-bobbin estimator. This estimator can measure the quantity of thread that is on the bobbin. There is an alarm system too. With the sound of the alarm, you automatically get to know that thread in the bobbin is about to run out.
It stitches at high speed and about 1800 precision stitches per minute. You can try both precision and cruise mode to sew the quilt with its easy-to-use Trustitch Regulator. It ensures a choreographed stitch regulation by measuring the controller movements.
The machine offers you four basting stitch options too. Set your basting stitches to either every one or two seconds, even half or three-quarters of a second as well. You can continue sewing in the dark as it has a powerful light ring on it. The 28 LEDs in the ring keep the sewing surface bright and light.
Juki Kirei HZL-NX7 Computerized Long Arm Sewing and Quilting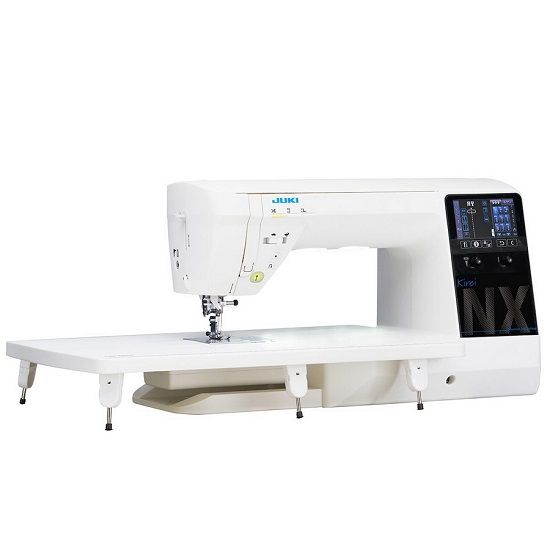 Juki Kirei HZL-NX7 has hardly any difference from a top-quality sewing and quilting machine. But its advanced functions have compelled us to include it in this eminent list of long arm quilting machines.
It is almost a regular sewing machine with a work table that does the quilting equally well. Perhaps better than any home sewing machine with a free arm. However, it is well equipped and full of advanced features.
The reason it is more of a home sewing machine is its space between the needle and the machine body. The 12-inch expanse is not even comparable to the famous long arm quilting machines with massive throat space between 18-24 inches. Yet, it slides inside this list with ease due to its vast functions.
The work table area has lights all over. So one can see the patterns, blocks, and stitches they are making on a quilt real clear. Handling the quilt also becomes easy. Though a king-size quilt might test your patience, even that is not impossible to sew with it.
Here you get decorative stitches, buttonhole styles, as well as alphanumeric fonts. Which confirms it's a regular sewing machine. So, for those of you who are still not ready to invest in pricey, heavy, bulky quilting machines, and want something less overpowering, then this is the best choice for you.
Features At A Glance
A sewing and quilting machine

12-inch space between the needle and body

Allow free motion quilting

4×13.76 inches worktable

Color touch panel

No buttons, just touching the screen control settings
Handi Quilter Simply Sixteen 16-inch Long Arm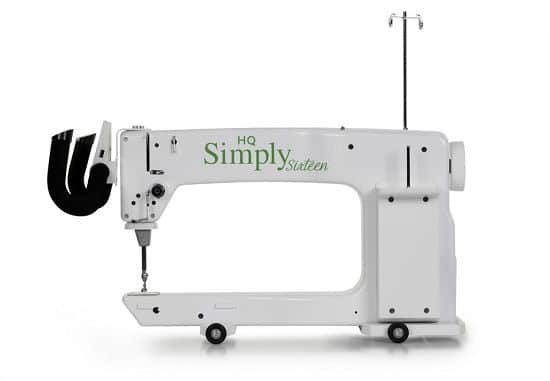 Though made for quilting and includes a standing frame system, Handi Quilter Simply Sixteen is a compact quilting machine than most of the machines available in the market. 
Its patented HQ Little Foot frame system is just 5 feet in size but enough for smoothly quilting king-size quilts. The frame provides a 14"x48" space to quilt.
For those of you who want a standing quilting machine for a better quilting experience but don't have enough space to have a massive machine, this one can be a great choice. It is a handcrafted quilting machine made in the USA. Thus bound to be among the best.
It stitches at a speed of 18 SPM and has a 16-inch throat space. Borderline mid-arm quilting machine, but is perfect for quilting at congested space. Nothing complicated is going on in this machine. Thus beginners to the most advanced and crib to king-size, anyone and any type of quilts can be stitched with Simply Sixteen.
You have a pair of comfy hand grips and a touchscreen to navigate and control the machine. If you want, you can get the optional rear handles too, to try edge to edge quilting with pantographs.
Then you have the standard stitch regulation mode, manual mode, and a large bobbin capacity. So, you can stitch in different modes without a constant change of bobbin for longer.
HQ Fusion Package – 24″ Long Arm Quilter with 12ft Gallery Frame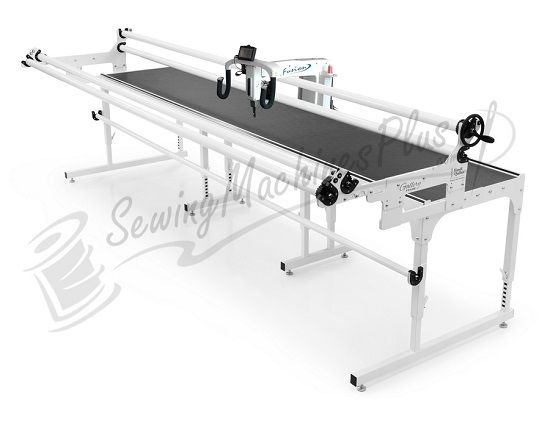 HQ Fusion is a package of a sturdy, long arm quilter and a 12 feet Gallery2 Frame. Many of the sewing machines we are reviewing come either with a frame or a table. And some are just quilting machines.
So, those of you who want a customized surface for a quilting machine must go for just the machines, and others can try these packages where, when you estimate, you see you saved money due to buying two items together.
This quilting machine offers a 20 inches open workspace. The throat space is about 24 inches. We still haven't reviewed any quilting machine with such a high throat space. A king-size quilt can be made without facing a lack of space and a cluttered work area."
It possesses all the common features that a quilting machine needs to have. And the throat space is the main thing that helps it to stand out among the rest. It has the stitch regulation mode, both precision and cruise mode, and its stitch quality can be kept consistent with 4-18 stitches per inch.
You can use both the handlebars with buttons and the touchscreen to control the settings and functions. To make the machine work, you just need to use your fingertips. Set the touchscreen by adjusting and tilting it accordingly to see and use it properly.
Features At A Glance
2200 stitches per minute and 4-18 stitches per inch

20-inch open quilting space

Easy switch from manual to stitch regulation

Tiltable color touchscreen

Built-in LED lighting functions

12 feet Gallery frame
Handi Quilter Amara 20 inch Longarm Quilter Machine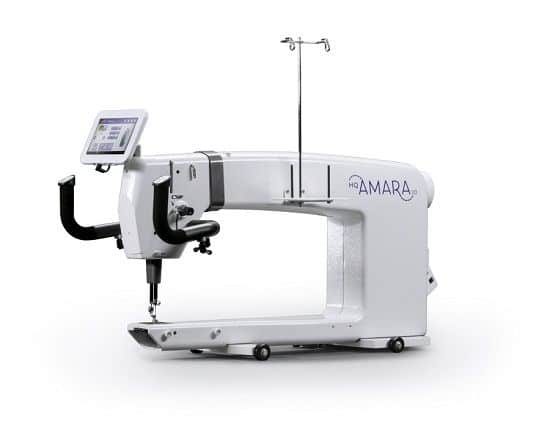 Amara includes a five feet Little foot frame. The throat space is 20 inches, and it works at a speed of 2500 stitches per minute. In one inch, it can sew 4 to 24 stitches.
Baby quilts to bed-size quilts, the uncluttered working space that this machine provides, allows you to be creative in every which way. The patterns, the blocks, the designs, let your creativity flow with Amara.
When it comes to stitches, Amara leads the line. From two modes of stitch regulation- precise and cruise to three preset speeds in manual mode and five basting stitch options, it has all. But what makes it a front runner in the stitching department is the tie-off stitches. And it has five different options in that also. All are built-in.
Its stitch regulation is servo-controlled. When a quilting machine has a servo motor, you can be assured of precise stitches from the first to the last stitch. Keep control of the setting beneath your thumb with the 7-inch color touchscreen. It is pretty huge comparatively. The rest is done with the comfy handlebars and buttons on them.
The pinpoint needle laser is also an addition to it, which is something distinct. With the bright laser point, one can keep a close eye on every stitch a needle makes on the quilt.
Handi Quilter Infinity 26-inch Long Arm with Gallery2 Frame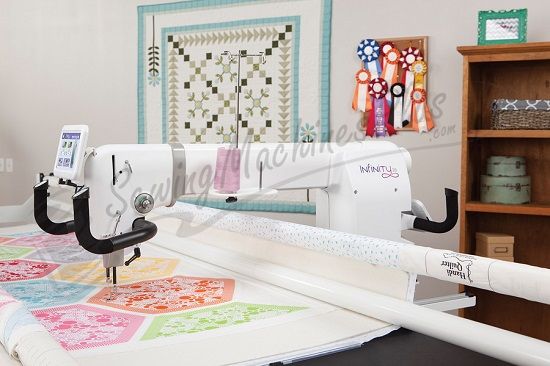 The term 26-inch already gave you a hint on how massive this one can be. You have a huge quilting machine that also includes an equally massive but sturdy Gallery2 frame. It might not be a very space-friendly quilting machine, but it makes some of the giant quilts ever.
It is a sturdy, powerful machine with high versatility and creativity. The rich features and equipment of this machine help one to evolve in terms of creativity, design, and method of quilting.
Space is not an issue; neither is a work area as this one has a massive 26-inch throat space. It is the highest throat space that a quilting machine can have, at least in this list of ours.
Not just the throat space, even the speed is too high in it. Considering its size and throat space, the stitches it makes per minute have to be enormous. And it does stitches a whopping 3100 precision stitches per minute. Even the SPM is the highest among all the machines on this list.
Handi Quilter has a quilting machine for almost every throat space possible. And we have already reviewed a couple of these here. Handi Quilter Infinity 26-inch is just a bigger and better version of Handi Quilter HQ 18" Avante. Those of you who were searching for a bigger version of Avante must opt for this one.
Features At A Glance
Massive quilting machine with a Gallery2 frame

Provides infinite options in quilting

3100 stitches per minute

26-inch throat space

Stitch regulation- precision and cruise as well as four basting options

Two sets of touchscreen and handle grips with buttons
Handi Quilter Forte 24 Long Arm Quilting Machine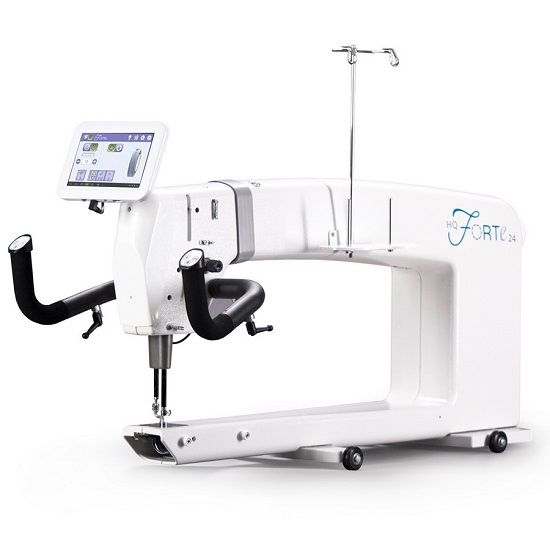 If you liked HQ Amara, but are in a dilemma whether to buy it compromising the size of the machine and frame, then we present to you the same quilter but bigger. We are talking about Forte. Only the machine and the frame it comes with are bigger in size. The rest are all almost the same.
These have most of the features common in them. Just like Amara, Forte has the pinpoint needle laser, 7-inch touchscreen, handlebars with buttons, two stitch regulation modes, LED lighting, even the 2500 SPM, and 4-24 SPI. It features five different tie-off stitches and five basting stitches too.
This machine has a bigger throat space, which automatically makes it bigger in size. Not much of the main body as that remains the same, perhaps slightly longer. To be precise, the throat space is 24-inch instead of 20-inch.
Then, you get a Gallery2 Frame. You can either have a 10-inch frame or a 12-inch. In both cases, the frame will be double in size compared to Amara's Little foot frame.
As both are the same machines with rich features, it all depends on the space you have to set it up. So, first, calculate which one will fit in your space right. This one will occupy a good amount of space and will be a better quilter to try bigger patterns and blocks.
Features At A Glance
24-inch bright throat space

2500 SPM and 4-24 SPI

7-inch color touchscreen

Includes a Gallery2 Frame

Servo-controlled stitch regulation with two modes

Front handlebars with programmable buttons
Grace Company Qnique 19 Quilting Machine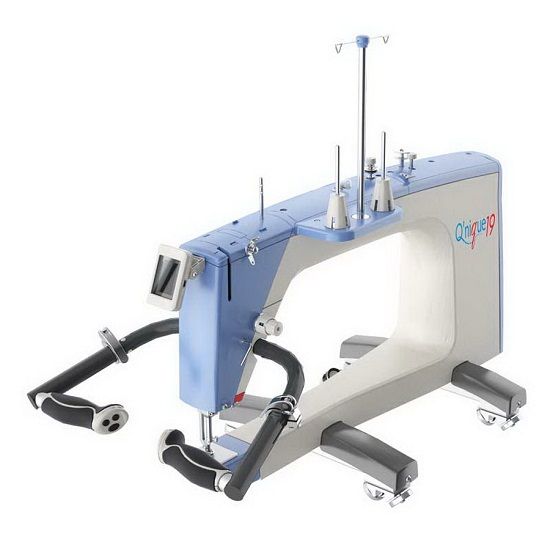 Grace Company Qnique 19 by the look itself seems to be a lightweight, slim quilting machine. A quilting machine is not expected to be light or compact from any angle. So, at least, in this case, it is distinct from regular quilting machines.
Just by the look of it, you can treat it as a short-arm machine, apt for home use. But when it comes to the functions that are expected from a Pro quilting machine to have, this one has plenty in it. So, it is a double bonanza.
Next, comes the features. Even in the case of features, it tries to be distinct from the most common ones. This one has an unusual throat space of 19 inches. Then you have 2000 stitches per minute.
For a consistent stitch length, like any other quilting machine, it offers built-in stitch regulation. Control the machine easily and fast with the six quick access buttons on the comfy handle grips. The two handles are at the front. Keep a check on the settings on the bright, full color, touchscreen display. Tilt it the way you want till you see the screen clear. Also, get comfy using your finger to navigate it.
You can easily set this machine at your home, on a decent-sized frame or table. Use the Quilter's Creative Touch Software to enjoy automated quilting.
Features At A Glance
Perfect home quilting machine

19-inch throat space

2000 stitches per minute

Slim and lightweight

Ensures ultra precision control of the stitching

Color touchscreen and handle grips for easy control
Encore 18×8 Inch Long Arm Quilting Machine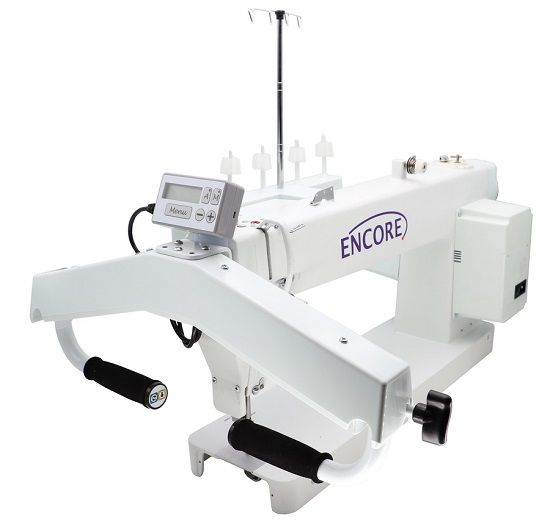 Encore 18×8 claims to stitch the bulkiest of fabrics. And why not when it has an 18 inches throat space for stitching a king-size quilt with ease. With that large space, handling the quilts from start to finish becomes easy. The uncluttered, free working area helps to maintain the quality of each stitch on the quilt too.
It offers quite a few stitch control functions. Try the precision mode and also the auto stitch function. The accuracy in the stitches of your quilt will stand out like no other.
The quilt you are stitching will have the same sized stitches till the moment you move to stop the machine. The machine runs when you move because it coordinates with your movements. So, when you want it to start, the machine starts and stops when you want it to halt.
Its bobbin is special too. Because, unlike other long arm sewing machines, this one includes the largest capacity bobbin available, which is M-size. In between stitching a quilt, one doesn't have to wind the bobbin or change it frequently.
When you need to change the bobbin, the next bobbin is already ready with thread as the machine has an auto bobbin winder. The oil reservoir in the machine continuously oils and maintains the machine. Thus, no need for manual oiling of the hook.
Features At A Glance
18 inches of throat space

Perfect for the bulkiest of projects

Extra-large M-size bobbin

Accurate stitch regulation with auto stitch regulator

Easy adjustment of the machine with the comfort hand grips

An LCD and an oil reservoir
Encore 18×6 Sitdown Long Arm Quilting Machine & Table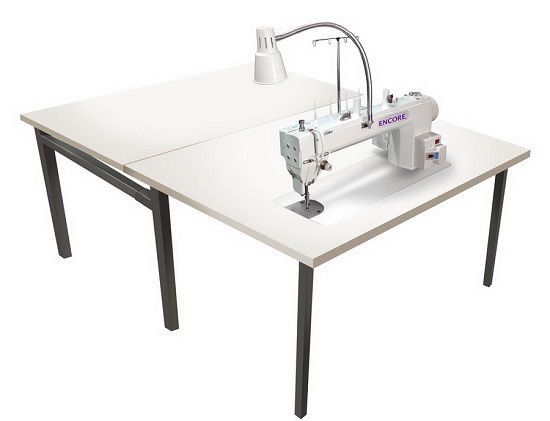 We have already reviewed Encore 18×8, so, it is quite a given that the Encore 18×6 sitdown long arm quilting machine will have its own space in our list. Encore 18×6 is a sit-down quilting machine that also includes a massive quilting table. The table is collapsible and custom-designed as well. The hinged leaf table allows you to fold one side of it fully. Thus it occupies less space.
The portion of the table that has the machine on top has ample space for sewing a bed-size quilt easily. The other portion of the surface that folds is just the extra part and offers you uncountable options.
Then you have an 18-inch throat space and 6-inch vertical space to up your workmanship and have an uncluttered working area. The only thing it misses is the stitch regulation, but then the variable speed makes precise stitching easy.
Not just that, the machine also comes with a flexible lamp. It is not like the built-in LED lights we have in other quilting machines. Instead, it is a bright desk lamp branched out of the machine that comes in handy when it comes to intricate stippling and stitching pantographs.
Encore quilting machines come with oil reservoirs and a large bobbin capacity. This one is no different. Thus low maintenance and comes with an M-size bobbin for less frequent bobbin change.
Features At A Glance
Space-saving quilting machine

Includes a convenient hinged leaf table

Flexible lamp

18-inch throat and 6-inch vertical space

Variable speed for easy precision stitches

Large bobbin capacity
Frequently Asked Questions About Long Arm Quilting Machine
What do We Need to Consider When Buying Long Arm Quilting Machines?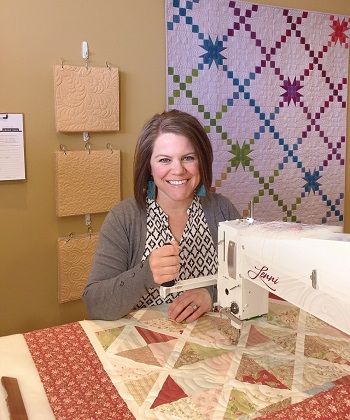 Buying a long arm quilting machine means a substantial investment. These are by characteristics, pricey. So following a buying guide becomes all the more important. But just blindly following a buying guide is not enough nor wise.
Make sure to do intensive research to determine what type of long arm quilting machine you want and ask yourself whether you genuinely need the one you chose. Just like the review, we have tried to keep even the buying guide simple.
Here is a little tip from us. Do not judge a product with its complicated features. Treat those as bonuses. Judge and measure the standard features well, and you are not going to fail to choose the best.
Throat Space
The throat space is the prime aspect of a long arm quilting machine. The space between the needle and back decides whether it's a mid-arm or a long arm machine. The long arm quilting machines we reviewed have a throat space between a minimum of 15 to a maximum of 26.
But the optimal range is 18 and above. Throat space less than 18 -inch might put it into a mid-arm quilting machine category. But those who are not ready to invest a huge amount or have a lack of space can definitely try the ones with less than 18-inch throat space we reviewed.
Some of these have features that even some typical long arm quilting machines don't have. The lack of longer throat space is covered with those features, so it's a win-win.
Stitches Per Minute
As we stated earlier, a long arm quilting machine saves time. Stitches per minute play a key role in completing a quilt within a couple of days. The motor power and the speed of the machine decide the number of stitches a machine is going to compose per minute. Try the long arm machines with a bigger figure when it comes to SPM. It will raise the price but will be worth it. 2500 to 3100 is your best bet.
Stitch Regulation
Stitch regulation is the most common and much-needed feature when it comes to a long arm quilting machine. Having manual mode is fine, but you do not use that mode much. A stitch regulator and its efficient control in the machine make the best of quilts. So, make sure the machine has stitch regulation and operates in both precision and cruise mode.
Sturdy
When it's an investment and costs so much, it has to be sturdy and last for decades. Such machines are not something one buys every year. And the good news is that all the ones we reviewed are sturdy. Every part and frame is durable and made to last with high-quality materials. So, lasting for decades is guaranteed.
Size
Do not buy a quilting machine with a 26 inches throat space and a 12 feet Gallery2 frame just because you had the money and were impressed. You need proper space to set the machine up with the frame to use them to their true potential.
Quilting never happens in a congested space. Even if you easily could set up the quilt in your room, you need ample space around to move the quilt and yourself freely. An 18-inch throat space and 5ft frame can also work wonders if you do it correctly. So, first, measure the space you have and then choose the size of the machine.
Format
The long arm quilting machines are configured as two types of use- sit-down, and standing. If you are not comfortable standing and controlling the machine, then go with the quilting machines that are configured as sit-down use.
Also, they cost less than standing ones. But then to make quilts that are large and have intricate patterns, you will need standing types. These are much more efficient compared to the sit-down ones.
Easy Navigation And Control
A nice set of handlebars and touchscreen will make the navigation and control of the quilting machine easy. The best is to have handle grips both at the rear and back. Keeping the control under your fingertips should be the prime motto of any high-quality long arm quilting machine. Otherwise, moving those and quilting will be hard.
Rich In Features And Accessories
Though we have emphasized SPM, throat space, frame, size, and suchlike, you need and get much more in a long arm quilting machine. Every feature and accessories matter when it comes to a quilting machine.
At the start of this buying guide, we asked you to consider those as a bonus, but we also need to mention that they are the bonus features and accessories that you need just like you need a generous throat space. It can be the needle position, pack of needles, extra bobbin, software, anything. More features create the scope of vast creativity.
Comparison Between A Mid Arm And Long Arm Quilting Machine
Though we reviewed some of the quilting machines, you must know whether you need one or not. So, here we compare a long arm one to a mid-arm quilting machine to give a clear idea.
Mid arm quilting machine is more affordable than a long-arm one. Where the price range ends for a mid-arm quilting machine, it starts for the long arm quilting machine.
The long arm ones are industrial machines, made for professional use only. So, these being highly-priced is understandable.
Mid-arm ones are comparatively smaller. These are not heavy or bulky like the long arm machines.
But what makes a long arm quilting machine the winner is its power, speed, and larger throat space ranging from 18 to 24 inches. Whereas, the mid-arm quilting machine has a 12-17 inches throat space. The larger the throat space, the bigger the quilt one can sew with ease.
Conclusion
Hand knitting a quilt or a regular sewing machine with quilting stitches and a free arm might be an option, rather be a great one. It makes a product distinct, and many still prefer quilts that are made in an old-fashioned way. But the fact is it takes time.
Time is everything when it's a job. Your reach subsides when you do things manually, and for obvious reasons, you have to claim a much higher price. A significant number of people will not show any interest in buying a quilt that is out of their limited budget.
So, your customers lessen furthermore. Thus, the best thing to do in such a case is to invest in the best long arm quilting machines. You can continue to sew a quilt in an old-fashioned way. But primarily and majorly make bunches of perfect, high-quality quilts in time in your efficient long arm quilting machine. 
Related Posts: