(Last Updated On: July 10, 2023)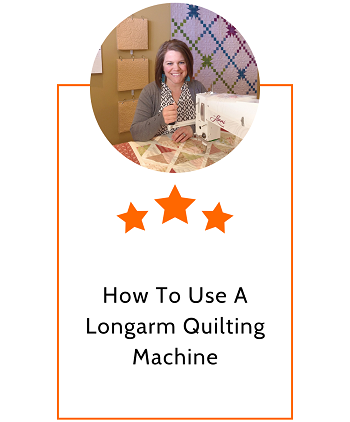 Longarm quilting refers to preparing quilts using longarm sewing devices. As the name suggests, these machines come with a broad arm where you can work on large pieces conveniently.
They make basting easier than conventional home sewing tools.
You will no longer be short on space. The whole project will be ready within a few days if you work properly.
Despite being efficient and time-saving, many sewists avoid long arms due to the high cost and difficulties.
Quilting on long arms is not easy indeed. Today, we are presenting some beginner tips on using these machines. Without further ado, let's dive in. 
Get familiar with your machine
First of all, a newbie should know about the different parts of the machine and their functionalities. Almost all longarms feature machine heads, working platforms, multiple garment rollers, laser pointers, computer systems, and metal frames.
Each satisfies a unique purpose. A person will hardly feel confident without being sure of exactly what these parts do. She can find the details on the instructional manual, company website, or related tutorials.
Learn the basics
Adjusting the thread tension is a must regardless of your thread type, project type, and anything else. Too tight or too loose conditions can damage your garment. Hence, you should know the suitable tension level of both the top thread and the bobbin thread based on the fabric and how to change it. The same thing goes for speed control.
Besides, a sewer must access the built-in stitches, stitch lengths, and other settings easily. Some mistakes can turn your work into a disaster, such as poor threading, not using compatible needles, not inserting the needle correctly, etc. Note them down in your mind.
Plan your designs before starting
A few hobbyists begin their work without planning, become confused in the middle of work, and ruin their design. Do not make this mistake. Pre-planning can be your key to success. Feel free to collect designs and motifs from the internet, and professional friends.
Choose one or more pictures and examine the patterns. Then, make a blueprint of exactly what you are going to do. Sketch the designs on paper if possible. Make sure to maintain the same order, direction, and stitches you will be performing on the fabric layers.
Follow the instructions correctly
Everybody learns to make quilts by following an expert instructor. Unlike a beginner, they know lots of tips, tricks, issues, precautions, and many more. Do exactly what they are telling you to do.
For example, if a professional is advising you to spare an additional 6-inch fabric on the quilt backing sides, do it.
At first, you may think that it is nothing but a waste. As you proceed, you will realize that this process consumes some fabrics. Leaving extra segments will save you from making the quilts smaller.
Threading
All efforts will be a failure unless you thread the machine well. Therefore, maintaining the right direction of threading is mandatory. It may vary from model to model. That's why you should better rely on the instructional manual and the brand's website.
Load the thread on the device's vertical spool pins. Guide the thread end straight up to the first thread guide and the others in the correct sequence. Each guide contains three holes in most machines. Push the thread through the first one, bring it to the opposite side, and insert it through the last hole.
Next, drag it to the tension disk, make a loop, and pull gently to pop inside the disk. Pull the thread end down over the check spring. If there is another guide, thread it and move up to your take-up lever. Thread through its slot and bring the yarn down again.
Thread the last guide, which is close to the needle. Lastly, push the thread through the needle's hole from front to back. And your threading is done.  Some machines have printed threading signs. Do the same as described in the diagrams.
Try quilting on frames
Nothing can be more effective than a frame to finish a project smoothly within less time. Load it with all the required elements for your project. Pay special attention to loading the top, batting, and backing, and then you are all set. The rails will ensure smooth and flawless results. They keep the quilt square with well-defined edges.
Choose a suitable approach
You have three options to start. Among them, free-motion quilting is the easiest one. In this method, the patterns are made by sewing in a random way on the quilting surface. The best thing about it is that you can move freely according to your own flow.
You can go for the advanced techniques eventually. The next one is called pantograph quilting. Here, the seams are done across the quilt top from the frame's back. The machine owners can build the same type of quilt from up to down, side to side, all over the fabric.
As you can assume, they will only trim the yarn at the ends. It is a great method to learn the techniques of quilting by moving the device. Although pantographs are super creative and fun to do, they can be a little bit tricky.
New sewists should start with a free-motion scheme instead. Finally, we have automated quilting. It requires an automated system that makes the designs automatically as per the user's preference.
Practice
Activities like sewing are not everyone's cup of tea. It needs practice to develop skills. So, gather some scrap fabrics and practice as much as you can. Don't be afraid; we are not telling you to invest a couple of hours.
Even a 15-minute session per day can help you out. Stop stressing yourself. Allow yourself to make random patterns. Take a good look at how they come out. Then, determine which parts need improvements.
Repeat the similar design on multiple pieces and compare them. Never through your scrap pieces away. Keep them to monitor your skill growth over time. Do not go for a final project without being skilled enough to finish it perfectly. 
Related Posts: