(Last Updated On: June 12, 2023)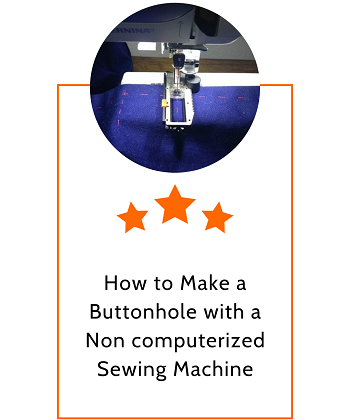 Suppose you have a non-computerized sewing machine. You are getting bulk projects of making buttonholes.
But you have no idea how to make a buttonhole with a non-computerized sewing machine. What will you do? 
You have to learn to make buttonholes with your machine. Otherwise, you will lose the sewing projects. Though you can hand sew a buttonhole, it will be an unpolished finish.
For professional projects, you must know sewing buttonholes. Making buttonholes are an easy task if you follow some steps.
We know it can be challenging for you to learn it on your own. That's why we came up with the process of making buttonholes with a non-computerized sewing machine. 
A complete guide to making buttonholes with a non-computerized sewing machine 
Some non-computerized sewing machines offer buttonhole feet. For professional buttonhole projects, you just need a buttonhole foot. Thus, making buttonholes can be an easy task with it. Let's start with the process. 
The time needed: Around 30-40 minutes 
What you will require: 
Buttonhole foot 

Practice fabric

Buttons

Ruler/scale 

Fabric marker  
Steps of making buttonholes with a non-computerized sewing machine
You can sew buttonholes with the following steps. 
Step:1- Adjust the buttonhole foot 
In the beginning, you have to install the buttonhole foot into the sewing machine. You need to set it up at the machine bar and keep down the buttonhole lever.
Step 2- Set the stitch option.
After placing the foot, you have to choose the stitch. Adjust it to a buttonhole stitch. If your sewing machine doesn't have a buttonhole stitch, then you can select the zigzag stitch.
Step:3- Determine stitch length and width 
For getting perfect-size buttonholes, you have to adjust the stitch length and width. It depends on the buttonhole size. 
Step:4- Prepare fabric 
You have to stabilize your fabric on the facing side of it. Hereafter you need to iron the fabric. Also, stitch with an interfacing fabric in the middle of the two-layer fabric. It will help you to sew accurate buttonholes. 
Step:5- Mark the buttonhole line 
Keep the button to measure the line. Furthermore, you need to draw a line with the fabric marker and ruler for the buttonhole. 
Step:6- Sewing process 
There are different buttonhole sewing patterns. At this point, you have to choose a suitable pattern. Stick the fabric with a pin so that the fabric can not move. Place the fabric under the foot. 
Keep the fabric straight. Start sewing from the front side and move it around to sew the other side. You have to sew four sides of the buttonhole. Then pull up the buttonhole lever and take the fabric out of it. Thus, you need to trim the edges. 
Tips for making buttonholes
Here are some tips you should follow while making buttonholes. 
Pick a good quality fabric. 

Practice making buttonholes before taking on professional projects.

Maintain the buttonhole foot level.

Take the size 60 or 70 needles. 

Choose the interfacing fabric similar to the front side fabric. 

Measure with a button before marking the line. 

Keep your non-computerized sewing machine updated with buttonhole accessories.  

You can use a foot controller to make your work easier. 

Don't avoid using interfacing fabric 
Frequently asked question 
Is it necessary to use interfacing fabric for buttonholes? 
Yes. It is. If you don't use interfacing fabric, you can't align the actual fabric straight. For hassle-free buttonhole sewing, you should use an interfacing fabric. 
Can I sew buttonholes without a buttonhole foot? 
You can. Moreover, you can follow the same process of determining the line 1/8 inches larger than the button. In that case, you have to focus on your sewing needle and buttonhole line. 
How many buttonhole shapes are available? 
There are five common shapes of buttonholes. The types are square, oval, rectangular, T-shaped and keyhole. 
Which thread is suitable for sewing buttonholes? 
You can use T-21 spun thread to sew perfect buttonholes. 
What to do if my buttonhole foot is not working?
It is not necessary to use a buttonhole foot. You can also use a regular foot to sew buttonholes. 
Conclusion
After all, you have the idea of making buttonholes with a non-computerized sewing machine. All the non-computerized doesn't come up with a buttonhole foot or buttonhole stitch. You can purchase a buttonhole foot separately. 
Before sewing buttonholes, check your sewing machine settings. Adjust the tension and needle position. Keep practicing making buttonholes with various shapes. 
If you follow the step-by-step sewing guide we have mentioned, you will get the perfect buttonholes. Keep your sewing machine light on to brighten the space. So, you can focus on sewing. Finally, we hope it will help you to work on the buttonhole sewing projects. Take care.