(Last Updated On: August 14, 2023)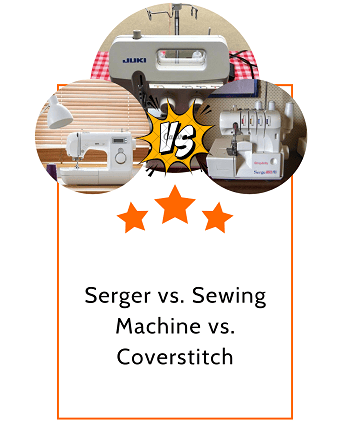 Do you know why most people fail in their life? It's because they don't approach their goal in a planned manner. And whimsical decisions are sure to fail.
So, if you're planning to get into sewing, you have to have a precise plan – what you plan do and how you want to accomplish your goal.
Once you're done with planning, it's time to buy a sewing machine. But "Which machine should I buy?" should be the first question to pop up in your mind. And there's no doubt that it is a very important question to ask.
You'll find tons of brands and models in the market. And they'll definitely make you more confused. So, it's better to have some idea beforehand.
In this article, I'll explore three different types of machines – Serger, Sewing, and Coverstitch. These three have their own specialties.
Basically, all seamstresses have to choose among these three when they begin their sewing careers.
So, give this article a thorough reading. By the end, you'll hopefully be able to decide which one you need.
SERGER MACHINE
The Serger is also known as the overlocker. So, don't get confused if you hear someone calling it by this name.
The specialty of this device is that it can cut, sew and trim your seams. There's a special cutter that'll cut the excess part as you go on sewing.
Besides, the machine works well with stretch fabrics. As a result, you'll see that it automatically produces stretched seams if you're working on such fabrics. So, the Serger is capable of handling difficult-to-handle fabrics.
Although the Serger is not as versatile as a Sewing machine, many seamstresses love to work on Serger.
You should keep in mind threading a Serger is a tricky job. The machine won't work if it's not threaded properly. So, using a Serger requires some level of expertise in threading and sewing.
You'll also find self-threading Serger in the market. But, in that case, you'll have to have a flexible budget.
If you're not a professional, I won't recommend a Serger for you. Because, you don't need a racehorse to do casual jobs, right?
However, if you have the budget and skills, you can always choose Serger to give your projects more professional look. And if you're running a business, Serger is a must.
What to Consider in Serger Machine;
Number of threads for neatening

Colour coding for thread guides

Stitch dial. It helps regulate stitch length

Handbook, accessories and special tweezers for threading needles

How long it can work per day

A good brand
SEWING MACHINE
A Sewing machine is something that is capable of performing all the basic jobs like a straight stitch, zigzag stitch, etc. In other words, the Sewing machine is a must whereas Serger and Coverstitch are optional.
Why? Because, even if you can perform most jobs with a Serger, you won't be able to work on buttonholes, zippers, basting, and top-stitching without a Sewing machine.
There's an important thing to consider before buying a Sewing machine. You'll find a range of Sewing machines in the market – starting from basic technology to more advanced and computerized technology.
So, don't hesitate to discuss in details with the dealer about your skill level and what you need. The dealer will be able to guide you to some of the models that would suit your situation.
If you've already bought one, you can watch YouTube tutorials on your model. The YouTube can be a good tutor at home!
What to Consider in Sewing Machine:
Threading guide indication

Markings for the upper thread

Stitch size

Ability to do decorative stitches

Speed control

Reverse stitch

Presser feet and instruction manual

How long it can work per day

A good brand
COVERSTITCH MACHINE
The most important thing you need to know about Coverstitch machine is that it's not a MUST for your sewing work.
There's nothing to hide – this machine has only one function! That's to perform hem stitches. If you want professional look hem stitches on hard-to-handle fabrics like stretch fabric, Coverstitch is what you need.
So, basically, a coverstitch machine primarily performs hem stitches. It doesn't cut like a Serger. And it gives your work a professional finish.
If you're a professional seamstress and need to perform several kinds of stitches, having a coverstitch machine alongside a Serger or Sewing machine will make your job much easier.
Simply put, a cover stitch machine is something extra that you can add to your sewing asset list. It'll definitely make your work more professional.
What to Consider in Coverstitch Machine:
Number of threads for sewing

Tension facility. It helps handle fabrics of different weight

Free arms to handle tubes and narrow sleeves

Adjustable presser feet

How long it can work per day

A good brand
COMPARISON TABLE
Here you have a comparison table for you to look at all the key differences at a glance:
| | | |
| --- | --- | --- |
| Sewing Machine | Serger Machine | Coverstitch Machine |
| Day to day casual sewing | The seams, neatening and cutting give a more professional look | Hemstitch expert |
| Straight stitches of different lengths | Can handle difficult-to-sew fabrics and knits | Can perform two line hemstitch like those on T-shirts |
| Can perform decorative stitches | Can attach elastic and add rolled hem stitch | Can neaten hem stitches professionally |
| A must for making buttonholes. Has special stitches and attachments to work on buttons | No buttonhole facility | No buttonhole facility |
Conclusion
Hopefully, you have a clear idea about the features and functions of Serger machine, Sewing machine, and Coverstitch machine.
To conclude, I would say that a Sewing machine is the best thing to begin your sewing career. Because you'll be able to perform most of the basic sewing works with your Sewing machine.
As you improve your skill, you might add a Serger or a coverstitch machine to your workforce. Simply put, a Serger or Coverstitch is for professionals who are running sewing business.
That's everything I had to say. Best wishes!
Discover More: Read on!