(Last Updated On: June 19, 2023)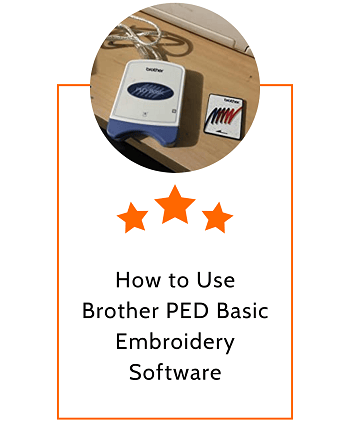 Have you brought a Brother embroidery machine?
Brother is a well-known brand for top-notch embroidery machines.
If you are new to the embroidery journey, we will suggest learning how to use the embroidery machine. In this modern era, you will find thousands of digitalized features for making your work easier.
While operating the embroidery machine, you will need embroidery software. If you are a beginner, you might not know about embroidery software.
It is difficult to find all information in one place. For easing your hassle, we come up with the whole idea of embroidery software.
Let's get started.
What is embroidery software?
Embroidery software helps to adjust lettering, font size, and types. Installing embroidery software can make your sewing journey easier than before. To give an elegant look to your work, you have to install the software into your computer. You can create various designs with the software. It is necessary for professional people.
Does the Brother embroidery machine come with software?
Yes. Brother manufactures some embroidery machines with computerized software. It provides all the digitalized support for creating fantastic embroidery designs. The most common Brother embroidery software is PE-Design or PED series. This Brother PED software comes up with some basic embroidery features. If your embroidery machine doesn't include a USB port, then you must download PED software for this.
How to download Brother ped basic embroidery software?
Some Brother embroidery machines come up with a PED software CD. If you don't get any, you have to download the brother PED basic embroidery software.
You can download it from the official website. Check the compatibility with your windows. The operating system requirement begins from 98 to the recently updated system. Choose the 'PED basic update' option. Select the software according to the windows operating system. Lastly, you have to download the driver.
Besides, you can purchase PED software CD with a card driver box and memory card from Amazon. It is compatible with the maximum Brother embroidery machine.
Steps of using Brother ped basic embroidery software
After downloading or purchasing the software, you can easily use it with your computer. Here we have discussed the usage of the Brother PED basic embroidery software.
Step: 1: Installation process
First of all, you have to save the software file to your computer. As the software comes up with an instruction manual, you need to read it for easy installation. Follow the process to install the downloaded software into your computer.
Step:2: Select the embroidery design
You have to pick the embroidery design and download it. After saving the designs on the software. Transfer the design files to a memory card. At this point, you will need a card driver for reading the memory card and saving the designs. It includes some pre-packaged designs. Besides, you can also download more designs using the internet.
Step:3: Connect the card driver to the embroidery machine
The most embroidery machine has a memory card slot. You have to open the cover and insert the memory card into it. Hereafter, you can implement the designs on your fabrics by pressing the memory card on the embroidery control panel.
Frequently Asked Questions
Can I use the Brother PED software on Windows 10?
Yes. The PED software is suitable for Windows 10. You can find difficulties with some computers. If you can't connect it manually, you have to use a USB flash drive to save the files from another computer. Otherwise, you can purchase the software CD with a card driver.
What are the features of PED software?
You can save embroidery designs from CD. Along with that, it comes up with three frame sizes, and you can customize the designs. Also, the software provides realistic design previews and built-in embroidery samples. It helps to save the embroidery .pes files into Brother memory cards.
Is it possible to use Brother PED software on Mac?
No, you can't use the software on Mac. It has been designed for the Windows operating system
Conclusion 
We have tried to inform you about embroidery software and its usage. Now you know how to use Brother PED basic embroidery software. About 90 percent of customers find it an excellent software for embroidery. Brother PED 11 software is one of the most downloaded software.
 It includes various useful features. Also, it helps you to create fantastic embroidery designs. You can talk to the professionals or Brother official customer care if you find any difficulties. We recommend checking for updates to keep up with the upgraded version if you are using it. 
Related Posts: