(Last Updated On: July 17, 2023)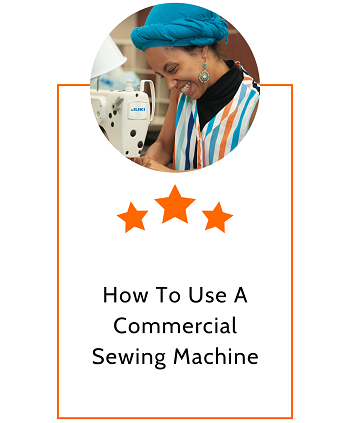 From the heading, it is very clear that a commercial sewing machine is different from a home or residential sewing machine.
A commercial sewing machine or more commonly called an industrial sewing machine is more powerful. They are meant for use for many hours continuously and have powerful motors.
Unlike home sewing machines, commercial sewing machines are made to perform only one task continuously.
Most garment makers have separate machines for each kind of job.
If you want to start a business of stitching garments or other stuff for selling, then a commercial sewing machine is best. They help to stitch much faster than home machines. 
Different Types Of Commercial Sewing Machines
Commercial sewing machines cannot be used for making all types of stitches. They are specialized in stitching a few types. Each garment that is produced in a garment factory needs many sewing machines.
Separate machines are used for closing sides and sleeves, attaching the collar, bottom band, and cuffs, covering the collar and cuffs, etc. These many machines are required for stitching a sweatshirt. Of course, each machine can stitch many pieces within a short time.
Threading A Commercial Sewing Machine
The advantage of a commercial machine is that it comes threaded almost all the time. This is because the manufacturer will test the machine before it is sent to the customer. All you need to do is to clip off the thread at the spindle. Tie your new thread to it using a most basic knot. You can now pull the thread through all the parts.
Please remember to raise the presser foot when you do this. When you have pulled through all the guides and the tension disc, you will reach the needle. At this point, you cut the thread and pass it through the needle.
Understanding The Motor In A Commercial Sewing Machine
The motor in a commercial sewing machine is different from that of a home machine. There are two types of motors in a commercial sewing machine. You can opt for a machine with a servo motor or a clutch motor.
For those who are new to commercial machines, the servo motor will be better because they have easy speed control. In a clutch motor, the speed control is in the foot pedal, and it can take time to get used to it. Moreover, servo motors work much more silently even at full speed.
Knowing The Basic Stitches Using A Commercial Sewing Machine
Two basic stitches are done on a commercial machine. They are the lock stitch and chain stitch. The lock stitch forms a straight line on both sides of the fabric. This type of stitch doesn't have any stretch and is normally used on woven fabrics.
The lock stitch forms a straight line on one side and loops on the bottom side. This stitch stretches and hence is used in sewing knit fabrics. There are different types of chain stitches like double chain stitching, overedge stitching, interlock stitching, flat seaming, etc.
Different Types Of Seaming Depending On Fabric And Design
The Plain Seaming is used to join two pieces of clothing on the right side. It is also used to sew the outline to form a particular shape. Serging or Overlocking is used to prevent the fraying of cloth at the raw edge. A stitch down and the top-stitched seam is done to prevent fraying of edges that are on the allowances formed after stitching.
Fancy stitching is also done using a commercial machine to form a decoration. A covering stitch is done to strengthen the stitch. There are also various other kinds of stitches done depending on the type of dress being made.
Achieving Good Seaming By Adjusting Tension
A good stitch is only when there is balanced tension between the various stitches on the cloth. The needle thread, the upper looper thread, or the lower looper thread can become loose when you stitch, and this will result in unprofessional seaming.
The commercial machines have adjustment nuts for the needle thread, upper looper, and lower looper. When you find that your seaming has loose stitching on any one of these, you can correct it by turning the nuts.
To reduce slack on the needle thread, you must turn the needle thread adjustment nut to the right. When you find the upper looper thread to be loose, then you must turn the upper looper thread adjustment nut to the right and the lower looper adjustment nut to the left. If your lower looper thread is slack, then you must turn the upper looper adjustment nut to the left and the lower looper adjustment nut to the right.
Preventing Stretch And Shrink In Different Fabrics
When you are sewing woven and knit fabric in the same machine, you may need to make some adjustments. Woven fabrics tend to shrink while sewing and knit fabrics will stretch when sewing.
It is for this reason that a deferential device is provided in commercial machines. There are two feed dogs in such machines. There is the main feed dog and a differential feed dog. You can adjust the rate of movement of these two feed dogs. This will make the necessary changes for each of these fabrics.
When stitching a woven fabric, it will require a negative differential for stretching the seam. This can be done by reducing the value of the adjustment. A knit fabric will require a positive differential to shrink the seams.
This is achieved by increasing the value of the differential adjustment. The lever for adjustment can be found when you open the cloth cover. You can push the lever to make the adjustments. There is also a dial to make fine adjustments.
Conclusion
When you get into commercial sewing, you must first decide what kind of stitching you are going to do. If you are going to do a job for a garment maker, you must know what kind of job you will be getting. You must buy a machine that is specifically meant for that purpose. There are machines for embroidery, monogramming, straight stitching, etc.
Buying a dedicated machine for these purposes will allow you to make your sewing hobby into a commercial activity. These machines are costlier than home machines, and they will consume more power. If you are getting into business, then it is worth going for one of these machines that will allow you to stitch continuously.