(Last Updated On: July 10, 2023)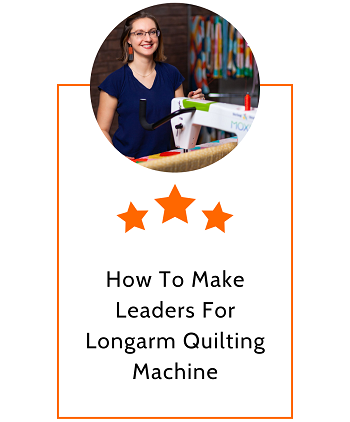 Quilting involves sewing multiple fabric layers together. People can do it by manual stitching by hand or with a mechanical tool.
Although basic quitting is possible with a regular sewing machine, sewists are more into longarm quilting machines nowadays.
These devices are comparatively more time-saving, spacious, and user-friendly.
However, choosing an ideal model is not enough for nice quilts; Users should be aware of some quilting techniques as well. One of those techniques is called the leader. 
Leaders and their benefits
So, what is a leader? It is a non-stretchy or little-stretchy fabric that we add before sewing the seams. It helps to attach our quilts to the rollers. Besides, it saves a significant amount of thread while joining many quilt layers.
Thread nesting underneath the seams is a common problem we all face. A leader can prevent it successfully and produce clean stitches only. We also feel quite irritated when the thread comes out of the needle's eye as we start working. It kills our valuable time.
Such an unthreading incident will never occur with leaders regardless of the number of garment blocks. They restrict the fabric-pushing tendencies of needles too.
As a result, our needles no longer lead the garments into the machine's throat plate. So, if you haven't used a leader before, give it a try, and you will be surprised to see the outcomes.
DIY leaders
Some people may like commercial leaders a lot. But DIY versions are not less effective than them. It does not take too much time at all. You can simply prepare them in the following steps:
Collect the essentials first. You have to buy:
Heavy pillow ticking: It is nothing but a linen or cotton fabric along with printed lines. It is mostly used in mattresses and pillows. Get 7 yards of a 3-ft wide piece.
Sew-on Loop tape: These fasteners usually consist of nylon elements. They are for developing strength and enhancing longevity. Purchase at least 11 yards of these hook tapes.
Stick-on hook tape: It is also one type of fastener. 11 yards of stick-on hook tape is mandatory for the functionalities of the leaders. Skip it if you already own a frame.
Square your fabric. Measure the dimension of the quilting machine's rollers. Cut the same length accordingly. Make two segments approximately 10 feet long.

Place an old leader on your fabric. It will help you determine the right line to run the scissor.

You will need a traditional sewing device for the sides without the selvage edge. The selvage has a special finish to prevent automatic unraveling. Perform sewing using a straight pattern. Alternatively, you can simply block the edges with your sergers. Don't forget to run it on the sides well so that no open sides are left.

Determine the center of both pieces. Leave a mark of a permanent marker there. Bring the hook and loop fasteners to secure the leaders to the frames.

Cut two equal sections of the loop tape. Having exactly the same length as the rollers is a must. Again, cut two pieces of hook tape. They should be as long as the leaders, neither more nor less.

Wipe away the dirt from your roller surface because you need a clean layer to apply the Velcro fastener.

Separate the backer from the hook tape. Set it strongly on the rollers. Try to keep the adhesive for one day to reach its ultimate strength. Do the same for the loop Velcro. Secure it to the selvage side of your fabric leaders. Choose a basting style in the sewing device. Run it down the sides of the adhesive sections. It will assist in stabilizing the leader's tension. The leader's velcro will lock your leaders to the rollers correctly.
And voila! Your job is done. It is not as complicated as it sounds, right? Trust us; it does not take much time and provides a good outcome.
Don't waste your cash on the pre-marked leaders. The reason is, these marked signs may not be accurate every time. Buying woven ticking is a better alternative. Make sure to get enough depending on the shape of your rails.
Straightening the leaders
Sometimes, your leaders may become dirty and stretched out. It usually happens after a couple of years of regular use. The leaders become shabby because of continuous tension application in the middle them. Over uses, the pressure results in distortion.
The tighter the rollers are cranked, the sooner your leaders will be out of shape. If you don't mind spending bucks, get new leaders. Or, you can save that money by cleaning and straightening the existing ones. It does not take longer than two hours.
The majority of hobbyists don't realize the importance of straight leaders. It has a huge impact on quilting. Therefore, don't ignore it.
Making a quilt
Quilting involves these phases.
Pick your desired quilt style. Stick with the baby quilting unless you are a skilled person.

Gather materials. Some quilting and sewing items are required for quilting, such as main fabric, batting fabric, backing fabric, needle, yarn, machine, scale, measuring tape, etc.

Cut accurate patchwork. If you mess up, the finishing won't look good.

Sew the patchwork. Maintain a straight stitch seam. There should not be any puckered garments, wavy segments, or uneven seams.

Baste all the layers of your quilt. You may need quilt backing fabric, batting, and a wide workspace. You can spray adhesive for holding all pieces together.

You can perform quilting in plenty of different ways. Some most popular options are straight-seam quilting, free-motion quilting, etc. It actually depends on your preference. In the free-motion technique, making patterns becomes possible by moving the garment under your needle with ease.

Now, bind the quilt. Add bindings following any method you like. If it seems problematic with your hands, take help from your sewing machine.
And that's all for now. Hopefully, we cover all details you wanted to know about the leaders of quilting machines. Feel free to change the measurements as per your need. Sooner or later, you will make perfect quilts. Happy designing.
Related Posts: