(Last Updated On: October 9, 2023)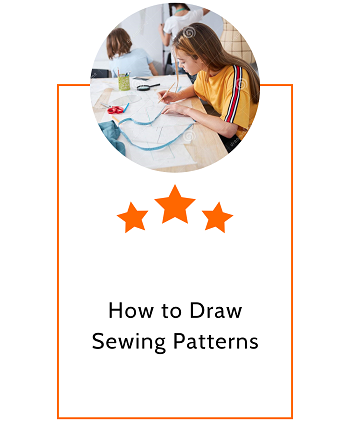 Drawing a pattern is a crucial part of any sewing project. A well-designed dress lets you stand out from the crowd. Pattern-making can be quite confusing if you don't know the proper process.
If you are new to sewing, you have two options to make your clothes. Either you can customize your pattern or buy a ready-made pattern from the shop.
Though both ways are useful, ready-made one is like cookies of the same pattern.
The designers may forget that we all are unique with our distinctive body shapes.
Whether you wear casual, sophisticated, or businesslike attire; the first impression matters. That's why your dress should have a great fitting.
Nothing can beat the exclusivity of custom-crafted sewing projects. The design that you've made demonstrates your personality and uniqueness. Also, it can save your money and allow you to modify your dresses according to your measurements.
People often get worried while sewing without a store-bought pattern. We assure you, it is not difficult to do and of course, you can do it on your own. In this article, we'll focus on the custom-crafted sewing pattern. Think of yourself as a designer and go for it! 
Things You Need To Draw a Sewing Pattern
Pattern-making is quite inexpensive, and it is easy to do once you are ready to go. You only need some necessary equipment before you start. Let's briefly look over them;
Paper: The paper should be semitransparent and light, which you can use to trace the design. Designers often use brown postal paper, baking paper, and grease paper.
Using paper is time-saving and easy to use. Also, you are allowed to use the same pattern again and again until your body shape has not changed.
Chalk: Specially made for fabric marking that can be used to mark the design. Chalks are available in different colors, and the mark gets vanished with a wash.
Tracing wheel: It is a pizza-like making tool. It makes a small dotted line if used above carbon paper.
Marking pen: A marking pen to draw the pattern in the fabrics. The ink disappears in a few days.
Bar soap: A silver bar soap to mark the fabrics. Silver bar soap is mostly available at your home.
Clipping: It is required to keep the fabric in place.
A Flat Surface: It is required to spread the paper and fabrics. A large table, workbench, or piece of cardboard is an ideal option.
Now you're familiar with all the standard drawing tools. Now, what's next?
Well, the next is to consider the techniques to make your sewing pattern.
Techniques to Make Your Sewing Pattern
Drafting from your body measurement
This is one of the primary and accurate ways to draw a pattern and people often go for it. It requires skill and dedication. We are assuming the pattern for a T-shirt. Let's discuss it step by step.
Take your body measurements: Before the start, the drawing takes all these necessary measurements.
The half neck

The half shoulder

Quarter bust

Quarter waist

Quarter hip

High shoulder point to the upper chest

The bicep half

Sleeve length

Underarm seam length

Half wrist
Also, you need the distance between your high shoulder point and waist, high shoulder point, and hip. Make sure to add an extra 2 inches with all the measurements.
Draw in the paper: Take a piece of paper and unroll it. Draw a vertical and horizontal line for each measurement. Draw them one after one and start with a high shoulder point.
And then half shoulder, upper chest, quarter bust, waist, quarter waist, hip, and quarter hip.
Connect the edge points: Then connect all the edges using several curves. Like; such a concave curve for connecting HSP to shoulder, and a curve between bust and shoulder points.
Draw a straight line from the bust to the waistline, then a curve from the hip to the edge of the paper.
Plot the sleeve and neckband: Firstly, take a large piece of paper and fold it in half. Then measure the sleeve length from the edge and the length of the underarm seam. Draw them on the paper accordingly.
Add a seam allowance and cut out: Use your chalk to draw a seam pattern around the actual pattern. Use a scissor to cut out each pattern and make sure to label them precisely. 
Copying from existing dresses
You can draw a sewing pattern from an existing dress. Follow the steps to get a complete pattern:
Take a large brown postal paper and spread it over a flat surface.

Spread out the dress over the paper that you want to copy. Trace all the seams of the dress with white chalk.

Then use chalk to draw a borderline on the top, bottom, and side edges of the dress.

Remove the fabric and draw a second parallel line half inches out from each edge. And repeat the process for the other part of the dress on another piece of paper.

Cut out the paper along the second parallel line.
Deconstruct existing garments
One of the easiest ways for beginners is; Take a dress that fits most and undoes all the seams and joints. Follow the steps of the second method to draw the pattern. This is the way to get a more accurate sewing pattern.
Draping to create a two-dimensional pattern
A fashion designer mostly uses draping. If all other method fails, then you should try draping. All you need is a dress stand or a plastic doll or a human as a model. Take all the measurements accordingly and draw them on paper.
The Bottom Line and Tips
We did assume all the measurements for giving you a basic idea about drawing patterns. For the above steps, make sure to use a cloth that currently fits most.
Besides, never use scissors while the fabric is being worn by someone else. Also, you can use Styrofoam on the surface which is suitable for the use of pins.
Well, we would suggest that you should spend a few hours taking a look over all the methods. In the end, you'll get to know how to make a pattern for a dress as well as to make your pattern. 
It Might be helpful: