(Last Updated On: July 17, 2023)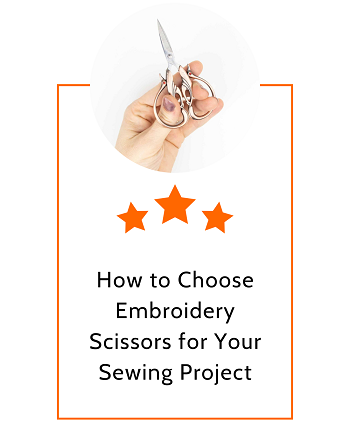 Quality scissors are an essential part of a sewing project. Do you have any doubts about that?
Then ask any seamstress, they will tell you the importance. They have many scissors for multiple projects.
If you are planning to start a sewing project, then you must need a scissor. In this article, we will help you to choose the appropriate scissor for the project.
Before shopping for scissors, you should know details about embroidery scissors.
Several types of scissors can make your embroidery project turn out perfectly. Read on to find out all the different types of scissors. 
Different types of scissors
Curved tip scissors: These scissors have thin blades that curve upward at the edge. Each point in this scissor is very fine which allows cutting close fabric or stabilizer. It allows cutting through fabrics that are bent.
Note: Not all the scissors have the same blade thickness.
Straight-tip scissors: These are the most common type of scissors used. It has slender blades with a very fine point for cutting close to the fabric. There is a spring straight-tip scissor with a micro-tip.
Double-curved scissors: They allow precision for cutting over hoops without any visual obstruction. With its fingertip, it cut the fabrics evenly.
Steeple-tip scissors: These are curved and scissor-shaped with a thin blunt tip and sharp blade. It allows stitches without a ripple.
Spring-action, double-curved: It is the same as double-curved scissors except with the handle. The handle can be managed effortlessly.
Micro-tip curved: Same as the curved blade with an extra-fine blade.
Hook-blade scissors: This scissor is an expert in less than one stitch and cutting close to the fabric. It allows users from the reverse side.
Snips and clips scissors: It comes with a short blade with a small finger hole and sometimes without a hole. Specially used for cutting the thread under the embroidery.
Appliqué scissors: They are commonly known as duck scissors. The bill of these scissors helps to raise the fabric. So that, you get a close compact without cutting into the fabrics.
Bent handle scissors: It has a straight blade that works parallel to embroidery. The handle can make bent upside. They are mostly available in 7 to 10-inch lengths. Mostly used for cutting thin, silk fabrics and any lightweight material.
Swivel handle scissors: This scissor is designed to minimize stress and joint pain. It allows cutting and snipping in any suitable position.
All the above scissors are different in their way. You can never cut a piece of paper with fabric scissors. Or else, it won't be a good option to cut layered fabric with thinner scissors.
Now, you know the different types of scissors we normally use for a sewing project. Let us give you some basic facts and aspects of scissors which you should keep in mind while choosing a scissor for a sewing project.
Facts of Facets of Scissors
The information in this guideline will help you to know details about scissors while selecting for a sewing project. Check these facts and facets of scissors before buying one.
Check the balance and weight of the scissors in your hand. If you feel a heavy weight in your hand, then it would be difficult to proceed.

Check the smoothness inside the handle ring. So that, it makes you feel comfortable.

Know the difference between tempered or stainless steel blade scissors. Tempered scissors are well known for their quality and strength. Stainless steel blades are lightweight and rustproof.

Check the uniform width and angles of the cutting edges. Or else, if they are not uniform you will notice ripple while cutting. As a result, you won't get a finely cut cloth.

Test the smoothness of the blades by cutting them from the back of the blades to the points.

They must have an adjustable screw to secure the blades — checks whether they work perfectly or not. If the blades work out of alignment, then adjust the screw. Some scissors only have a nonadjustable bolt that cannot be fixed.
These are the facts, which your scissor should meet to give you perfect results. Check them one by one while choosing a scissor.
Well, if your scissor meets all the criteria mentioned above. Now is the perfect time for you to know its care guideline. Otherwise, your sewing project will turn out to be your biggest nightmare.
Care guidelines for embroidery scissors
To get maximum output from an embroidery scissor for a long time, you must follow this care guideline. Otherwise, you have to blame your seller. Let's have a look over them in short.
Never embroider scissors on paper or other non-fabric materials. In case you forget, tie a colorful ribbon to your fabric scissors and tell everyone to use them for fabrics only. Or else, you may buy fabric scissors with different color handles.

Sharp the scissors blade on a regular basis. Never sharpen the steel blades with a sharpening stone. Instead, use a professional-style electric sharpener or send them to the manufacturer to get a professional sharpening service. Some scissor blade comes with a plastic molded sheath that has a built-in sharpener.

Don't forget to clean the scissor with a dry cloth after every use. Sometimes after cutting synthetic or other polyester cloth, you will notice lint on the blade. This lint from the human-made fiber can make the blade dull and blunt.

To avoid rust in the screw of the scissor, use sewing machine oil. Put a little drop of oil on the screw then consistently open and close the blades for few times. Then wipe the blade with a dry cloth.

Never force a cut if it is unable to do so. This can distort or spread the blade forever.

Store the scissor in a box after each use.
Final words
Once you begin the sewing project, it doesn't take long to get disappointed with "imperfect" scissors. We believe, it is not easy for you to ask everyone who uses a scissor. That is why we tried to give you a clear idea about scissors.
Check out all these criteria, for example; comfort, stainless steel blades, small or large, smoothness, and of course the brands. Keeping all these in mind, you can go forward to buy a scissor for your next sewing project.
Though we tried to make it simpler for you, if you have any suggestions or queries, and then please let us in the comment box below. We will be back with some other interesting topics till then.
Stay connected!