(Last Updated On: June 12, 2023)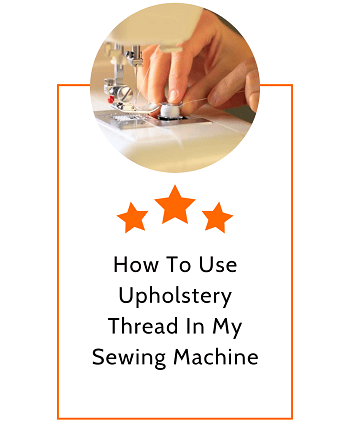 Upholstery sewing threads are a little sturdier and thicker than the regular, standard threads. Such threads are mostly used to stitch heavy fabrics or materials and high-stress seams.
Not all machines, especially domestic sewing machines, will allow stitching with them winding the upholstery thread.
Sewing Machine for Upholstery is not usual, especially the home use ones. Whether your sewing machine allows using upholstery thread or not will be indicated clearly in its user manual.
In most cases, to sew a project with an upholstery thread through a regular machine, the machine will have to be heavy-duty to handle the sturdy, thick thread.
The reason? Quite obviously, you will not stitch a thin fabric with heavy thread. The material will have to be thick, heavy, or multiple-layered for you to use the thicker thread for proper stitching.
So, when you are using a thicker thread, precisely the upholstery thread to stitch your heavy fabric through your sewing machine, the machine must be sturdy, and heavy-duty. Try the below tactics we will share to do it effortlessly. Because, hey, your sewing machine is not made for that. Instead, you are making do with it. Right?
Trick #1 – Use A Bigger Needle
To use an upholstery thread in your sewing machine, the first thing you will have to do is stop using a standard needle. You will need a stitching needle with a large needle eye. We assume you are using heavy upholstery thread to stitch thick fabrics or fabrics with multiple layers.
The heavier the materials and the upholstery thread, the bigger the needle should be for smooth and even stitches. In most cases, the user manual will guide you to use the right-sized stitching needle with the upholstery thread. If not, then do your experiment and only then start working on your project.
Trick #2 – Wind Less Thread In The Bobbin
Another way to handle an upholstery thread in your sewing machine is to wind up less thread on the bobbin. It's pretty much common sense that thicker thread will occupy much space in a bobbin.
So, you cannot use the same length of upholstery thread to wind up your bobbin as you would do with a lightweight, thin thread. Less thread will make sure your thicker thread is getting proper space in the bobbin, and it will not create a jam or gather while stitching.
Trick #3 – Adjust The Bobbin Case Tension
Heavier thread requires lesser tension in the bobbin case. There is no exact tension written somewhere for you to click and set. Instead, it's a matter of changing and adjusting by doing it practically. So, wind your bobbin with the upholstery thread, lock it up in the case and then pull it to understand the tension.
The thread pull smoothness will itself tell you how much reduction the case tension requires. So, work on reducing it accordingly. To make your work easy, keep two different sets of the bobbin case, one for the regular thread with the proper tension and the other one with the adjusted tension on the bobbin with the upholstery thread winded in it.
Trick #4 – Tighten Up The Upper Tension
The bobbin case tension requires reduction, but the machine's upper tension mostly needs a slight tightening when you use upholstery thread in your domestic sewing machine. The less winded thread with properly tightened top tension of the sewing machine will ensure tighter and even stitches on the thick fabric you aim to stitch.
Trick #5 – Keep The Fabric And Upholstery thread material in Sync
Another trick to using upholstery thread in your sewing machine is to use the thread well matched with the fabric. For instance, if the material is cotton, then use cotton thread. If the material is synthetic, you cannot use cotton thread but must use polyester upholstery thread.
The thick thread that matches the fabric will ensure the thread will not ruin or cut through the fabric while you stitch. If you are sewing a synthetic material with a cotton thread, chances are there and relatively high that the fabric will tear or jam up, or you will end up with uneven, missed stitches.
Before you use the upholstery thread in your sewing machine, make sure to use an extra piece of fabric, same as your project, a replica, and work for a while on that. When all the above seems fine and in sync, from tension, needle to thread winding, on the extra piece of cloth, only then be sure your sewing machine is ready to work with the upholstery thread.