(Last Updated On: July 17, 2023)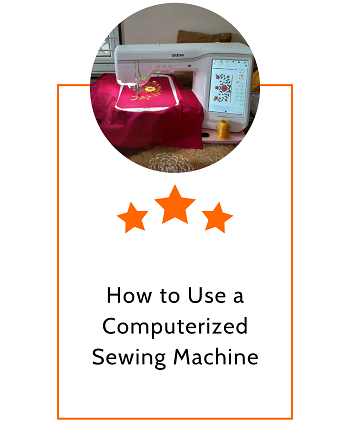 If you decide to take up sewing either as a hobby or as a job, then you need to select a sewing machine from the three main types, which are mechanical, electronic, and computerized.
While it is recommended that beginners start by using mechanical sewing machines due to their simplicity, affordability, and ease of use, this does not stop you from acquiring a computerized unit if you have the money and you want to start from the top of the chain.
However, there are a few complexities that come with such a machine and to help you get started, here are some of the steps that you should follow.
Set up the machine
You may call this assembly to a certain extent but it's not really combining the parts of the machine together. This process basically involves connecting the power cable and foot pedal to your machine after finding a good table or frame to place it on.
Most computerized units come with foot pedals and connecting these pieces together is similar to what you would do when setting up other types of sewing machines.
Threading
Next comes a very crucial step, which entails laying out the thread for the actual stitching process. This can be broken down into 3 steps.
Bobbin threading
Most sewing machines come with a few bobbins as accessories and all you have to do is use the bobbin winding system to fill it up.
The steps include: inserting the thread into the spool pin, pulling out its thread and leading it through the bobbin winding tensioning disc on the opposite end of the spool pin, bringing back the thread to the bobbin and inserting it through one of the side holes, wrap it around a few times then insert the bobbin into its pin.
Lastly, lock the bobbin winding system in place and run the machine. Once the thread is full, the machine should stop automatically and this step is complete.
Upper section threading
Still using the thread placed in the spool pin, pass it through the various guides and tensioning discs as indicated on the upper part of the machine till you get to the needle section.
There is a high probability that your unit will have an automatic needle threader, so completing the process at the needle should be an easy task.
Lower section threading
The last part of this process is threading the lower half, which involves inserting the bobbin into place. This depends on your machine as some have top-loading bobbins while others have front-load bobbins.
Either way, fix it in place and expose the thread by passing it through the notch guides to the upper part, where a section of it should be pulled up by the needle once you turn the handwheel. 
Stitch selection
All the steps above are not unique to computerized sewing machines. They apply to all types but from this stitch selection process, you get to see the uniqueness and "slight complexity" of these units.
If you are used to dials, forget this and enter the modern world of a few buttons, LCD displays, and even touch functionality.
While this may sound a bit complex, if you use a smartphone, then it will be very easy because all the functionalities will be very intuitive.
Basically, since computerized sewing machines feature multiple built-in stitch patterns (ranging in the hundreds), it is impossible to carry out stitch selection using dials.
This is where you find small LCD screens and selector buttons for what can be termed as the "low-end computerized sewing machines" and large displays with touch functionality for the high-end units.
Large screens are much better and most offer the convenience of displaying even the stitch drawing itself for easy and quick referencing during the selection process. Other selections that can be made via this screen include the stitch width and stitch length adjustment.
Convenience features and adjustments
Computerized sewing machines also feature a ton of convenience features such as variable speed settings, which allow you to cap the top speed at mostly either one of 3 so that you can work at a pace that is suitable to use.
You also get a start/stop button, which enables you to rest your foot occasionally by not using the foot pedal, needle up/down, variable thread tensioning, and automatic thread cutting, which chops off the thread for you at the right spot after stitching, eliminating the use of scissors every now and then.
On the part of stitch designs, you can also use the included screen and selection mechanism to mirror certain patterns, as well as for stitch elongation. However, this is an advanced feature that is available in high-end machines only.
Stitch pattern downloading
Lastly, since they are computerized, some of these machines allow you to add to the built-in stitch patterns by downloading the designs from an external computer. This is usually done via USB cable, and it opens up a new creativity and versatility dimension, which you can use to your advantage.
However, as stated above, this feature is not included in all computerized units and if your machine happens to be equipped with it, make sure to follow the manufacturer's instructions since the steps might differ from brand to brand.
Conclusion
As you can see, computerized sewing machines do have a lot of advantages stacked on their side, with the only major setback being the cost. The features included though make the cost just a small factor to deal with since you get your money's worth.
The only issue left is for you to learn how to use the sewing machine and following the guide above, you should have a much easier time setting up the unit and creating the first few stitches on your fabric.
Apart from this guide, also consult the included user manual widely as it gives instructions specific to that unit.
However, the only way to perfect this is by continuous use and this will help you master your machine over time so that you can use it to its full potential.