(Last Updated On: July 17, 2023)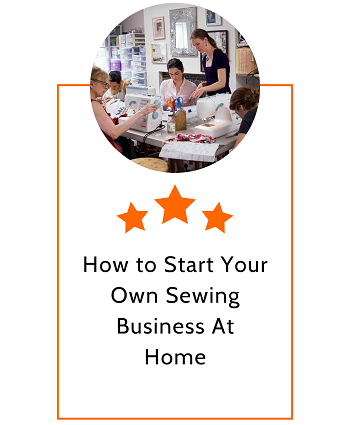 Do you become happier after using your sewing machine? What if this hobby gives you money to make your day even better?
Nowadays, people are stuck at home because of the pandemic. Doing a home business can be perfect to utilize their free time.
If you ever dream of running a sewing business, you should start it now. The benefits are mental satisfaction, financial stability, flexible working hours, and you don't have to step out of the home. Let's get started.
Make a business plan
A clear plan helps to achieve goals faster. So, write the entire plan on paper. Think about what you should make according to your skill level. Remember, you should create something better or different from other competitors to survive in the market. It should be trendy as well. Make a routine so that you can fit the business work into your lifestyle.
Estimate the cost of the materials. It is better to start from a small business, understand the demand and expand gradually. Therefore, do not spend tons of bucks on the first trial. Plan the management system, material storage, loan, advertisement media, etc.
Collect everything you'll need
People with a tight budget should not worry because this business needs a minimal startup cost. Since you will be working from your house, there is no rental cost. The first thing you have to buy is a high-end Sewing Machine for your Home Business.
Order materials such as clothes, thread, lace, zipper, button, ribbons, needles, cameras, and mannequins. Plus, buy tools like rotary mats, scissors, rotary cutters, chalk, measuring tape, and rulers. Don't forget to add the cost of the furniture and shipping supplies to the list.
Name your business
A brand's name has a huge impact on its success, growth, and development. Choose something unique reflecting your thought, creativity, or personality. Feel free to add your name as well. It will assist in resonating with the clients. More customers will be attracted if they can connect to the name or find it interesting.
Pick a location
If your home is large enough to accommodate the business supplies, you don't need additional space. Otherwise, rent spare rooms to continue your work. In most cases, beginner sewists can maintain their jobs without a storefront.
But it becomes a necessity when the business grows. Smart owners select a highly recognized and high-traffic place that remains crowded during the working period. It draws the attention of new customers automatically.
Apply for licenses
Every type of business needs particular licenses, registrations as well as permits to be legitimate. They include tax registrations, local registrations, land permits, sales tax permits, health permits, general business licenses, etc.
They ensure complete protection to your company, staff, and clients. At the same time, they prove that you are obeying the rules and regulations. Neglecting any may result in fines. It can ruin the business image.
Develop your skills
It is okay not to have a business degree. However, you can not compromise on the skills to compete with rival companies. Nothing can help you without tons of sewing experience. Experiment with patterns, learn new techniques, boost your speed, and research more about the elements.
Focus on small details so that you will get the desired finishing. Apart from it, having troubleshooting skills are mandatory too. None can expect a stable business unless they tackle various challenges. Don't be afraid of negative reviews and criticism. Use them to make your designs better.
Hire employees
A sewing business is not limited to the cloth designing phase. There are chores like taking orders, answering customers' queries, displaying designs, finding defects, mending fabrics, monitoring performances, delivery, etc. You may not be able to do these alone, especially after the business gets bigger. That's why you must hire qualified staff who can take care of their tasks with honesty.
Pricing
Set a price depending on the materials, quality, hard work, and time invested in the products. There should be profit after subtracting the material cost, rental cost, service charge, employee salary, tax too. Do not charge higher than average similar companies. Also, avoid undervaluing your items while being competitive.